Things to know before visiting Norway (road trip edition!)
A road trip through Norway is an amazing experience. The dramatic landscape with majestic mountains, cute valleys and deep fjords leaves anyone jaw-dropping. The conditions mentioned above also demand some proper preparation and thoughtful packing. Read this guide on what to think about before your road trip through Norway, and you will be prepared for the road trip of your life.
There are sheep everywhere in Norway.
1. Look out for the sheep
Did you know that Norway is home to approximately 2 million sheep? Yes, you read correctly. When you drive around the Norwegian country roads during summer, it's almost impossible not to meet one of the free-range Norwegian sheep.
During the summer the sheep goes to their summer grazing land in the mountains, where they roam freely without fences. So whenever you enter a sheep area, marked with a sheep danger sign, you should be prepared to step on the brakes.
2. Be prepared to drive slowly
Just like the Norwegian sheep, the traffic in Norway is not in a rush. It is easy to underestimate distances and driving time in Norway. Many roads are small, and they usually go up and down steep mountains. This makes driving in Norway a slow process.
While Google maps will tell you one thing, the reality is completely different. In general, the Norwegian speed limit is 80 kilometres per hour. But to be able to drive safely, look out for the sheep and enjoy the spectacular scenery you will have to drive much slower.
➳ Read more: Visit Norway lists the 18 Norwegian Scenic Routes
3. Use Google maps to plan your road trip, but add more time
Google maps is a great friend on your road trip through Norway. As mentioned above, you won't be able to drive as fast as the Norwegian speed limit standard of 80 kilometres per hour. So take your time, enjoy the picturesque scenery and add some extra time to what Google maps says.
4. Add time for viewpoints
Besides adding time to your schedule to manage the small roads in Norway, you should add some time to visit the viewpoints as well. There are several viewpoints around Norway, from where you have an astonishing view of the landscape. You definitely want to stop here to enjoy the view and take some pictures.
Stegastein viewpoint (Aurlandsfjord), Trollstigen viewpoint and Ørnesvingen viewpoint (Geirangerfjord) are some of the most popular viewpoints in Norway. They are included in my complete road trip guide to Norway.
5. Make sure to rent a proper car
On the same matter: To be able to drive up and down those steep mountains, you need a proper car. This means a powerful car. You can rent a car in most towns in Norway. A strong recommendation is to book your car in advance, since road tripping through Norway is very popular, especially during summer.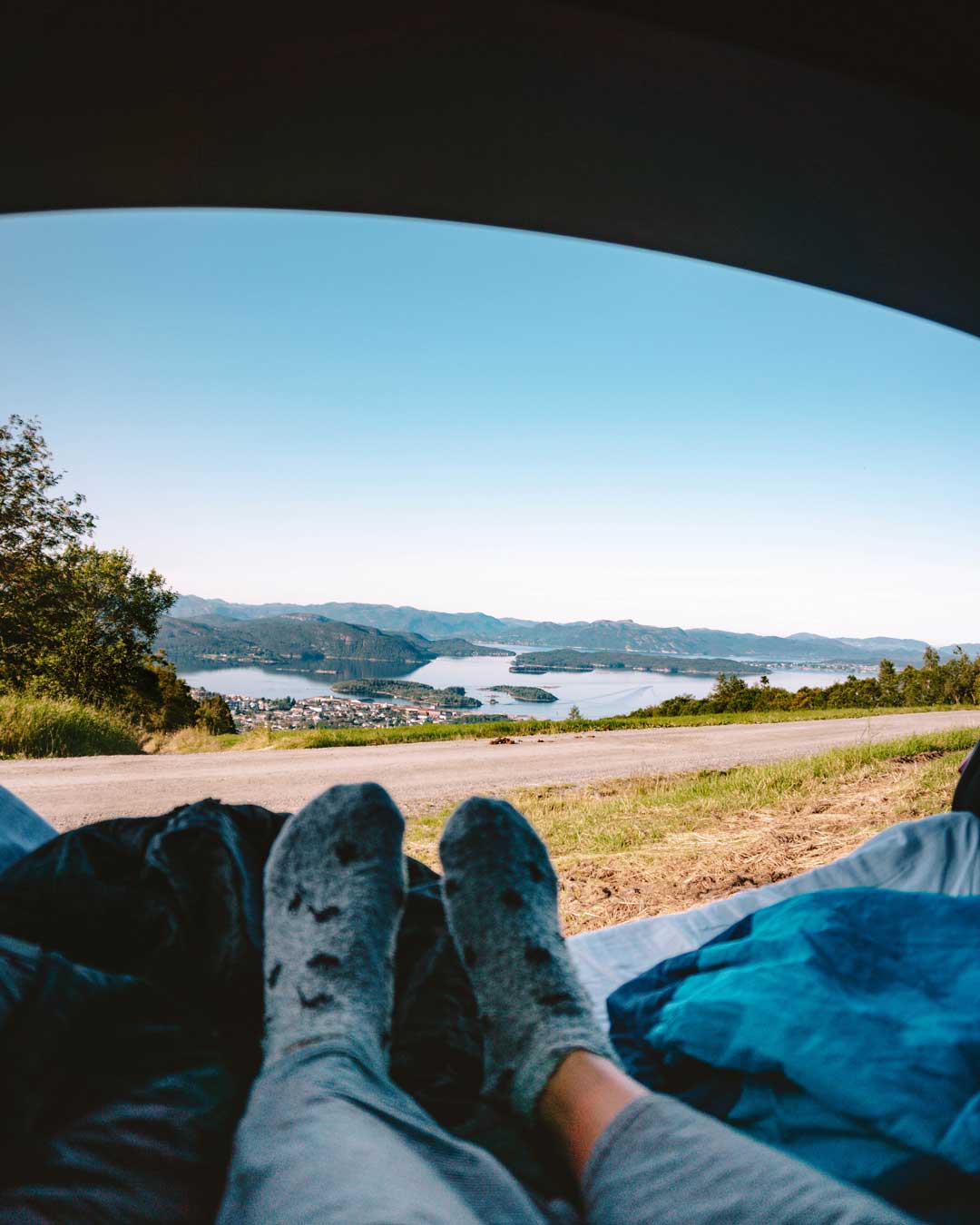 Camping is a common way to travel in Norway.
6. Be aware of the Norwegian "right to roam"
Planning on camping with your car or with a tent? In Norway, they have something called Allemansrätten, or The right to roam. This is a guideline with a couple of rules that points out what responsibilities you have while enjoying the Norwegian nature.
In Norway, you can walk nearly anywhere you want as long as you follow these rules. The main rules are easy: Be considerate and thoughtful. Pick up your rubbish and show respect for nature.
A rule that applies to overnight stays in nature is that you may put up a tent or park your car for the night anywhere in the countryside, forests or mountains, as long as you keep at least 150 metres away from the nearest inhabited house or cabin. If you want to stay for more than two nights in the same place, you must ask the landowner's permission, except in the mountains or very remote areas.
7. Road tolls
To be able to maintain the standard of the roads in Norway, many Norwegian roads are toll roads. There are many toll stations in Norway, and almost all of them are automatic. All drivers, regardless of nationality, have to pay Norwegian road tolls.
Norway has more than 70 years experience in using road toll payment to finance costs of bridges, tunnels, and roads. Once you drive in Norway, you will understand why the roads need proper maintenance – and why we all need to help paying for it.
Read more: How to register your car in Norway
8. Bring a cooler bag and make your own lunch
Everything in Norway is expensive, including eating at restaurants. So here's a budget tip from me to you: Make your own lunch! Bring a cooler bag (and cutleries!) that you can plug into your car, buy food in supermarkets and eat your lunch on the road.
This tip is good not only to keep your budget, but also to avoid the stress of finding a restaurant. There are not many restaurants in the Norwegian countryside.
Cooking on the road, lunch tips:
Sandwiches with cheese on tube

Creamy potato salad with feta cheese and beans (or salmon, or ham)

Cheese platter with crackers, pesto and olives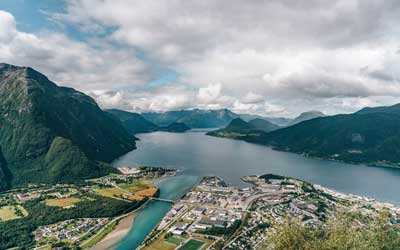 Home > Destinations > NorwayNorway road trip: The ultimate 7-day itineraryPlanning a Norway road trip? Lucky you. There is probably no country with more natural wonders than Norway. Since most of them are located far from the bigger cities a road trip is...
read more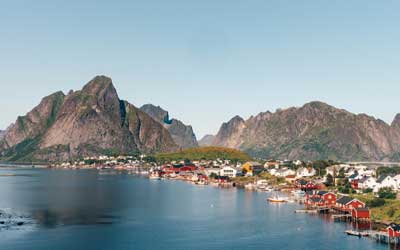 Home > Destinations > NorwayVisit Lofoten Islands: Complete Travel Guide For First-Time VisitorsTo visit Lofoten islands is on many people's bucket list – and rightfully so. Lofoten is a series of islands that offer some of Norway's most beautiful landscape,...
read more