Things to do in Moalboal, Cebu – the diver's paradise
Moalboal is a coastal town a few hours' drive from Cebu City in the Philippines. With crystal clear water and unique marine life, Moalboal is a gateway to some of the best diving spots not only in Cebu but in the entire Philippines. As the town is getting more and more popular, many restaurants and bars are popping up – making Moalboal a given stop on a Philippines travel itinerary. Even though many people come here for diving, the area offers other things to do as well. Continue reading for a full guide on what to do, where to eat, and how to get to Moalboal.
1. Scuba diving
The best thing to do in Moalboal is definitely diving. With reefs just a few meters from the shore and streets full of dive shops, the village provides perfect conditions for unique diving experiences. Here you can see the famous sardines' run, a shoal with thousands (if not millions) of sardines, but also turtles, puffer fish, sea snakes, and much more. The visibility is usually great, which opens up for the next activity as well. The best place to start when diving is Panagsama beach.
Tips! Do you want to become a certified scuba diver, or advance to a higher level? Neptune Diving Adventure is a great diving center with professional instructors.
2. Snorkeling
If you don't like scuba diving, snorkeling is a proven alternative. From the surface you can see corals, the sardine's run and probably one or two turtles. You can rent snorkeling equipment from several places along the Panagsama beach.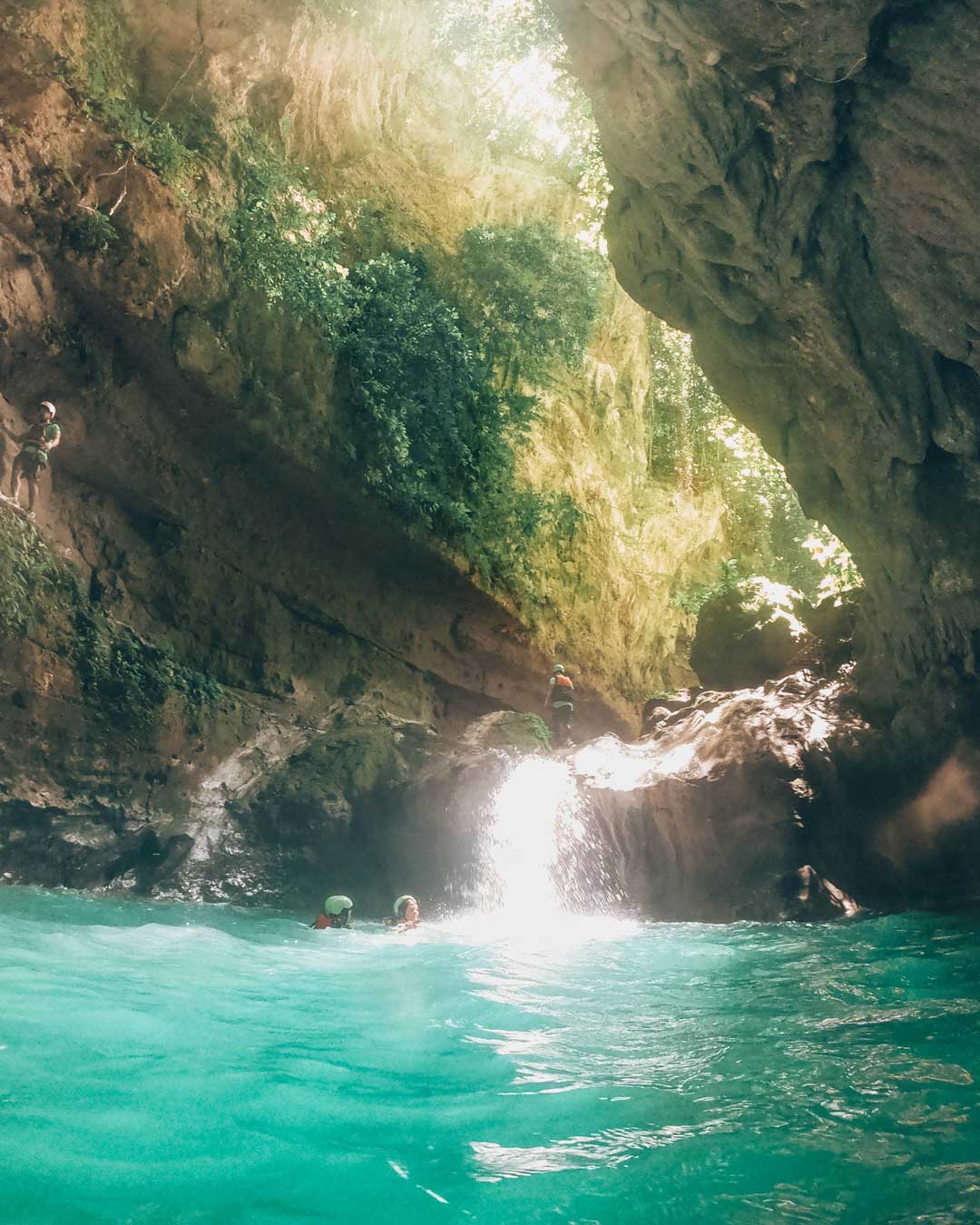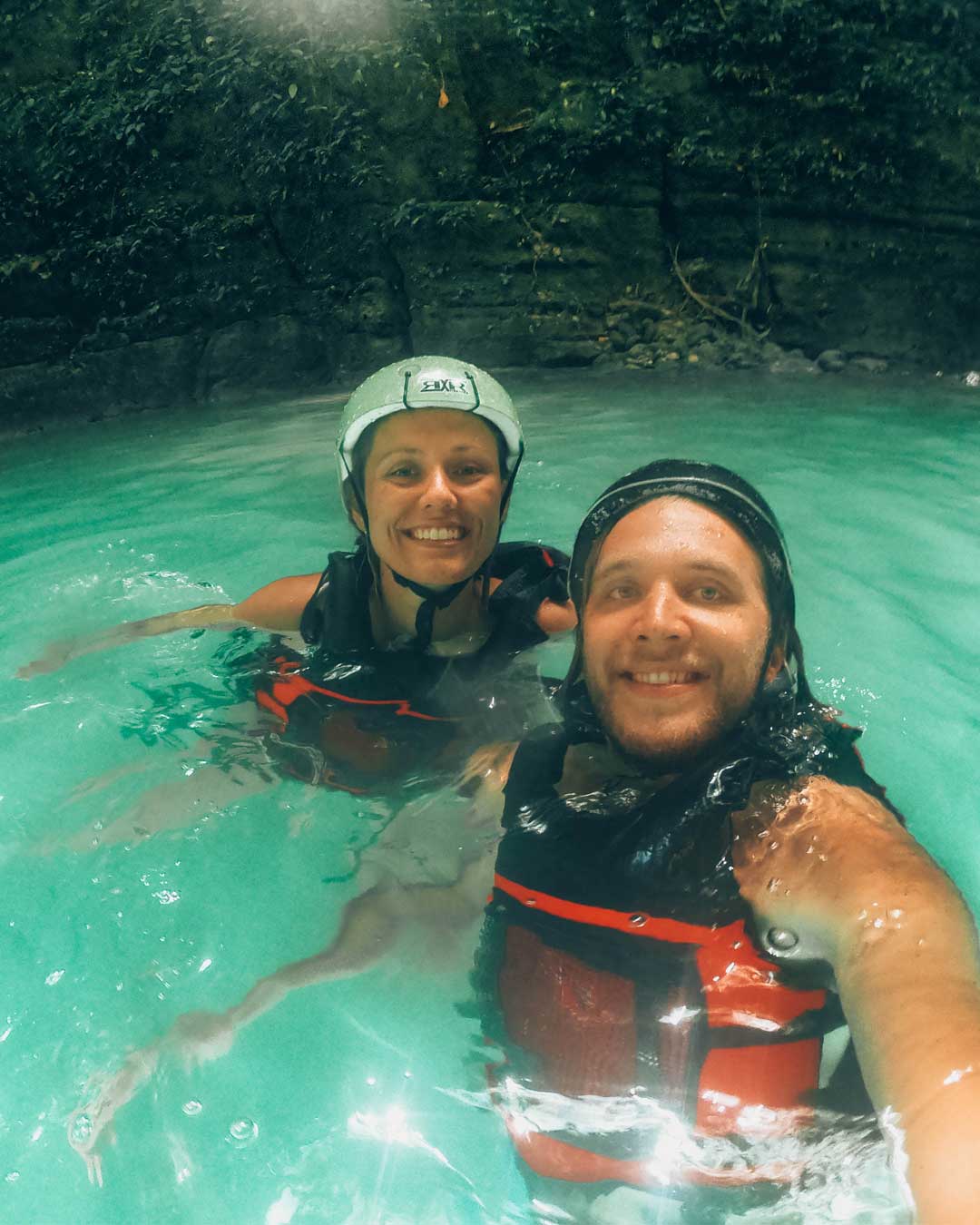 3. Canyoneering in Kawasan Falls
One of the main attractions in Moalboal, besides diving, is canyoneering in Kawasan Falls. Kawasan Falls is one of the bigger waterfalls in Cebu. The canyoneering starts in the jungle above the actual waterfall. Accompanied by a guide you will swim, jump and climb through the water down the canyon. This goes on for 3-4 hours, until you reach the Kawasan Falls at the end. Canyoneering in Kawasan Falls is a popular tourist attraction, with many people visiting every day. But despite that I would say it's worth doing!
The best way to visit Kawasan Falls is by joining a group tour from Moalboal. There are several places that arrange tours in Moalboal. I recommend joining the tour at Chief Mau's. It is a serious tour, with lunch and gear (you need shoes, life jacket and a helmet) included in the price.
4. Visit White beach
Panagsama beach in Moalboal is mainly for diving and snorkeling. If you want a big sandy beach, I would recommend visiting White beach instead. White beach is located north of Panagsama beach. Take a tricycle there, and remember that there is an entrance fee (50 pesos if I remember correctly).
Restaurants in Moalboal
Since Moalboal has become a popular stop on Philippine travel itineraries it is popping up more and more restaurants in the area. It is not hard to find vegetarian or vegan options (to my pleasure), you just have to know where to look.
Smooth Café
Smooth Café is a great vegan restaurant, serving everything from breakfast to dinner and great vegan cakes. They serve delicious cocktails, and during weekends they often have live music.
Location: See its location here
Price: A burger for 250 pesos
I recommend: The falafel burger and the vegan chocolate brownie
Wi-Fi: Yes – works sometimes
Lantaw Restaurant
Lantaw Restaurant is located on top of Neptune Diving Adventure, serving great food and views from their terrace. They offer everything from meat and fish dishes to vegan options.
Location: See its location here
Price: A main course for 200–300 pesos
I recommend: The veggie tempura
Wi-Fi: Yes – works fine!
Venz Kitchen
Venz Kitchen is a great place for vegan and vegetarian options (and everything else too). Venz Kitchen is a small place, only open for dinner. Due to its delicious food, the restaurant is very popular, and the seats get filled quickly (there is often a line outside!) Make sure to be there on time to get a seat.
Location: See its location here
Price: A main course for 150–250 pesos
I recommend: The veggie peanut butter curry
Wi-Fi: No
Chief Mau
Chief Mau is open from early morning to late evenings, serving great food and plenty of fun activities (such as beer pong). Chief Mau is also a hostel, and their backpacker guests regularly visit the restaurants.
Location: See its location here
Price: A main course for 150–300 pesos
I recommend: The oatmeal with fruit salad for breakfast
Wi-Fi: Yes – works fine!
Shaka
If you are into delicious smoothie bowls, then Shaka is the place for you. Located in the main restaurant area in Moalboal, this place serves the best smoothie bowls in town and delicious coffee.
Location: See its location here
Price: A smoothie bowl for 250 pesos
I recommend: The peanut butter, banana and cacao smoothie bowl
Wi-Fi: Yes – works fine!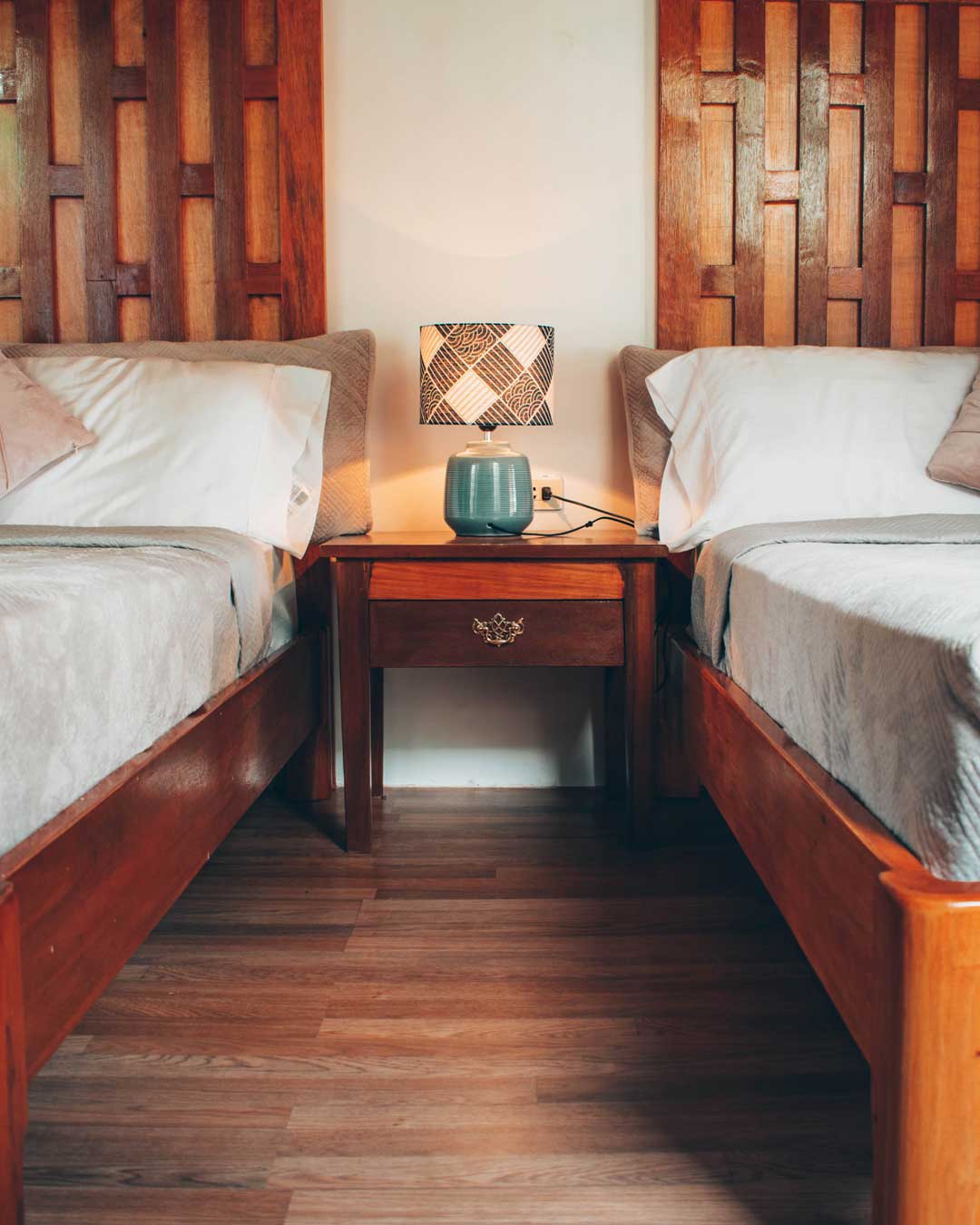 Where to stay in Moalboal
The beach and restaurant area of Moalboal is located 3 kilometers from the main road. If you stay near Panagsama beach you won't have more than a 10–15 minute walk to mosts restaurants and dive shops.
Budget option: Hotel Sisters Inn
Great option: Pescadores Seaview Suites
Getting to Moalboal from Cebu City
The easiest way to get to Moalboal from Cebu city is by public bus. The bus ride takes around three hours, with few stops along the way. The buses depart from Cebu South Bus Terminal every half hour. Just go there, buy your ticket and wait for the next bus. You can ask someone at the terminal what gate you should go to. Fare for non-aircon bus starts at 116 pesos while for aircon bus is 127 pesos.
ATM's
There are plenty of ATM machines in Moalboal. Just go to the main restaurant area (around Panagsama beach.) The maximum withdrawal is 10 000 pesos, and you will be charged with a 250 peso fee for each withdrawal, besides any fees taken by your bank.
Wi-Fi
Finding good wi-fi is hard in the Philippines. If you don't have wi-fi at your hotel, your best shot is to visit one of the restaurants mentioned above. Since you will probably have this problem during your entire trip through the Philippines, you should consider buying a Philippine SIM-card which works pretty much everywhere.
Home > Destinations > Sri LankaDiyaluma Falls – a guide the second tallest waterfall in Sri LankaDiyaluma Falls has a 220-meter drop, natural pools to swim in, an astonishing view of the Sri Lankan highlands, and is located only 1,5 hours from Ella. I don't...
read more