3 Days In Athens: A Complete Itinerary
Wonder what to do in Athens in 3 days? Athens, Greece, is an urban, lively, and welcoming city often overlooked as a stopover on your way to a magical Greek island. However, the city quickly swept me off my feet with its countless great restaurants, impressive ancient monuments, enchanting colorful streets, and trendy cafés. Continue reading for my tips on how to best spend 3 days in Athens.
What amazed me the most about Athens was that when walking around, you can within half an hour pass ancient monuments near Acropolis, order a coffee at one of the trendy cafés in Psirri, and admire the street art in Keramikos. Here, history and tradition coexist harmoniously with pulse and modern influences. This travel guide lays out the perfect 3 day Athens itinerary for first time visitors.
How many days in Athens?
How many days you need in Athens depends, naturally, on what you want to do. I would say that you need 3-4 days to discover the most crucial parts of Athens without stressing too much.
Where to stay in Athens – best areas
Athens is a gigantic city that can sometimes feel a bit overwhelming. However, the most popular things to do in Athens are all located within walking distance of each other.
If you want to get the real Athenian vibe, be close to historical monuments and the best restaurants and bars in Athens, these are all great areas to stay in:
How to get to Athens city from the airport?
The distance from Athens International Airport to the city center is around 35 km. You can either grab a taxi, which will take 45-60 min depending on traffic. A taxi should cost around €40. Another great option is to take the train. There's a train departing from Athens International Airport every 30 minutes, that takes you directly to Monastiraki square in 45 minutes. You can buy a ticket using one of the machines at the train station. A one-way ticket costs €9 for adults, and €4,5 for children.
Itinerary for Athens: Day 1
See the Acropolis
The most famous archaeological site in Athens is, without a doubt, the Acropolis. The Acropolis towers over the city with its impressive height and central location. You can spot this ancient monument from large parts of the city, quite similar to the Eiffel Tower in Paris, but you can't leave Athens without paying a close visit.
Acropolis consists of several different monuments, where Parthenon is the most famous one. Examples of other impressive monuments at the Acropolis are the Old Temple of Athena, the Theatre of Dionysus Eleuthereus, and the Odeon of Herodes Atticus. The entrance ticket of 20€ gives you access to all of them.
If you want to discover more of Athens' ancient monuments, I recommend that you buy a combination ticket. The price for this ticket is €30, and is your entrance ticket to 7 of the most famous monuments in Athens. This entrance ticket is valid for 5 days.
Tips for visiting the Acropolis:
Get there early: Want to experience a less crowded Acropolis? The best time to visit Acropolis is between when it opens at 8 am and before the tour buses arrive at 9 am.
Get a skip-the-line ticket: In peak season, Acropolis is crowded even in the early hours. With a skip-the-line ticket, you can be one of the first ones to get inside.
Get a guide: To get the most out of your visit to the Acropolis I suggest you either join a group tour (however, they usually don't start earlier than 9 am) or buy an audio-guided tour. This tour at Discover Greece gives you a skip-the-line ticket and an audio guide for 35€.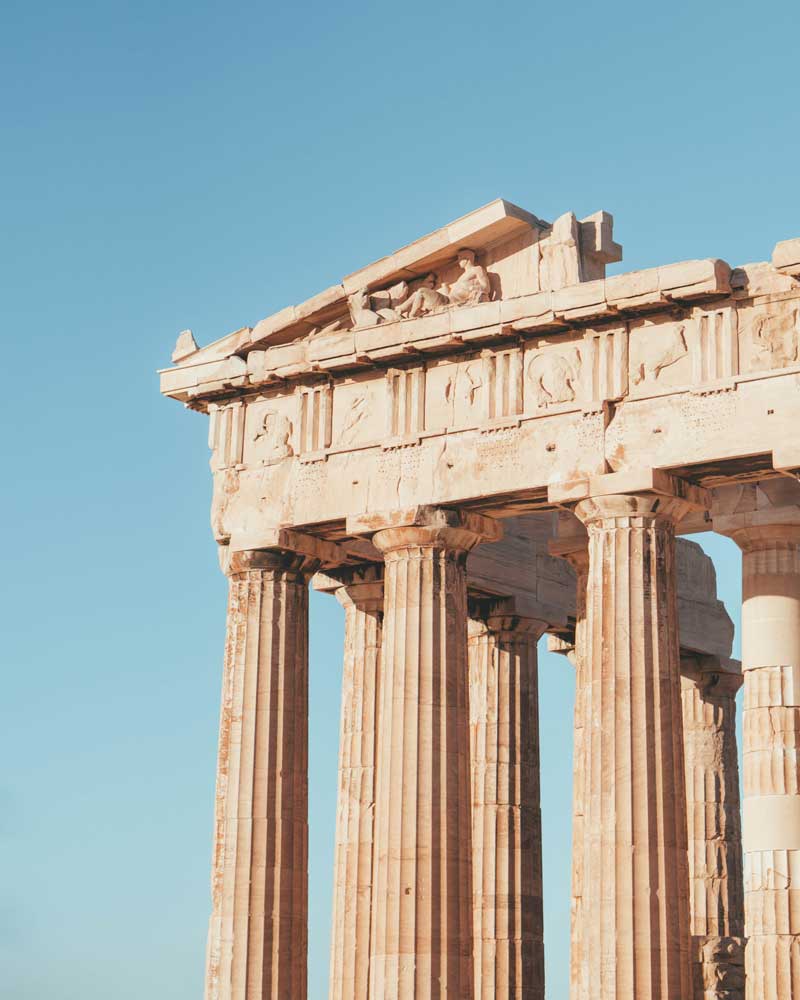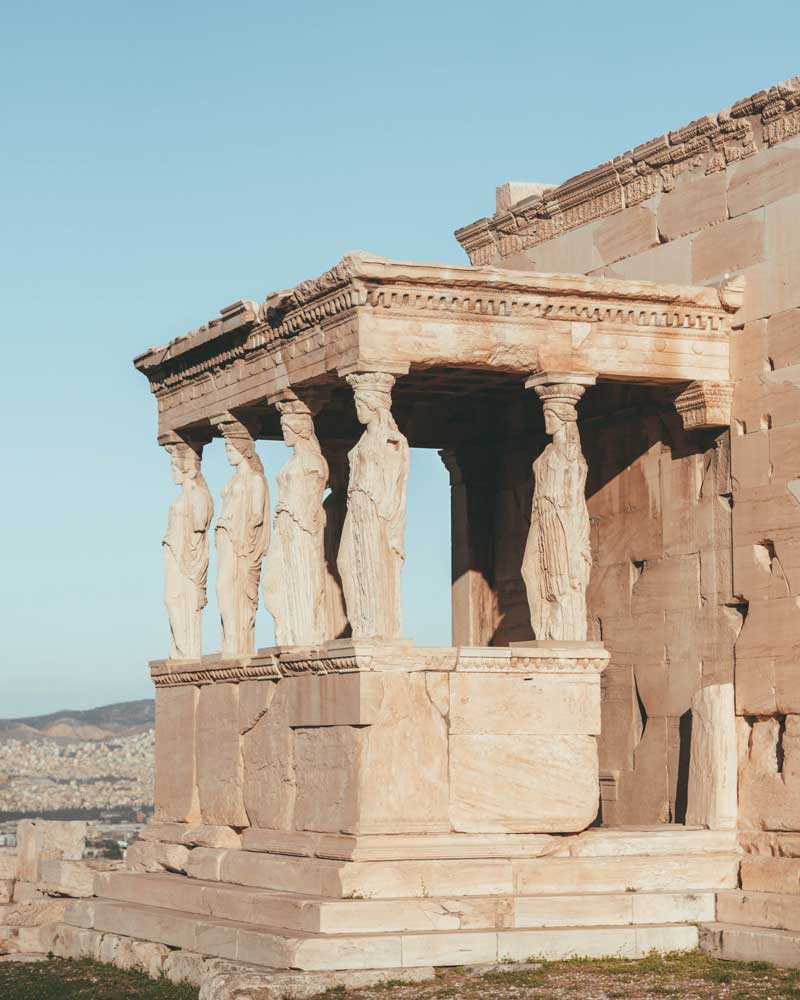 Visit the other ancient monuments in Athens
The Acropolis usually gets all the attention in Athens, but the city is actually filled with loads of other important monuments. Naturally, since Athens is one of the oldest cities in the world and has been inhabited for around 5 000 years.
Throughout history, Athens has had different rulers and gone through many different eras: for example The Athenian, the Roman, the Byzantine, and the Ottoman. As you can imagine, these eras left an enormous amount of historical monuments for the afterworld.
Some of the most impressive ones are:
Ancient Agora of Athens
Roman Forum of Athens
Hadrian's Library
Photos left to right: View of Temple of Hephaestus from Ancient Agora; Roman Forum of Athens; Ancient Agora.
Visit Aeropagus Hill
Next to the Acropolis' main entrance, you'll find Areopagus Hill. Follow the stairs up the hill (and watch out for the slippery rocks) to get an amazing view of Athens, including the Acropolis.
The astonishing view from Aeropagus Hill.
Take in the view from Philopappos Hill
Philopappos Hill (also spelled Filopappou Hill) is a hilly park located southwest of the Acropolis. This hill provides several Acropolis viewpoints, where the most popular is located at the Monument of Philopappos. However, by just following the trails you will see Acropolis pop up when you least expect it.
Philopappos Hill offers an impressive view of the Acropolis in the northeast, and the sea in the southwest.
Stroll around Plaka
The Plaka area in Athens is located between Acropolis and Syntagma square. The area is closed to traffic, and instead filled with narrow pedestrian streets lined with restaurants and shops. Its characteristic colorful houses and flower-filled patios attract many tourists, and in my opinion maybe a bit too many. Plaka is still worth visiting though!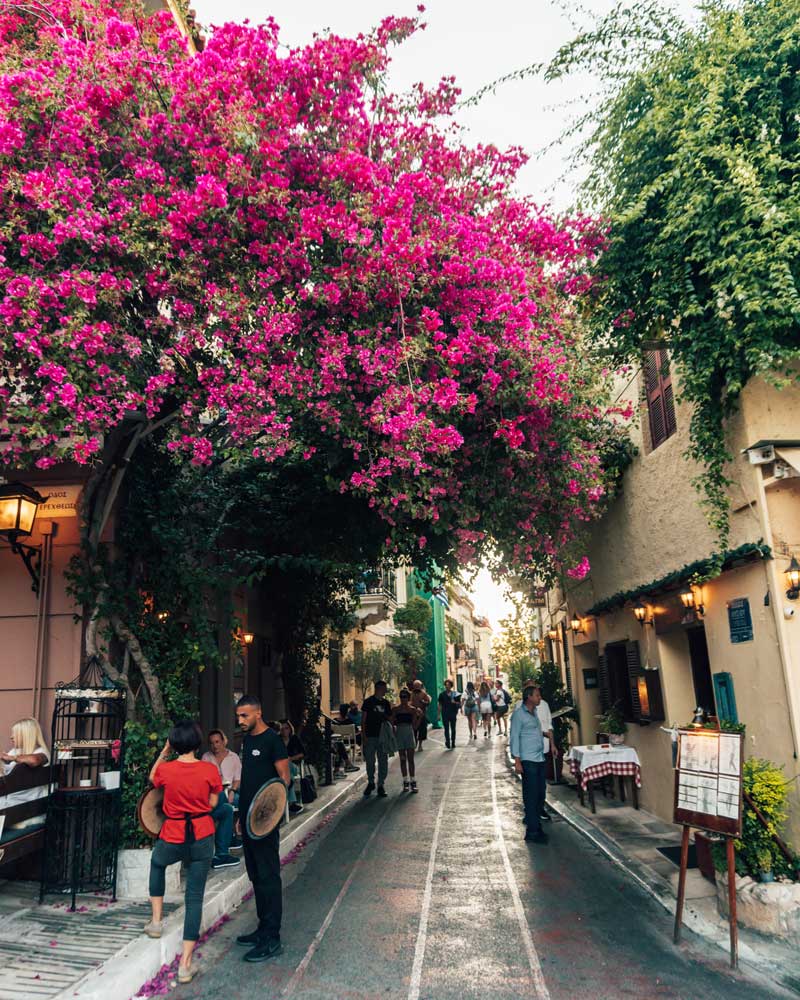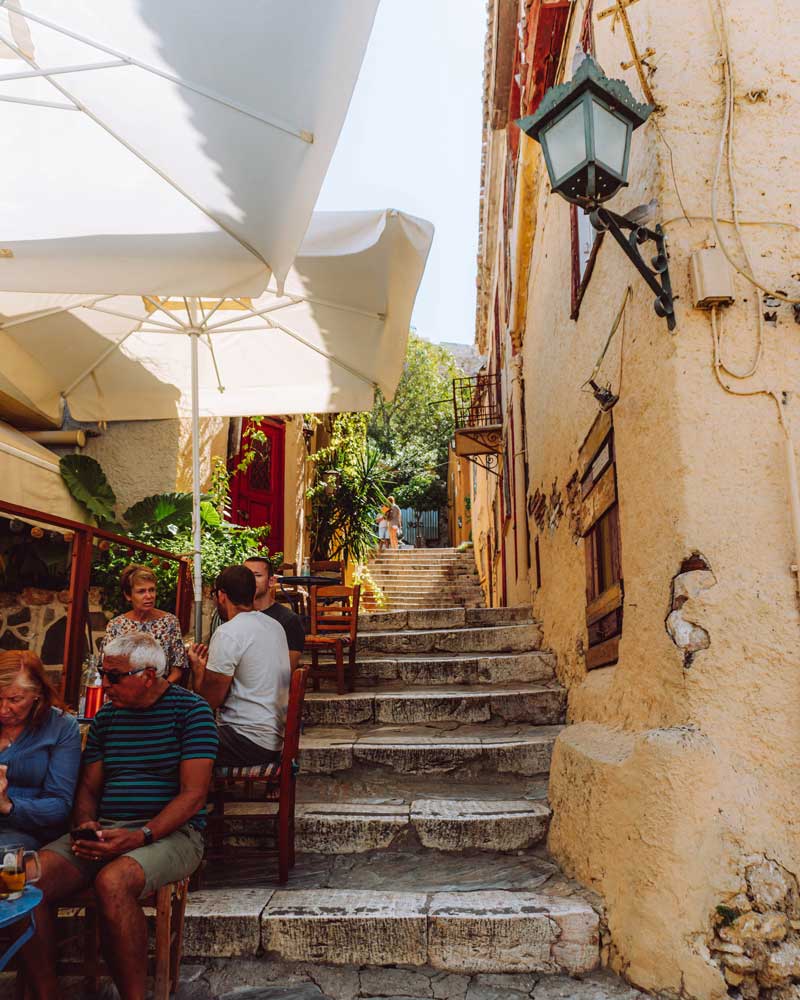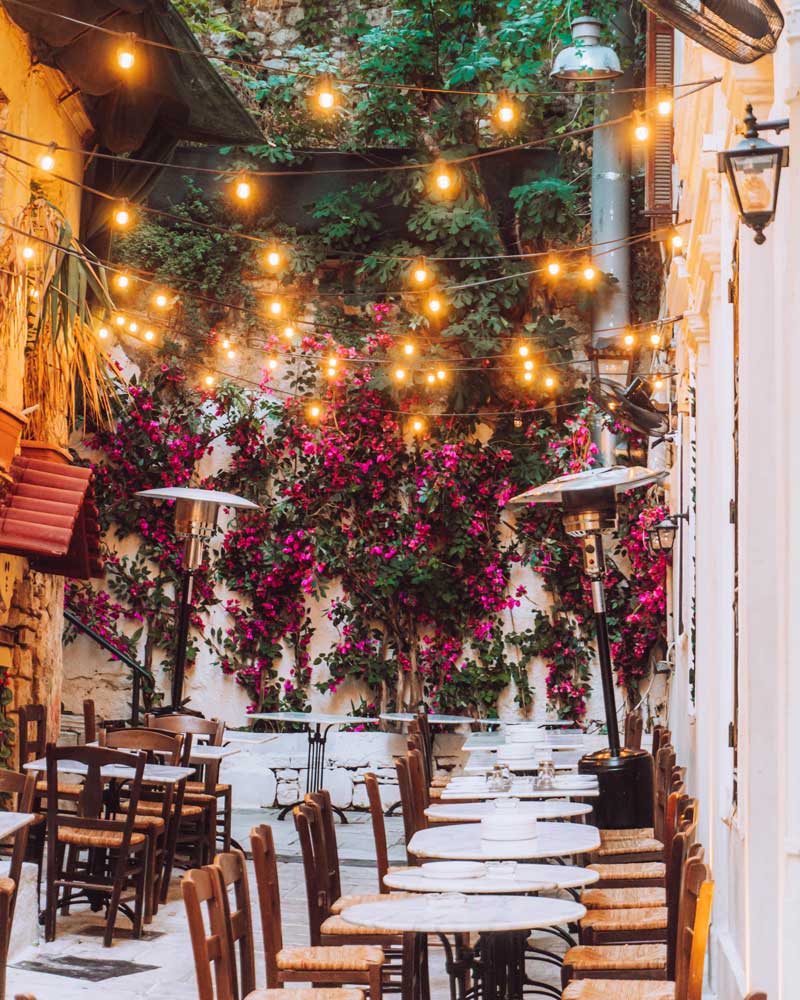 The cosy and colorful alleys in Plaka.
Experience the island-inspired architecture in Anafiotika
Anafiotika is a small area located at the foot of the Acropolis, next to Plaka. The area is known for its special architecture, with white houses and blue doors similar to the Cycladic islands. Which is not so surprising. The area got its architecture from the Cycladic builders who lived in the area in the 19th century.
The builders were invited to Athens by the king to help build some of Athens' most impressive buildings, like the Royal Palace. In exchange for their work, they got some land to build homes for their families while they lived in Athens. They called their neighborhood Anafiotika ("Little Anafi") after their home island.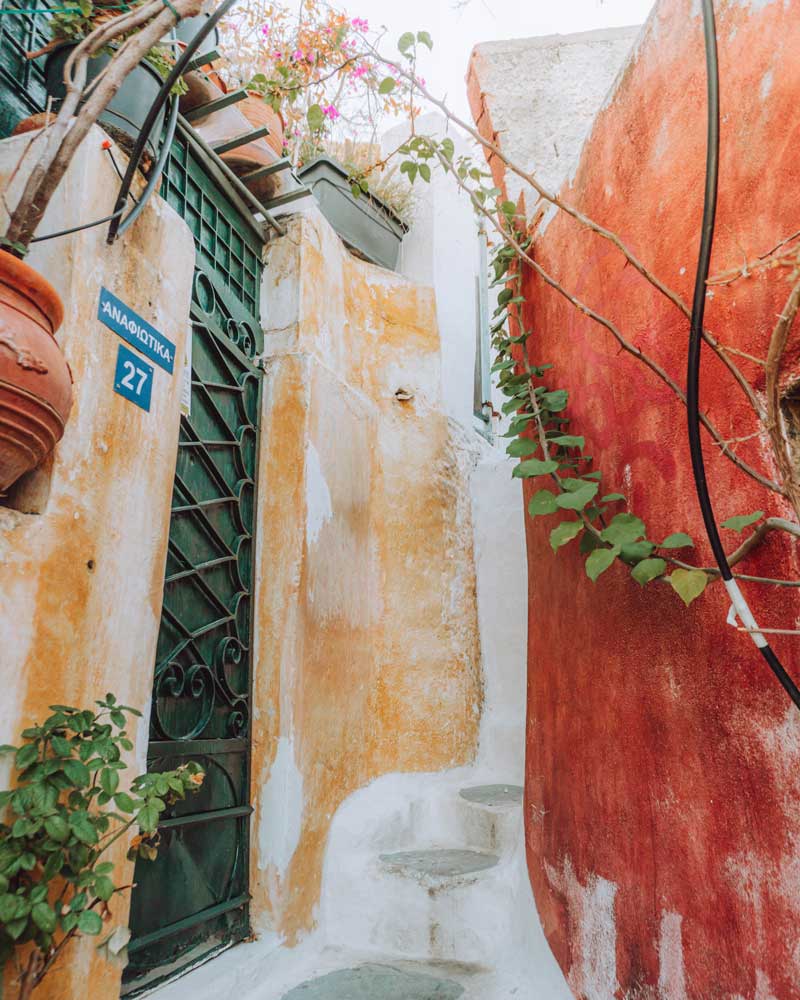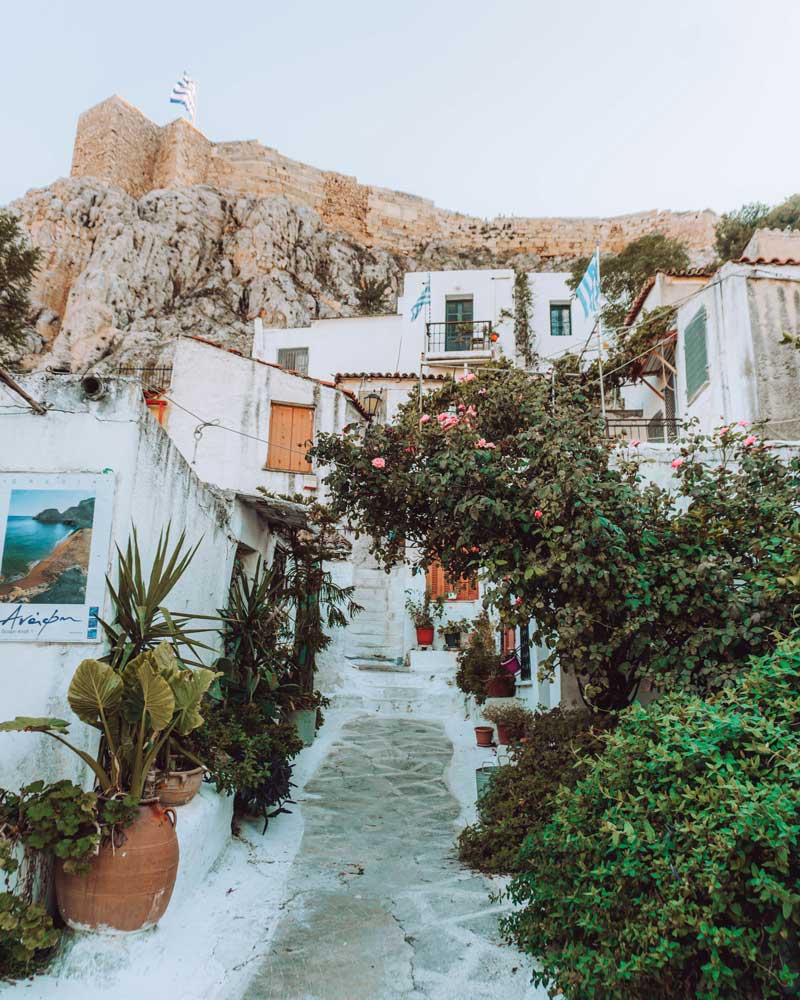 The small alleys in Anafiotika make you think you're on a Cycladic island.
Go for a drink at a rooftop bar
Few cities in Europe can compare to the number of rooftop bars that exist in Athens, all of them strategically located so that you get a breathtaking view of the Acropolis. The best time to visit a rooftop bar would be for a sunset drink.
Hard to choose a rooftop bar? Here are my favorites:
Photos left to right: Anglais, A for Athens, Retiré.
Eat dinner at Mnisikleous Street Stairs
The best place in Athens for tapas and a glass of local wine is Mnisikleous Street Stairs. Mnisikleous Stairs in the Plaka neighborhood is a set of stairs lined with restaurants and outside tables, where both locals and visitors meet to enjoy the cozy atmosphere.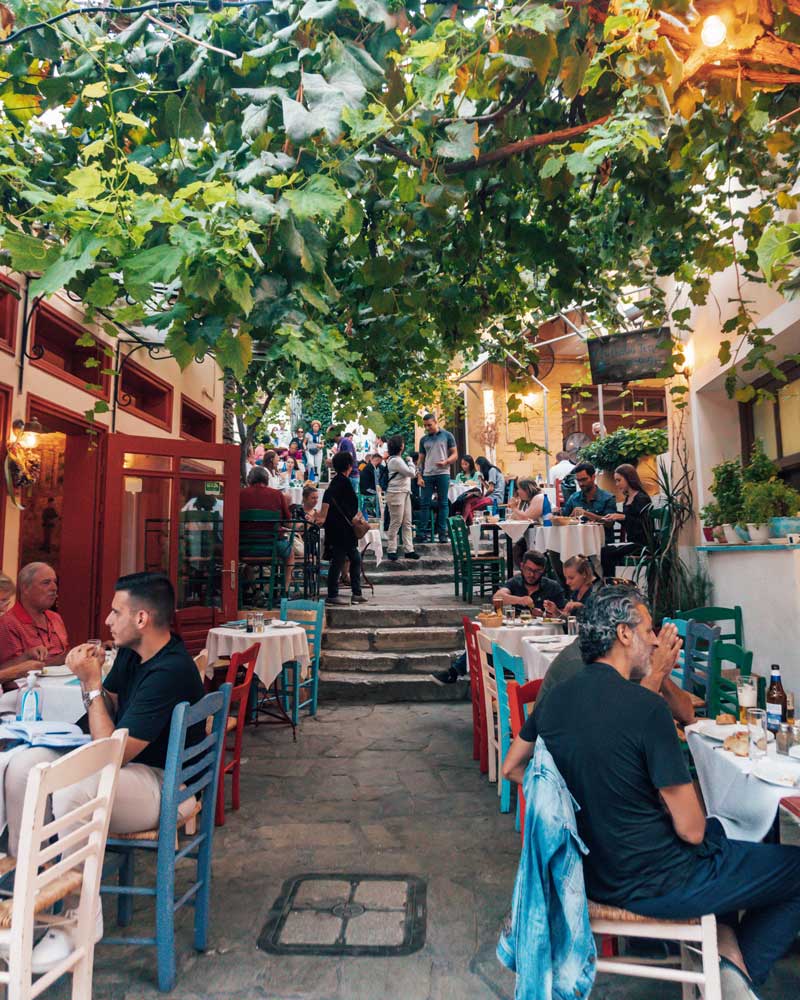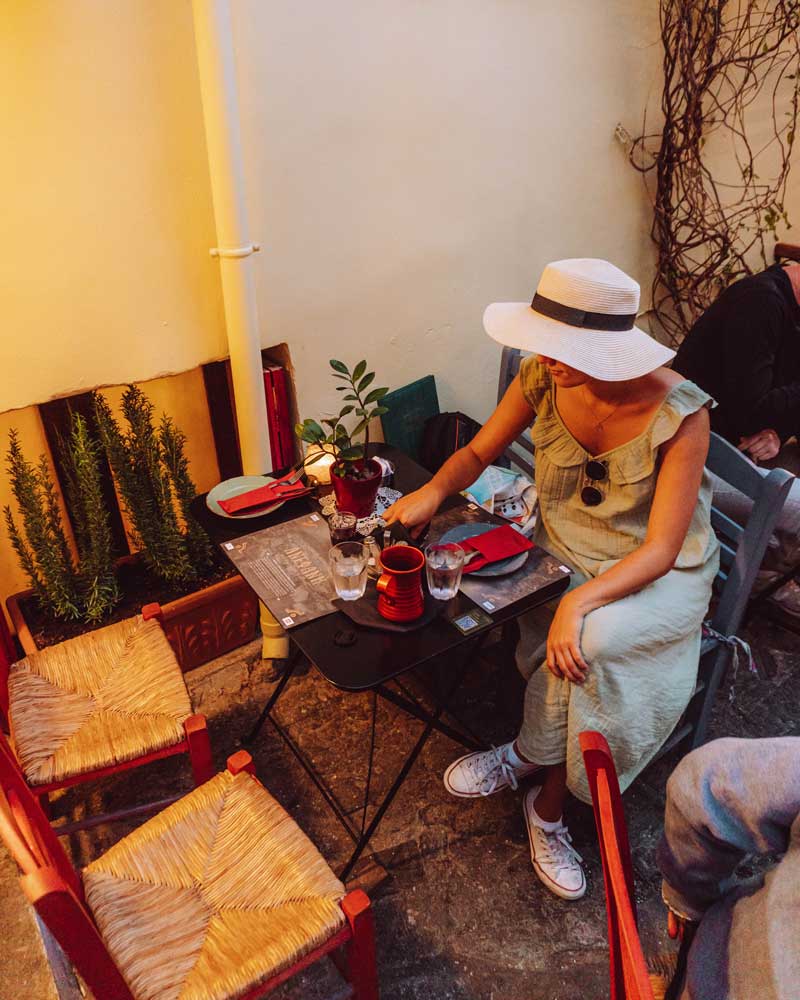 Mnisikleous Street Stairs is a cosy place for dinner.
Itinerary for Athens: Day 2
Take a food tour around Athens
If you're like me and love Greek food, then there's no better place to experience it than in Greece. Taking a food tour around Athens was one of my best experiences in the city.
I can highly recommend the food tour arranged by Be A Greek. A private guide showed us around Athens and made us try incredible local dishes, including traditional Greek coffee, at the best Athenian restaurants.
Pro tip! If you want to join a food tour I suggest you skip breakfast, as you will be eating for 4-5 hours.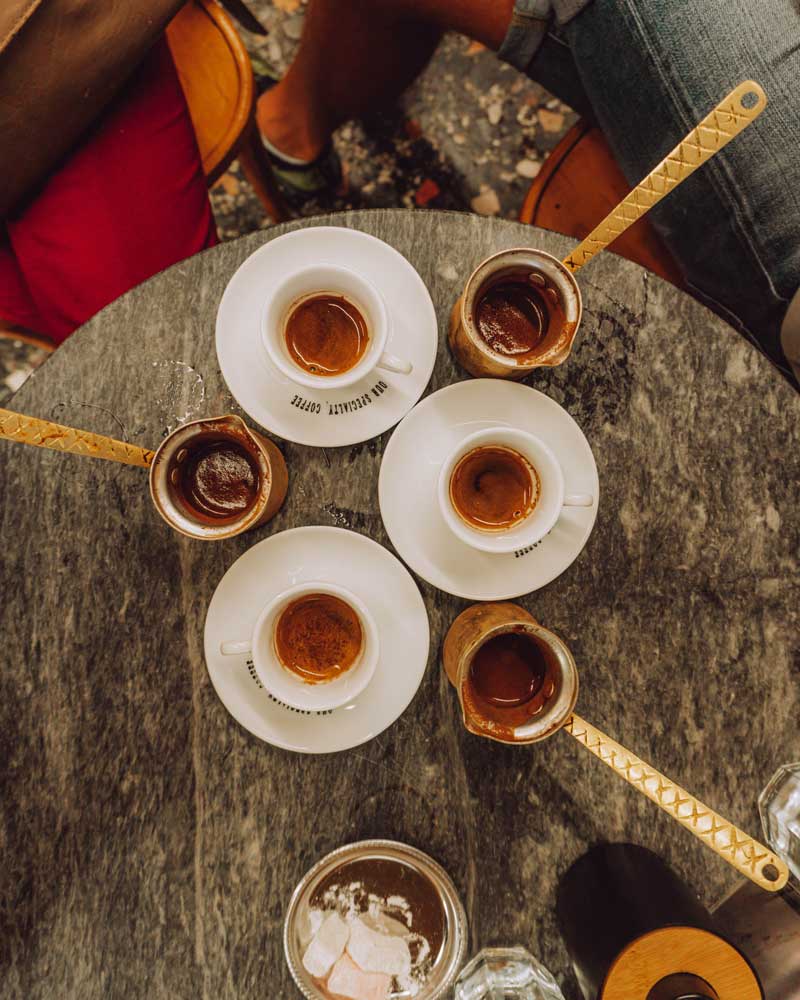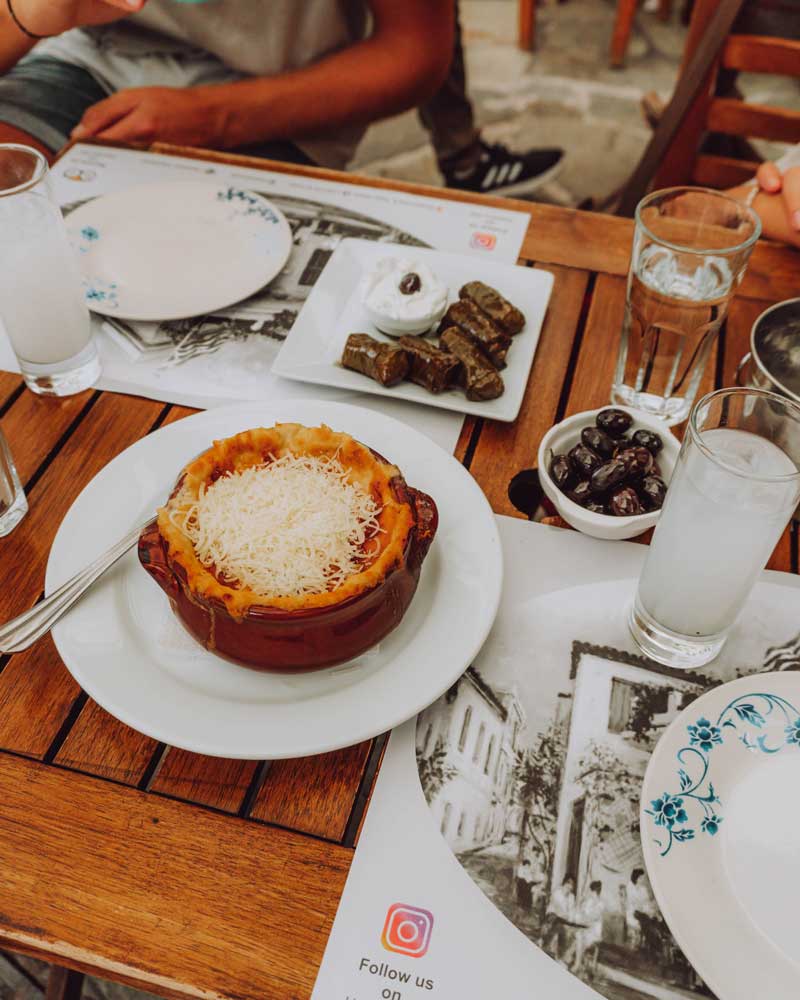 Some of the traditional Greek dishes you'll taste on a food tour around Athens.
See the decorations at Little Kook
Little Kook is a fairytale-themed café with decorations so unique that it leaves anyone impressed. The decorations change with the seasons, with everything from spring flowers to Halloween and Christmas. And it's not just the café, the Karaiskaki street and nearby Pittaki street get their fair share as well.
Little Kook is usually considered to be one of the top attractions in Athens. I can't really agree, but it's fun to walk by and get impressed by the creations.
The decorations at Little Kook and the surrounding streets.
Hike to Lycabettus Hill
Lycabettus Hill is Athens' highest peak. From the top, you get an impressive view of entire Athens, the Acropolis, the sea, and the nearby islands. We went there to admire the sunset, which was simply breathtaking.
To get to Lycabettus Hill you can take the metro to Syntagma or Panepistimio. From the foot of the mountain, it's a fairly easy 20-minute hike. If you don't feel like hiking there's also an option to take the Lycabettus Hill cable car. The price is €10 for a roundtrip. See the timetable at the Lycabettus Hill cable car website.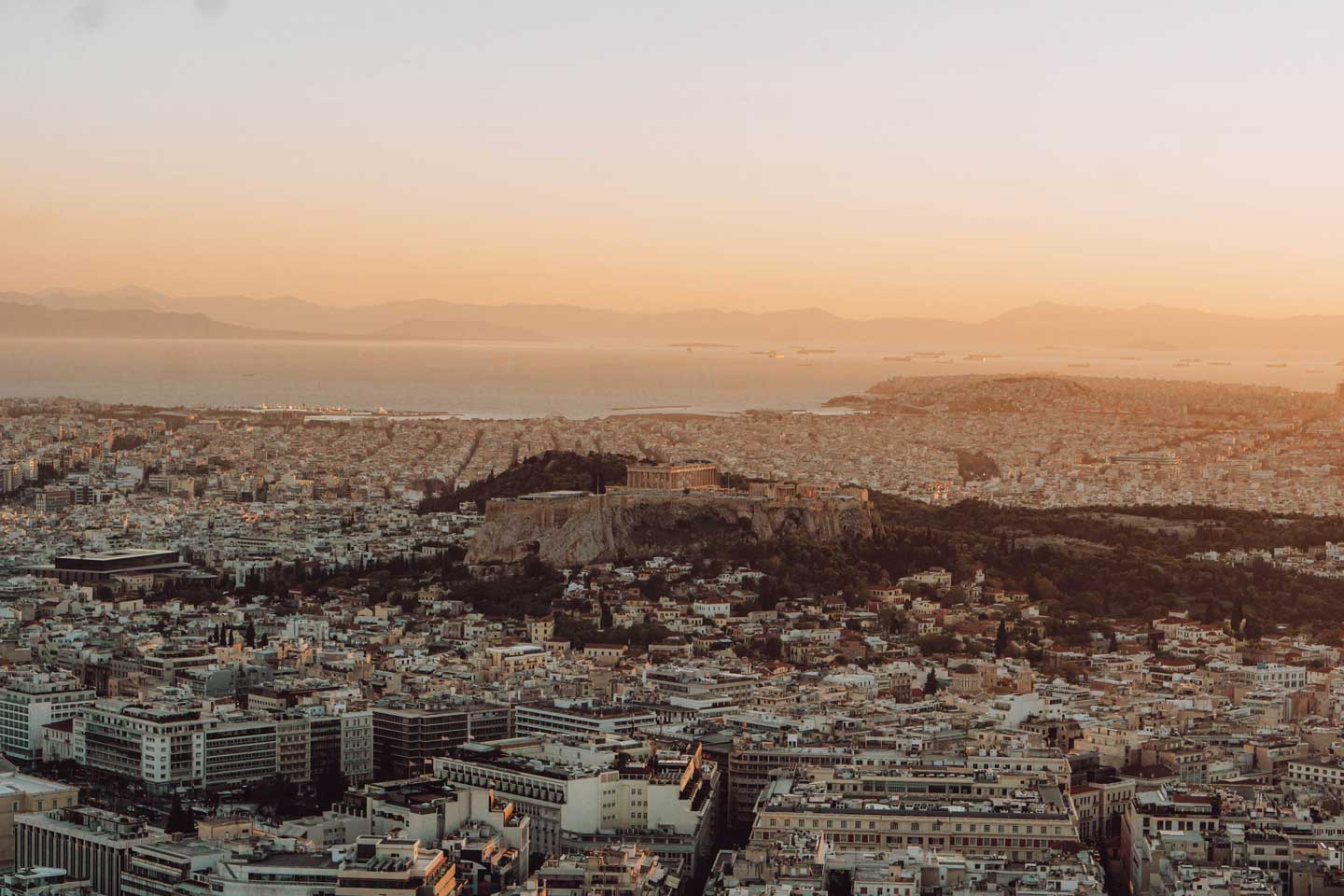 The view from Lycabettus Hill.
Itinerary for Athens: Day 3
Take a street art tour
The street art culture is very big in Athens, with many famous artists making their mark on grand buildings. It started during the economic crisis in the early 2010s as a way for Athenians to express themselves. Today, Athens is filled with impressive street art, from small graffiti art to huge murals made on commission by the city itself, from famous artists like Ino, Achilles, and many more.
When you start looking, street art is everywhere. Even though you can see the art by yourself, I highly recommend joining a street art tour. It's a great way to learn more about not only street art but also the city's modern history.
I joined the street art tour with Kalliopi at Awesome Athens Experiences, who guided me through the street art scene of Athens – while also spilling the beans on her favorite neighborhoods and restaurants, and hidden gems. This was one of the most educative experiences I had in Athens!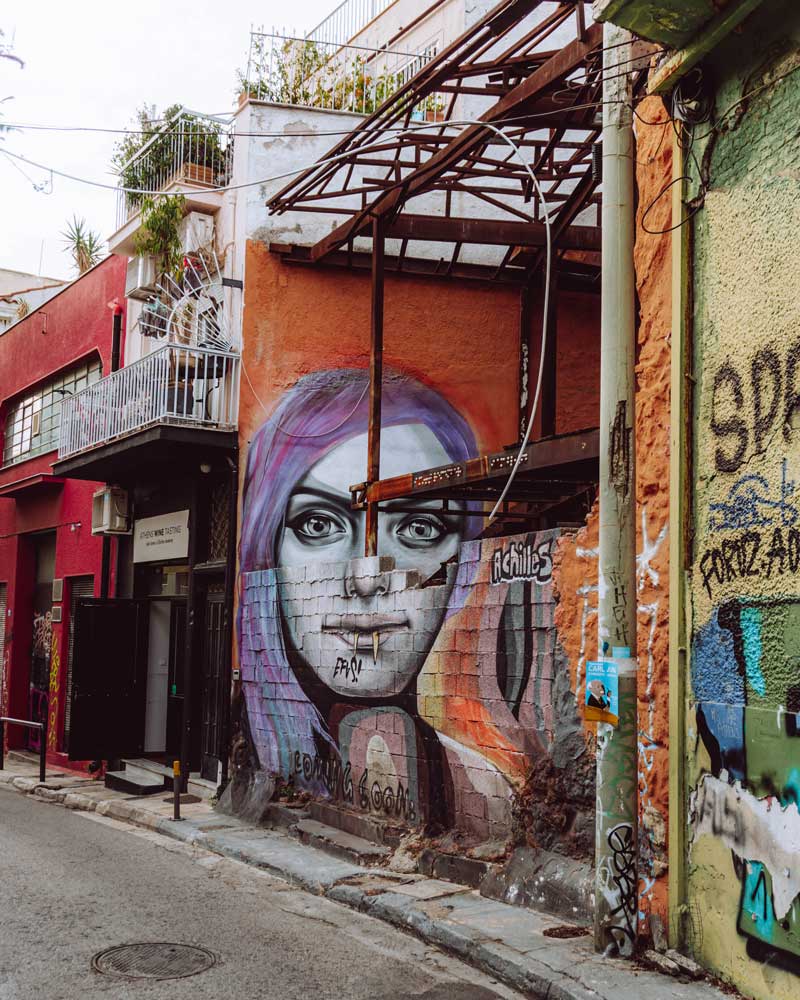 Visit the National Archaeological Museum
Athens is a city with many museums. If you only have time to visit one, then I suggest you visit the National Archaeological Museum (much more interesting than the Acropolis museum, according to me.) This museum is the largest archaeological museum in Greece and it's home to one of the largest collections of artifacts from ancient Greece.
Entrance: €12 April to October; €6 November to March.
Eat loukoumades
Even though you will try loukoumades on the above-mentioned food tour, this delicious pastry deserves its own time to shine. Loukoumades is a small puff pastry similar to a donut, with different toppings. The traditional loukoumades are with honey and nuts, but nowadays you can get the pastry with pretty much any topping.
Many tourists try loukoumades from the (aptly named) Lukumades. Their loukoumades are delicious – but if you want the real deal you should go to Krinos, an establishment that's been serving loukoumades to Athenians since 1923.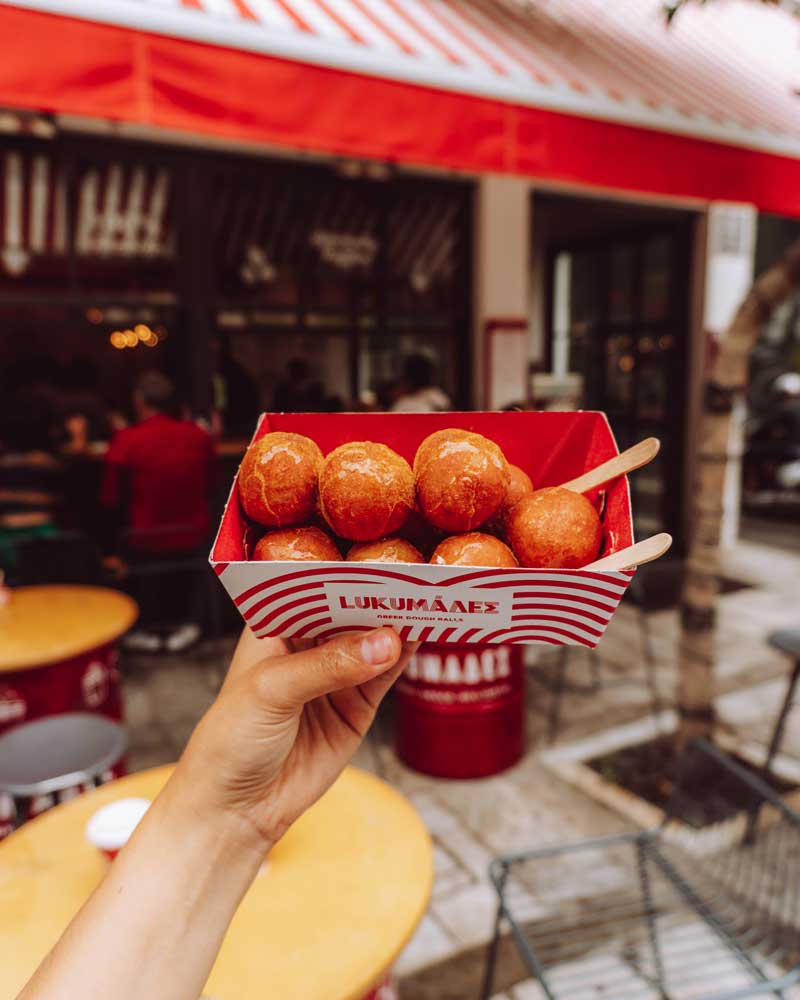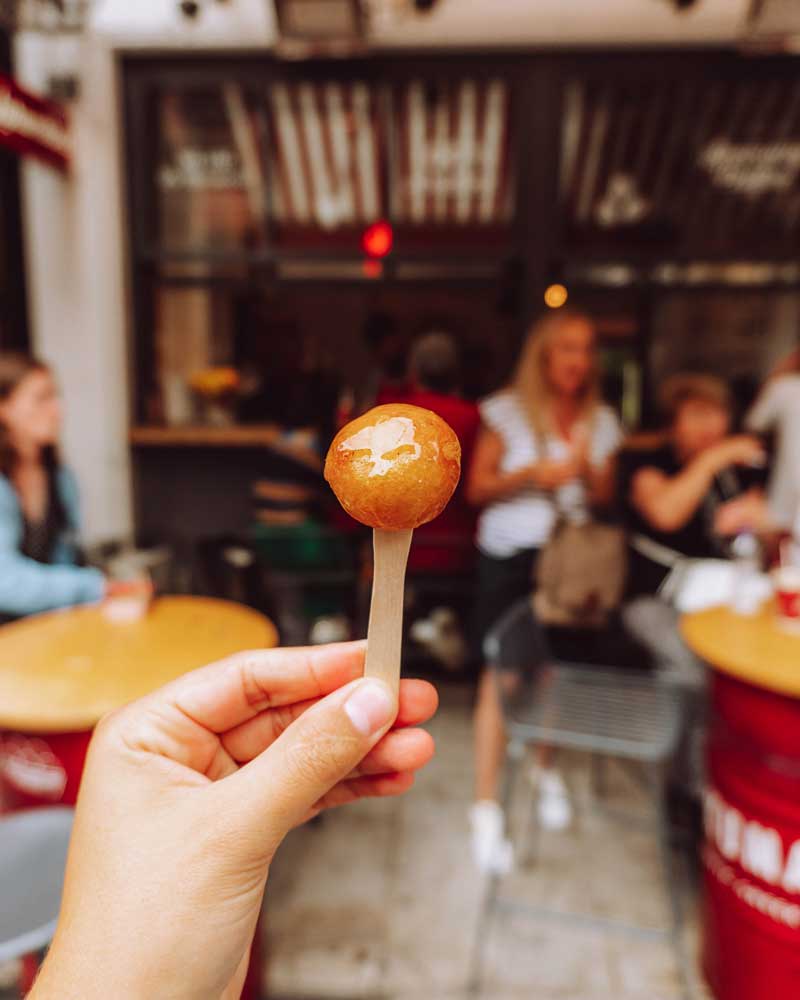 Experience Athens' nightlife
One thing is sure: Athenians know how to party! You can't visit Athens without getting a taste of its famous nightlife. When the sun sets, the Athenian streets turn into a festival, with people sipping wine or ouzo at the patios, or using the streets as their dance floor.
For the ultimate experience of Athens' vibrant nightlife, head to these areas:
Kolokotroni: Kolokotroni is a labyrinth of narrow streets, filled with some of the most popular bars in the city. The heart of it is around Agias Irinis Square. The genuine atmosphere and pulse, as Athenians enjoy their drinks on the pavement tables, lets you know you're in the right place. Some of my favorites are Barrus, six d.o.g.s, and Clumsies (Clumsies being ranked as one of the best bars in the world).
Psyrri: Just like Kolokotroni, Psyrri's narrow streets offer a widely appreciated bar scene. In this urban and eclectic area, you simply can't miss Juan Rodriguez Bar, To Lokali, and Cinque Wine Bar.
Keramikos & Gazi: Home to many avant-garde nightclubs. This is where young Athenians go for a night out. I suggest bars like Beauty Killed The Beast or BIOS Athens.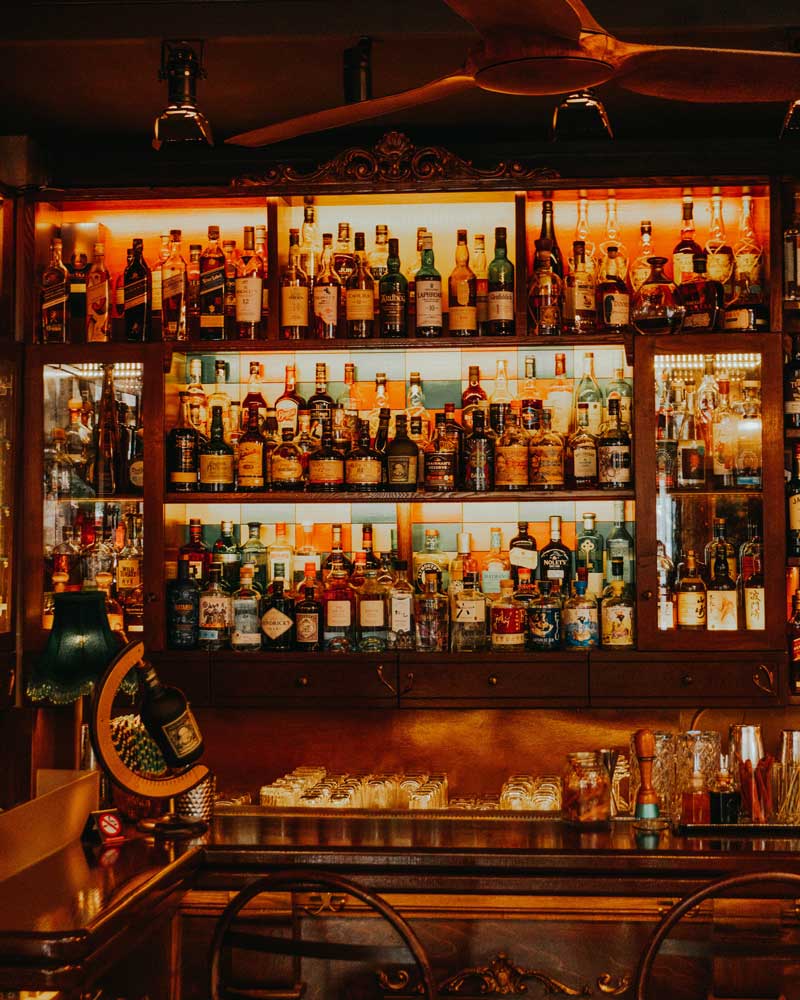 Bonus: Day 4
Having more than three days? Add these activities to your itinerary.
National Garden
The National Garden in Athens is a 24-hectare big garden, located right next to Syntagma Square. The National Garden, formerly known as the Royal Garden, was created on command of Queen Amalia in the 1840s. The garden is home to more than 500 different species of plants (one being the iconic 25m tall palm trees), imported from all over the world, making it a unique experience not found anywhere else in Greece. Due to its large size, the garden is a peaceful escape from the otherwise busy city.
Visit the Athenian Riviera
The Athenian Riviera is the coastal area in the southern suburbs of Athens, that stretches from Pireas to Cape Sounio. This is where Athenians go to escape the heat. Here you can visit the beaches, the marinas, the Stavros Niarchos Foundation Cultural Center, or the iconic beach club Island. The perfect day trip from Athens!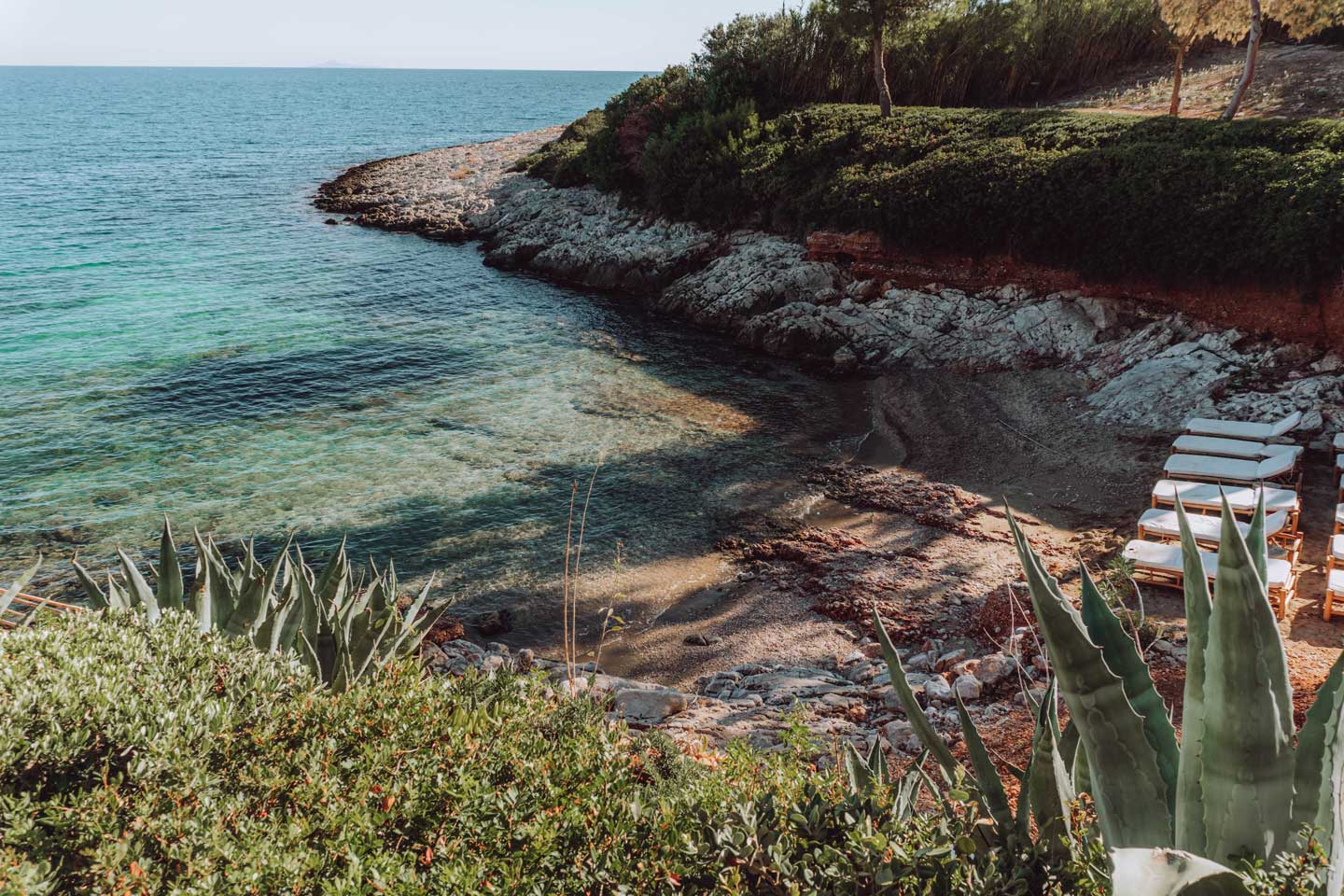 Athens spice market & food market
The central food market, located between Monastiraki Square and Omonia Square in Athens, is the largest food market in Athens. This is where Athenians go for the freshest fish, meat, fruit, vegetables, and spices. The market is loud, hectic, smelly, and filled with vendors trying to sell you the cheapest produce. It's a big part of the Athenian soul, which makes it worth a stop on your Athens itinerary!
You will probably visit this historic food market if you decide to take a food tour around Athens.
Shopping in Athens
Athens is a great city for shopping, whether you want the latest fashion or more classic items.
Monastiraki Flea Market: Very touristy at first sight, but if you take a closer look you can find high-quality items here.
Ermou Street: This is where you find all the big brands, like H&M, Zara, Mango, etc.
Plaka: The narrow streets of Plaka are filled with small shops selling crafts, leather bags, souvenirs, etc.
Holy Metropolitan Church of the Annunciation to the Virgin Mary
The Metropolitan Cathedral, also known as Mētrópolis, is the biggest church in Athens. The construction of the cathedral began in 1842 and was finished 20 years later. Its incredible height and polished marble walls make this church worth a visit.
Best restaurants in Athens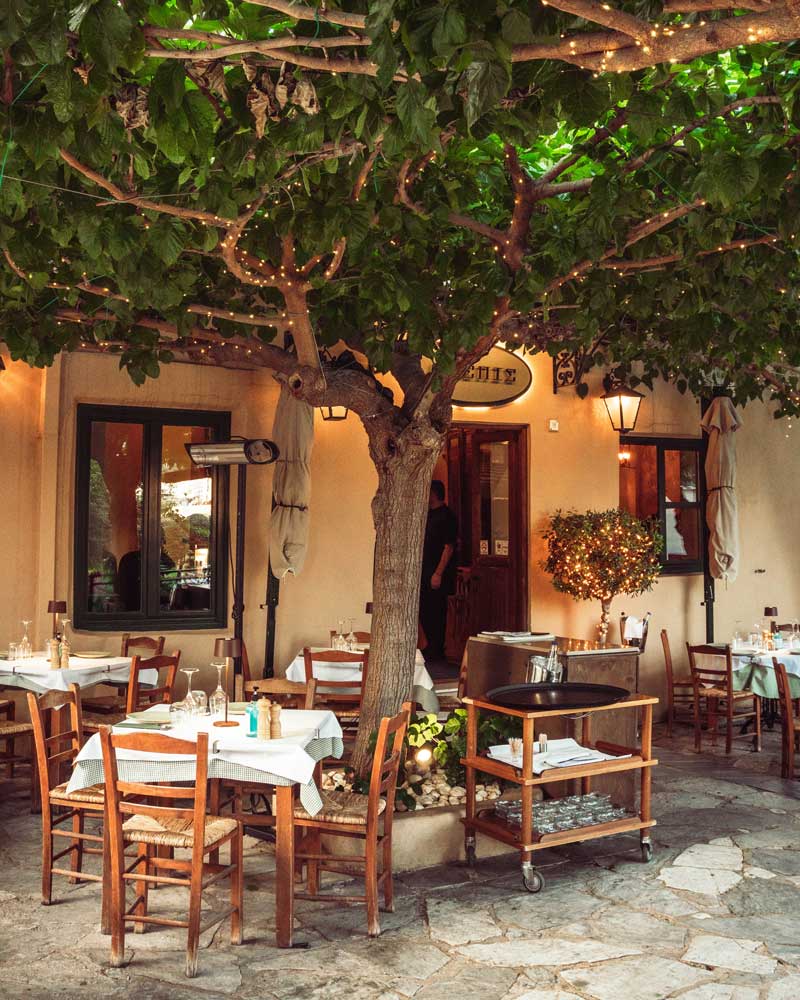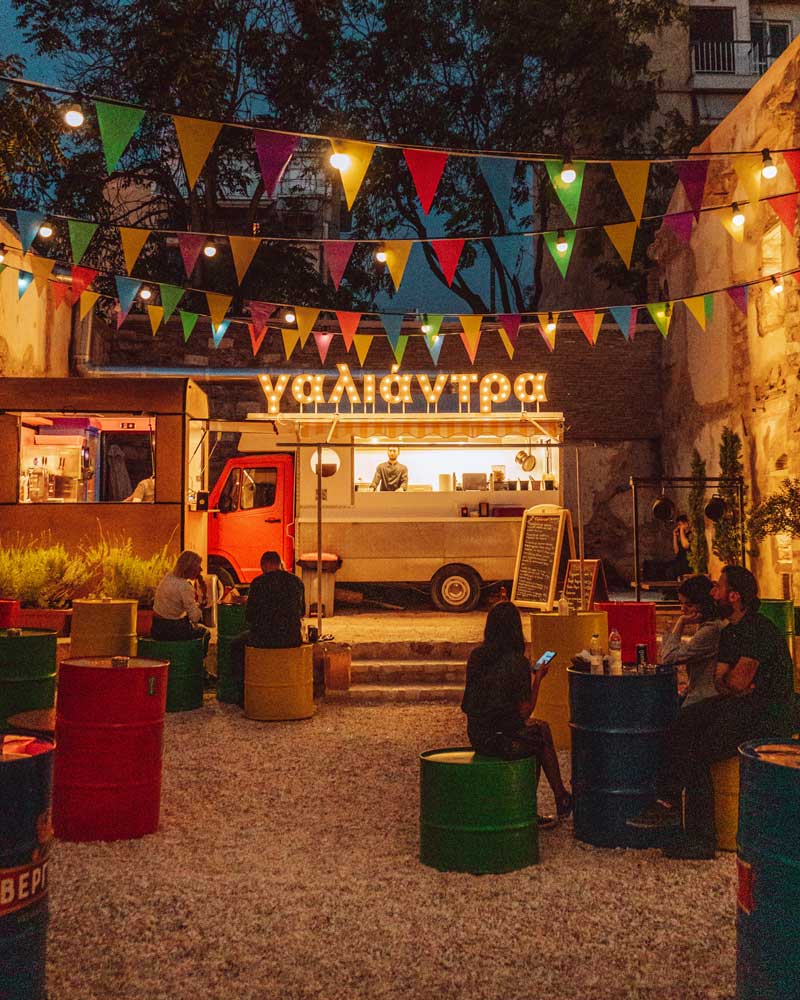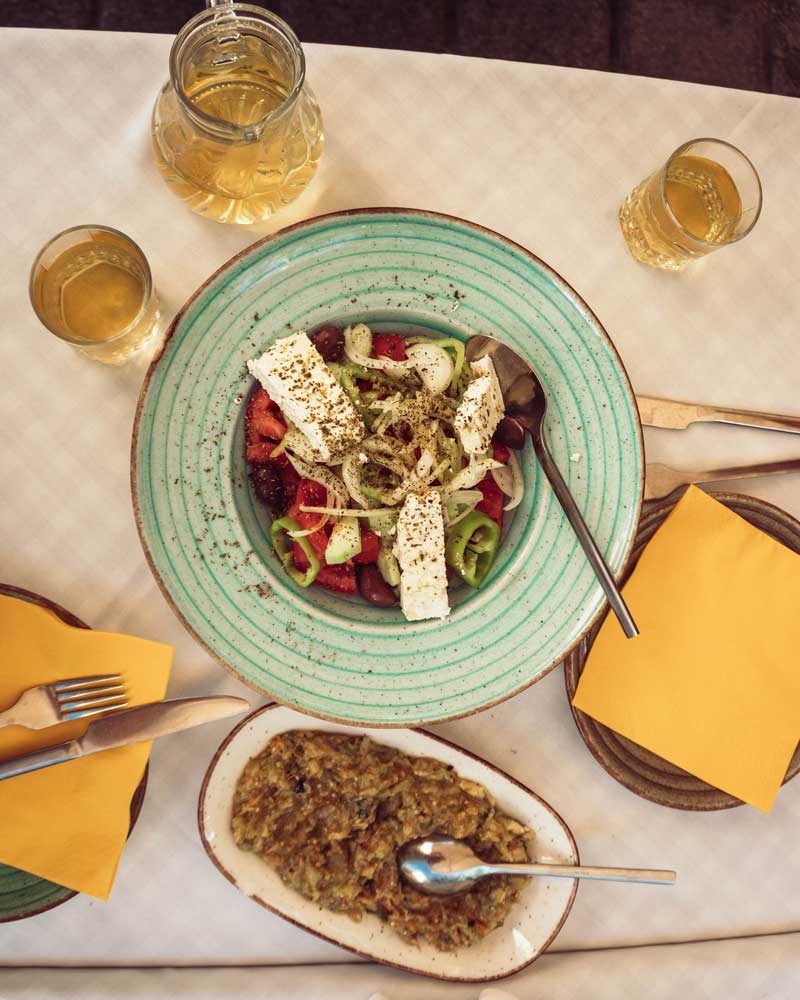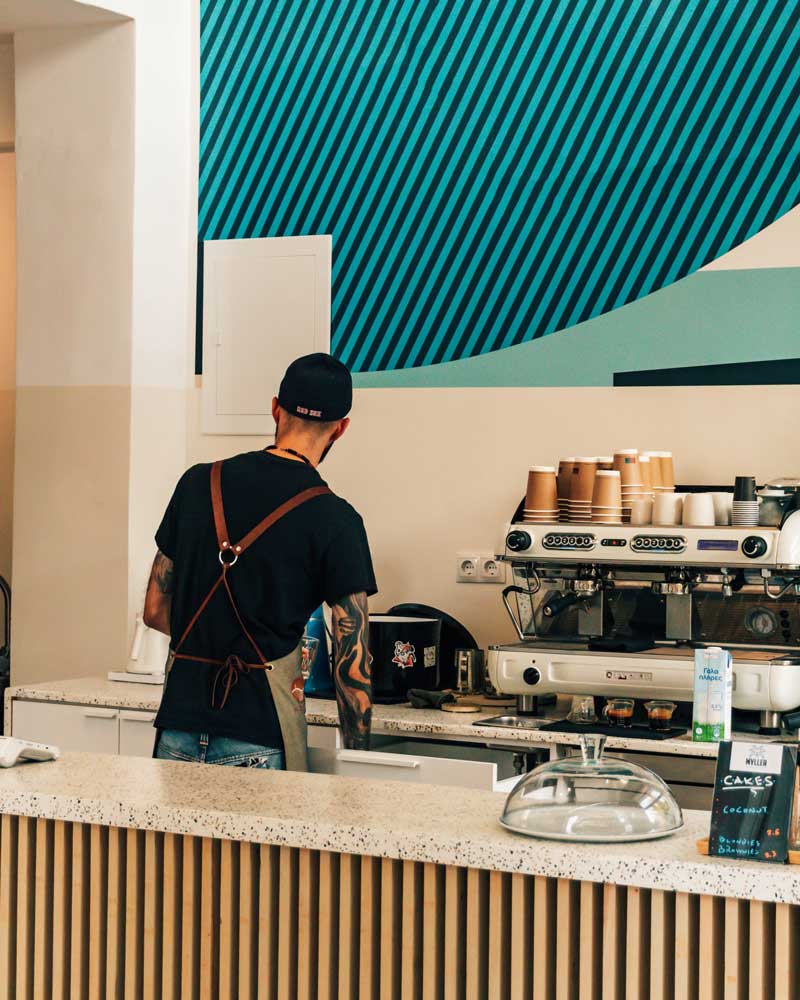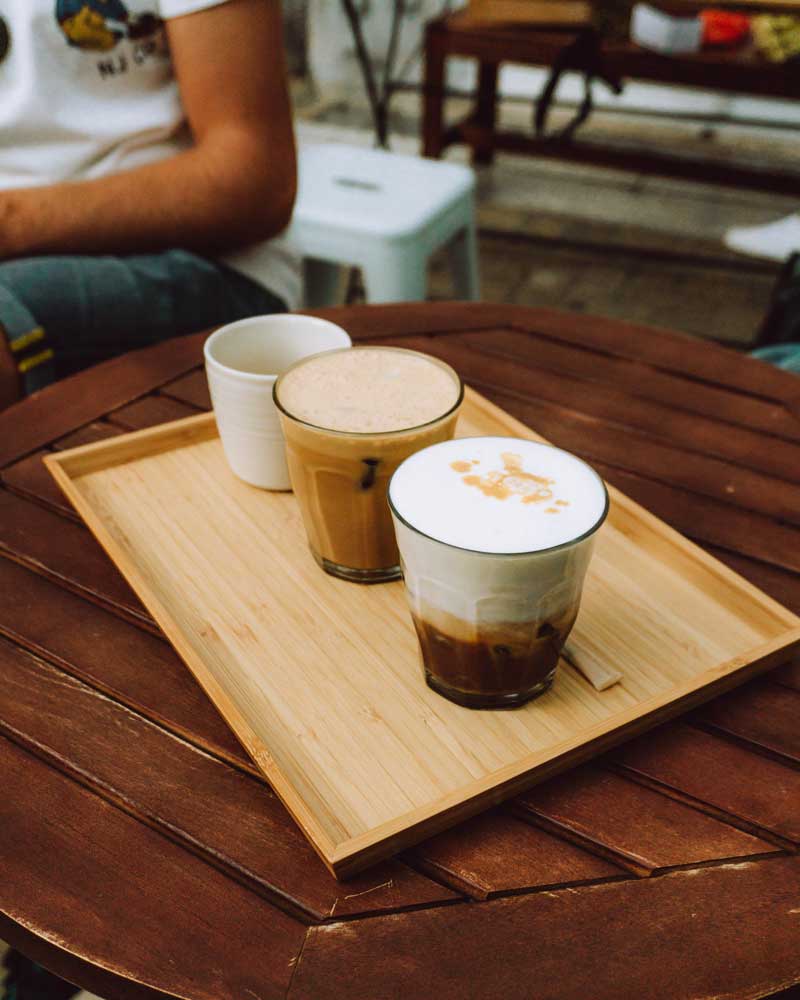 Best rooftop bars in Athens
Retiré (on top of ERGON House)
Best time to visit Athens?
Athens peak season is summer, especially July and August. However, these months are extremely hot in Athens with temperatures up to 35 degrees celsius. I would say that the months between April and June, as well as September and November, are ideal for visiting Athens. The weather in the spring and autumn is sunny but not too hot, and it's less crowded.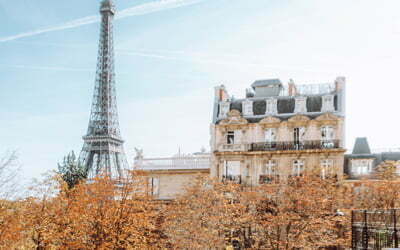 Home > Destinations > FranceThe 10 Best Eiffel Tower Photo SpotsDo you want to take some photos of the Eiffel Tower but you're not sure where to go? The Eiffel Tower is without a doubt the most photographed landmark in Paris. In this blog post I give you a list...
read more