7 best restaurants in Trastevere, Rome
Wondering which are the best restaurants in Trastevere, Rome? The Trastevere district in Rome, Italy, is full of genuine restaurants and taverns. This picturesque neighborhood is off the beaten path and represents the best-preserved corners of Rome, at least when it comes to food. If you want a great dining experience with traditional Italian food and classic Roman dishes, then Trastevere is the place to go. The restaurants are lined up in small alleys and serve pasta and pizza that are to die for. So skip the tourist traps – in this Best Restaurants in Trastevere guide I'll help you navigate the food scene of this authentic area.
Map of the best restaurants in Trastevere
This Google maps points out the best Trastevere restaurants. As you can see, all restaurants are located close to each other – making it easy to create your own Rome food tour with traditional Roman cuisine.
➳ Is it your first time visiting Rome? Don't miss my Complete 4-day itinerary to Rome!
1. Il Duca In Trastevere
Il Duca doesn't look much from the outside, but once you're in and try their homemade pasta you won't be disappointed. Located in the very center of Trastevere, Il Duca is great for both lunch and dinner. The atmosphere is genuinely Italian and the waiters are super friendly. Their menu consists of typical Roman food like fried artichokes (carciofi alla Romana or carciofi alla Guida), cacio e pepe, and much more. And if you like truffles you must try their truffle ravioli.
Price: ✩✩
How easy it is to eat vegetarian: ✩✩✩✩✩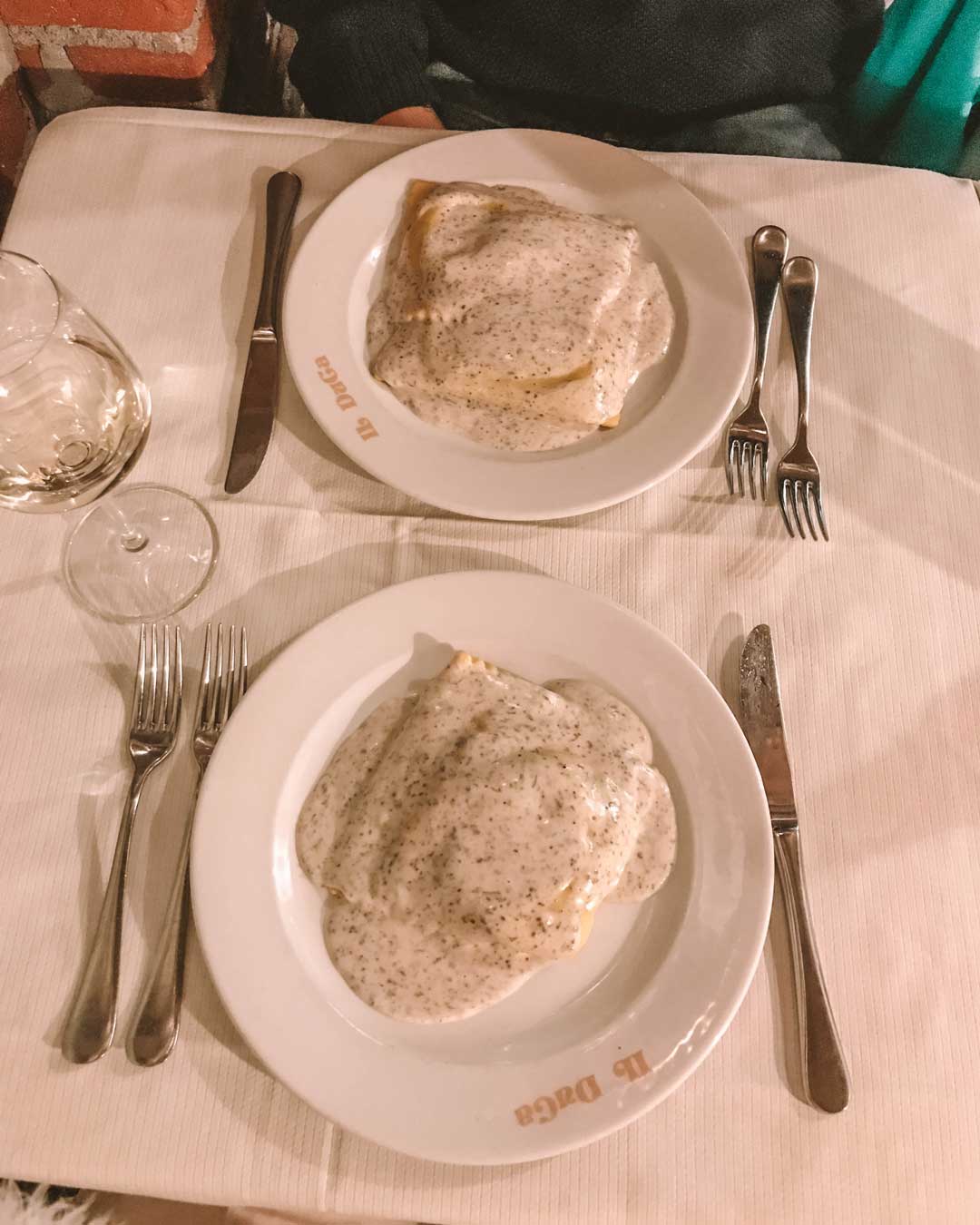 The delicious truffle pasta from Il Duca in Trastevere, the cute cobblestone street outside.
2. Mimi e Coco Trast
Mimi e Coco Trast is actually so good we went there twice on our 4 days in Rome. It's located in one of the many cute alleys in Trastevere. The atmosphere is trendy, the food is great and the prices are reasonable. They serve traditional Italian food, and they won't let you leave until you try their homemade biscottis accompanied by limoncello. I can highly recommend trying one of their pasta dishes, especially their cacio e pepe. But honestly, all their pasta and pizza dishes looked delicious.
Price: ✩✩✩
How easy it is to eat vegetarian: ✩✩✩✩✩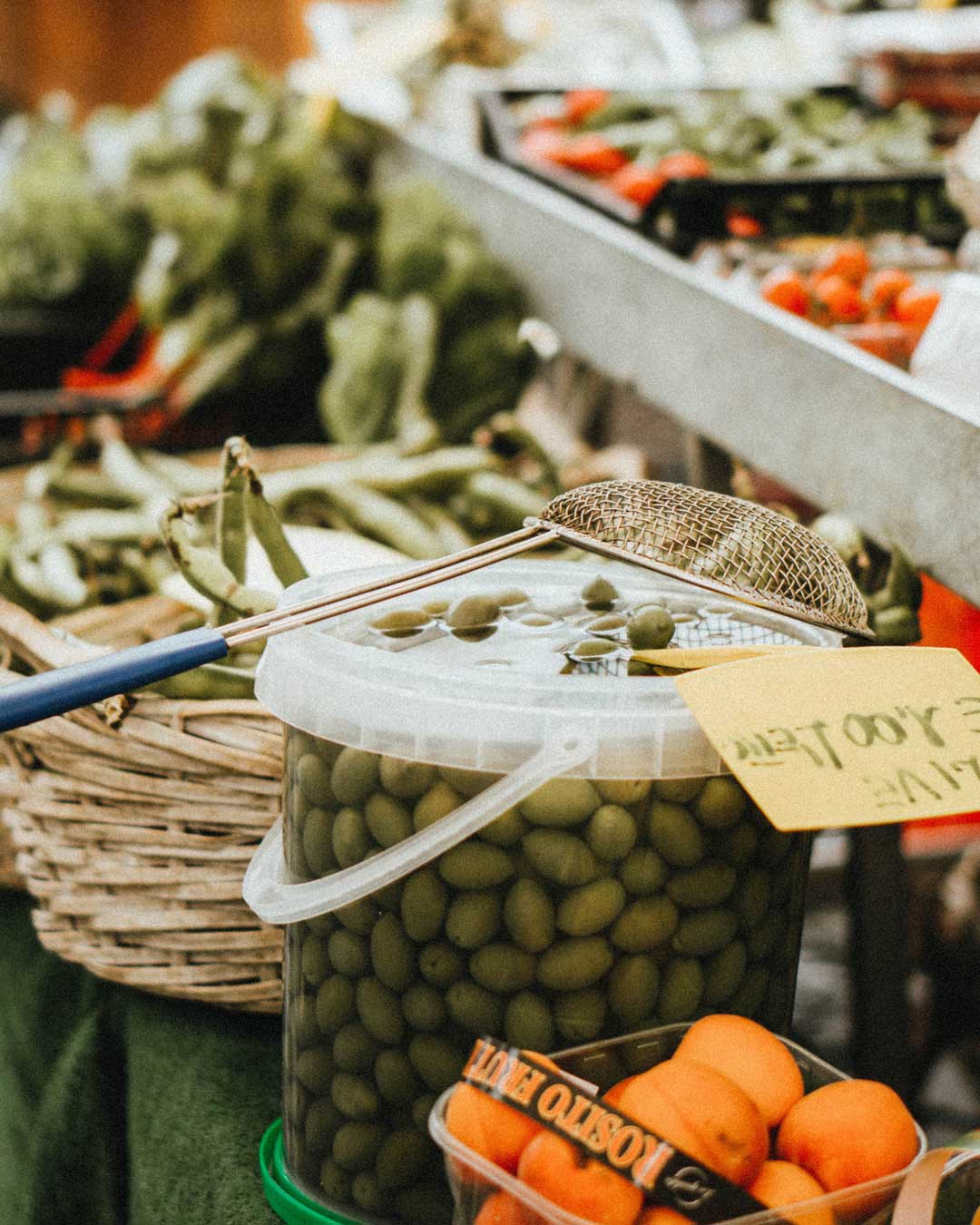 Pizzas from Ivo a Trastevere, olives from a market nearby.
3. Ivo a Trastevere
Just like Il Duca, Ivo a Trastevere doesn't look much from the outside. It is located a few blocks away from the heart of Trastevere, but well worth the walk. Ivo a Trastevere is homely and loud, it feels like you're visiting a huge Italian family dinner. The restaurant is famous for its pizzas, making it a popular dining place for both locals and visitors.
Price: ✩✩
How easy it is to eat vegetarian: ✩✩✩✩✩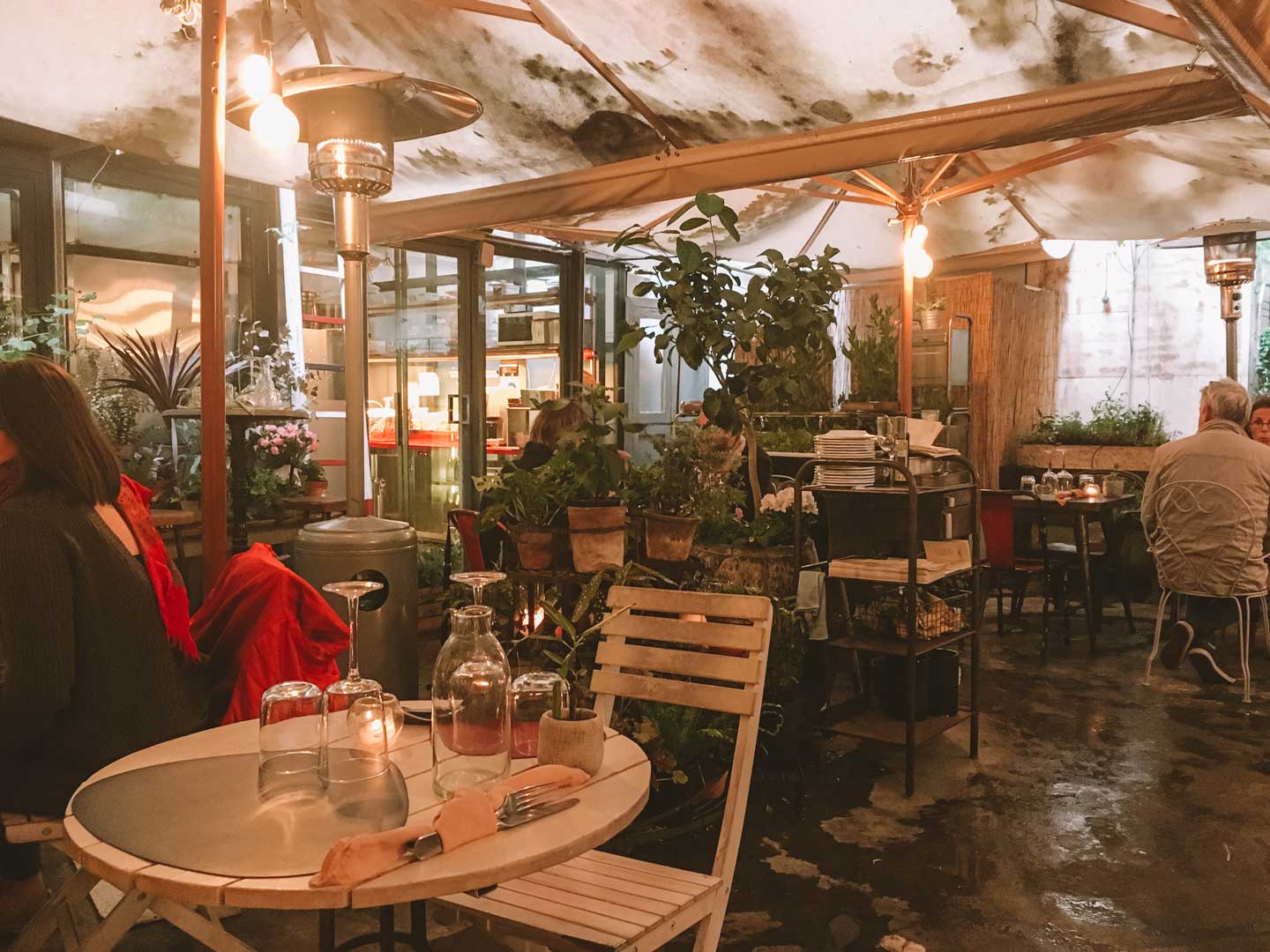 The cosy backyard at Pianostrada.
4. Pianostrada
Pianostrada serves high-quality Italian food but with a twist. They call themselves "a kitchen laboratory". They focus on fresh ingredients sourced from farms around Rome, and every dish is carried out with brilliance. This restaurant is popular (and a bit fancy) so make sure to reserve a table before you go there.
Pianostrada is actually not in Trastevere, it's located just across the Tiber river from Piazza Trilussa. It will take you no more than five minutes to walk from Trastevere, and it's definitely worth it.
Psst. Pianostrada offers outdoor seating in its cozy backyard – the perfect spot for a glass of cava.
Price: ✩✩✩✩
How easy it is to eat vegetarian: ✩✩✩✩✩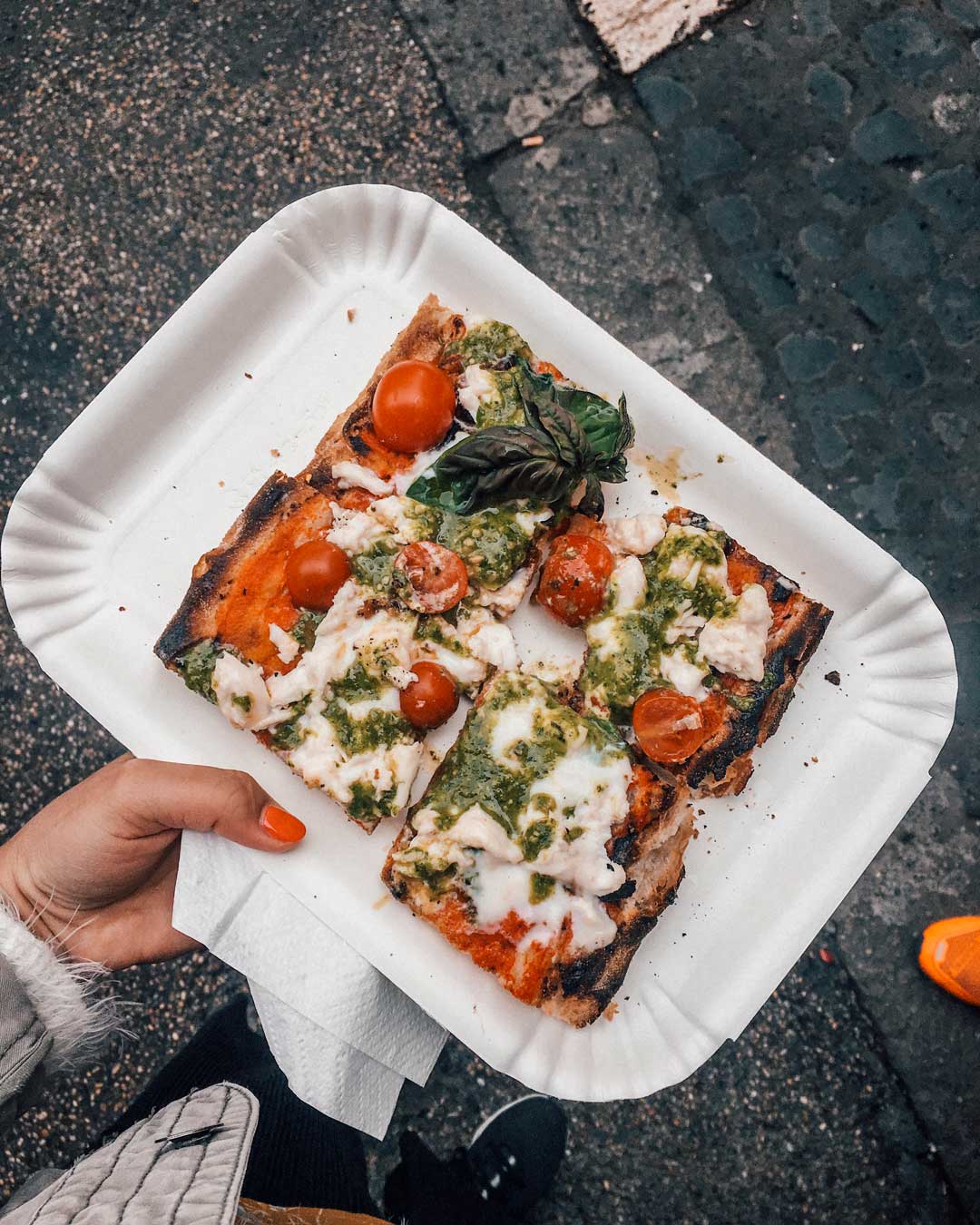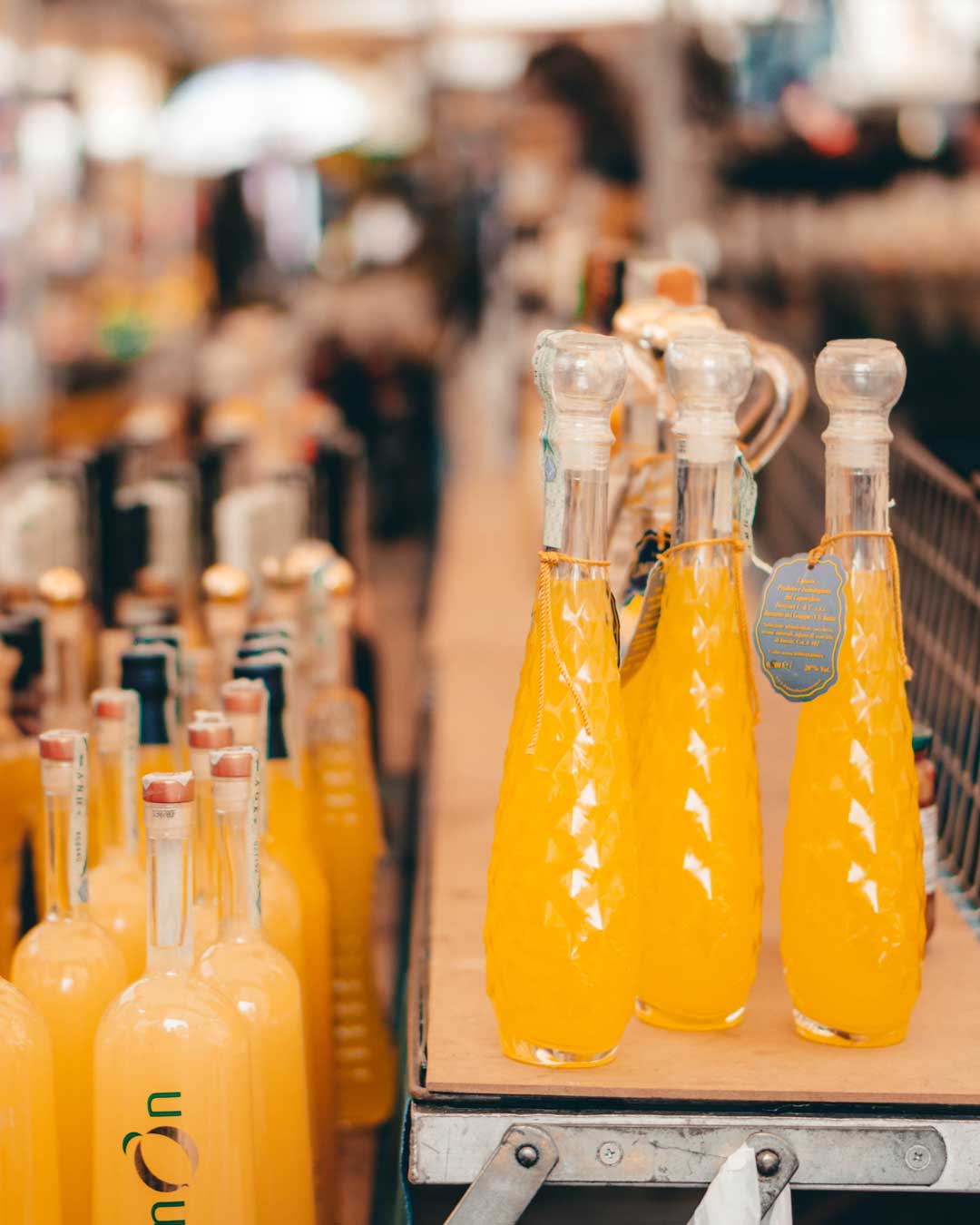 Pizzas from Pizzarius Roma, cute bottles from a nearby market.
5. Pizzarius Roma
Walking around in Trastevere and in need of a quick lunch? Then head over to Pizzarius Roma. This great pizza shop serves delicious to-go pizza slices. I mean, how about a fluffy crust topped with fresh tomatoes, homemade pesto, rocket salad, and the freshest mozzarella of them all..? This is street food the Italian way, and I love it.
Price: ✩
How easy it is to eat vegetarian: ✩✩✩✩✩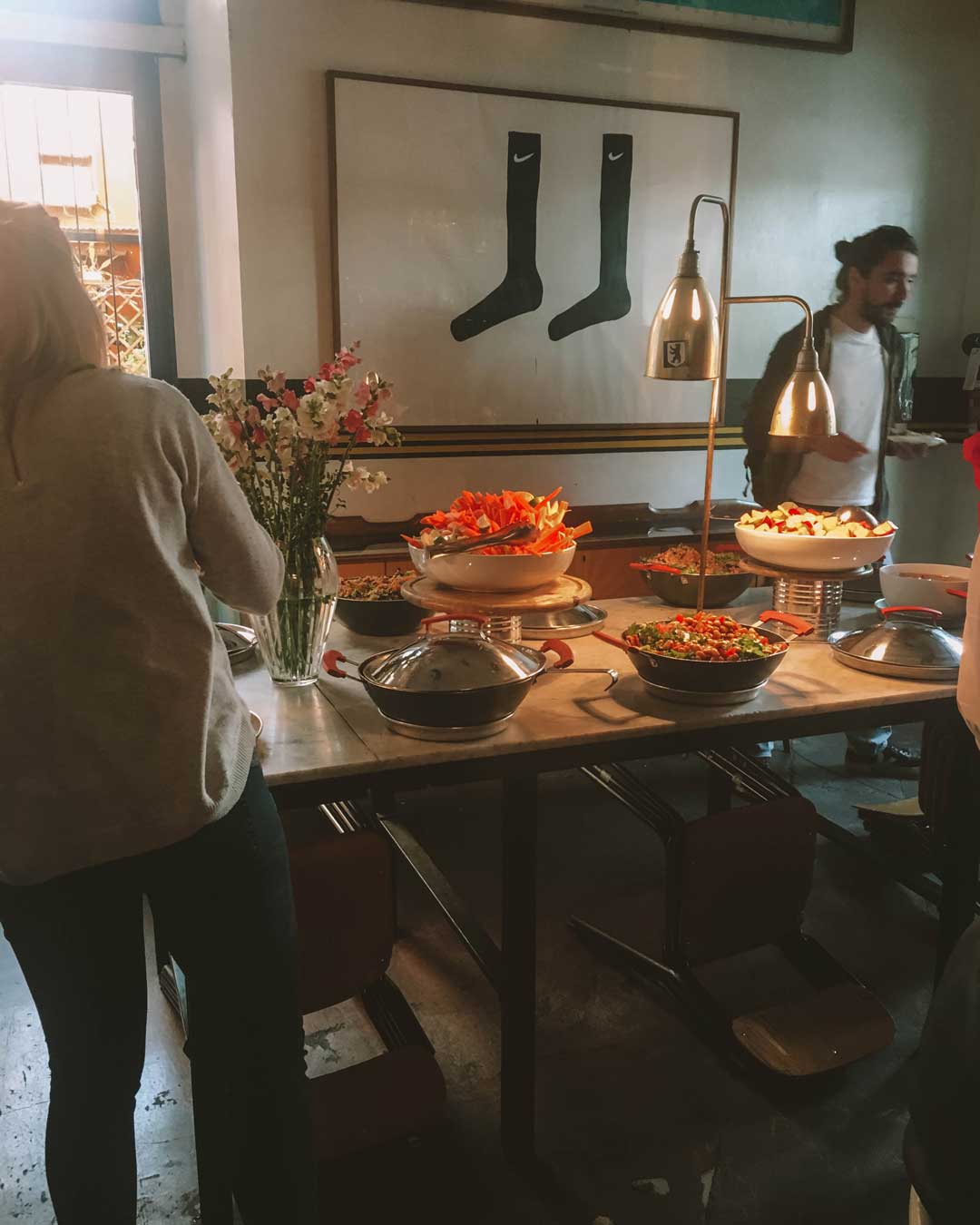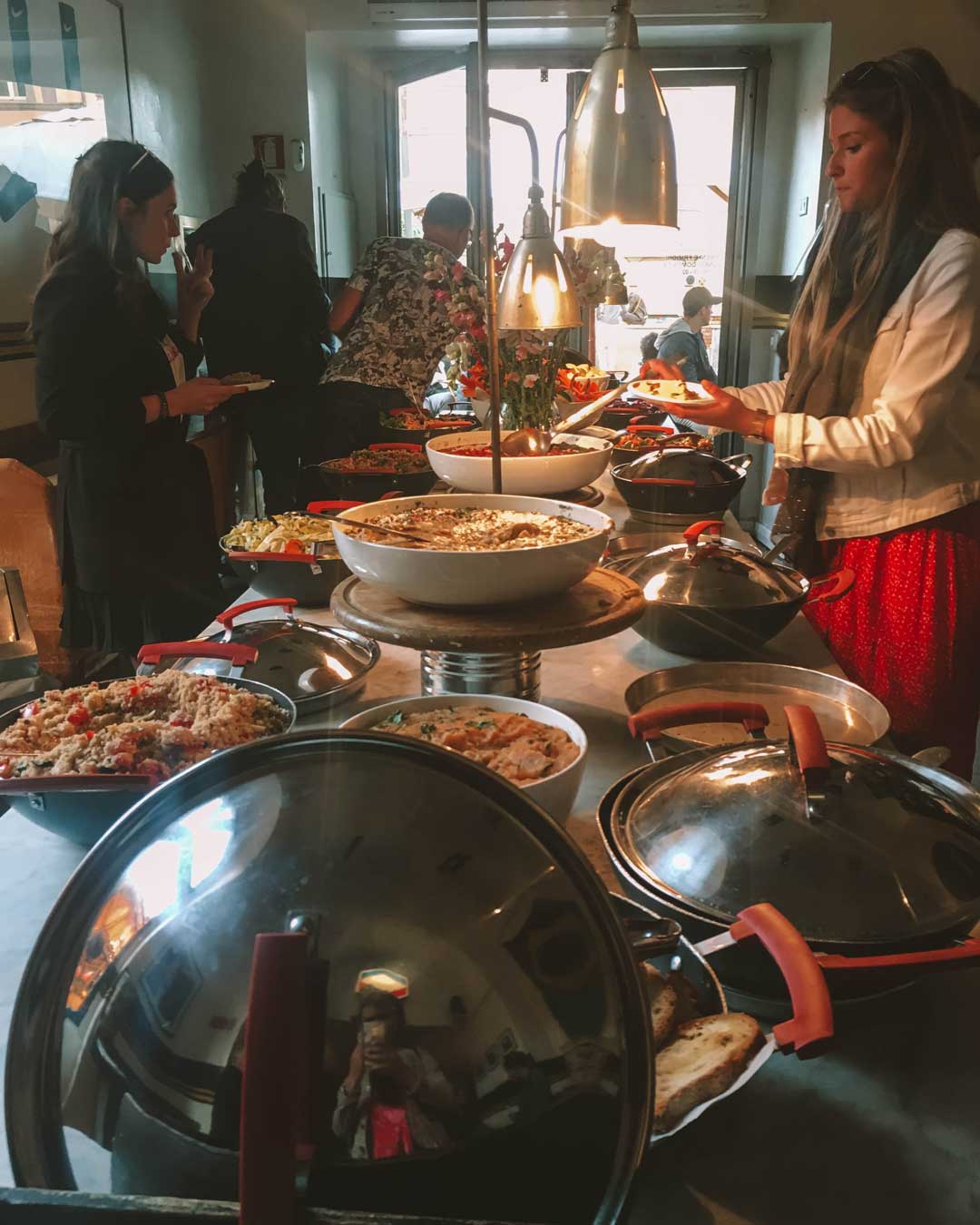 The aperitivo buffet at Freni e Frizoni.
6. Freni e Frizioni
Freni e Frizoni is a trendy bar located near Piazza Trilussa, just by the Tiber river. This is the perfect place for an aperitivo. The drinks are a bit expensive, but then you also get their vegetarian aperitivo buffet for free! Go here early, buy one of their delicious aperol spritzes, grab some food from the buffet and enjoy it outside on the little square before you head to the alleys in Trastevere for even more food. 
Price: ✩✩✩✩
How easy it is to eat vegetarian: ✩✩✩✩✩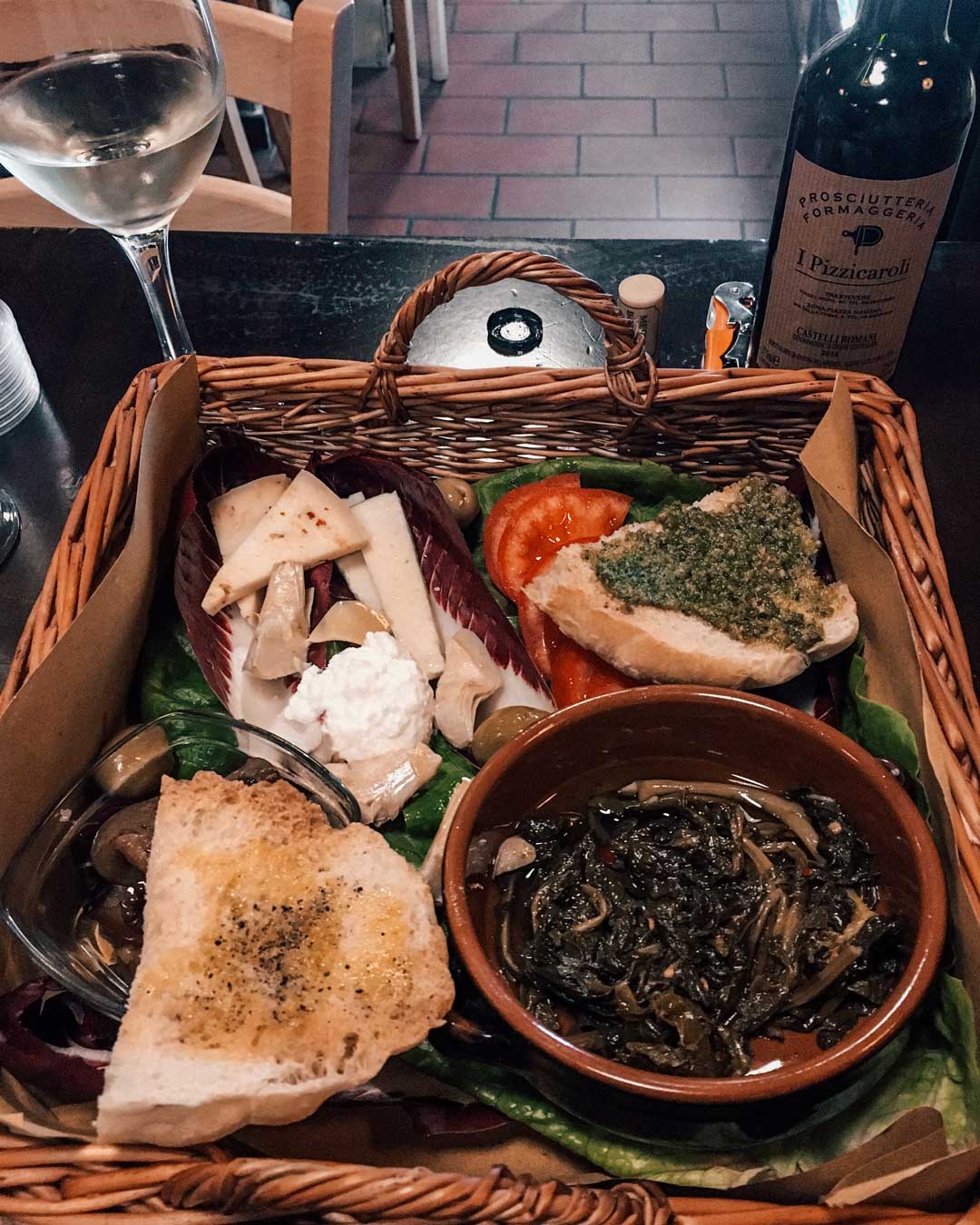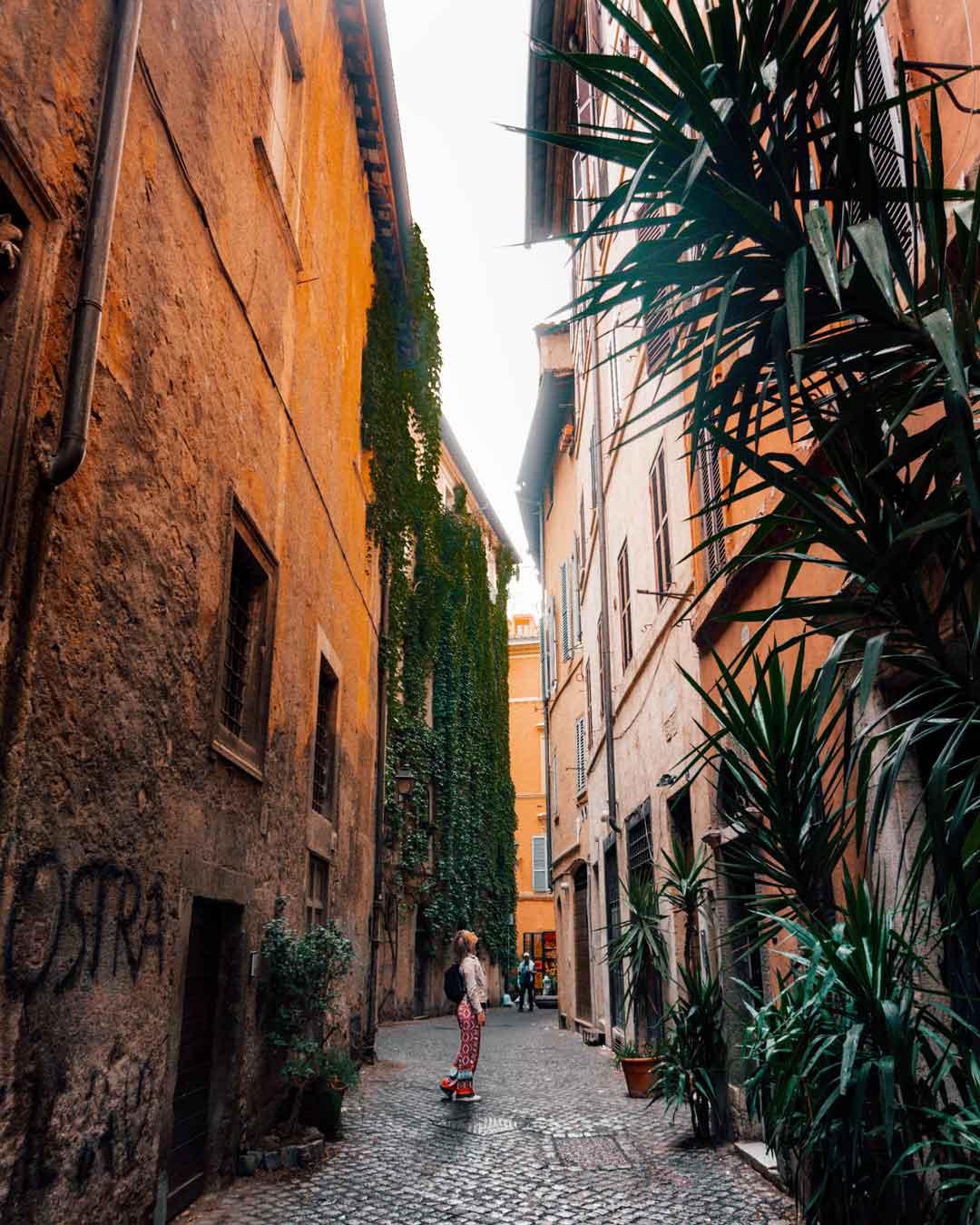 The aperitivo from Andreotti Trastevere, a nearby street.
7. Andreotti Trastevere
Andreotti Trastevere is a small aperitivo place where you can enjoy an Italian aperitivo with a great selection of cheese and wine. The place is nothing fancy, just a genuine Italian restaurant with a great atmosphere and delicious food. It's definitely worth a visit when you're in Rome.
Price: ✩✩✩
How easy it is to eat vegetarian: ✩✩✩✩✩
More Rome travel tips
Looking for Roman classes that aren't food? Rome has so much to offer. These travel guides might come to use as you plan your Rome trip: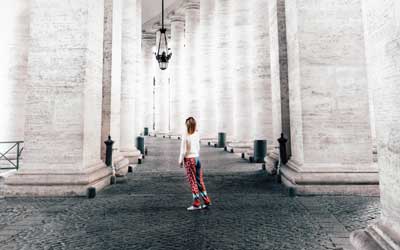 Home > Destinations > ItalyBest photo spots in Rome – 11 Instagrammable places in RomeKnown as the Eternal City, it's hard to imagine a more photogenic place than Rome, Italy. With countless historical sights, ancient roman monuments, beautiful architecture and...
read more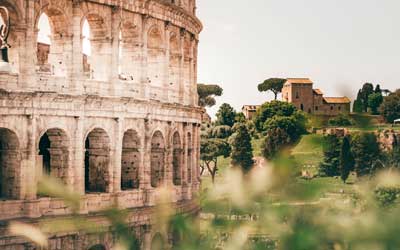 Home > Destinations > ItalyThe ultimate itinerary for 4 days in Rome, ItalyWondering how to best spend 4 days in Rome, Italy? Rome, also known as the eternal city, is famous for being one of the most historical and cultural cities in the world. Wandering the...
read more