Travel Captions: Top 30 Short Travel Captions for Instagram
Are you ready to inspire wanderlust in your followers with the perfect Instagram travel captions? Look no further! In this list, you'll find anything from cute travel quotes to short travel captions for Instagram. Feel free to copy them and use them to showcase your next adventure!
If you love to post on Instagram as much as I do, you probably know how hard it can be to come up with inspiring travel captions for Instagram. I hope these travel quotes will inspire you (and your followers) to fuel your wanderlust.
Be sure to bookmark this page for later, or save it to your Pinterest board for quick access when you want to post your next travel photo!
30 Short Travel Captions for Instagram
1. "The world is a book and those who do not travel read only one page." – Augustine of Hippo
2. "My new routine: Journey. Explore. Discover. Repeat."
3. "Travel is the only thing you buy that makes you richer." – Anonymous
4. "Life is short and the world is wide. I better get started."
5. "All we have to decide is what to do with the time that is given to us."
– J. R. R. Tolkien
6. "We must adventure to know where we truly belong."
7. "Wherever you go, go with all your heart." – Confucius
8. "Exploring the roads less traveled."
9. "Fill your life with adventures, not things. Have stories to tell not stuff to show."
10. "Life is not meant to be in one place."
11. "I am one of those who never knows the direction of my journey until I have almost arrived." —Anna Louise Strong
12. "Life is a journey, not a destination." – Ralph Waldo Emerson
13. "Adventure awaits at every corner."
14. "I'll look back on this and smile because it was life and I decided to live it."
15. "When I'm exploring the world is when I feel most at home."
16. "A journey of a thousand miles begins with a single step." – Lao Tzu
17. "Leave your worries behind and just wander."
18. "Traveling, it leaves you speechless, then turns you into a storyteller." – Ibn Battuta
19. "Let's wander where the wifi is weak."
20."All you need is love and a passport."
21. "Not all who wander are lost." – J.R.R. Tolkien
22. "Tan lines and jetlag fade, but memories last forever."
23. "Sunsets are proof that no matter what happens, every day can end beautifully."
24. "I'd rather have a passport full of stamps than a house full of stuff."
25. "We travel not to escape life, but for life not to escape us."
26. "Quit your day job, not your daydreams."
27. "Don't listen to what they say, go see."
28. "I only collect one thing: stamps on my passport."
29. "Take only pictures. Leave only footprints."
30. "I follow my heart … and it usually leads me to the airport."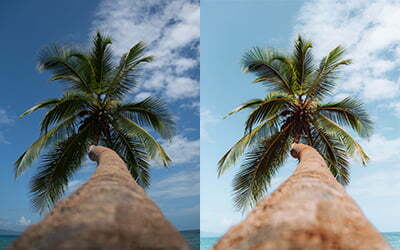 Home > Tips & tricksHow to batch edit photos in LightroomIf you have ever visited my Instagram, you know I am a huge fan of Lightroom. One of the best things about using Lightroom to edit photos is the ability to edit multiple photos at the same time. I show...
read more