Camping in Costa Rica: How to explore Costa Rica in a campervan
Camping in Costa Rica offers the ultimate freedom to discover the country's natural beauty and culture at your own pace. You can fall asleep in the lush rainforests, or to the sound of crushing waves at any of the stunning beaches. If you're planning a trip to Costa Rica and looking for a unique way to experience this country, renting a campervan may be the perfect solution for you. This blog post covers everything you need to know about camping in Costa Rica.
Why camp in Costa Rica?
Camping in Costa Rica is becoming increasingly popular, as it provides a convenient and affordable way to explore the country's diverse landscapes and attractions. Thanks to the country's generous wild camping possibilities, you can spend your nights at places that most tourists never see.
Size-wise, Costa Rica is the perfect country for a road trip. Not too big, and not too small. Within a few hours, you can find yourself driving (on rocky roads, more on that later) in misty mountains, along white sandy beaches, or in lush rainforest. I'd recommend anyone I know to explore Costa Rica by car, as it offers the ultimate flexibility.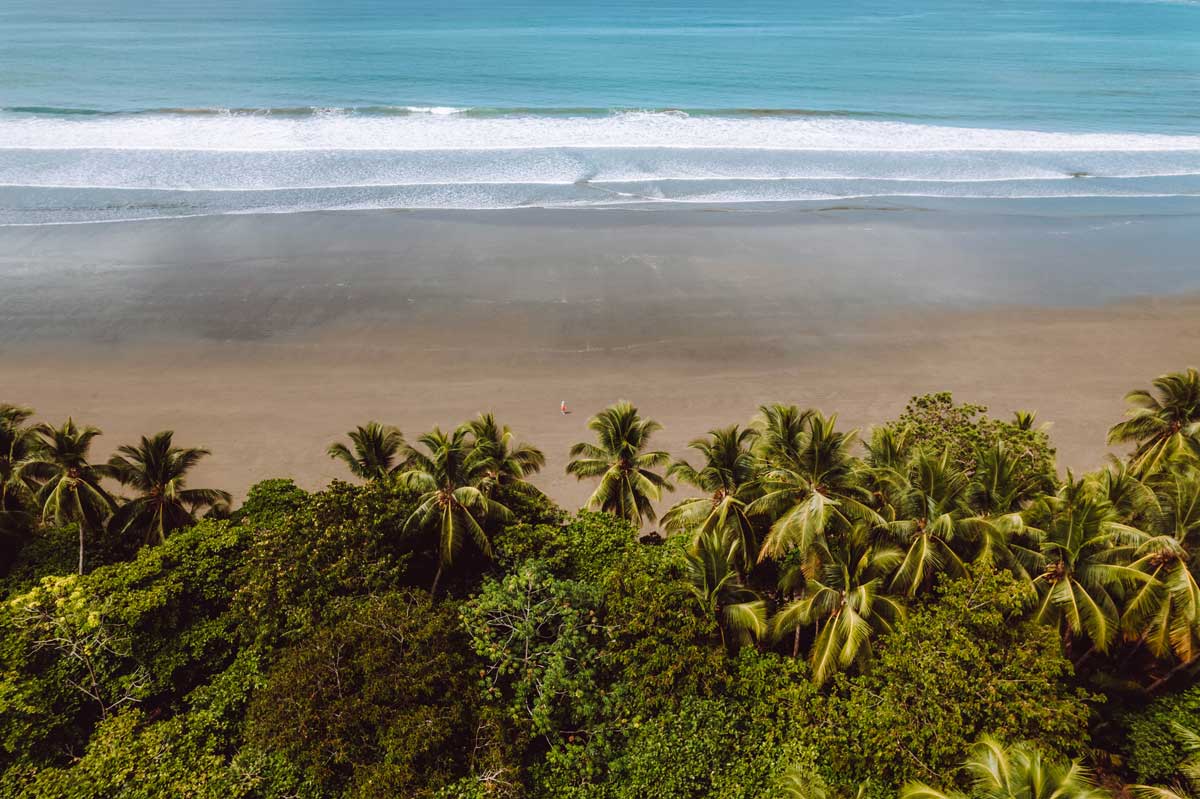 Pros and cons of camping in Costa Rica
Like any type of travel, there are pros and cons to exploring Costa Rica in a campervan. Here's my experience of this mode of travel:
Pros of camping in Costa Rica
Flexibility: With a campervan, you have the freedom to set your own itinerary and travel at your own pace.
Cost-effective: Traveling in a campervan can be a budget-friendly way to see the country.
Closer to nature: You'll be able to experience Costa Rica's natural beauty up close and personal.
Cons of camping in Costa Rica
Limited space: While a campervan offers more space than a typical car, it is still limited in terms of living space.
The sounds of nature might wake you up: Expect animals, waves, or rain to wake you up during the night. Make sure to bring good earplugs!
Driving in Costa Rica: Costa Rica's roads can be difficult to navigate, with narrow roads and steep inclines.
Mosquitos: As soon as the sun sets (around 5.30 pm) there will be lots of mosquitos around. Wear a good mosquito repellent to avoid going insane.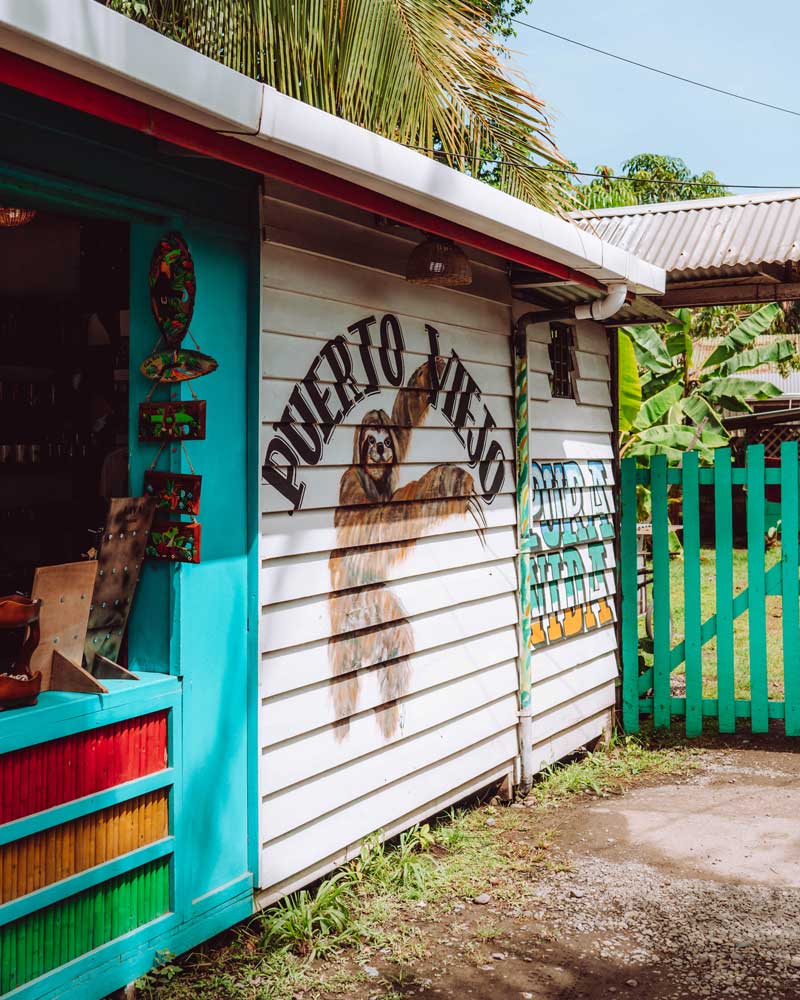 How to get around in Costa Rica
The infrastructure in Costa Rica is not very well-developed, and getting around can be time-consuming. Even though you can get to most places in Costa Rica by bus from San José, you often have to go back to San José to change to the next bus. This makes the car the optimal choice for getting around in Costa Rica.
Driving in Costa Rica
Costa Rica's roads can be challenging to navigate, with narrow roads, steep inclines, and unexpected potholes. It's also common to encounter animals and pedestrians on the roads, so it's important to stay alert. This can make driving a campervan more difficult, especially if you are not used to driving in this type of terrain.
Most roads to the major destinations are well-paved, while others are filled with potholes. Expect to drive at a slower pace and make sure to allocate enough time to get from point A to point B (preferably before dark!)
I'd recommend using the navigation app Waze to plan your routes, as it gives better route options than Google Maps.
Toll roads
Some of the main roads in Costa Rica require a small toll payment, from 200 colones up to 800 (per person). The payment is cash only, so make sure to have some small bills easily accessible while driving.
Do you need a 4×4 in Costa Rica?
The short answer to that question is that it depends on where you're going and what you plan to do.
As mentioned, most roads to the major destinations are well-maintained, and you don't need a 4×4 car to get there. However, when camping in Costa Rica, if you plan to venture off the beaten path and explore some of the more remote areas of the country, a 4×4 vehicle can be extremely helpful.
Ultimately, the decision of whether to rent a 4×4 vehicle in Costa Rica comes down to your travel plans and personal preferences. If you're planning to stick to major tourist areas and well-maintained roads, a regular car will likely suffice. But if you want to explore more remote areas, a 4×4 vehicle may be worth the extra expense.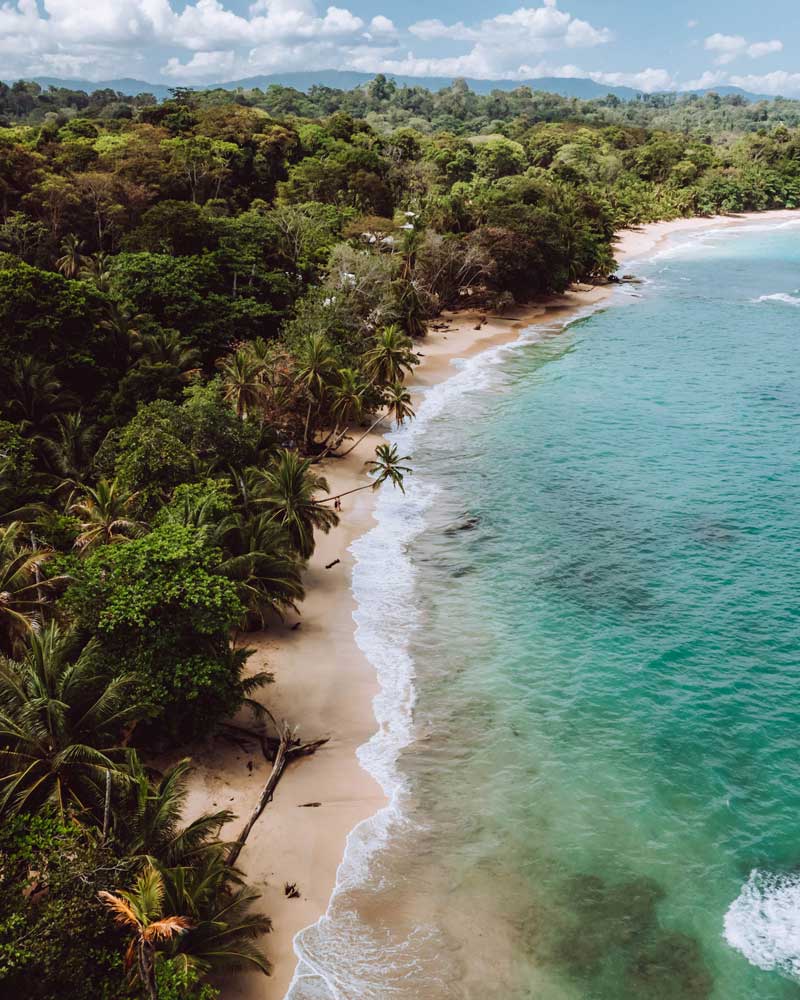 Is it safe to drive in Costa Rica at night?
Driving in Costa Rica at night can be riskier than during the day. There are several reasons for this. Firstly, the roads in Costa Rica are often narrow and winding, with steep drop-offs and sharp turns. This can make driving in the dark more challenging.
Secondly, there are also risks associated with wildlife. Costa Rica is home to a wide variety of animals, including monkeys, sloths, and even jaguars. These animals are often more active at night and can pose a hazard to drivers.
My recommendation is to plan your driving so that you don't have to drive in the dark. In my experience, the best time to drive is in the middle of the day. That way you can escape the worst heat and treat yourself to some air conditioning.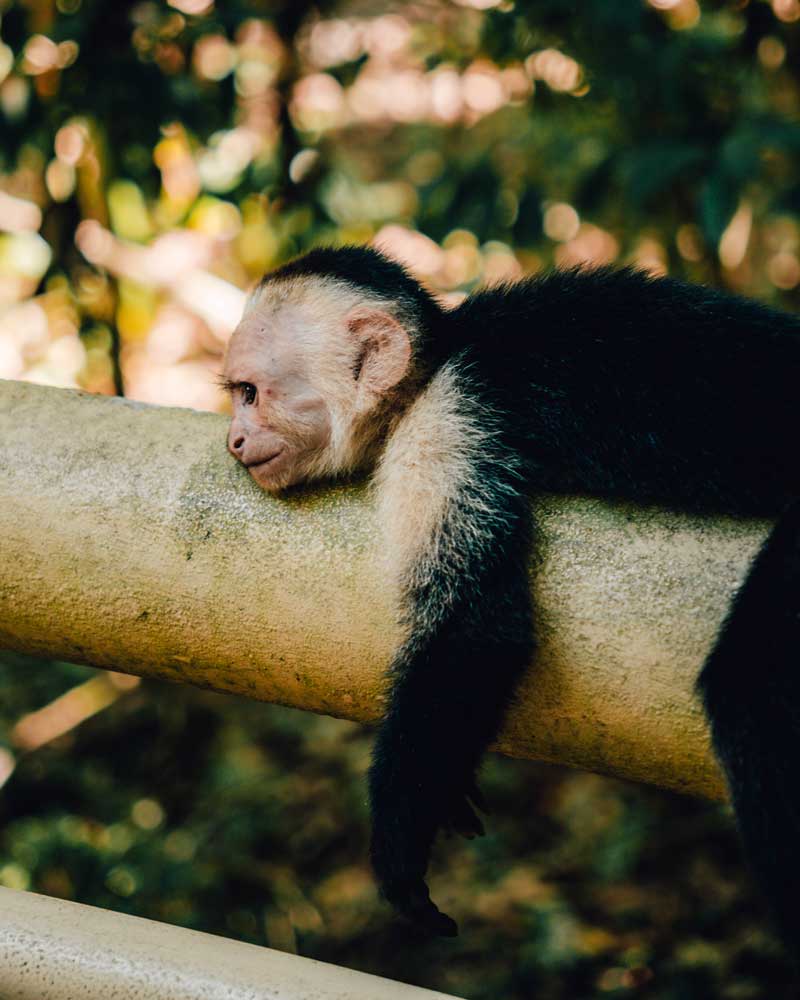 Campervan rental in Costa Rica
There are several campervan rentals around Costa Rica, most of them located near the airport in San José. We opted for renting ours at Pura Van.
When it comes to choosing the right campervan for your Costa Rica adventure, there are a few things to consider:
Size: Think about how many people will be traveling with you, and choose a van that's large enough to accommodate everyone comfortably.
Amenities: Different camper vans come with different amenities, so consider what's important to you. Do you need a kitchen, a bathroom, or a shower? Do you need a fan? Make sure you choose a van that has the features you need for your trip.
Budget: Campervan rental prices can vary widely, and the price depends on what standard you want. Keep in mind that you'll also need to factor in the cost of gas, food, and any activities you want to do.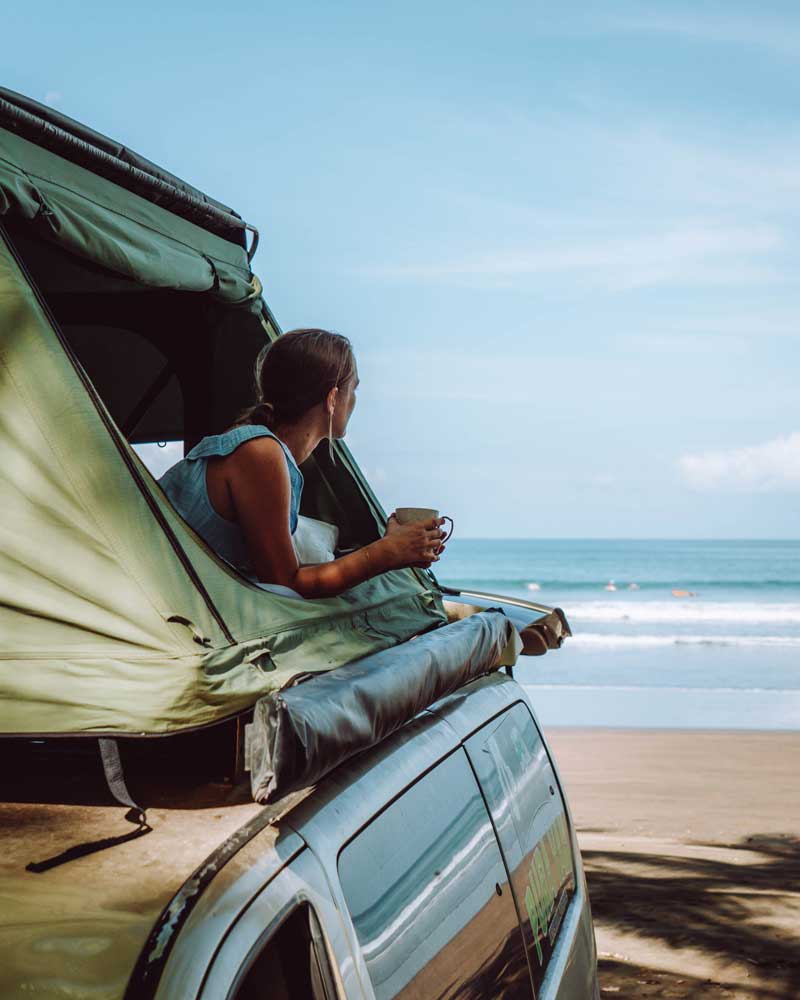 Camping in Costa Rica with Pura Van
We rented our campervan through the family-run company Pura Van, and it was a hassle-free experience! They offer a variety of campervans in different shapes and sizes, both 4x2s and 4x4s. All of their campervans come fully equipped with all necessary camping gear like rooftop tent, gas stove, cooking utensils, roof water pipe for showers, cooler, inverter with 2 adapters etc. Additionally, you can add a hammock, a barbecue, a WiFi hotspot, and lots of other extras!
Insurance is included when renting a campervan with Pura Van which means you will have to leave a deposit at pick-up. Our deposit was 800 USD and was smoothly charged to our credit card. If you don't smash the campervan, the deposit will be transferred back to your account.
During our camping trip, Pura Van was only a WhatsApp message away. They answered all the questions we had and gave us tips on where to drive.
The price for renting a campervan differs depending on what car you want to rent and during what season. Prices range from 115 USD to 160 USD per day.
➳ Read more: Renting a campervan with Pura Van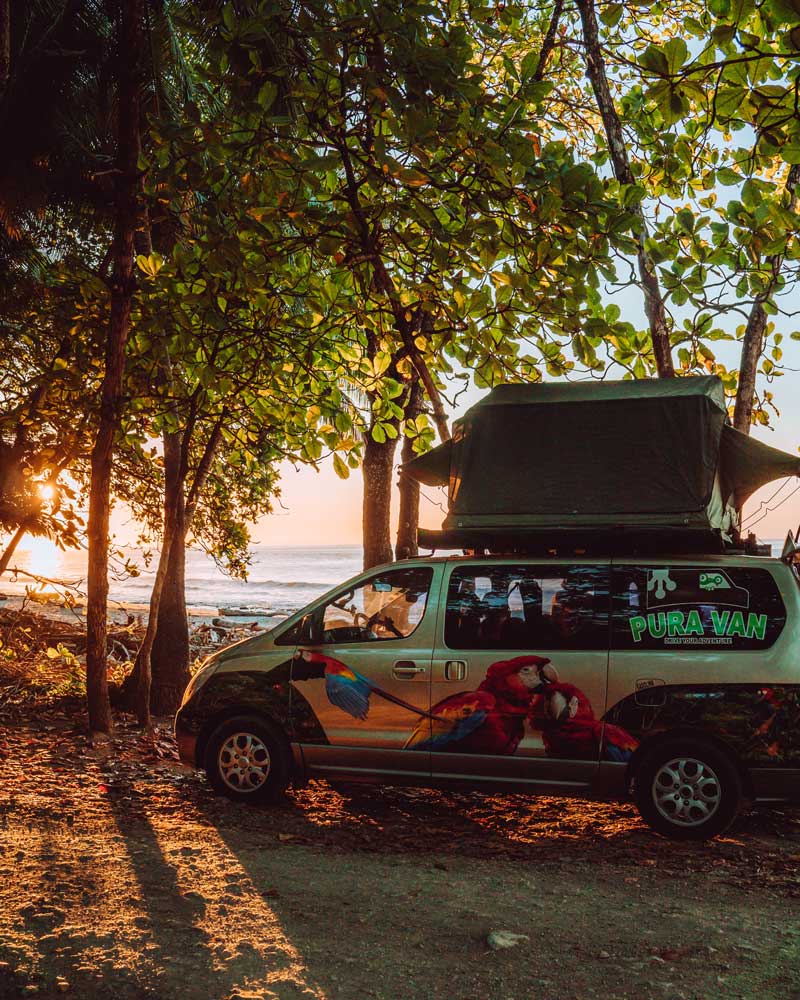 Where can I camp in Costa Rica?
Finding campsites in Costa Rica
There are campsites all over Costa Rica, especially along the coast and near the major destinations. The app iOverlander compiles all campsites in the country, both the official and unofficial campsites, including good camp spots for wild camping.
In iOverlander you can see each camping's facilities, reviews from other users, and sometimes contact information for the owner if you want to call in advance and check the availability. Note that most campsite owners, at least the ones I met, only speak Spanish. Expect to pay around 5000 colones (around 9 USD) per person for a night at a campsite.
Most campsites in Costa Rica, even the official ones, are basic and should not be compared with campsites around Europe. You can usually find a toilet, a (cold) shower, sometimes a kitchen, and sometimes laundry service. Only a few offer Wi-Fi (in 2023) so I'd recommend that you buy a Costa Rican sim card to ensure you have an internet connection.
My favorite campsites in Costa Rica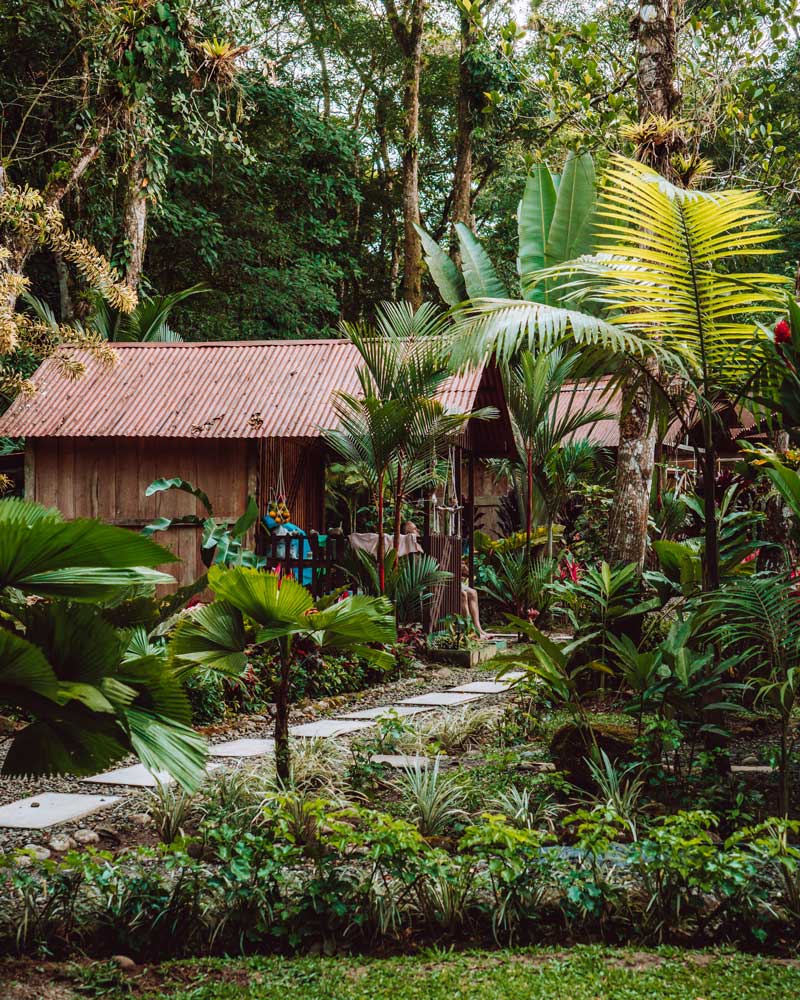 Is wild camping allowed in Costa Rica?
Yes, wild camping is allowed in Costa Rica. However, when it comes to beach camping, there are some regulations. It is not allowed to drive or camp directly at the beach. This is because many beaches are important nesting grounds for sea turtles.
You can, however, camp in the area where the beach ends and the palm trees start. This area also offers some shade, which is more comfortable anyway. Just don't park directly under a palm tree with coconuts, you don't want them to fall down on you.
What's so unique about Costa Rican beaches is that the first 50 meters from the high tide mark are considered public land that cannot be owned privately. This makes wild camping at the beaches in Costa Rica really easy!
When wild camping, always be sure to follow Leave No Trace principles and respect the natural environment.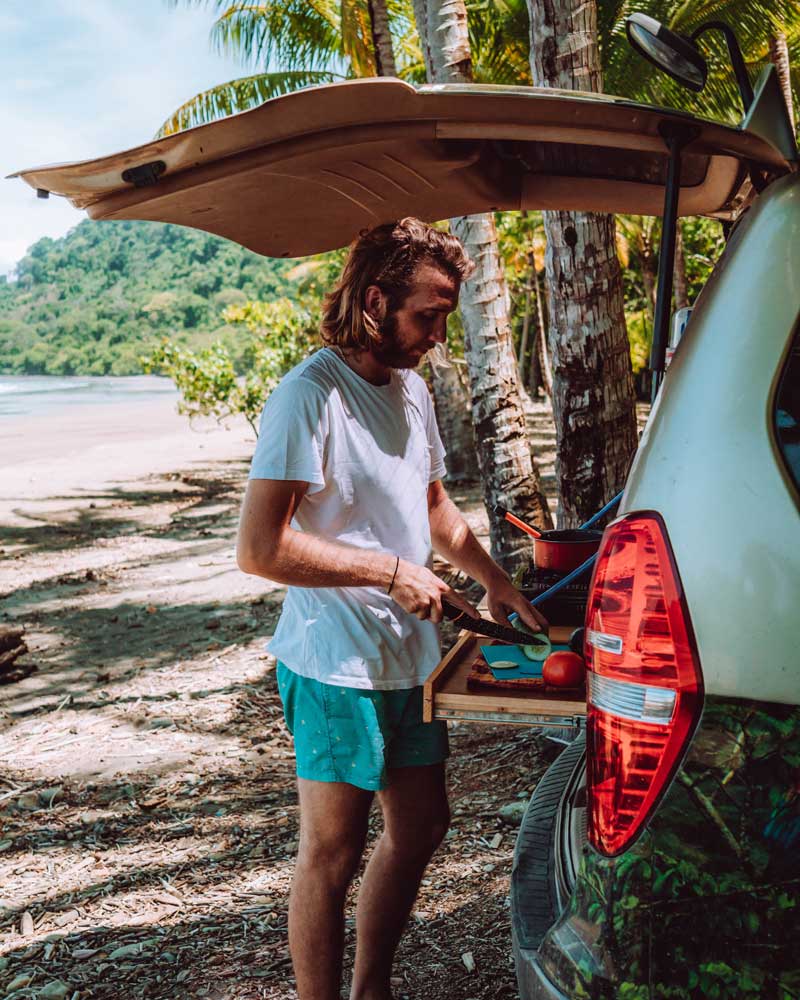 Is it safe to camp in Costa Rica?
Costa Rica is generally a safe country for travelers. The country has a low crime rate compared to other countries in Central America, and the government places a strong emphasis on tourism. However, as with any travel destination, it is important to exercise caution and take steps to ensure your safety.
When it comes to camping, there are a few specific safety considerations to keep in mind. Here are some tips to help you stay safe while camping in Costa Rica:
Choose a safe and secure campsite: Camping in campsites will most likely increase your safety compared to wild camping. However, from my own experience, both options are safe.
Be prepared for the weather: Costa Rica is a tropical country with high humidity, so be sure to bring appropriate clothing and gear to stay comfortable and dry. If you plan on camping during the rainy season, be prepared for heavy rains and even thunderstorms.
Protect yourself from insects and animals: Costa Rica is home to a wide variety of insects and animals, some of which can be dangerous. Be sure to bring insect repellent, and know how to protect yourself from snakes and other wildlife. For example, I wouldn't recommend camping directly on the ground.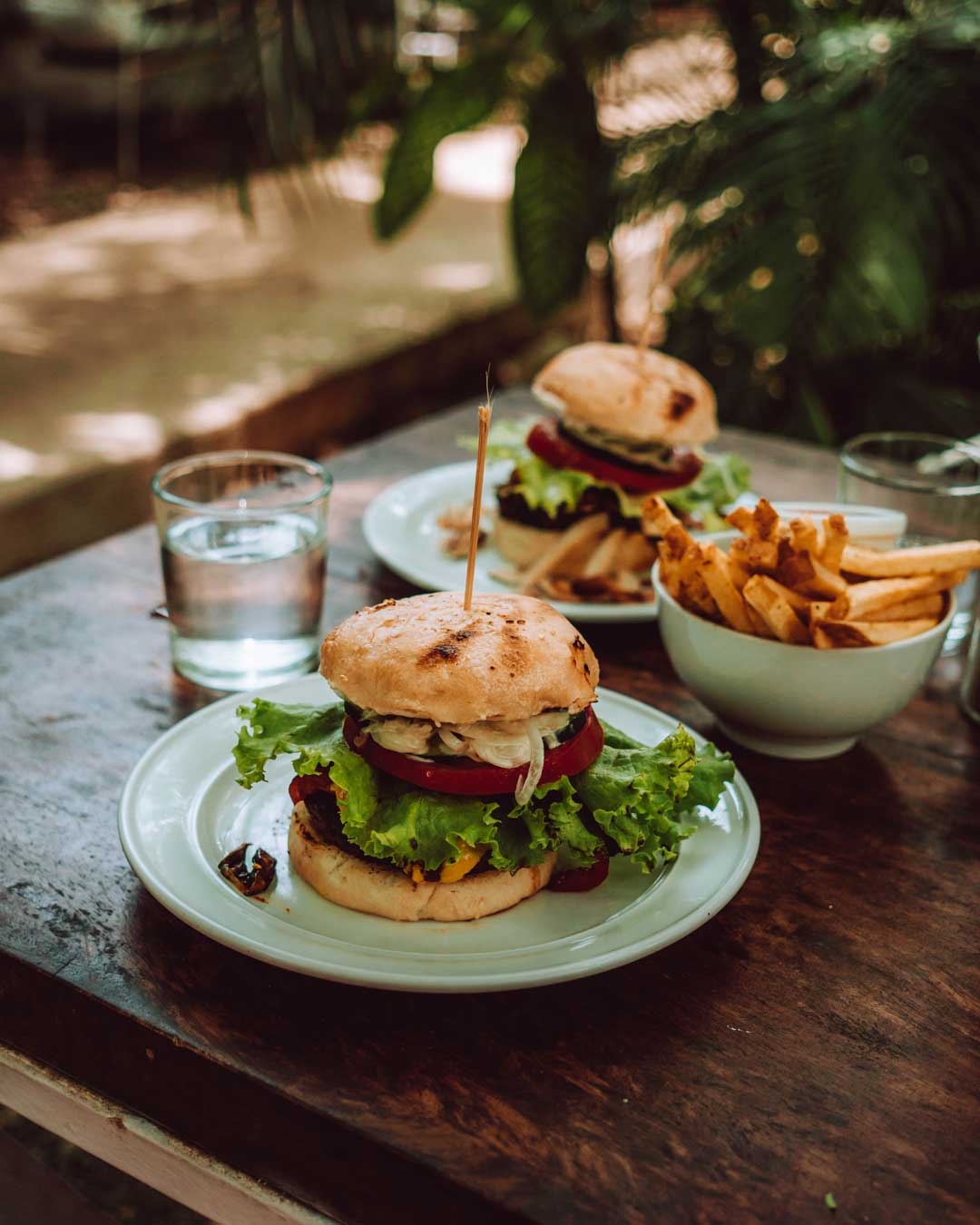 How much does it cost to camp in Costa Rica?
Traveling in Costa Rica is generally more expensive than many people expect. The costs for renting accommodation and eating at restaurants are at the same level as in European countries. Fortunately, camping in Costa Rica can be a more affordable option, since you have the opportunity to wild camp and cook your own meals.
Below I list the cost of my 2-week camping trip with Pura Van. This is the budget for two people. Note that the price for renting a campervan varies depending on the season.
Campervan: 1 960 USD
Campsites: 130 USD
Groceries: 350 USD
Gas: 250 USD
Things to know before camping in Costa Rica
Costa Rica is a beautiful country with diverse landscapes, stunning beaches, lush rainforests, and a rich biodiversity. It's no wonder that it's a popular destination for camping and outdoor activities. However, before you pack your bags and head out to the wilderness, there are a few things that you should know to make your camping trip a success.
Research the climate
Costa Rica has a tropical climate with two distinct seasons – the dry season and the rainy season. The dry season runs from December to April, while the rainy season runs from May to November. The weather can vary widely depending on the region, so it's important to do your research and pack accordingly. Make sure to bring rain gear and appropriate clothing for the climate.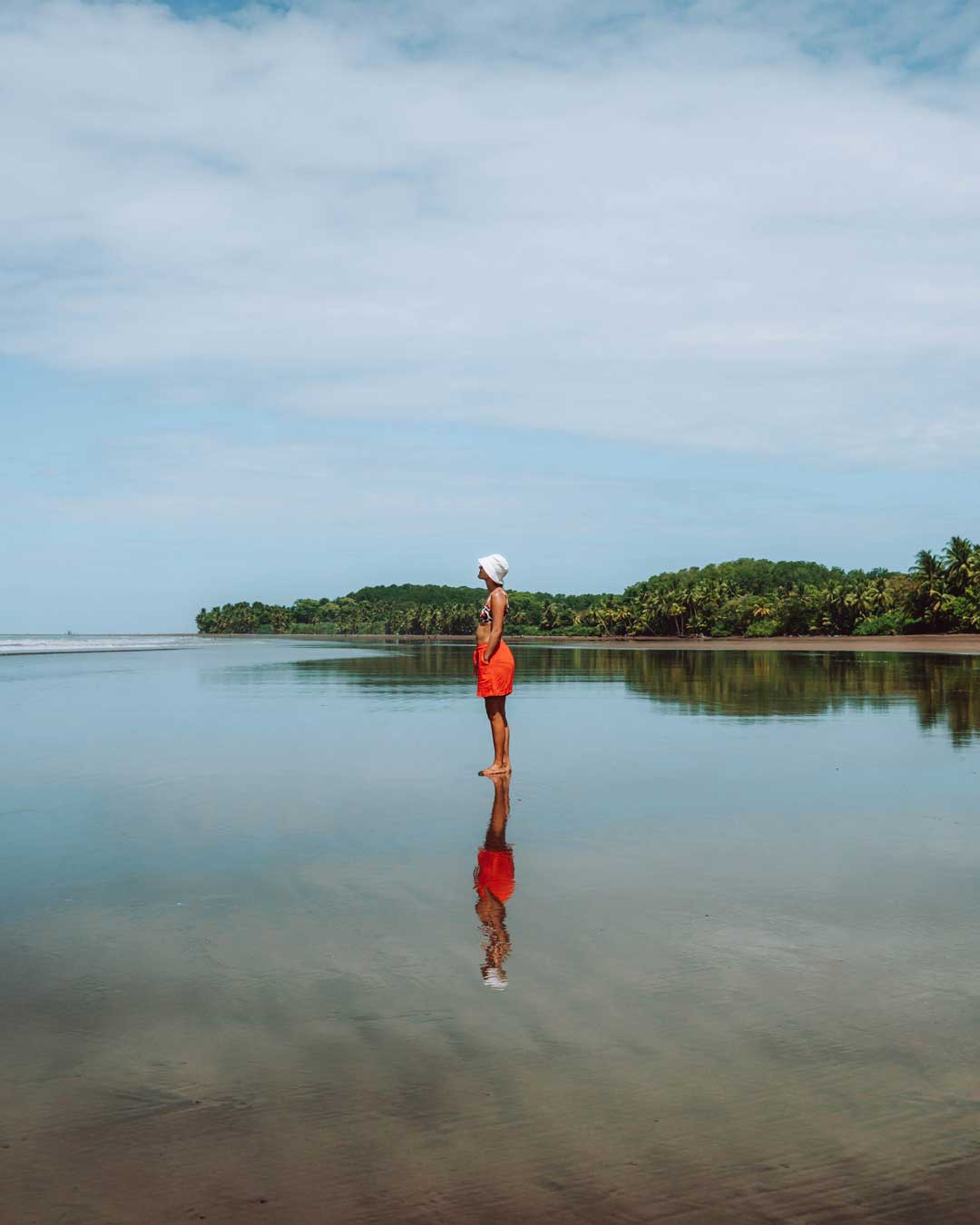 Be prepared for wildlife encounters
Costa Rica is home to a diverse range of wildlife, including monkeys, racoons, sloths, toucans, and snakes. While these encounters can be exciting, it's important to be prepared and know how to react. Do not feed the wildlife, keep a safe distance and always respect their space.
Drinking water
Tap water in Costa Rica is generally clean and safe to drink. However, in some areas of the country, it can be best to stick to bottled water. Always check with your campsite manager or the restaurant you dine at whether the water is safe to drink.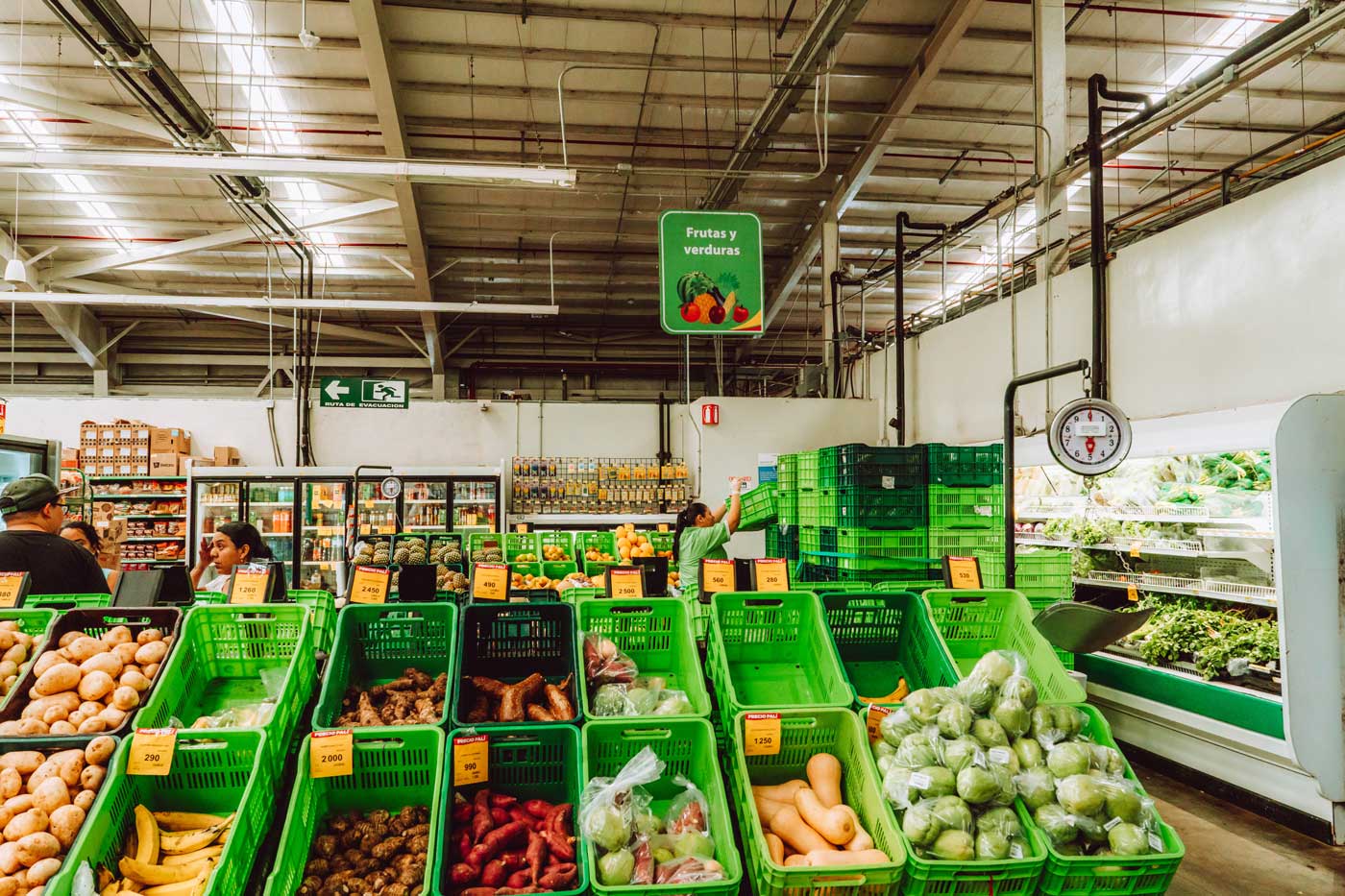 Food & groceries
Camping in Costa Rica offers a great opportunity to save some money by cooking your own food. I would advise you to buy your fruits and vegetables at local markets, and get the rest at the supermarket. Maxi Palí and Megasuper are both great (big!) supermarkets with a wide selection of groceries. Expect to pay the same for groceries as in Europe and the US.
Arrive before dark
The sun sets really early in Costa Rica (around 5.30 pm) and when camping, this means the end of your day. Make sure to arrive at your campsite before it gets dark, so you have time to set up your camping gear. Cooking dinner can also be a bit tricky when it's dark, but it's nothing that can't be done with a good flashlight or a headlamp. What's most annoying about being outside when it's dark, however, is the mosquitos. Which brings me to my next point.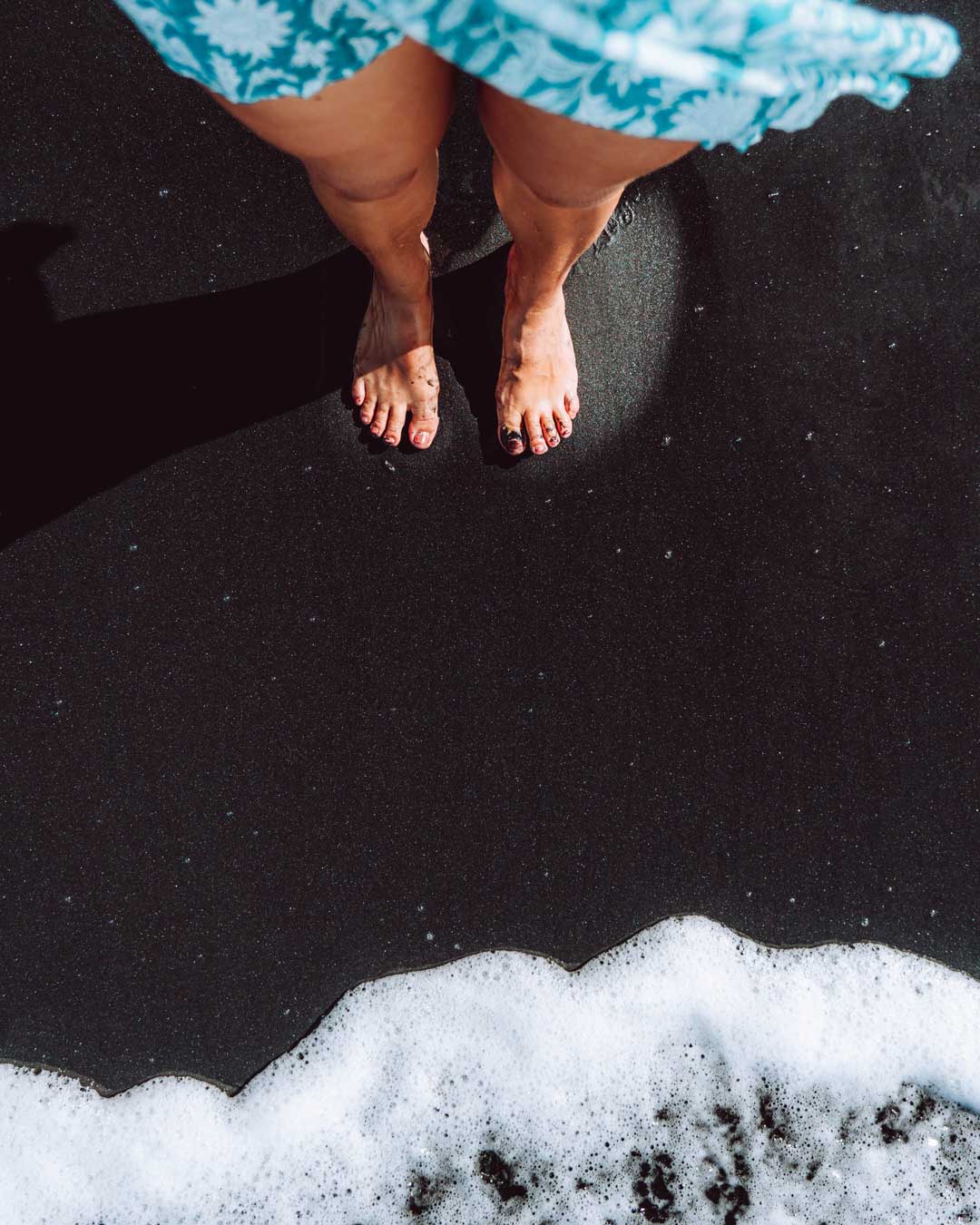 Bring insect repellent
Costa Rica is home to a wide variety of insects, including mosquitoes, sandflies, and ticks. Bring insect repellent (or buy it at the supermarket) to avoid getting bitten. Make sure your campervan comes with a mosquito net so you can have your doors open even if it's dark.
Have enough cash
While credit cards are widely accepted, it's always a good idea to have some cash on hand for smaller purchases or in case of emergencies. For example, campsites normally only accept cash. Some of the smaller towns in Costa Rica only have one ATM machine. Search for it on Google Maps or ask a local where to find it. Opt for the Banco Nacional ATM if possible, it's the best one.
Learn some Spanish
While many people in Costa Rica speak English, it's still a good idea to learn some Spanish before your trip. This will make it easier to communicate with locals and get the most out of your experience. A tip is to download the Spanish language to your Google Translate, so you can translate even when you are offline.
Costa Rica road trip itinerary
There is no better way to experience this beautiful country than with a road trip, where you can explore all the hidden gems that Costa Rica has to offer. Here's the exact 14-day itinerary me and my fiencé did with our Pura Vida campervan, which covers some of the best spots in the country.
Note that we spent 1 week in Puerto Viejo before we picked up our car, which is why Puerto Viejo is not a part of this itinerary. It should not be missed though!
Day 1: San José to La Fortuna
Start your journey in the capital city of San José and make your way towards the town of La Fortuna, located at the base of the Arenal Volcano. This drive takes about 3 hours and offers spectacular views of the countryside.
Day 2-3: La Fortuna
Spend a few days in La Fortuna, where you can soak in the natural hot springs, hike through the Arenal Volcano National Park, or see the incredible La Fortuna Waterfall.
Day 4: Monteverde
Make your way to Monteverde, located 1300 meters above sea level on the other side of Lake Arenal. The drive takes about 3 hours, and the road is a bit winding, but the views are worth it. Monteverde is known for its cloud forests, which offer a unique and beautiful ecosystem.
Day 5-6: Santa Teresa
Head to the popular surf town Santa Teresa on the Nicoya Peninsula. Spend some days surfing, visiting the trendy cafés and enjoying the beautiful Pacific sunset.
Day 7-8: Nosara
Nosara is located 4 h north of Santa Teresa. It's a small surf town with lots of organic cafés, yoga studios and local stores.
Day 9-11: Manuel Antonio
Head south towards the beach town of Manuel Antonio. The drive from Nosara takes about 6 hours. Spend your days relaxing on the beach, or exploring the Manuel Antonio National Park.
Day 12-13: Uvita
Continue to Uvita, located on the southern Pacific coast of Costa Rica. The drive takes about 1 hour and offers breathtaking views of the coast. Uvita is known for its stunning beaches, as well as the Marino Ballena National Park, where you can see humpback whales and dolphins.
Day 14: Return to San José
Head back to San Jose to drop off the campervan and end your road trip. The drive takes 3-4 hours, and you can stop at any of the small towns along the way to enjoy some last-minute sightseeing.
In conclusion
Even if camping in Costa Rica has its ups and downs, I'd still recommend anyone I know to explore Costa Rica with a campervan. It's a fantastic way to explore Costa Rica's stunning landscapes and experience the country's unique culture.
If you're not into camping, but still want the flexibility of a road trip, I'd recommend renting a regular car and take in at hotels during the night. It's requires a bit more planning, but you also get a higher level of comfort.
➳ Book your hotels through Booking! It's my all-time favorite site for hotel bookings.
Home > Destinations > PortugalSintra Day Trip Itinerary: What To Do in Sintra for a DaySintra, with its historic palaces, mystical forests, and captivating culture, offers a magical escape just a stone's throw from Lisbon, Portugal. Many travelers choose to...
read more