6 days in Norway: A complete road trip guide
Planning a road trip through Norway? Lucky you. There is probably no country with more natural wonders than Norway. Since most of them are far from the bigger cities a road trip is definitely the best way to experience them. This complete 6-day Norway road trip guide takes you through scenic destinations like Aurland, Bergen, Ålesund, Geiranger, Trollstigen and Lovatnet.

Quickly step into parts of the guide:
Road trip through mid-Norway – what to know before you go
Driving in Norway is an amazing experience. The dramatic landscape filled with misty mountains, cute valleys and deep fjords leaves anyone jaw-dropping. But in a country with more than 2 million sheep, and probably as many mountains to drive up and down from, you won't be able to drive faster than 70 km/h. So take your time, plan accordingly and don't forget to make time for stops to admire the view – you will need it.
This road trip takes you through mid-Norway, from Oslo to Bergen, Ålesund, Geiranger, Trollstigen, Loen, Hemsedal and back to Oslo. This road trip is a bit hectic. We spent approximately 5-8 hours in the car per day (lunch included). Add a few days to your road trip if you want to stay longer on some places, do a hike or take a detour.
Here's all the destination pointed out on Google maps ⤵
Sleeping / accommodation in Norway
There are several ways you can spend the night while on a road trip in Norway. On this road trip we stayed at hotels, bed and breakfasts and cabins, but we have also tried camping in the car. If you want to stay at hotels or bed and breakfasts, make sure to book far in advance. Norway is popular during summer time, and many accommodations get filled up quickly.
Best season for road trip in Norway
Although Norway is beautiful all-year-round, I wouldn't do a road trip in this country during the winter. The roads are small and you have to drive up and down steep roads. The best season for a road trip in Norway would be June to September. We did this one in the middle of July, and it was perfect timing. Just remember that the weather can be unpredictable during the summer too – it can switch from sun to rain in no time.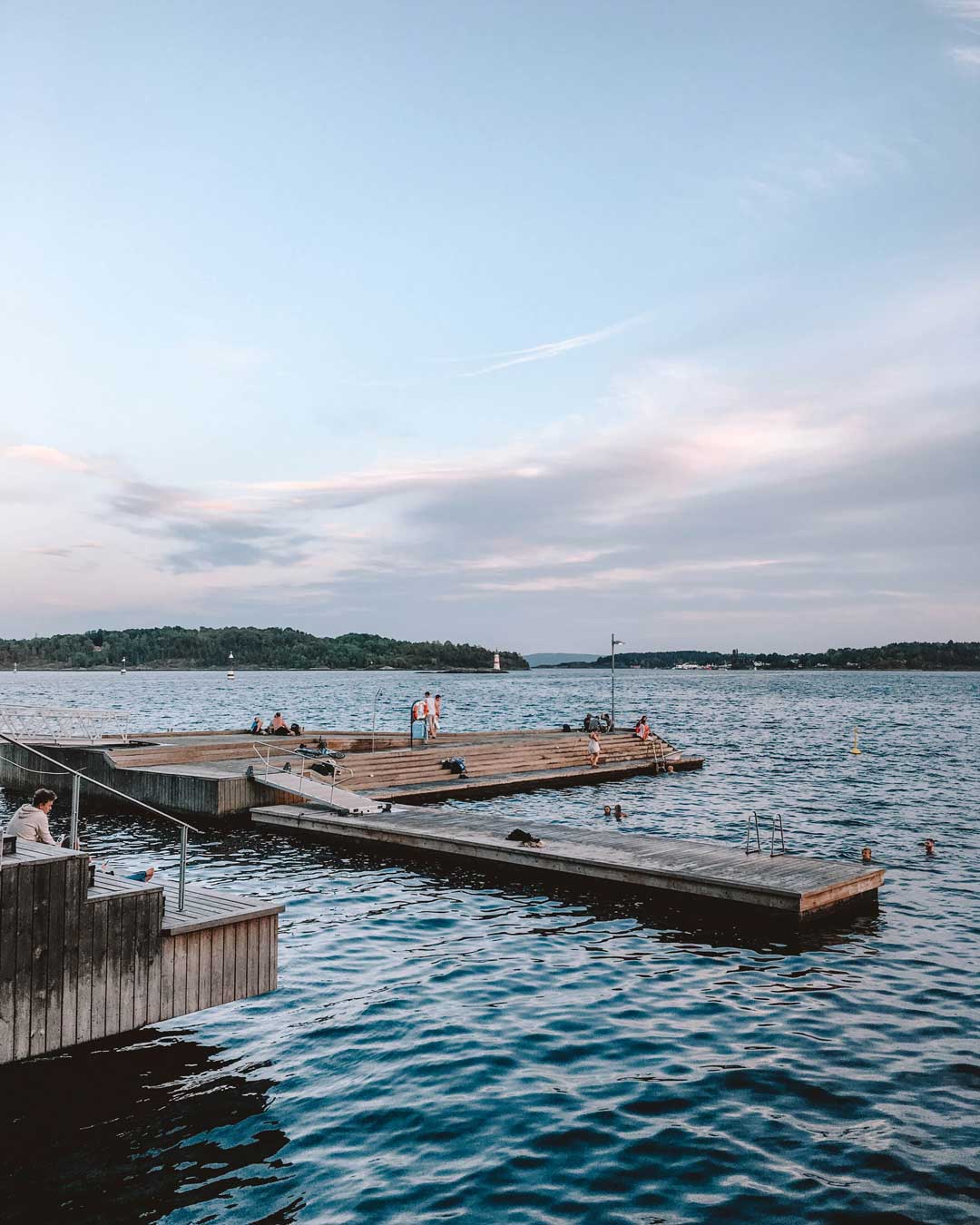 Day 1: Arrival in Oslo
Depending on your arrival time, spend your first day exploring Oslo (and picking up your car). Maybe even go grocery shopping so that you have everything you need for tomorrow's drive. It's not recommended to start driving on day one – you have a lot of driving to do the next day, so take this time to enjoy Oslo. I suggest you visit the popular Oslo Opera House, take a walk along Karl Johans gate and end your day at one of the many restaurants at Aker Brygge while looking at the trendy buildings and enjoying the stunning view over the Oslofjord.
Tip: Olivia's at Aker Brygge has an amazing truffle pasta.
Day 2: From Oslo to Bergen via Aurland fjord
Today's drive: 7,5-8 hours
Start your day early and set the GPS on Flåm/Aurland. While on your way out of Oslo I recommend you to drive to Holmenkollen, the ski recreation area 588 meters above sea level just west of Oslo. From here you have a fantastic view of Oslo.
Continue north-west to the Aurlandsfjord. Just before you reach Aurlandsfjord you will drive through the Lærdal Tunnel, Norway's longest road tunnel at 24,51 kilometers. Maybe not a natural wonder, but still a really cool experience.
 Aurlandsfjord is the inner part of Sognefjord, Norway's longest and deepest fjord. The inner parts are known to be the most dramatic. Aurlandsfjord is deep and narrow, reaching a depth of about 962 metres below sea level. Most of the fjord is surrounded by up to 1800-metre tall, steep mountains. This fjord is an absolute must-see! To get the best view of the fjord, drive up to the Stegastein viewpoint. This is the first real challenge for your car – the road is very steep, but definitely worth it.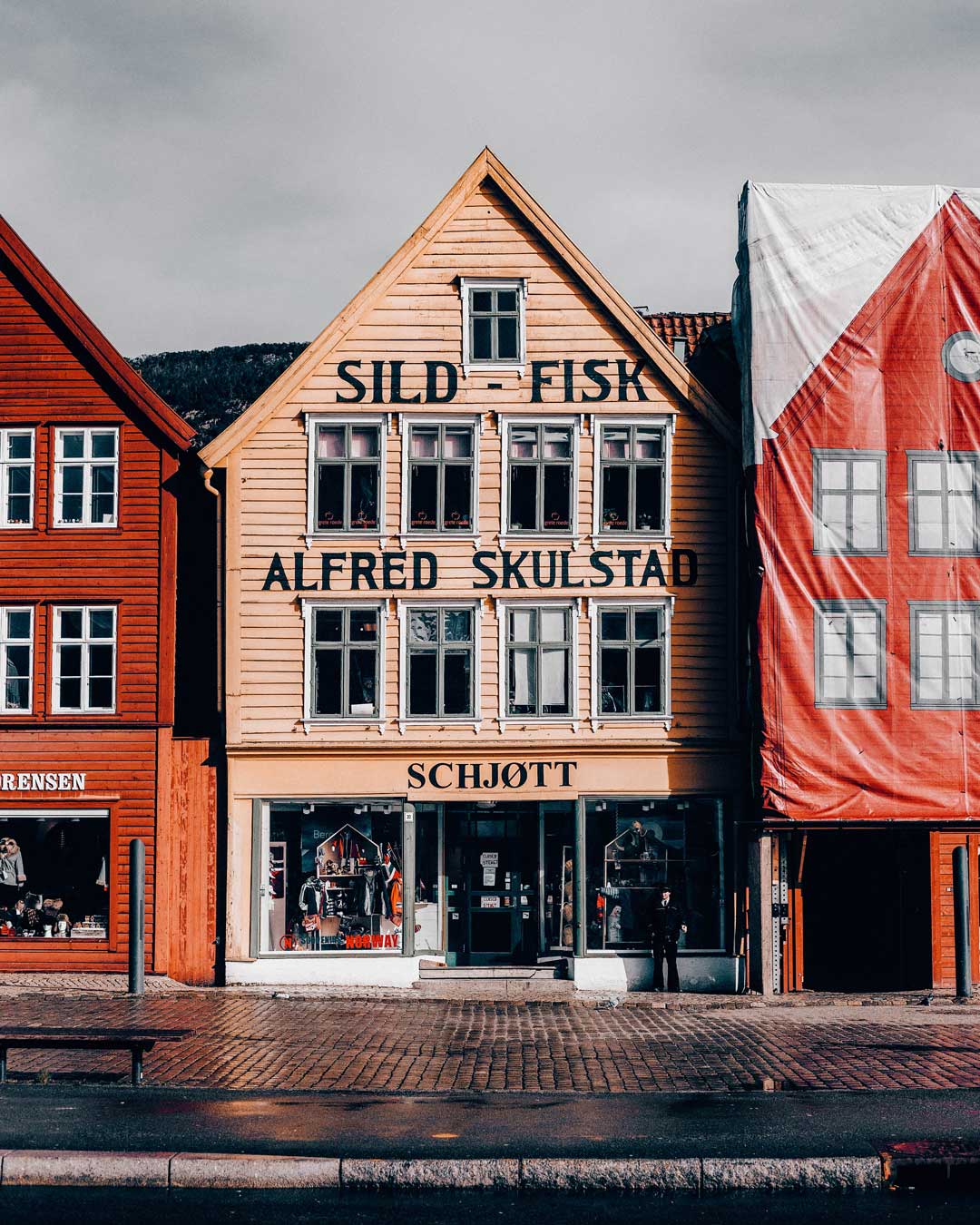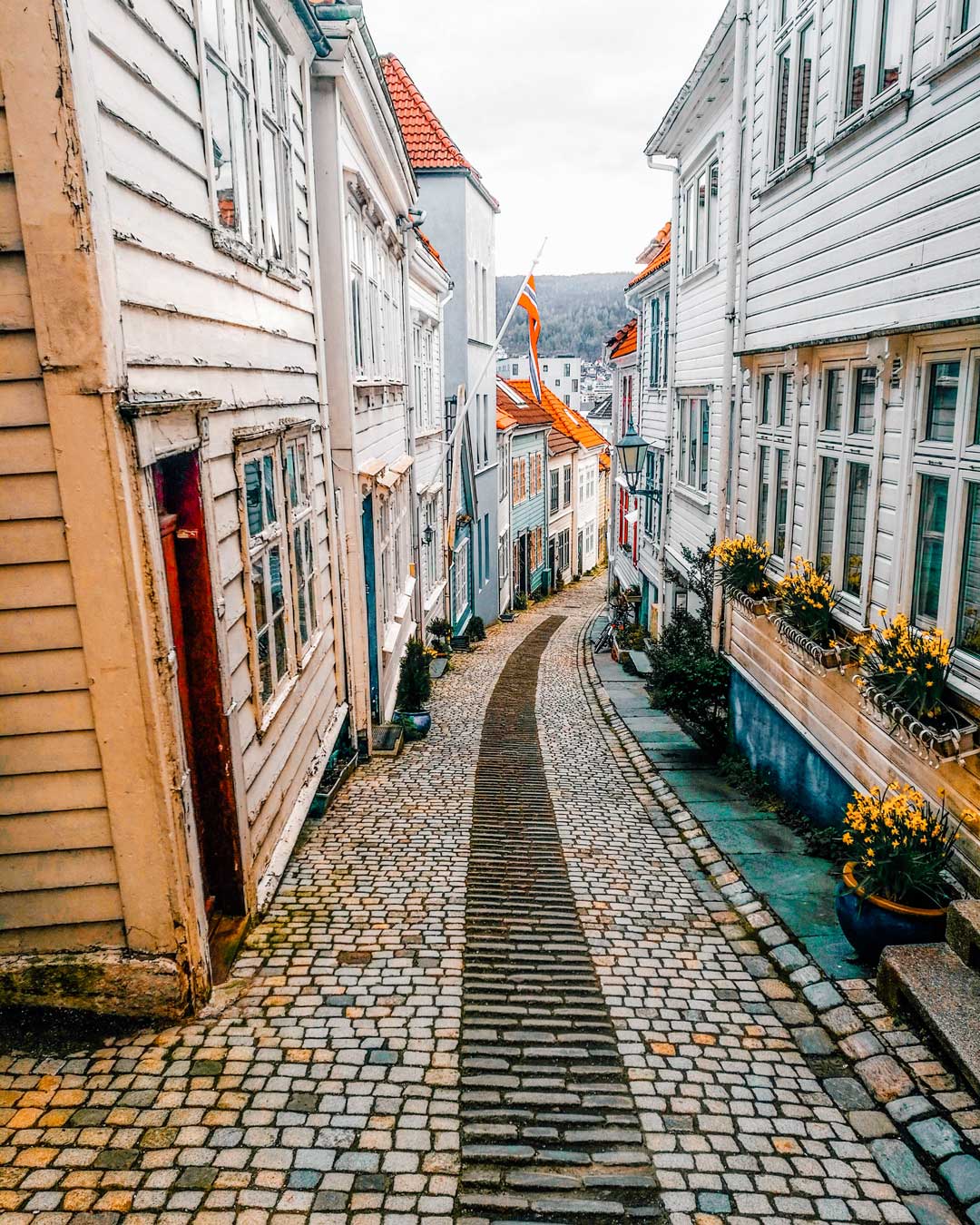 Now it's time to continue to Bergen. On your way you will pass the cute little village Flåm, at the innermost part of the Aurlandsfjord (just imagine living there – wow!). Spend your evening in Bergen, the charming city surrounded by seven mountains. If you're lucky enough to miss the rain you can go up to one of the viewpoints and experience Bergen from above. But don't miss Bergen's UNESCO-protected hansa harbor Bryggen. This iconic harbor is well recognized for its colorful houses. On a calm day you can see an almost identical reflection in the water.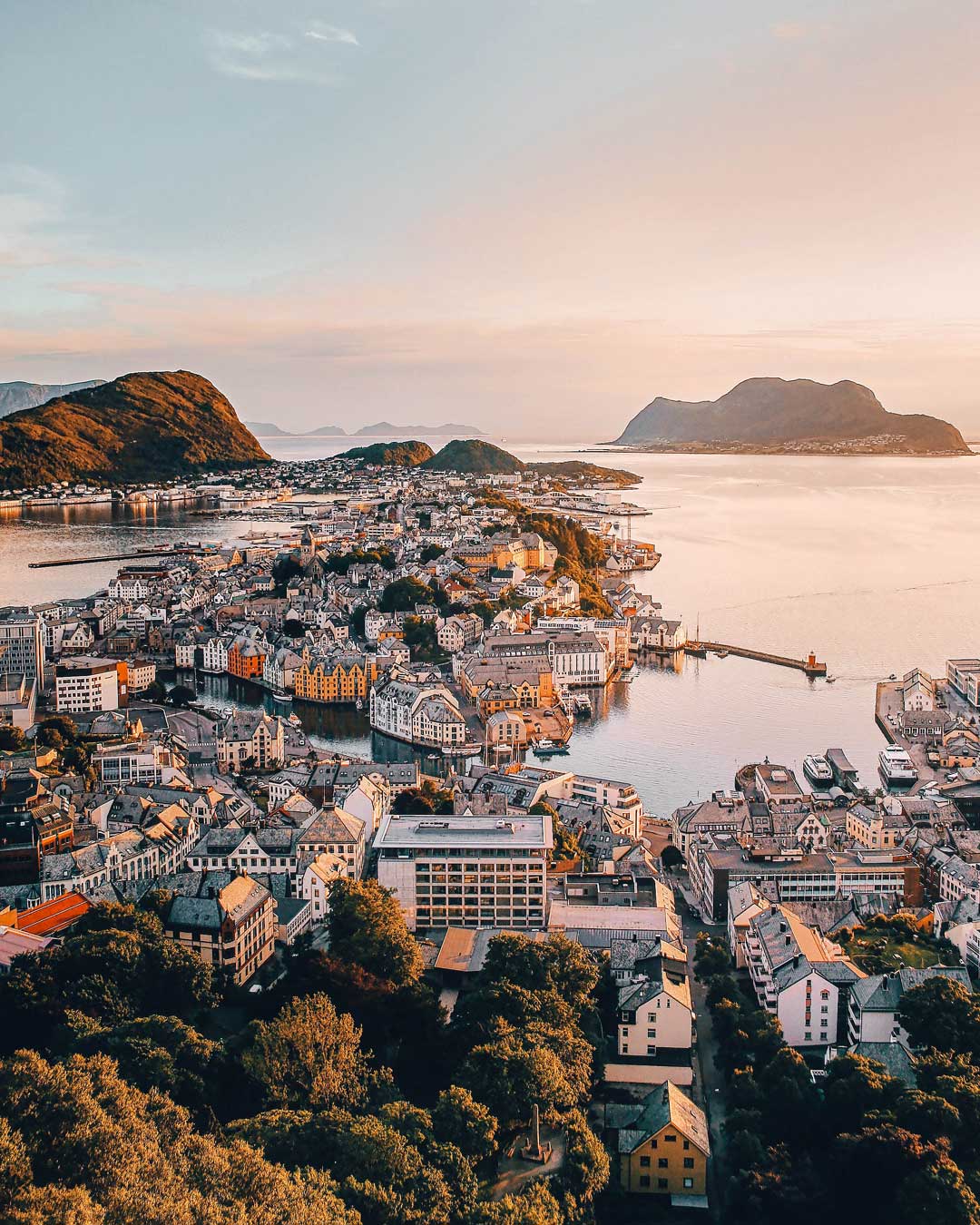 Day 3: From Bergen to Ålesund
Today's drive: 7–7,5 hours
Today you are going to drive along the coast of Norway, from Bergen to Ålesund. This unique road (E39) is connecting Stavanger with Trondheim, and takes you past several fjords and islands. Some parts are connected by bridges and some by car ferries. Driving from Bergen to Ålesund takes 7-7,5 hours and is an experience in itself.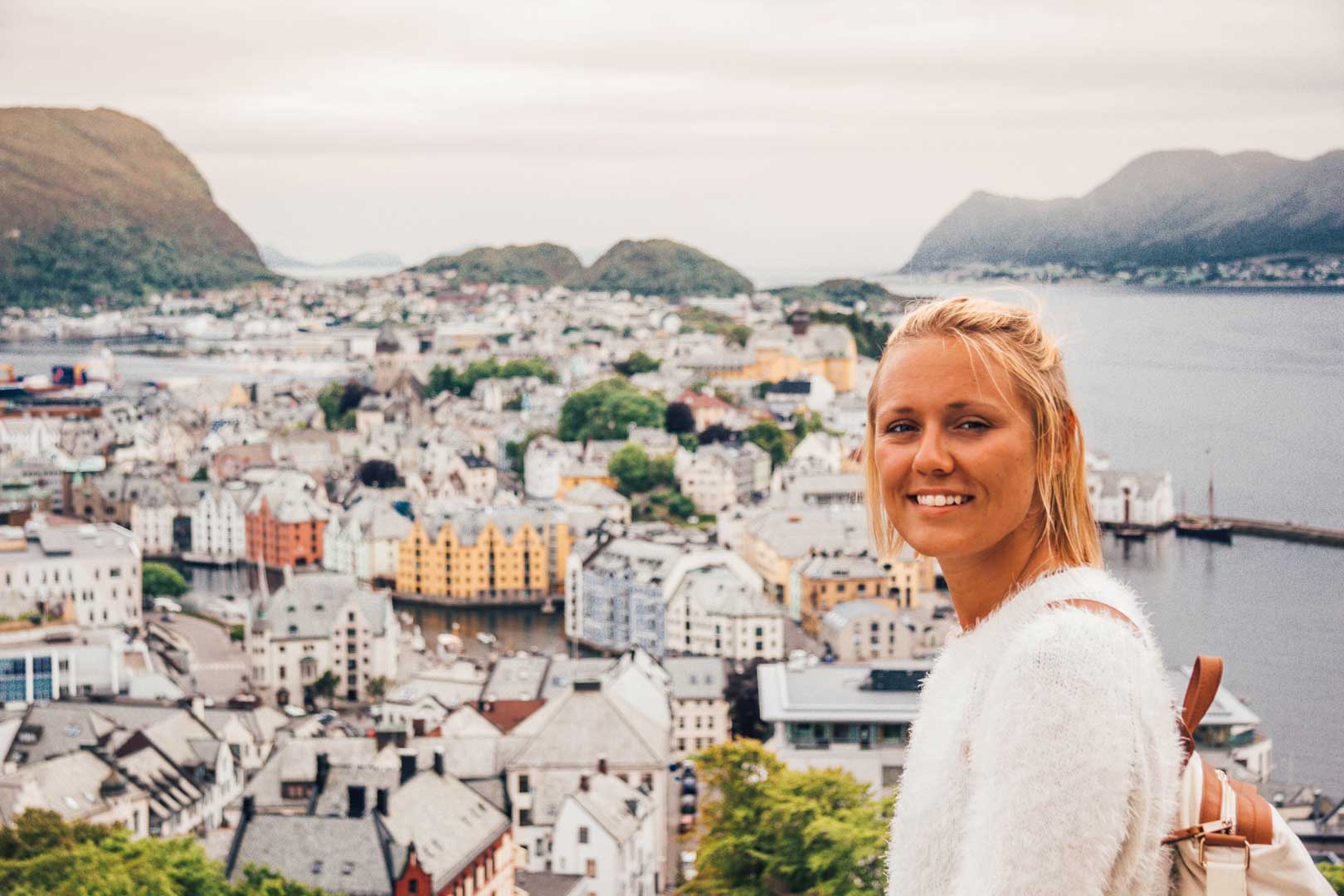 Depending on when you started your drive this morning, you now have an afternoon and evening to explore Ålesund. Ålesund is a small but very beautiful town, famous for its skyline with cute houses combined with dramatic mountains and islands. It is actually called Venice of the north, and I can see why. You should definitely take the short (but steep) hike up to the centrally located mountain peak Aksla. From here you have an amazing view over Ålesund. If you have some more time you can explore the city's special Art Nouveau architecture at the Art Nouveau Center or go on a Wildlife Sea Safari.
Tip: Don't want to spend so much money on food? We rented an Airbnb in Ålesund and cooked our own dinner. Eating at restaurants can be ridiculously expensive in Norway!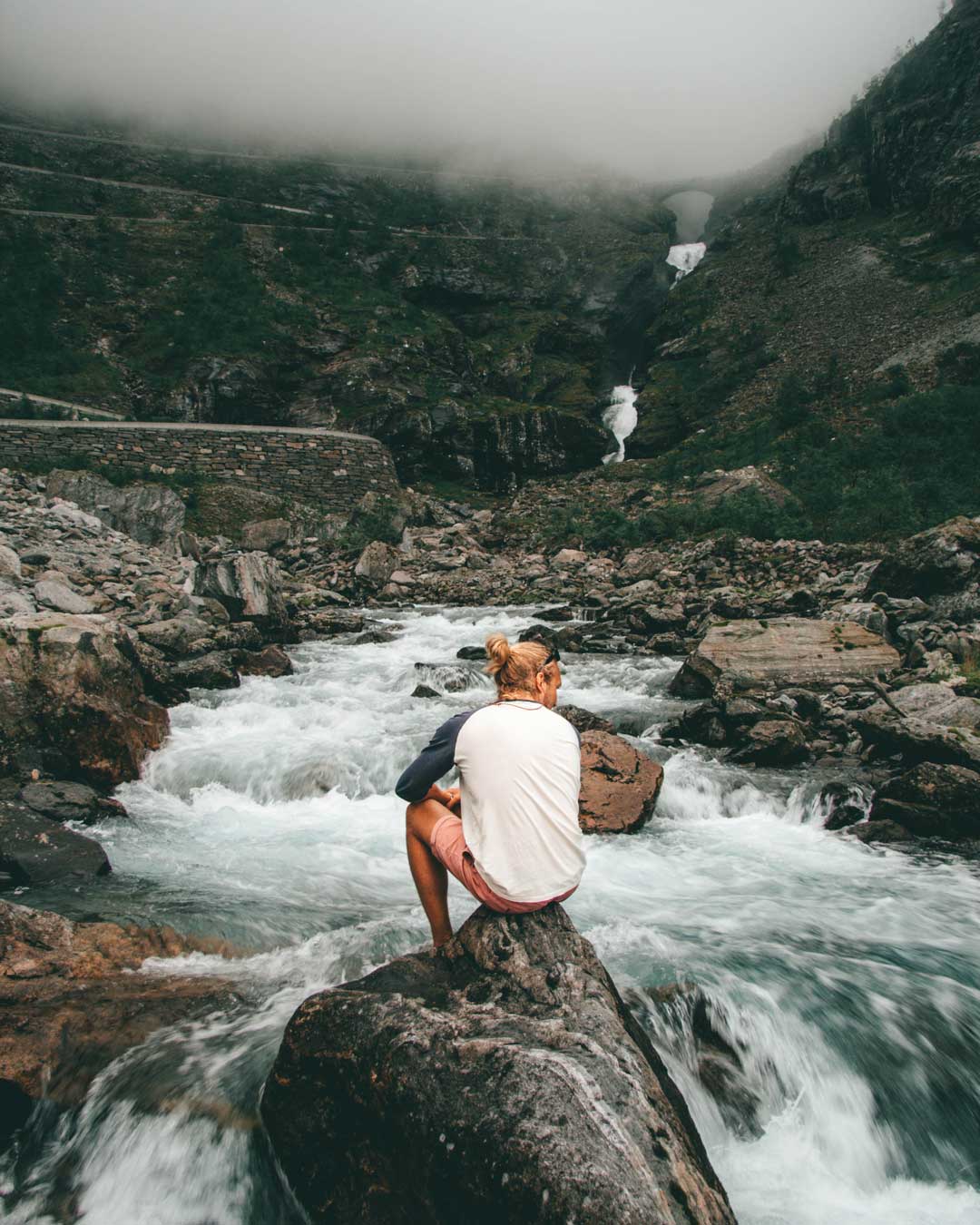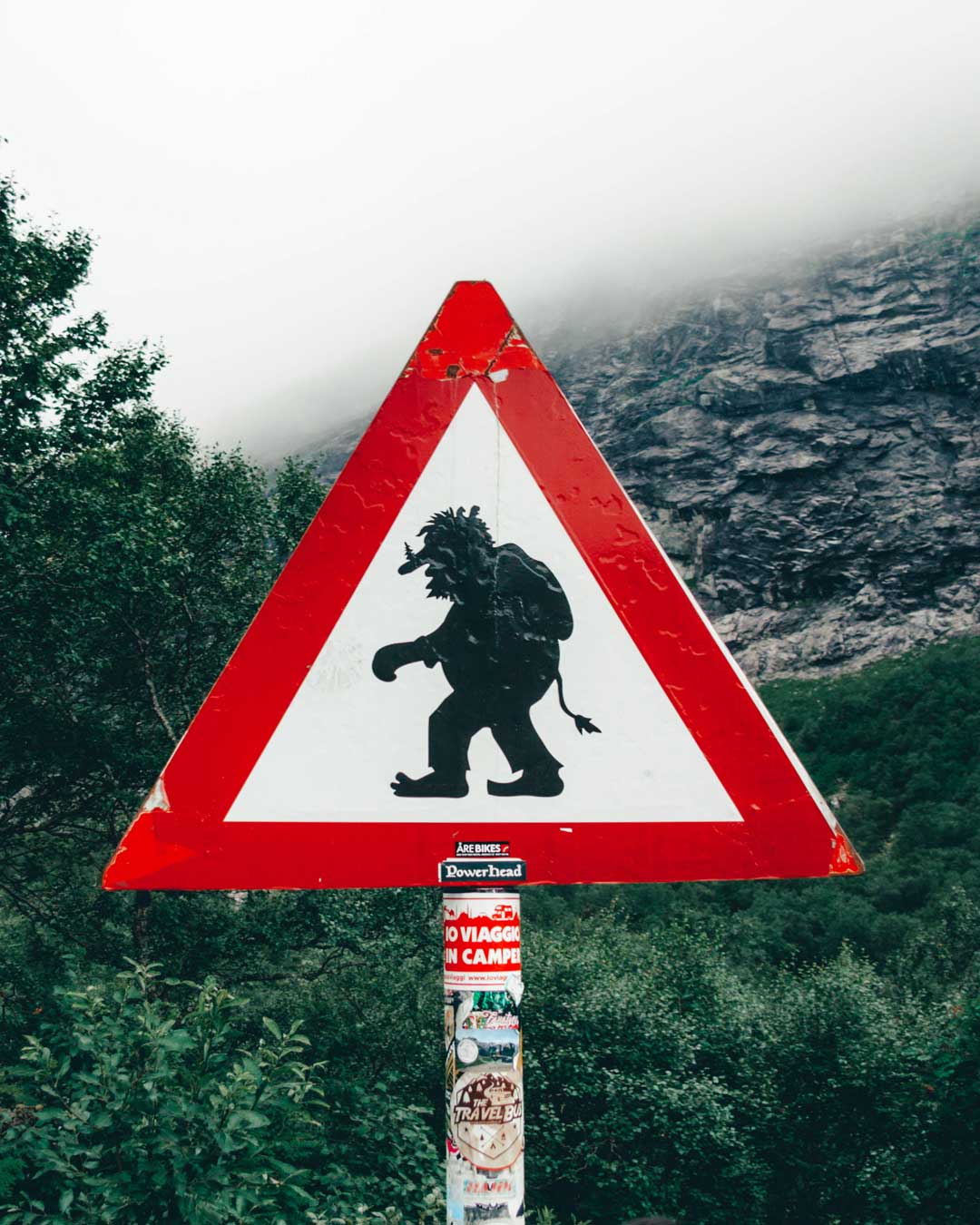 Day 4: From Ålesund to Trollstigen and Geirangerfjord
Today's drive: 5 hours
Trollstigen
Today you should definitely wake up early, because you have an unforgettable road trip experience ahead of you. Set the GPS on Trollstigen viewpoint, and you will drive along a fjord, through a valley and eventually reach the iconic hairpin road. This steep road twists through 11 hairpin bends as it climbs up the characteristic mountain Stigrøra, 858 metres above sea level. An impressive bridge carries the road across the Stigfossen waterfall. The road is carved into the mountain and supported by stone walls. If you are lucky enough to come here on a clear day you will have an astonishing view of the valley and surrounding mountains from the viewpoint at the top.
Geirangerfjord
From Trollstigen you have approximately 2 hours to Geirangerfjord. This fjord is considered one of the most beautiful fjords in the world, and is included on the UNESCO World Heritage list. I assure you it will take your breath away. If you drive from Trollstigen you will arrive directly to the viewpoint of Geirangerfjord called Ørnesvingen. From the viewpoint you can see the inner part of Geirangerfjord, with its dramatic peaks (reaching 1700 meters) and almost vertical edges. You can also see Geiranger village and the famous waterfall The Seven Sisters from this viewpoint.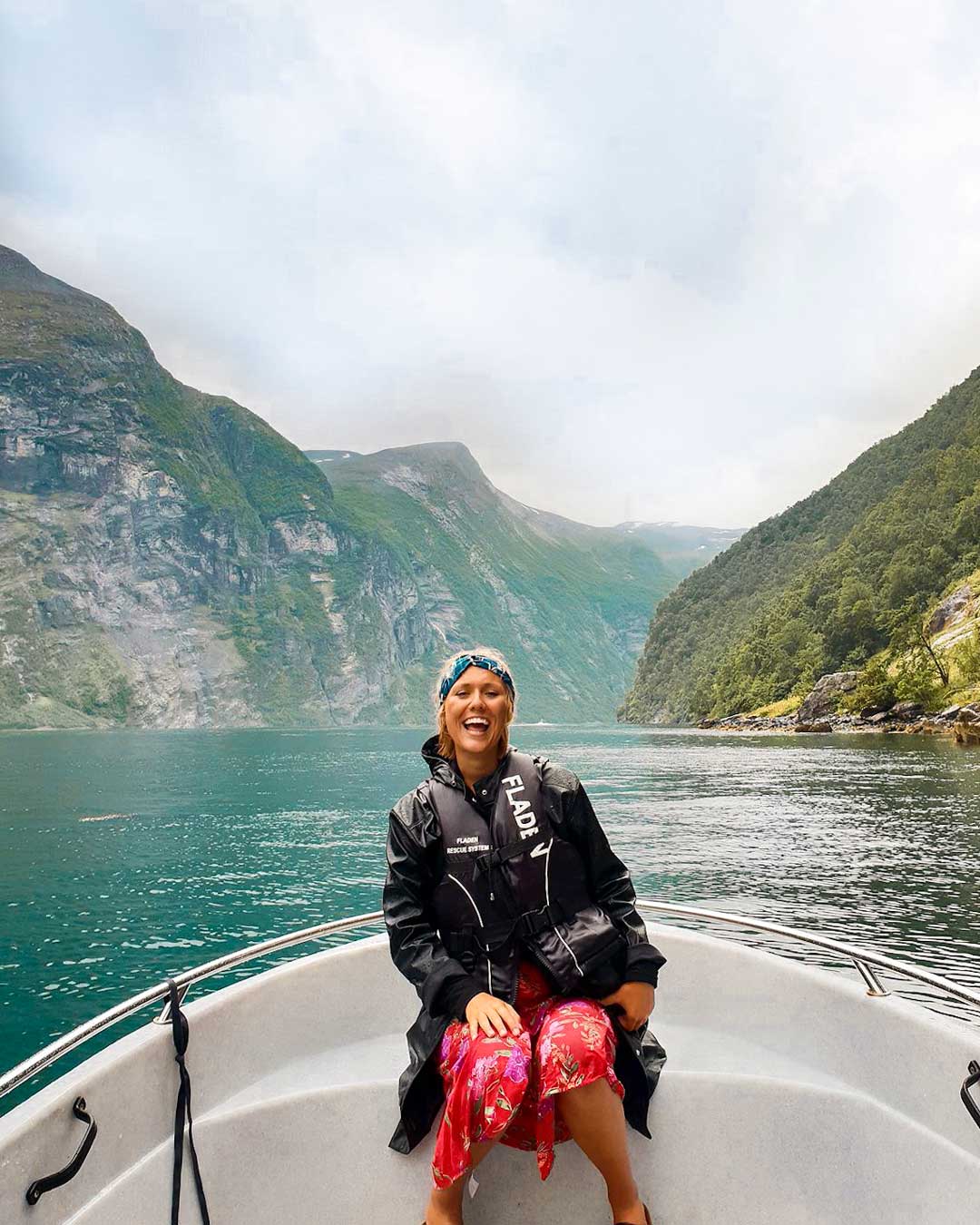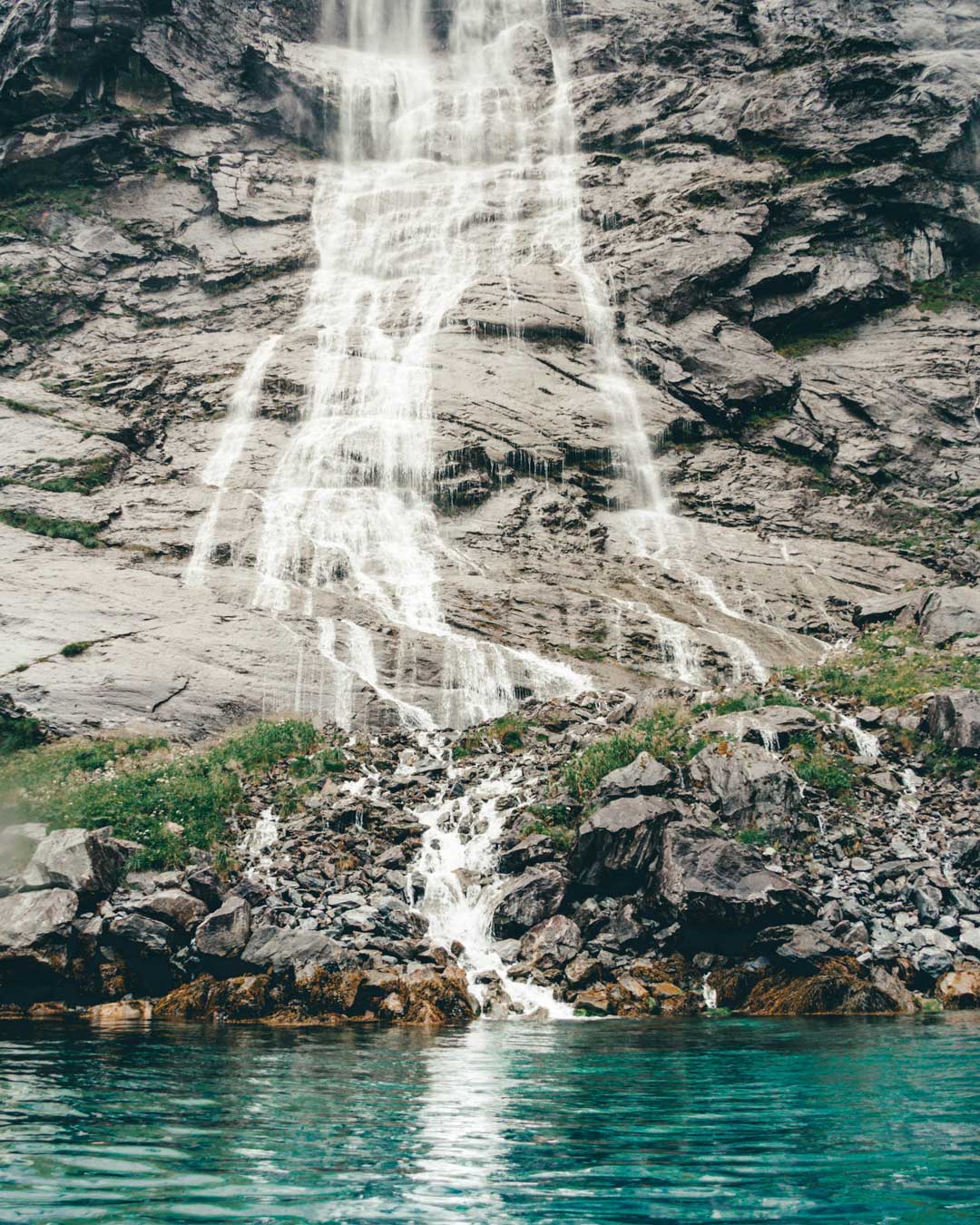 Tip: If you have time and know how to drive a boat you can rent a small one at the camping located right when you get down from Ørnevegen. For 500 NOK you have the boat for 1 hour. This was the most magical experience I've ever had!
Hidden viewpoint behind Geiranger
As you continue your road trip past Geiranger you will soon reach another smaller viewpoint. Park your car, walk a couple of hundred meters back on the same road and you will find a cliff from where you have yet another amazing view of the Geiranger village with the fjord in the background.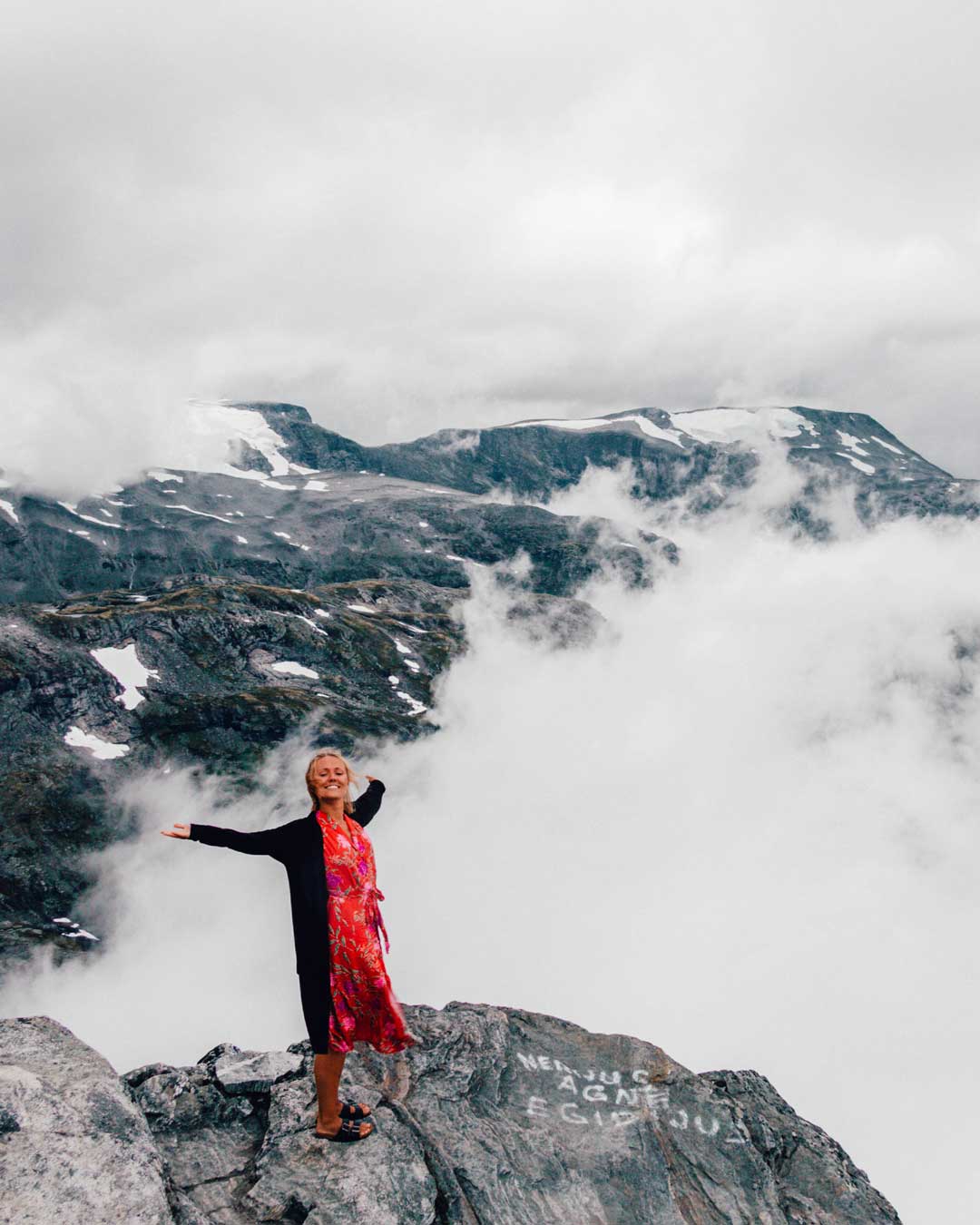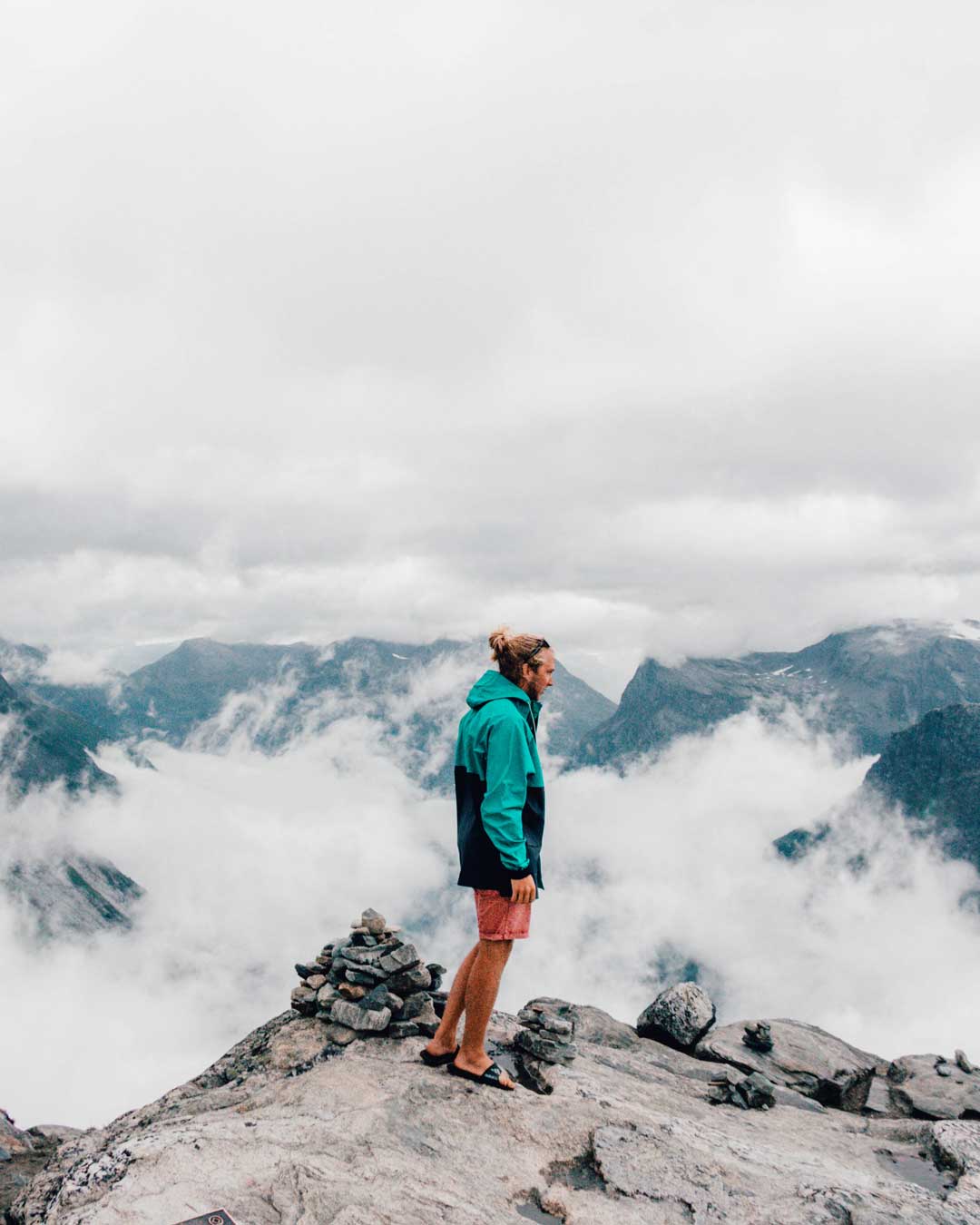 Dalsnibba viewpoint
Continue further and you will soon reach the hairpin road leading you up to Dalsnibba viewpoint. This viewpoint is located 1550 meters above sea level. It costs 140 NOK to drive up, but on a clear day it will definitely be worth a visit.
This night we stayed at Folven Adventure Camp, located 35 km (45 min) from Dalsnibba viewpoint.
Day 5: From Geiranger to Hemsedal via Lovatnet
Today's drive: 5 hours
Today you are going to visit one of the most beautiful lakes in Norway: Lovatnet. Lovatnet is located 92 km from Geiranger (46 km from Folven Camping). Set your GPS on Loen, the village just before Lovatnet, and then follow the signs to Lovatnet.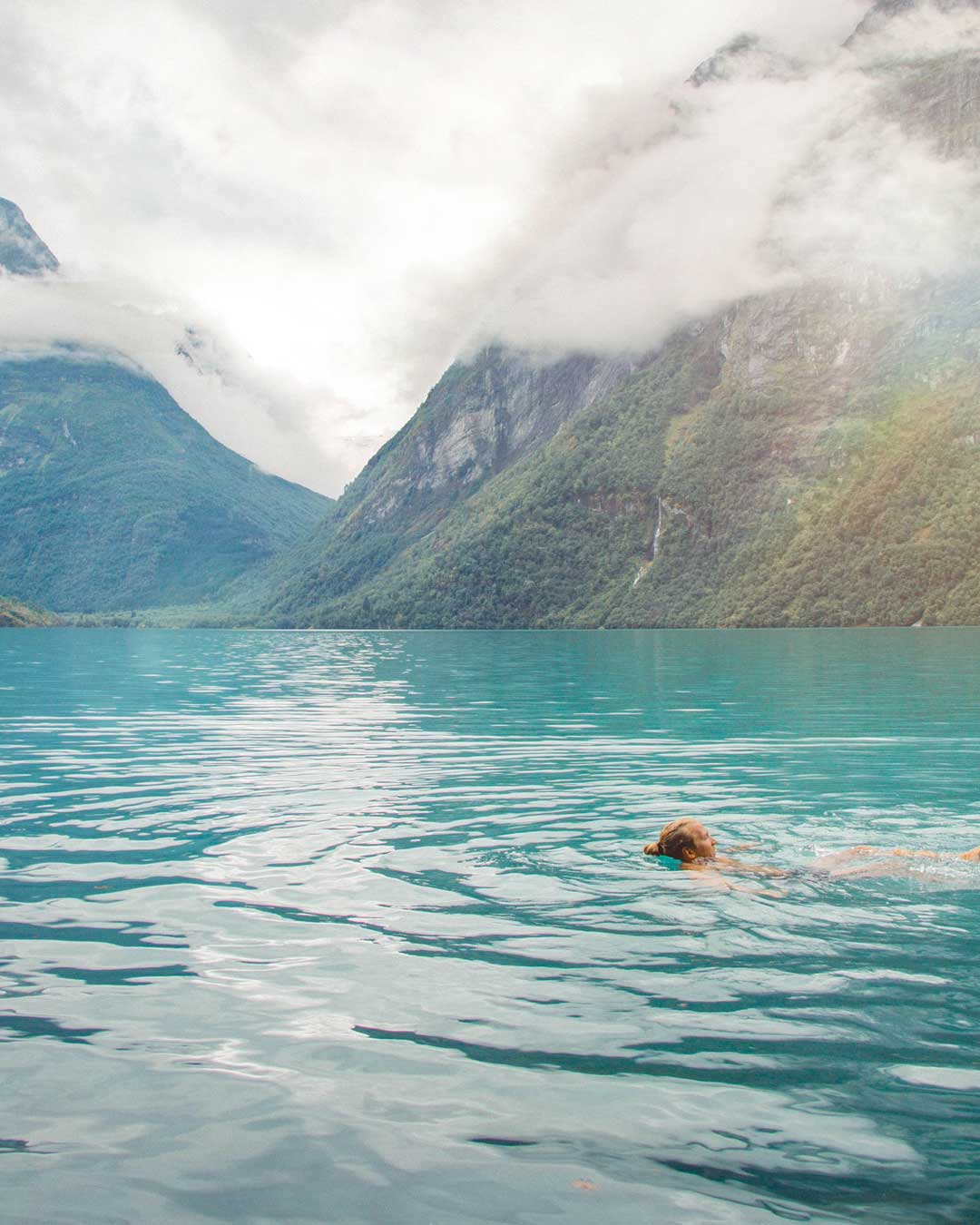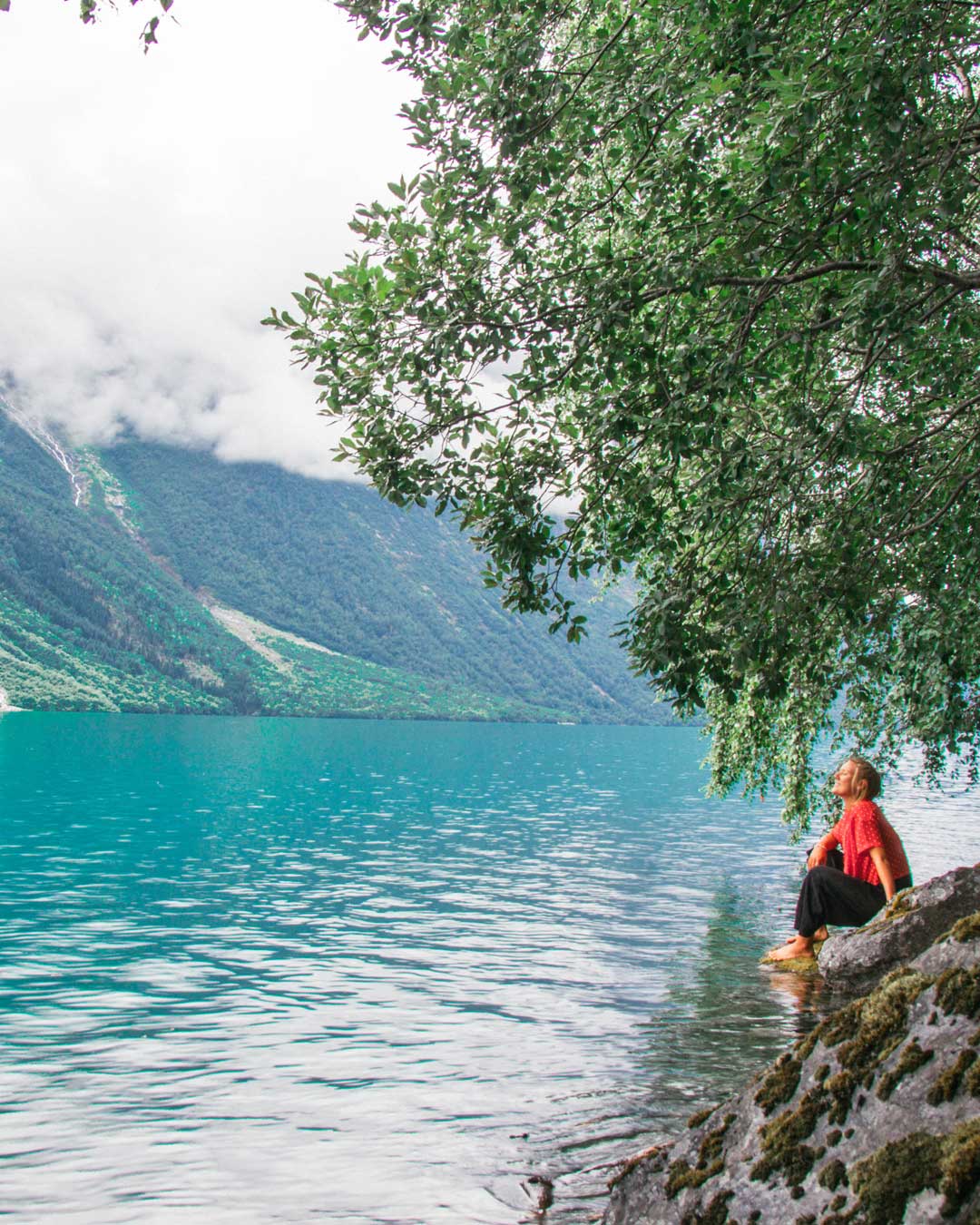 Lovatnet has incredible turquoise ice cold water. If you want to take a swim you can either ask the staff at the camping in the beginning of the lake, or continue your drive until you reach a nice spot to jump in. The experience of swimming in the blue mountain water is really refreshing.
Tip: If you want to see Loen and Lovatnet from above you can take Loen Skylift up to the top of Mt. Hoven. This cable car opened up in 2017 and takes you to an impressive height of 1011 metres above sea level in 5–7 minutes. A round trip ticket will cost you 530 NOK.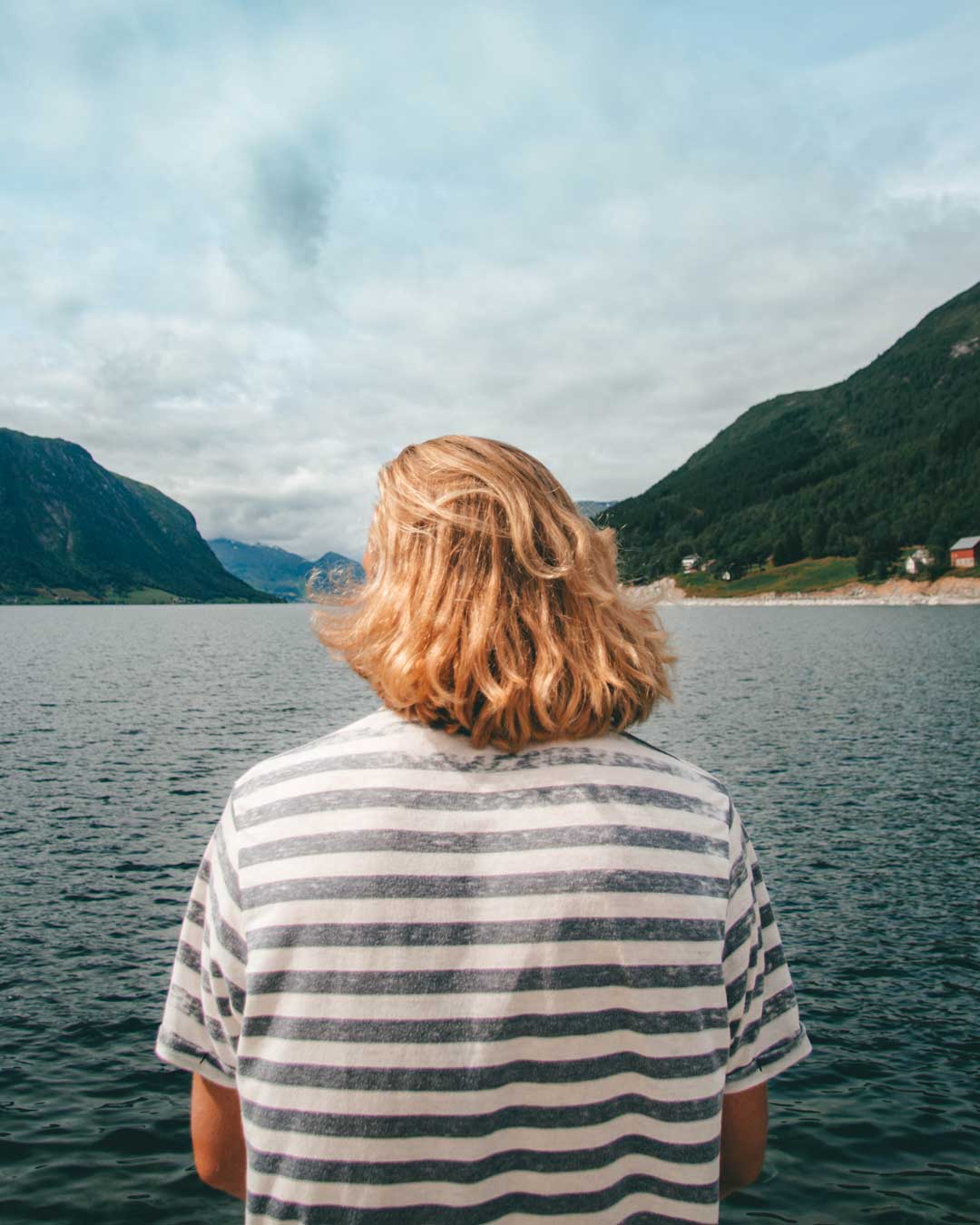 Now it's time to set the GPS on Hemsedal. The drive to Hemsedal will take around 4,5 hours. You will be driving through the midlands of Norway, with plenty of misty mountains and cute valleys to lay your eyes on.
Accommodation in Hemsedal: We stayed at an AirBnb, and got a whole cottage for a fair price.
Before you drive back to Oslo, take a morning walk in the mountains of Hemsedal. Hemsedal is a popular ski resort, but is just as beautiful in the summer.
Day 6: Drive back to Oslo
Drive back to Oslo at your own speed – and try to process all the amazing landscapes you have seen the past 6 days.