Visit Vättern – a 2-day road trip along lake Vättern's east shore
Cute villages, endless views, lush green nature reserves, and cold dips in the lake. Our 2-day road trip discovering the eastern shore of lake Vättern in Sweden was somewhat magical. Here are all the details for a perfect road trip from Jönköping to Vadstena – via Gränna, Hästholmen, and Omberg nature reserve.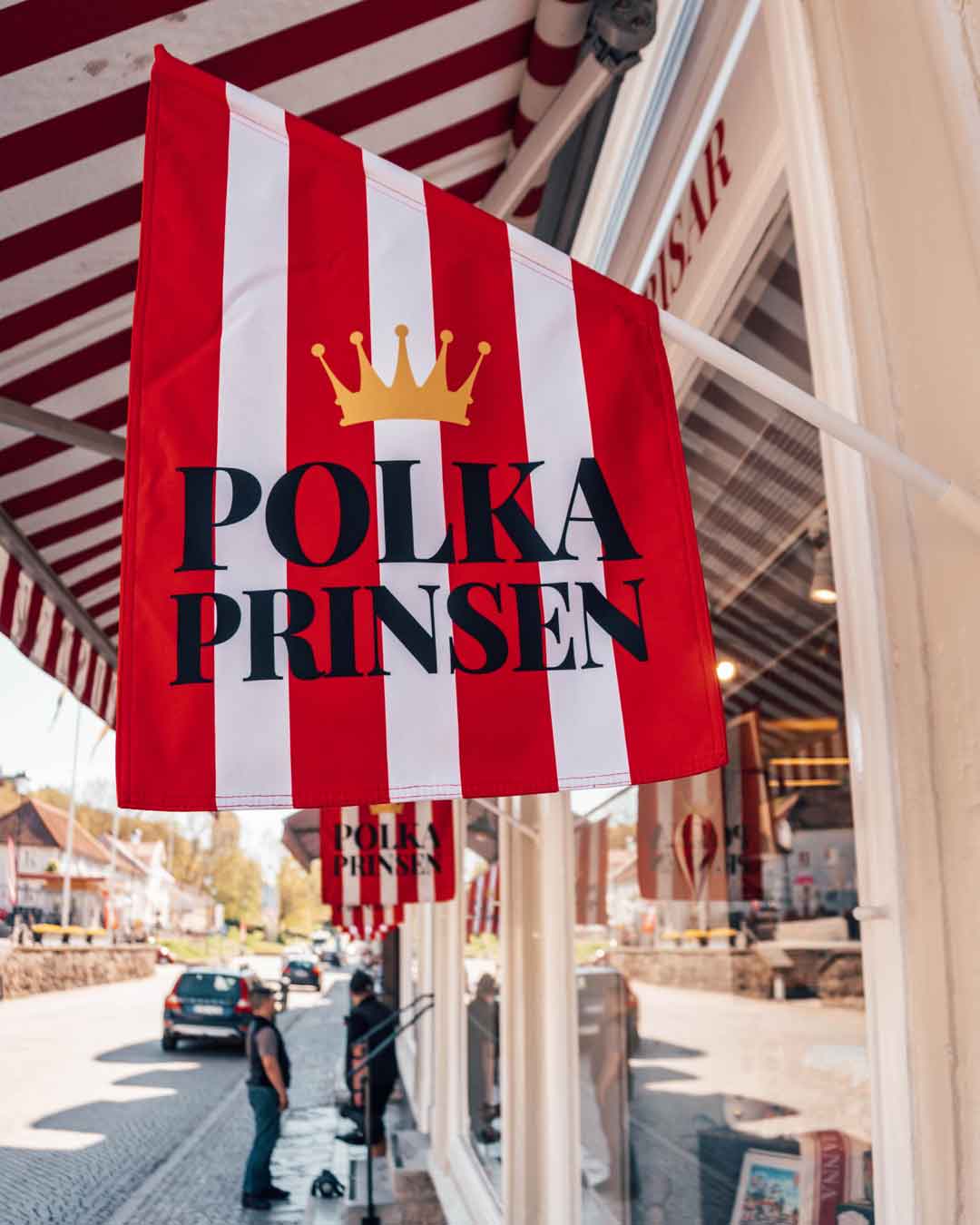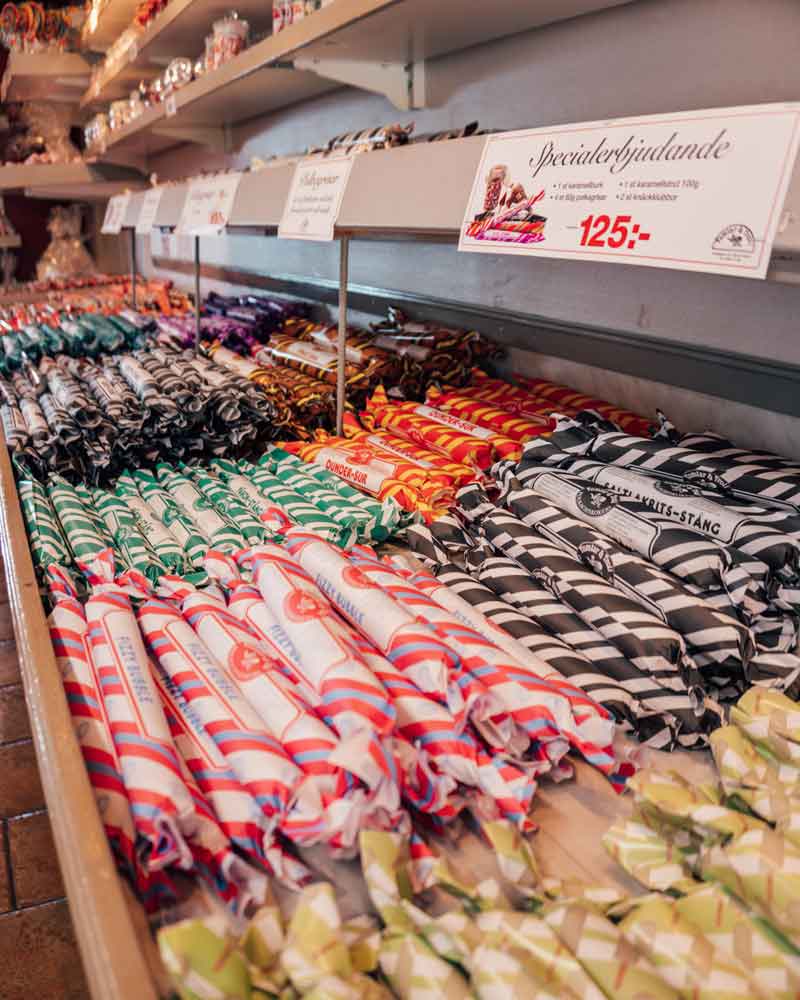 The small town Gränna is famous for their candy making and invention of polkagrisen.
Things to see and do along the way
Go polkagris shopping in Gränna
Gränna is a small town 30 minutes north of Jönköping, famous for the invention of the candy polkagris. Polkagrisar are the hard white and red candy sticks that usually taste like peppermint, and this town is filled with them!
The town consists of a cobblestone main street lined with cafés and shops selling polkagrisar in every flavour you can think of (my favorite is the salty liquorice one!) Many shops have display windows to the kitchen, meaning you can stand in the shop and watch the entire cooking process – from sugar dough to candy stick. Every shop will say that they are the original inventor, but I guess no one really knows who that is.
Tips! If you have a day to spare you should go on a day-trip to Visingsö, the small island in the middle of lake Vättern. The boat to Visingsö departs from Gränna.
Rapeseed fields next to lake Vättern.
Enjoy the views over Vättern from Uppgränna
Just 4 km north of Gränna you'll find Uppgränna, a tiny little village surrounded by grainfields – or if you're lucky: rapeseed fields. We rented a house here for our first night and got spoiled with a magnificent view of the sunset on the other side of lake Vättern.
If you don't want to stay here overnight you should at least drive through this little village.
Visit the ruins of Brahehus Castle
The ruins of Brahehus Castle are located 4 km north of Gränna, just by the highway E4. The castle was built in the 17th century but abandoned only 50 years after. The ruins are located 270 m above sea level and from here you have a panoramic view of lake Vättern.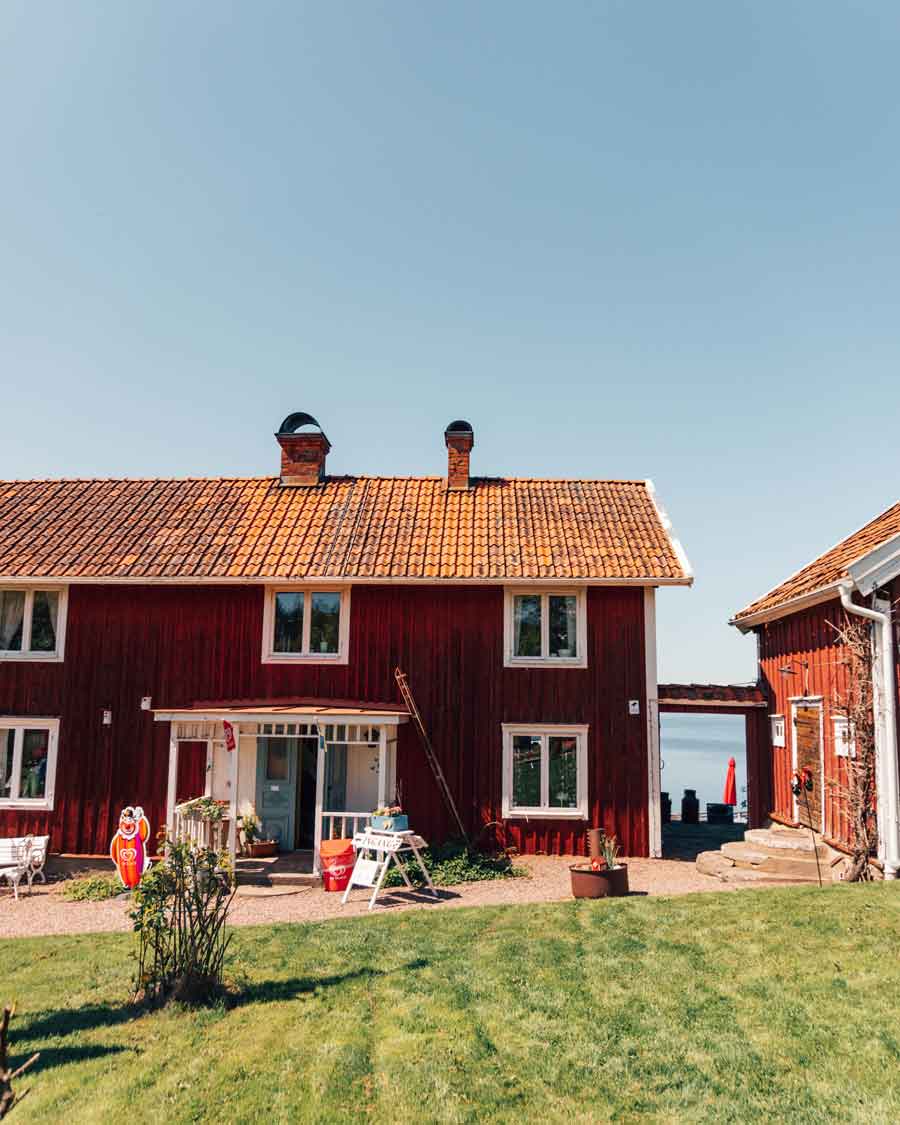 The cute Café Kleven 7 close to Uppgränna.
Eat cheesecake at Café Kleven 7
While you're nearby you should definitely stop at Café Kleven 7 for a famous Swedish fika. Café Kleven 7 is located a short (but steep) drive from Uppgränna, in a classic Swedish red wooden house. The café is small, very cute and from their garden you have the most beautiful view of lake Vättern. Make sure to try their cheesecake (ostkaka in Swedish). Ostkaka is a traditional cake from the region Småland, where this café is located.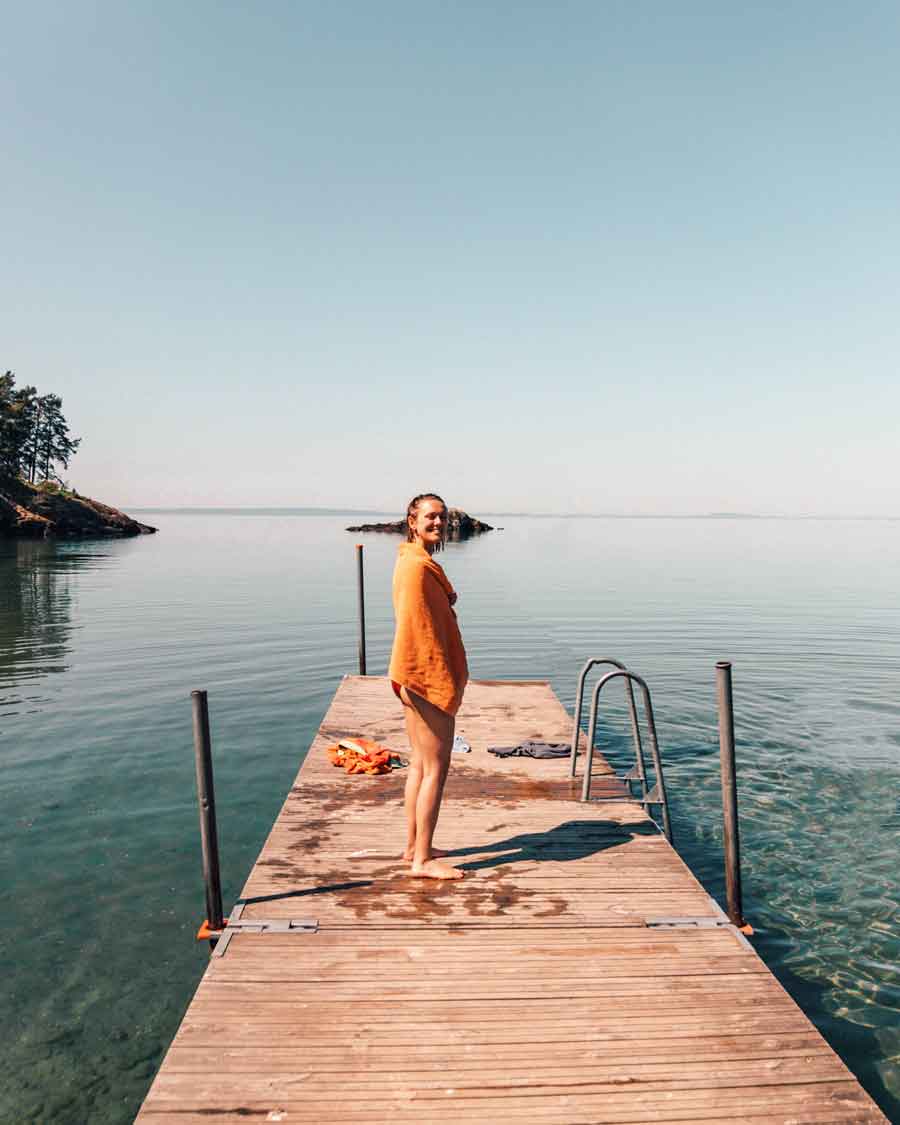 Take a swim in the cold lake at Hästholmen bathing area.
Stop for a swim in Hästholmen
25 minutes north of Uppgränna you'll find a cozy little village called Hästholmen. Close to their harbor is a bathing area with a small sandy beach. This is a perfect place for a swim. Remember that Vättern is a very deep lake (128 m) so the water temperature is usually very cold.
Award-winning ice cream from 31:ans glass och kök.
Eat award-winning ice cream at 31:ans glass och kök
While in Hästholmen you have to stop by 31:ans glass och kök. This café makes their own ice cream, and it has been awarded Sweden's tastiest ice cream several years in a row. You don't want to miss out on this! My favorite was the salty liquorice ice cream.
See more: If you know Swedish and want to know more about this ice cream café, check out the youtube video "Har hittat Sveriges godaste glass"
Ekopark Omberg is a beautiful nature reserve along lake Vättern.
Go for a hike in the nature reserve Ekopark Omberg
Ekopark Omberg is a mountain and nature reserve located on the shore of lake Vättern. This nature reserve is Sweden's most species-rich forest landscape. Here you have a mix of beech forest, gigantic oak trees and fields of flowers. Since this nature reserve is located on a mountain it's lined with dramatic mountain slopes down to lake Vättern. The views are best experiences from the viewpoint Västra Väggar.
Tips! At the end of May, the ground is covered in wild garlic. The smell is just amazing! However, it is not allowed to pick any.
Vadstena Castle is an old royal castle from the 16th century.
Visit Vadstena Castle and Vadstena Abbey
Vadstena is a small village well worth a visit. The buildings in the village date from the Middle Ages, with low-rise buildings and narrow streets. Vadstena is mainly known for its beautiful 16th century royal castle and the historically significant abbey. The abbey was built on the orders of Bridget of Sweden, a Catholic saint who was active during the 14th century.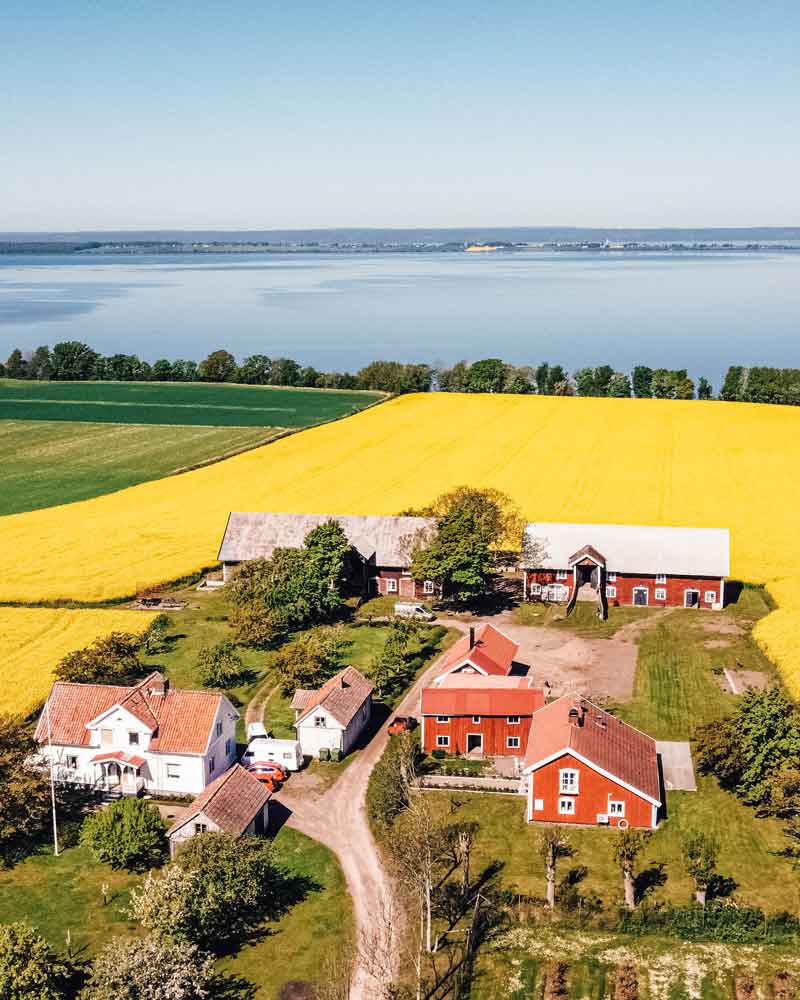 Photos left to right from top: Camping in Omberg Ekopark; Uppgränna; camping spot in Omberg Ekopark.
Where to stay on your road trip along lake Vättern's east shore
We spent two nights on our road trip. The first night we rented this house in Uppgränna. The second night we camped in Omberg.
You can find great accommodation on both AirBnb and booking.com. If you plan to camp, make sure to read about the freedom to roam. The freedom to roam is the principle, protected by the law, that gives all people the right to roam free in nature. However, you can't do whatever you want or sleep wherever you want – so please do your research.
When to visit
Entire Sweden, including the Vättern area, is at its best in the end of May or beginning of June. This is when nature is in full bloom, the days are long and the weather is usually sunny and warm.
Home > Destinations > SwedenBest beaches in Sweden – a guide to the sandy beaches in SkåneIf you're looking for the best beaches in Sweden, then where better to look than at the Swedish Riviera? Southern Sweden is home to some of the most beautiful beaches in...
read more
Home > Destinations > SwedenWest Sweden travel guide: A guide to Sweden's west coast and islandsWest Sweden is famous for its bare cliffs, wide archipelago and cute fishing villages. The region, called Bohuslän, can be experienced by either car or boat. You can...
read more