Things to do in Canggu, Bali: A guide to the hottest coastal town in Bali
Looking for the best things to do in Canggu, Bali? Canggu is one of the hottest destinations in Bali right now. Buzzing with liveliness, awesome surfing, countless trendy restaurants, and beach bars, you won't have a boring minute here. This guide lays out the best things to do in Canggu.
Where is Canggu?
Canggu is located on the south coast of Bali, around 10km north of Kuta. The Canggu area is split into three major areas: Batu Bolong, Berawa, and Pererenan. The three areas are divided by rivers that lead water from the mountains to the sea. Today there are small roads crossing the rivers, called shortcuts, that connect the areas.
Good to know is that Canggu has grown a lot in recent years. What was before a quiet fisherman's village close to nature has today become a busy town with lots of things to do and see. The town is especially popular among yogis, surfers, creators, and digital nomads.
10 essentials things to do in Canggu
1. Try surfing
Many people come to Bali just to surf. Canggu is filled with surfers, and you can see them driving around with their surfboards on the side of their motorbikes. Canggu offers waves for everyone, and if you want to take a surf lesson you can just ask one of the surf schools at the beach.
There's quite a lot of tide in Canggu, so make sure you choose the right time to surf. The waves are best in the morning (expect the beaches to fill up already at 6 am.) From 4 pm to 6 pm is also a popular time to surf.
Here are some well-known surf spots in and around Canggu:
Pantai Batu Bolong (Batu Bolong beach): Beginner-friendly
Echo beach: Intermediate
Berawa beach: Beginner-friendly
Gadon beach: Intermediate
Kedungu beach: All levels

FYI: The Canggu beaches are not as beautiful as those down south in Uluwatu. They can actually be quite rough, and the water is often too wild to swim in. Perfect for surfing, but not so perfect for swimming.
2. Watch the sunset from a beach bar
Next to Uluwatu, Canggu offers the best sunset vibes in Bali. When the temperature gets a bit cooler and the sky is about to turn pink, that's when the beaches in Canggu really come alive. Locals and tourists are united with surfers, joggers and dogs, all there to enjoy the last sun rays of the day.
During my time in Canggu, this became my favorite time of the day. There are many bars and beach clubs to catch the sunset from, and my personal favorites are listed below.
Some of my favorite beach bars:
La Brisa is a perfect place for a sunset drink.
3. Try the many restaurants in Canggu
If you're a food lover, there's no place better than Canggu. I don't think I've ever experienced so many good restaurants in one town. I've heard there are over 300 restaurants in Canggu, and the food scene just keeps growing!
You can find any type of cuisine in Canggu. Sushi, Mexican, Italian, all vegan restaurants, hipster cafés and lots and lots of smoothie bowls.
During the month I spent in Canggu, I tried at least one new restaurant each day. Here's a selection of my favorites:
As a bonus you get my favorite coffee shops too:
4. Sundays at Black Sand Brewery
Black Sand Brewery is a craft brewery that brews the best beer in Bali. Every Sunday they open up their beer garden for a happy hour event under the name Apertivo Sunday. All their beers are 50 000 IDR, and as a bonus you get an aperitivo buffet for free. Enjoying a beer in their garden, overlooking the luscious green rice paddies, is a perfect way to end the week.
I can highly recommend Black Sand Brewery's Sunday aperitivo event.
5. Pura Tanah Lot Temple
Tanah Lot is a rock formation home to the ancient Hindu pilgrimage temple Pura Tanah Lot. It's a famous religious and cultural site, and popular among both locals and tourists. The temple is located on a small island 30 minutes north-east of Canggu. It's easy to get there with a motorbike or a scooter. The entrance fee is 60 000 IDR.
Tanah Lot has become a popular tourist attraction, and even though it usually counts as one of the best things to do in Canggu, I thought it was a bit overrated. If you choose to go, you should definitely go during sunset. The golden hour is supposed to be amazing there!
6. La Brisa Sunday market
Every Sunday, the restaurant and beach club La Brisa opens up their venue at Echo beach to a farmer's market. The market is a weekly initiative to support local farmers, suppliers, and small businesses.
Dozens of stalls are set up, selling everything from organic food to home decor, upcycled fashion and jewelry.
Don't miss the food stalls at the very back of the venue. Restaurants from all over Canggu come here to serve their food. You can find everything from yummy ice cream to Vietnamese pho and freshly grinded coffee. I suggest you come to La Brisa Sunday market hungry!
The market is open from 10 am to 4 pm. There's no entrance fee, and La Brisa is easy to reach by motorbike or car. This is definitely the best market in Canggu!
7. Shopping in Canggu
Didn't find what you were looking for at La Brisa Sunday market? Don't worry, Canggu has more to offer. Due to Canggu's growing popularity, new shops are opening up every month. You can find a good mix of local and foreign brands selling high-quality clothes and decor.
Here are some of my favorite shops:
Haze & Glory: An eco-friendly brand that prioritizes sustainability. You'll find a lot of high-quality cotton and linen clothes here.
Bamboo Blonde: The Bali lifestyle brand with shops all over the island.
Love Anchor Market: Not really a shop but more of a market. The place is filled with local vendors selling clothes, jewelry, hats, and decor.
8. Attend a yoga class in one of the many Canggu yoga studios
Bali's peaceful surroundings and spiritual vibes attract many yogis. And with the yogis come the yoga studios. Canggu is home to lots of professional yoga studios that welcome both experienced yogis and total beginners. Regardless of your level, Canggu is the perfect place to practice.
Here are some Canggu yoga studios I've tried and can recommend:
Bliss Yoga Club: The funniest yoga class I've ever attended! The instructor is a lovely Russian woman who helps each participant reach their full potential. Each class ends with tea and handstand practice. See the schedule on their Instagram. The first yoga class cost 100 000 IDR,  then you have to pay 150 000 K for each class.
Pranava Yoga: Cozy studio, but a rather advanced class. Not for the beginner. Classes cost 110 000 IDK. 
Desa Seni: Desa Seni offers a relaxed atmosphere, away from the hectic Canggu traffic. The yoga classes are held in their garden and with professional instructors. They charge 140 000 IDR per class. 
9. Explore Canggu's nightlife
Canggu is home to many expats and digital nomads – people who usually know how to party. Many people start their Friday night at Deus Ex Machina. Deus Ex Machina is a café in Batu Bolong that calls itself "the temple of enthusiasm". They often have live music, and sometimes they invite stand-up comedians to come and entertain their guests.
When you had your fun at Deus, you should move over to Black Sand Brewery. This place is normally jam-packed with beer-loving expats on weekends. Grab some food and a beer, listen to music and enjoy the view of the rice fields.
If you're more of a cocktail person you should head to The Shady Pig, an old-fashioned, glamorous British bar that serves unique drinks in the heart of Berawa. 
When Black Sand closes at midnight, everybody continues to Revolver for some late-night dancing.
10. Go for a massage
Stiff after too much surfing, or just want to treat yourself to a relaxing spa treatment? Either way, Canggu got you covered. With Canggu's growing popularity, the world-class spas have followed.
Here's a list of recommended spas:
How to get to Canggu
Canggu is located 20 km from Bali International Airport. The drive takes around 50 minutes.
Bali has no developed public transport system. The easiest way to get to Canggu would be by car or motorbike. A fair price from the airport to Canggu by taxi is 150 000 IDR.
There are loads of taxis just outside the airport. If you want, you can also download the app Grab and order a taxi yourself (it's normally cheaper through Grab!)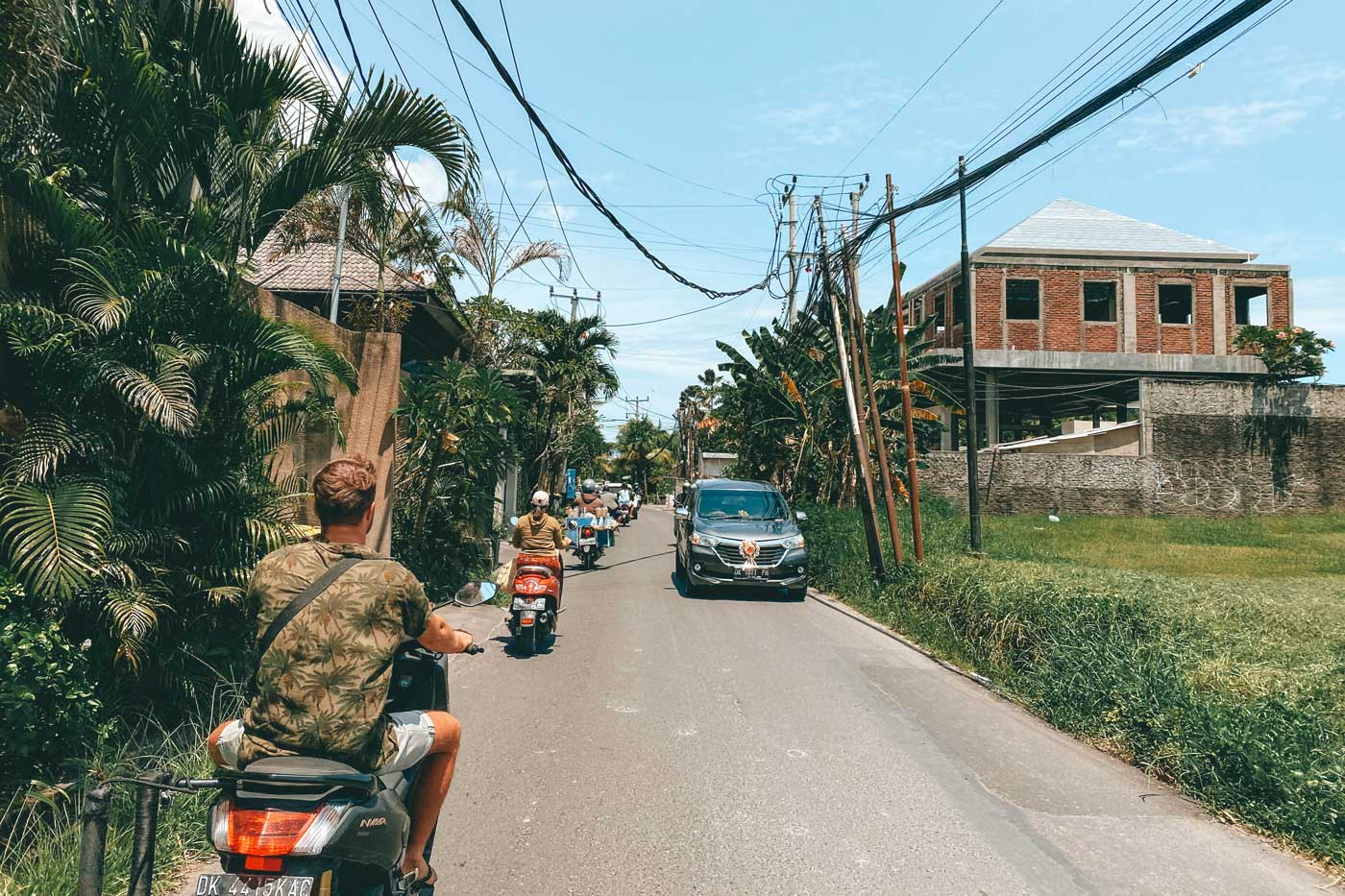 Transportation in Canggu
Since there's no public transport and no sidewalks in Canggu, the best way to get around is definitely by scooter or motorbike. 
Hire a scooter or a motorbike
You can rent scooters everywhere around Canggu. We rented through Local Customs, and they were very professional and helpful. The scooter rental prices have gone up lately. Daily rental would cost you from 80 000 IDR and up, depending on what scooter you want. The monthly rental can be anything from 1 500 000 IDR to 3 000 000 IDR.
The traffic can be quite hectic in Canggu, and the roads are small. My best recommendation is to drive slowly and always keep your eyes on the road. 
Grab and Gojek
If the idea of getting on a scooter makes you nervous, you can always hire a driver. The apps Grab and Gojek offer taxi services with both scooters and cars. This is a common way of getting around in Canggu, and it's very affordable, safe, and quick.
Weather in Canggu
The weather in Canggu is warm and humid all year around. The temperature is around 30 degrees, but with the humidity it usually feels more like 35-38 degrees.
In Bali, there are only 2 seasons: dry season (April to September) and wet season (October to March). During wet season it can come a rain showers from time to time, but they usually pass over quickly.
Canggu vs Seminyak
A few years back, Seminyak was the obvious choice for people who wanted to escape the hectic atmosphere in Kuta and have a calmer and more luxurious vacation. As Bali is getting more and more exploited, the trendy neighborhoods expand north.
If you want luxurious resorts, hip beach clubs, and trendy restaurants, you should choose Seminyak over Canggu. However, if you're are looking for a laidback, creative hipster vibe, then Canggu is your obvious choice. 
Where to stay in Canggu
Canggu is split into three major areas, that all offer a slightly different experience. A good rule of thumb is to choose an accommodation that is located further away from the main street, which is usually very noisy due to the traffic.
Batu Bolong: Batu Bolong is the main area in Canggu, where most of the shops, trendy restaurants, and bars are located. I thought this area was a bit too busy, but if you prefer to have walking distance to a wider selection of restaurants, this is a good choice.   
Berawa: A few years ago, Berawa was the calmer, more upcoming neighborhood. Today it's filled with great restaurants and shops and is almost as busy as Batu Bolong.
Pererenan: Pererenan is a more peaceful neighborhood, but very upcoming. New cafés, restaurants, hotels, and coworking places pop up each month – and the many construction sites indicate that more are on the way. I really liked the calmness of this area, and the fact that you're only five minutes away from Batu Bolong makes it very attractive.
Home > Destinations > BaliThe 6 Best Waterfalls in BaliThe waterfalls in Bali, Indonesia, are a popular tourist attraction, and rightfully so. This small island is home to over 50 waterfalls, all breathtakingly beautiful. From the dramatic Sekumpul Waterfall to...
read more