14 Things To Do in Uluwatu, Bali
Uluwatu in south Bali is a trendy and relaxed area known for its limestone cliffs, white sand beaches, epic surf waves, and fancy beach clubs. Similar to Nusa Penida, Uluwatu offers clear blue water and is known to be home to the best beaches in Bali. There are a number of things to do in Uluwatu that make this destination a highlight on everyone's Bali itinerary. Here's a guide to the top things to do in Uluwatu.
Where is Uluwatu, Bali?
Uluwatu is a region on the southern tip of Bali island, on the southwest corner of Bali's Bukit Peninsula. It's famous for its unique and scenic landscape, with dramatic cliffs and stunning beaches overlooking the Indian Ocean.
Uluwatu is named after its famous temple built on top of a 70-meter-high cliff. However, there are lots of other things to do in Uluwatu Bali than just seeing the temple!
How to get to Uluwatu?
Uluwatu is located away from big busy cities like Kuta and Seminyak, which is the reason for its laidback vibe. The roads to Uluwatu are straightforward, and it's easy to get there by either a taxi or motorbike. It takes around 45 minutes to get to Uluwatu from Kuta.
1. Karang Boma Cliff
Karang Boma Cliff, sometimes referred to as Uluwatu Cliff, is an impressive 70-meter-high cliff on the southwest side of Uluwatu, near Uluwatu Temple. The impressive view from the cliff is jaw-dropping, and to me, this is one of my favorite places in Bali.
Be careful while exploring Karang Boma Cliff. There are no fences and the 70-meter drop leads straight down into the ocean.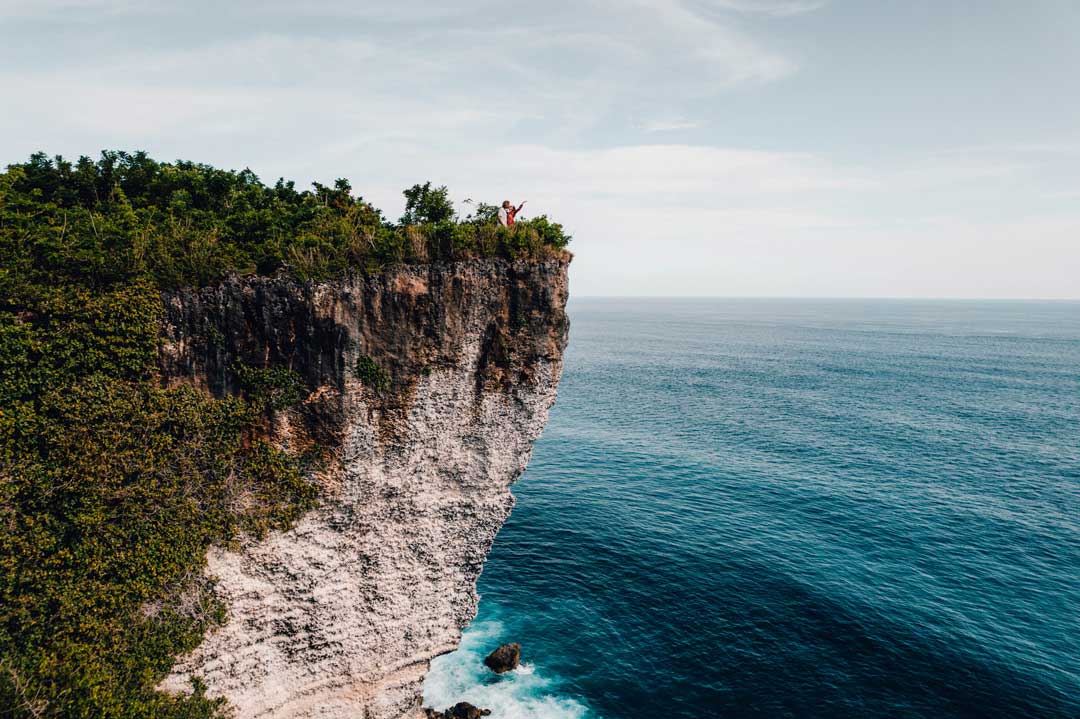 2. Padang Padang Beach – Top Thing To Do in Uluwatu
Padang Padang Beach, also known as Pantai Labuan Sait, is probably the most famous beach in Bali, and obviously one of the top things to do in Uluwatu. Padang Padang is mainly famous for two reasons: It was featured in the movie 'Eat, Pray, Love' and it's where the Rip Curl surf competition is held every year.
Padang Padang Beach itself is quite small but due to its popularity, there are still several warungs serving both food and drinks. It's a perfect place for a few hours of sunbathing and relaxing.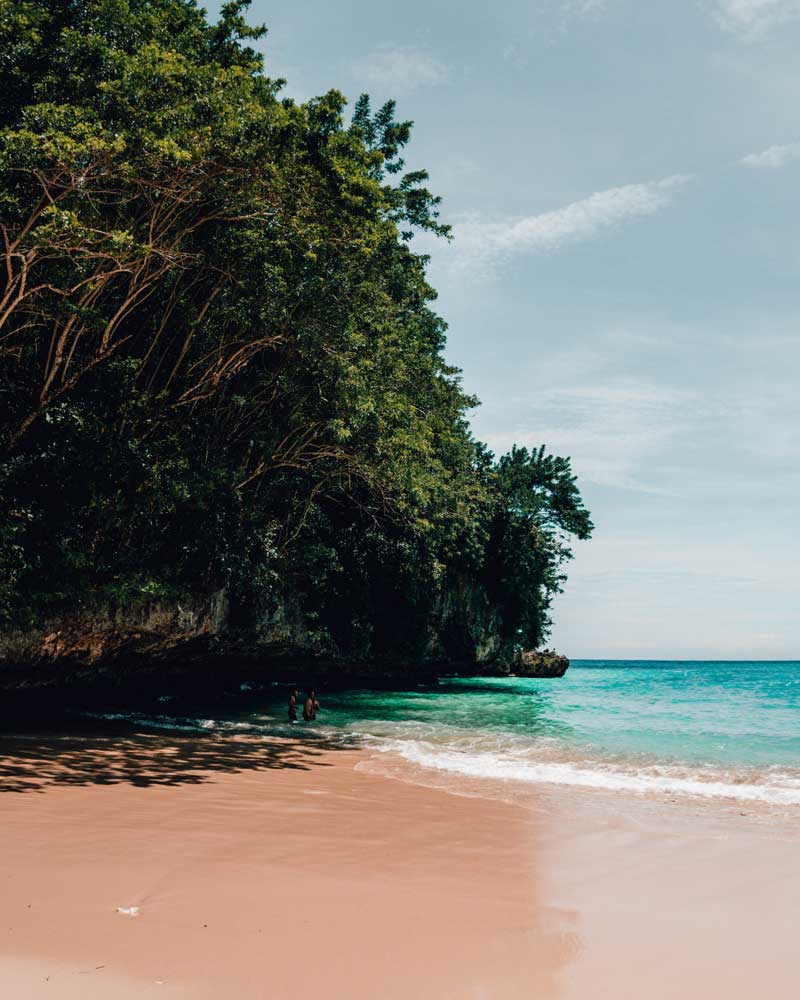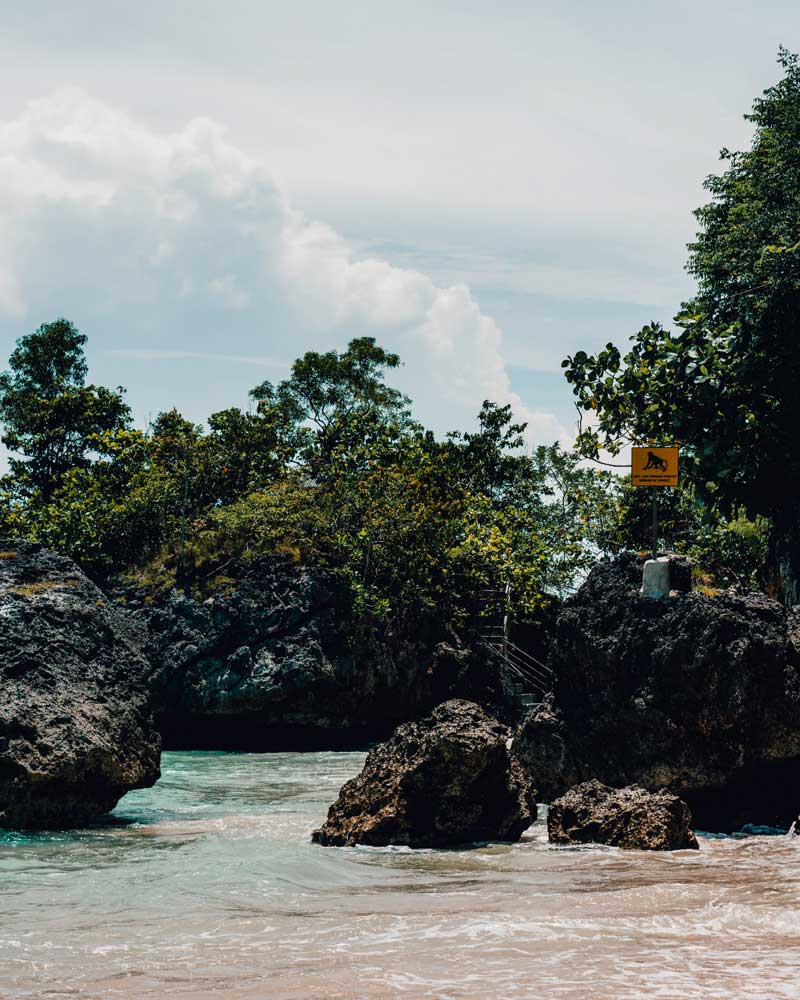 If you arrive from the direction of Dreamland beach, you have Padang Padang Beach on your right side and the parking lot on your left side. To reach the beach you have to walk down a number of stairs. The entrance to visit Padang Padang Beach in Uluwatu is 15.000 IDR (in 2022) which is around 1 USD.
3. Surfing in Uluwatu
Speaking of surfing… Uluwatu is famous for its world-class surfing spots. There are a number of popular surf spots in the area. Many beaches are for experienced surfers. If you're a beginner you should try Padang Padang beach or Dreamland beach.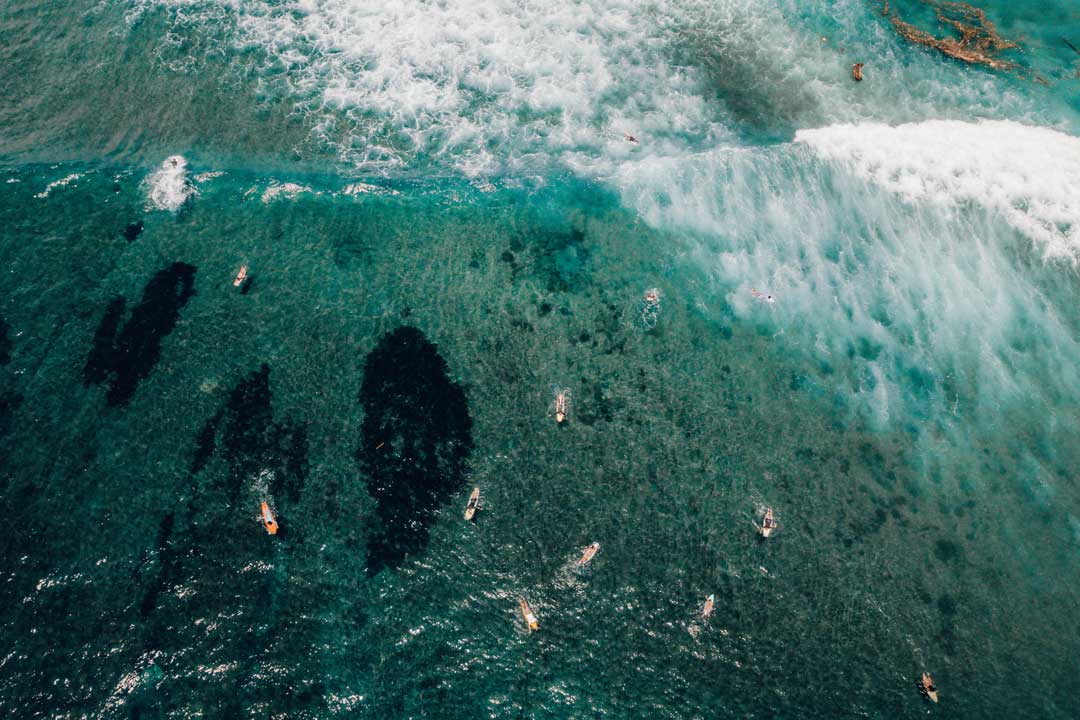 4. See the sunset from Uluwatu Sunset Point
Uluwatu offers the best sunset vibes in Bali. There are many great beach clubs (or as they call them in Ulu: cliff clubs) to watch the Uluwatu sunset from. My favorite is Uluwatu Sunset Point. You can grab a drink, chill in a beanbag and listen to a DJ play while looking out at the Indian Ocean and enjoying the last sun rays of the day.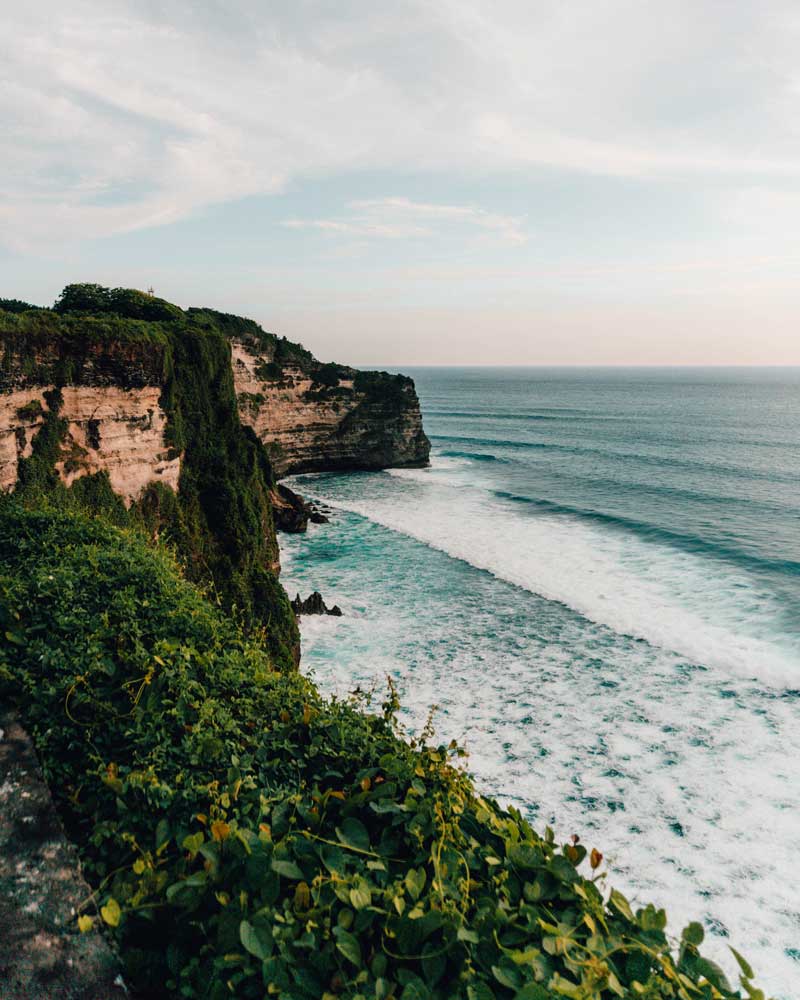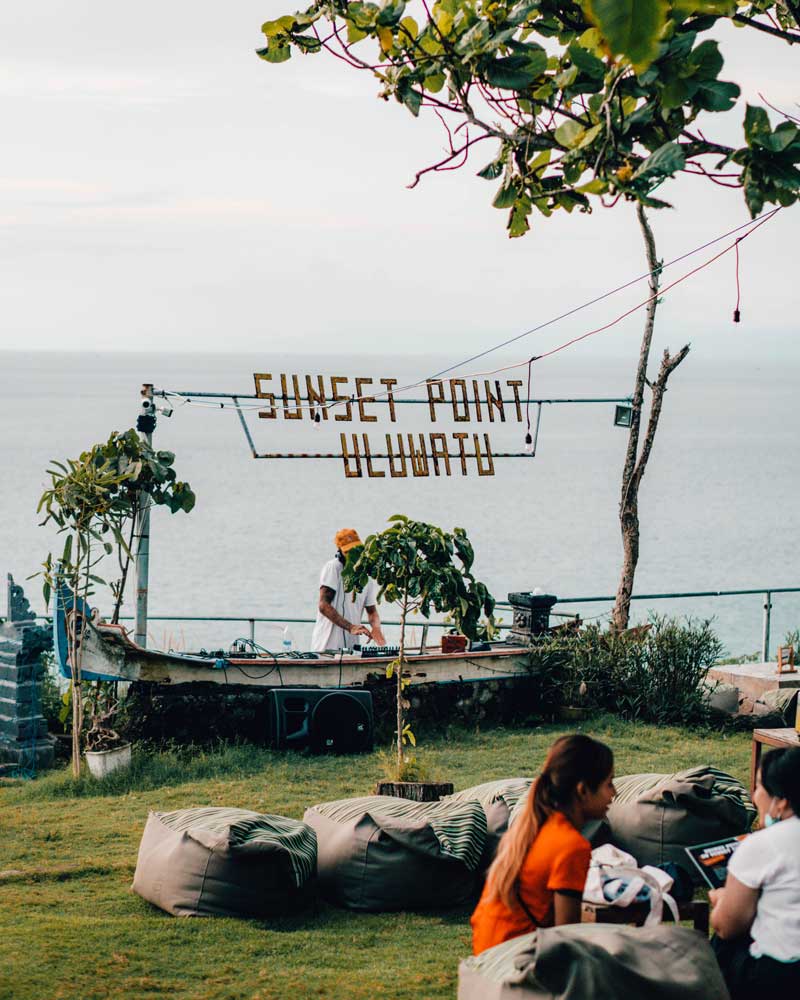 Other Uluwatu beach clubs:
Ulu Cliffhouse
Sundays Beach Club
Karma Beach Club Bali
Palmilla Beach Club
Single Fin
5. Balangan Viewpoint
Balangan Beach is a quiet, beautiful beach with white sand and blue waves. The beach is popular among surfers and tourists searching for views. Why? On the northern tip of the beach, there is a cliff, called Tebing Pantai Balangan, with a panoramic view of the beach and the ocean.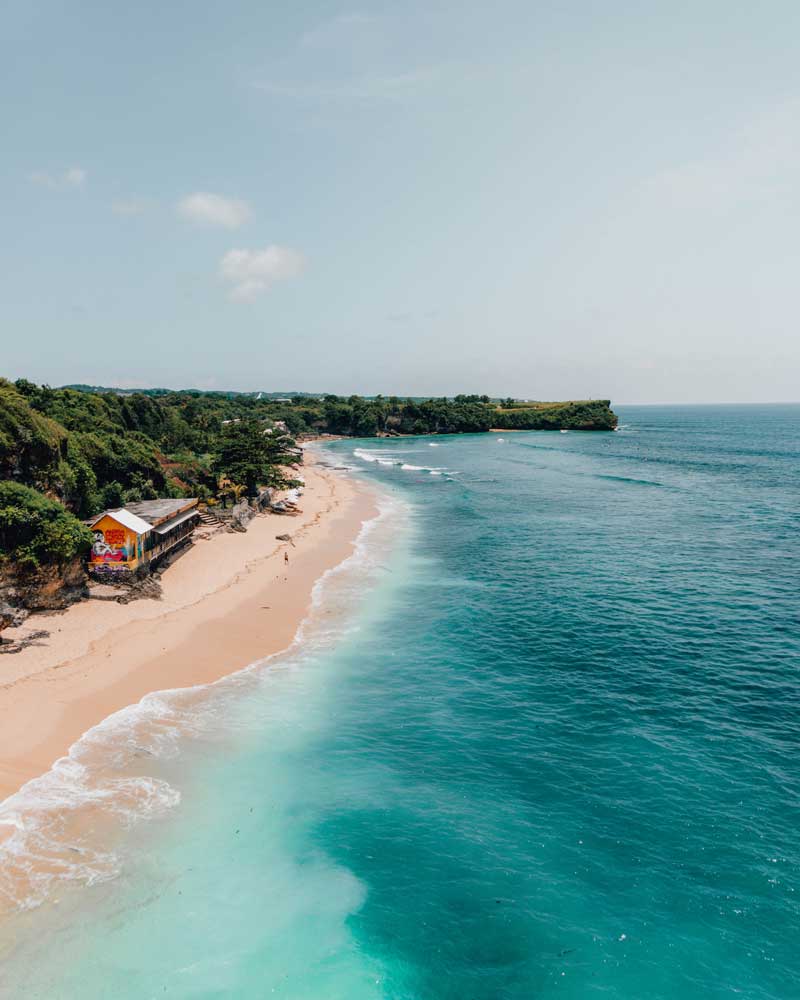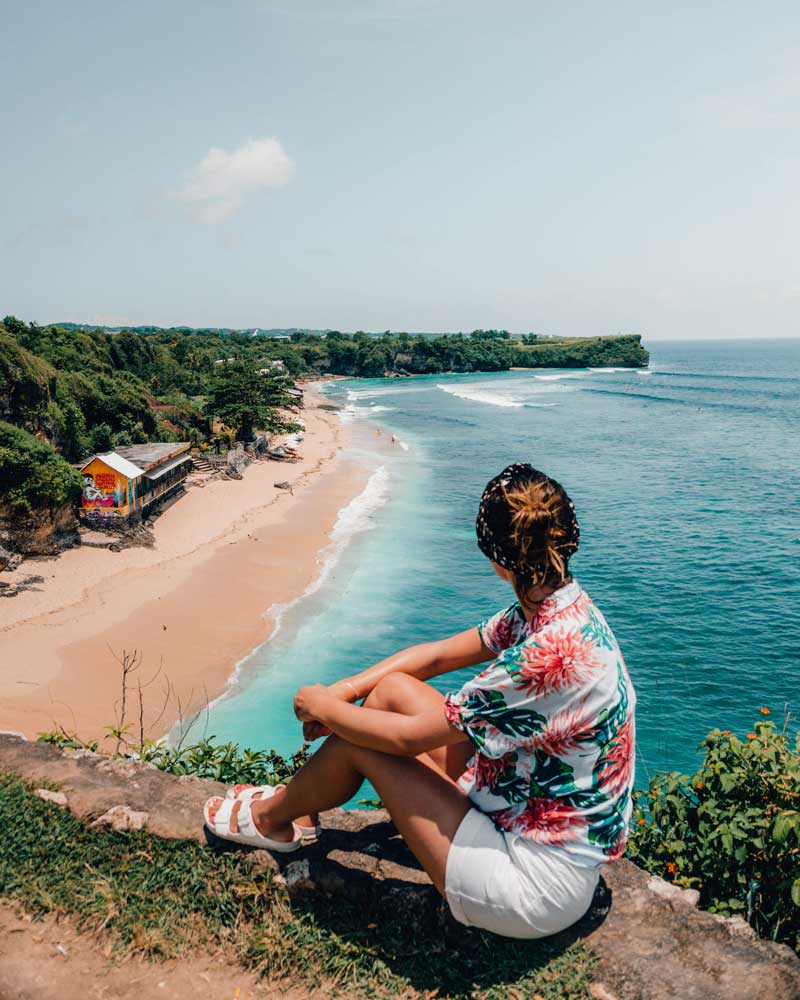 Both the beach and the viewpoint are well worth a visit. To get to the viewpoint, turn right when you reach the Balangan beach parking lot.
During sunset, the viewpoint gets busy with prewedding photoshoots. I would recommend visiting earlier in the day to avoid them.
6. Nyang Nyang Beach
Nyang Nyang beach, also known as Nunggalan beach, is one of the longest and most beautiful white sand beaches in Bali. The beach is 1.5 kilometers long and lined with tall limestone cliffs.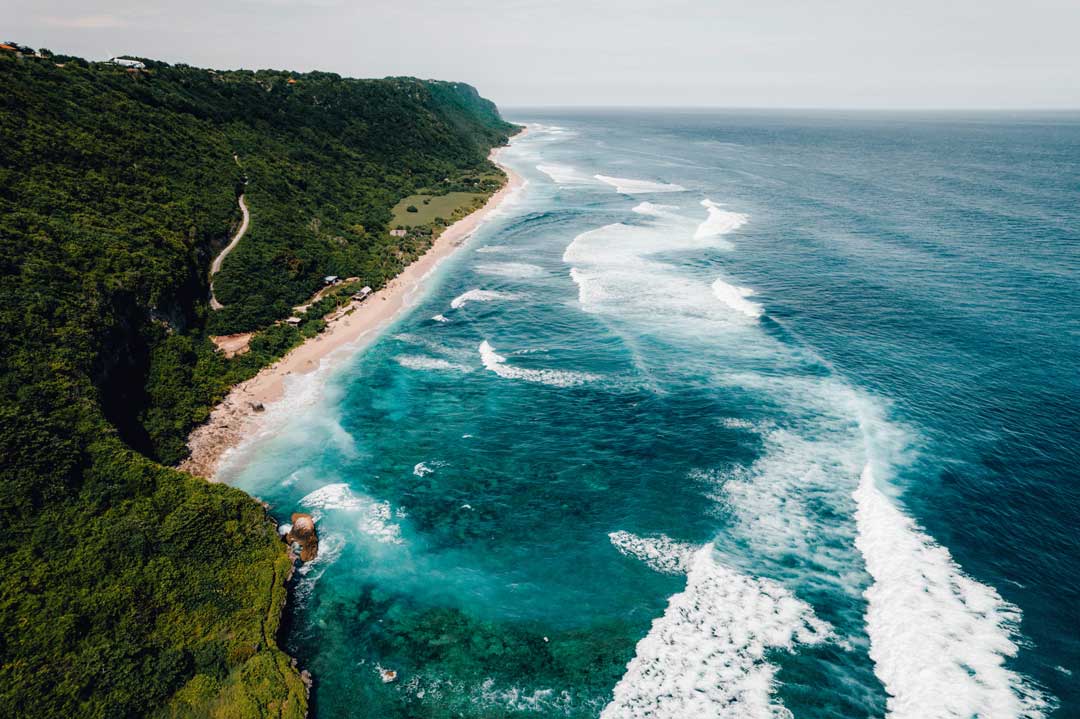 The road down to the beach is the steepest one I've experienced in Bali. If you want to drive all the way down and up again, make sure you have a motorbike that's up for the task. If you don't, you can give your legs a proper workout by walking.
Since the beach is quite inconveniently located there are very few tourists, and you can expect to have the beach almost all to yourself!
7. Thomas Beach
Thomas Beach in Uluwatu is a lesser-known beach located between Suluban Beach and Padang Padang Beach. This private white beach stretches long and offers clear turquoise water. To access the beach you need to walk down a lot of stairs. Be prepared for tired legs on your way up!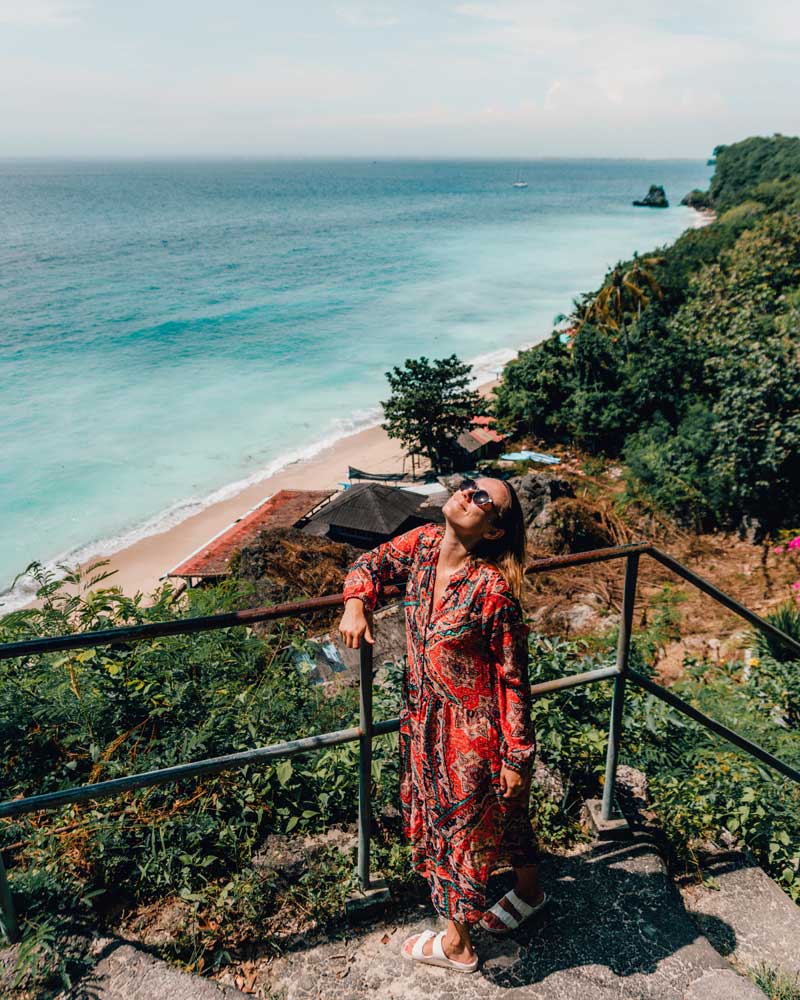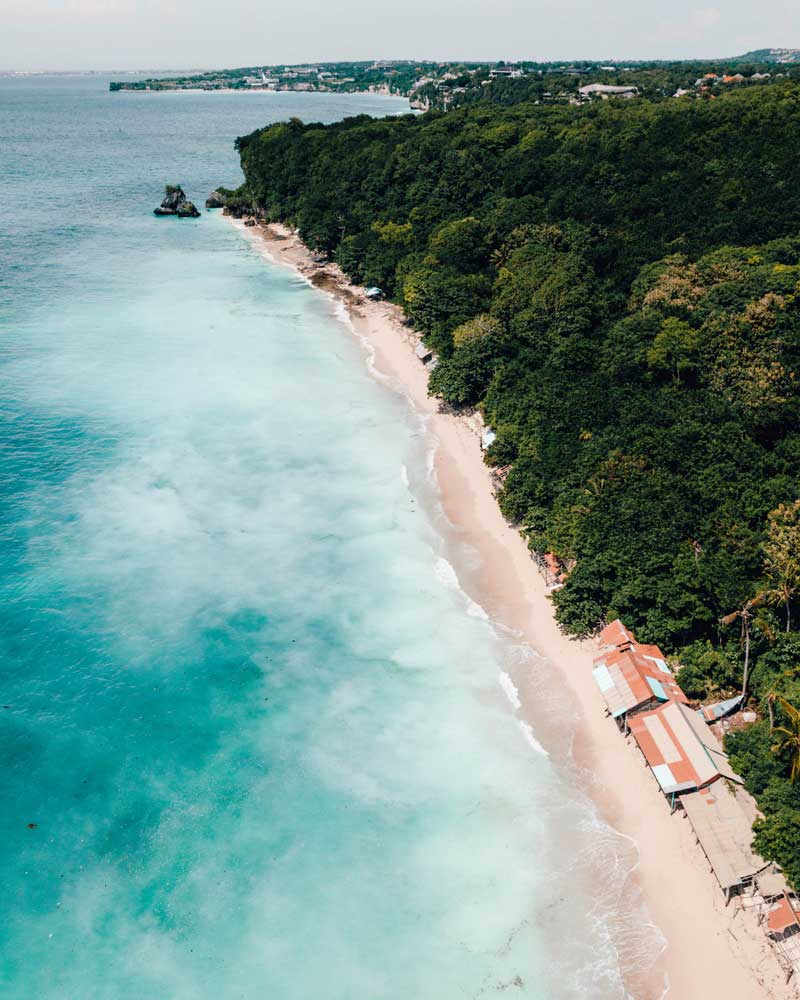 Thomas Beach used to have a number of beach bars, but they had to close during the pandemic. Until they open up again, bring your own food and drinks.
There's no actual parking lot to this beach. Just follow the direction on Google maps and park where possible.
8. Uluwatu Temple
Uluwatu Temple is one of Bali's most scenic temples. It's built on top of a 70-meter-high cliff, with a panoramic view of the ocean. This is where the famous Kecak Fire Dance is held (see number 11) which attracts many visitors. There's a 30 000 IDR entrance fee to enter Uluwatu Temple.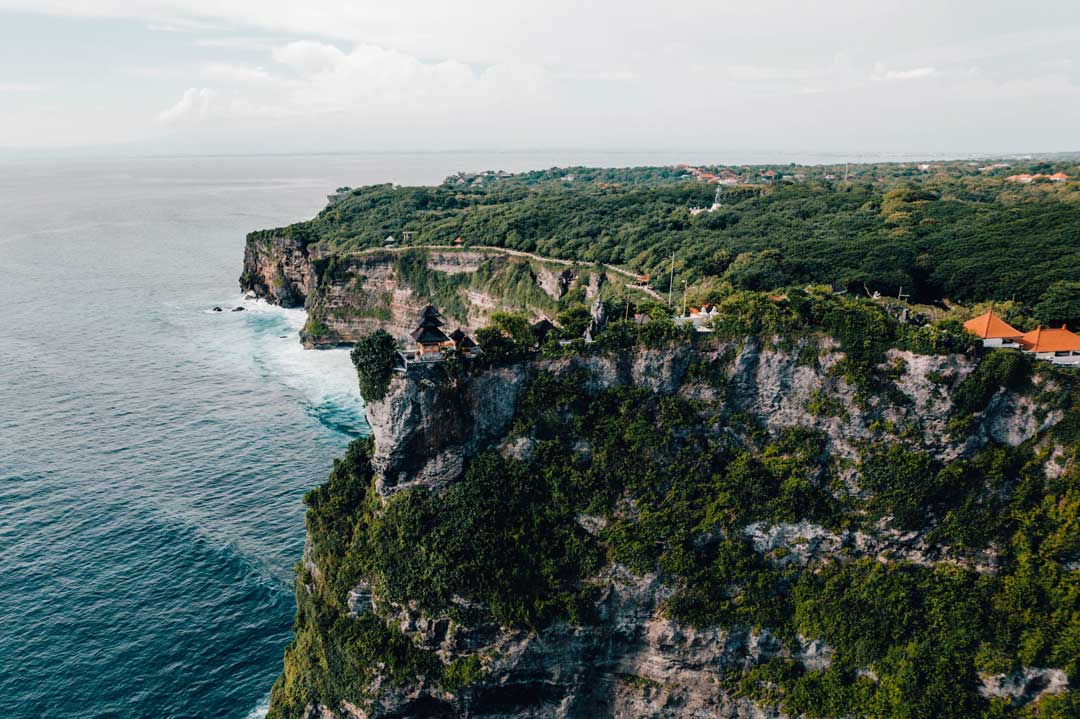 9. Suluban Beach
Suluban Beach is usually on top of every visitor's list of things to do in Uluwatu. The beach is tucked away between cliffs and caves, making it different from all other Bali beaches. The surfing point, named Blue Point, is very popular among surfers.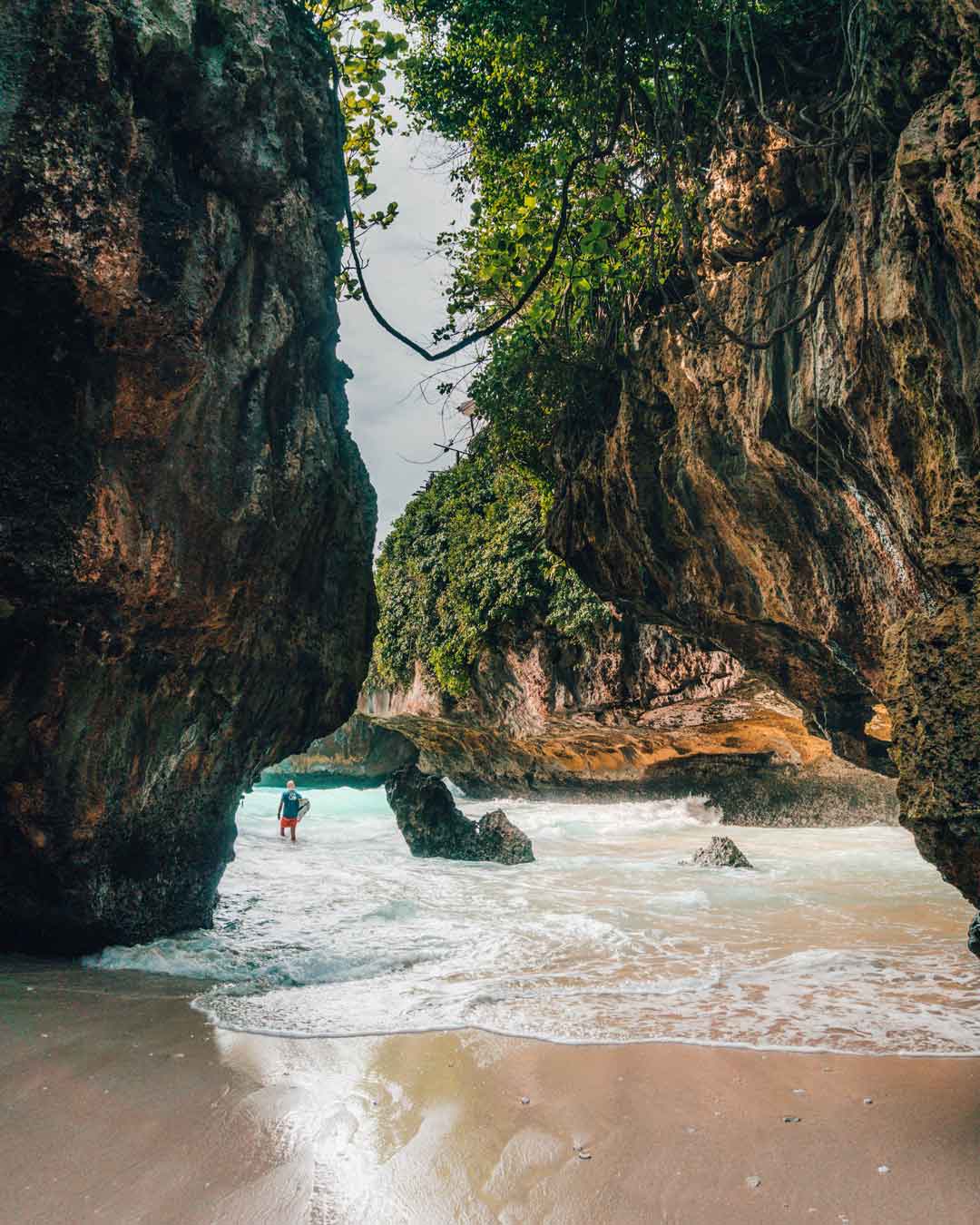 There's no entrance fee to the beach, but you need to pay a small parking fee. To get to the beach you need to walk down a number of stairs.
I recommend visiting Suluban beach during low tide, as the beach pretty much doesn't exist during high tide.
Note: The beach gets really busy during the day. If you want to enjoy a less crowded beach, I suggest you plan to visit early in the morning.
10. The cave at Pantai Tegal Wangi
Tegal Wangi Beach is a secluded beach a bit north of Uluwatu. The beach has become famous for its cliffs and the small cave from where you have a stunning sunset view of the ocean. The path leading down to the beach is small, and from time to time, rocky and a bit dangerous. It is not recommended to visit Pantai Tegal Wangi during high tide as the beach almost disappears and the waves get really big.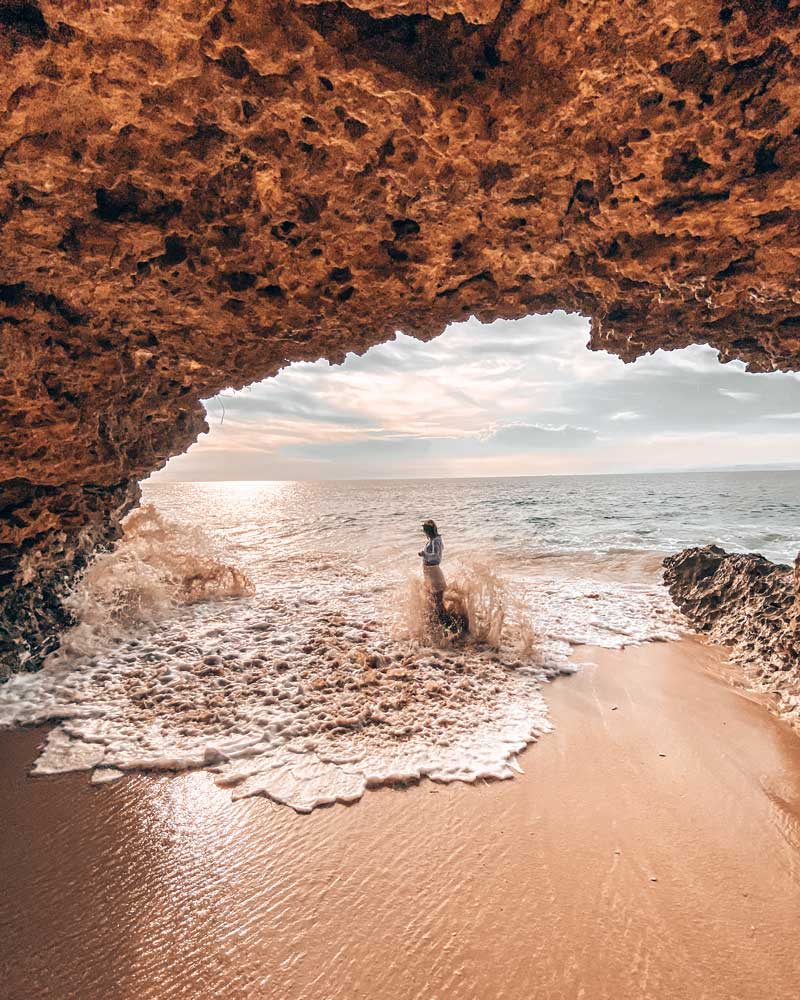 Unfortunately, the Pantai Tegal Wangi area closed to visitors in the summer of 2022.
11. Kecak Fire Dance
The Kecak Fire Dance is a traditional dance performance in Bali, also known as the Bali Fire Dance. The dance performance takes place in several spots around Bali, but the most famous one takes place in Uluwatu.
The Kecak Fire Dance performance is based on the Hindu epic Ramayana. A group of 50+ people tells the story while dancing and chanting the famous "chak, chak, chak" sound. The performance is incredibly impressive!
The exact location of the Kecak Fire Dance in Uluwatu is the amphitheater inside the Uluwatu Temple complex. From the amphitheater, you have an impressive view of the ocean and the Uluwatu Temple. The show is performed during sunset, from 6–7 pm, and costs 150.000 IDR (around 10 USD) per person. Be there on time, at least an hour in advance, to make sure you get a ticket.
➳ Read more: The history of the Kecak Fire Dance
12. Eat at the many trendy restaurants in Uluwatu
Uluwatu is a very trendy area, and even though there aren't as many cafés and restaurants as in Canggu, the food scene in Uluwatu is impressive.
Below is a list of my favorite Uluwatu restaurants.
Gooseberry Restaurant; a delicious bowl at The Loft; the yummy almond latte at BGS.
13. Melasti Beach
Melasti Beach counts as one of the best beaches in Bali. Located at the most southern point of Bali, Melasti Beach offers clear water, white sand, and swaying palm trees – and unlike many other beaches in Bali, this beach is actually clean.
At Melasti Beach you will also find Palmilla Beach Club, one of the prettiest beach clubs in Uluwatu.
14. Visit the GWK Cultural Park
GWK Cultural Park, or Garuda Wisnu Kencana Cultural Park, is a fascinating 60-hectare cultural park used for music performances, events, and exhibitions. Inside the park is one of Bali's most iconic landmarks, the 120-meter-high Garuda Wisnu Kencana statue.
Where to stay in Uluwatu?
Since Uluwatu has become increasingly popular, there are a lot of accommodation options to choose from.
Here are two great hotel options for Uluwatu:
Home > Destinations > BaliThe 5 Best Ubud WaterfallsIf you are looking for the best waterfalls in Ubud, Bali, you have come to the right place! Ubud is a small vibrant town located in central Bali, and an obvious stop on any Bali itinerary. And rightfully so. In...
read more