13 Trendy Restaurants In Paris – Where To Eat In Paris 2022
Looking for trendy restaurants in Paris? Paris is a mecca for food enthusiasts. With a countless number of Michelin stars restaurants, hip bistros, and cozy cafés it can sometimes be hard to sort out the bad ones from the good ones. Continue reading for a list of my favorite Paris restaurants – from classic steak frites to trendy baos and great street-food falafel.
The Ralph Lauren restaurant Ralph's
1. Ralph's
This elegant Ralph Lauren restaurant is located in the heart of Saint-Germain-des-Prés, in a beautiful building on Boulevard Saint-Germain. It's a bit expensive but is worth it just for the experience. Don't be surprised if you spot a celebrity or two when you eat at Ralph's. I recommend you reserve a table before you go, it can sometimes be a bit too popular. If you go there during summer, make sure to get a table outside in the garden.
Price: ✩✩✩✩
How easy it is to eat vegetarian: ✩✩
Location: 75006 Paris (6th arrondissement)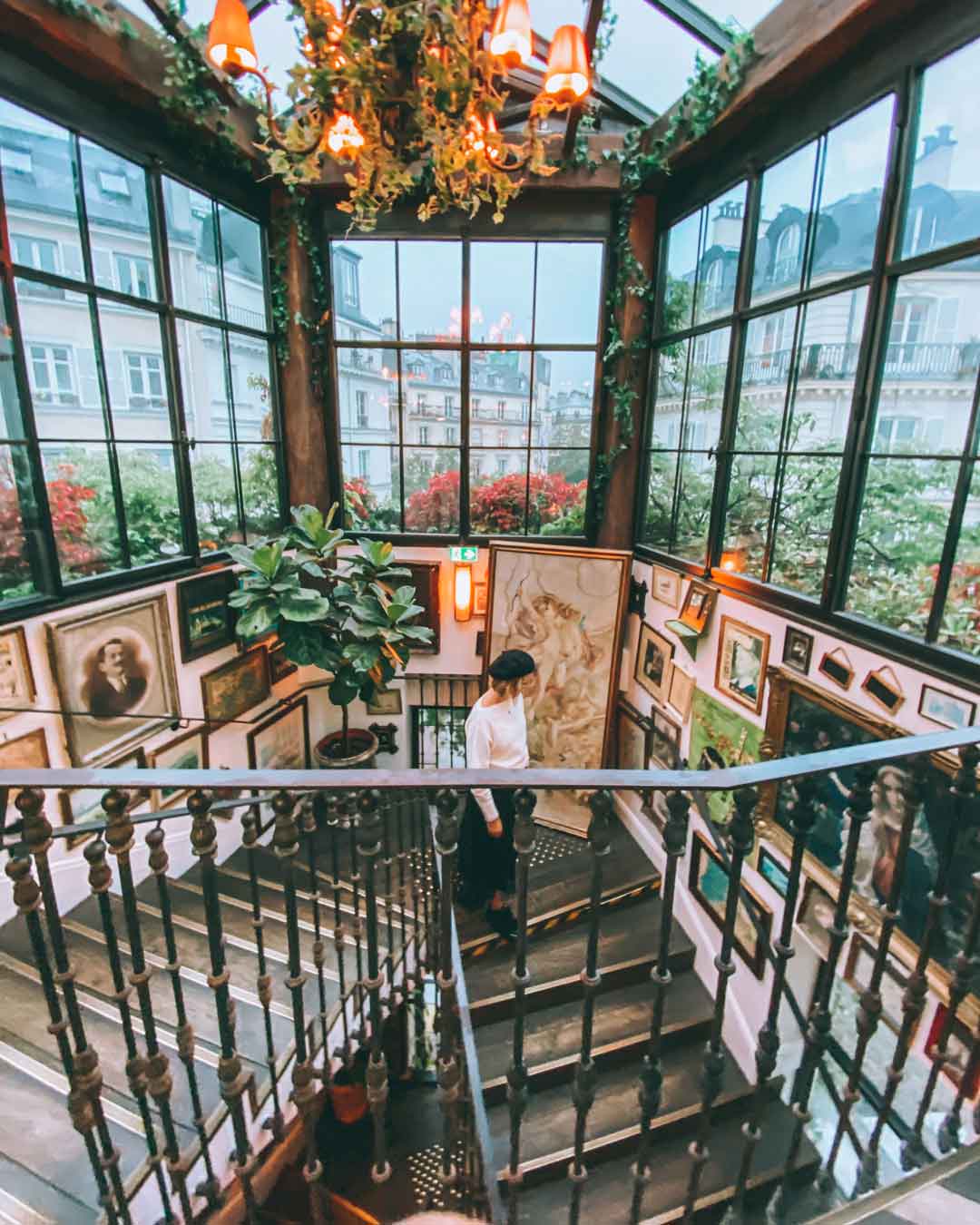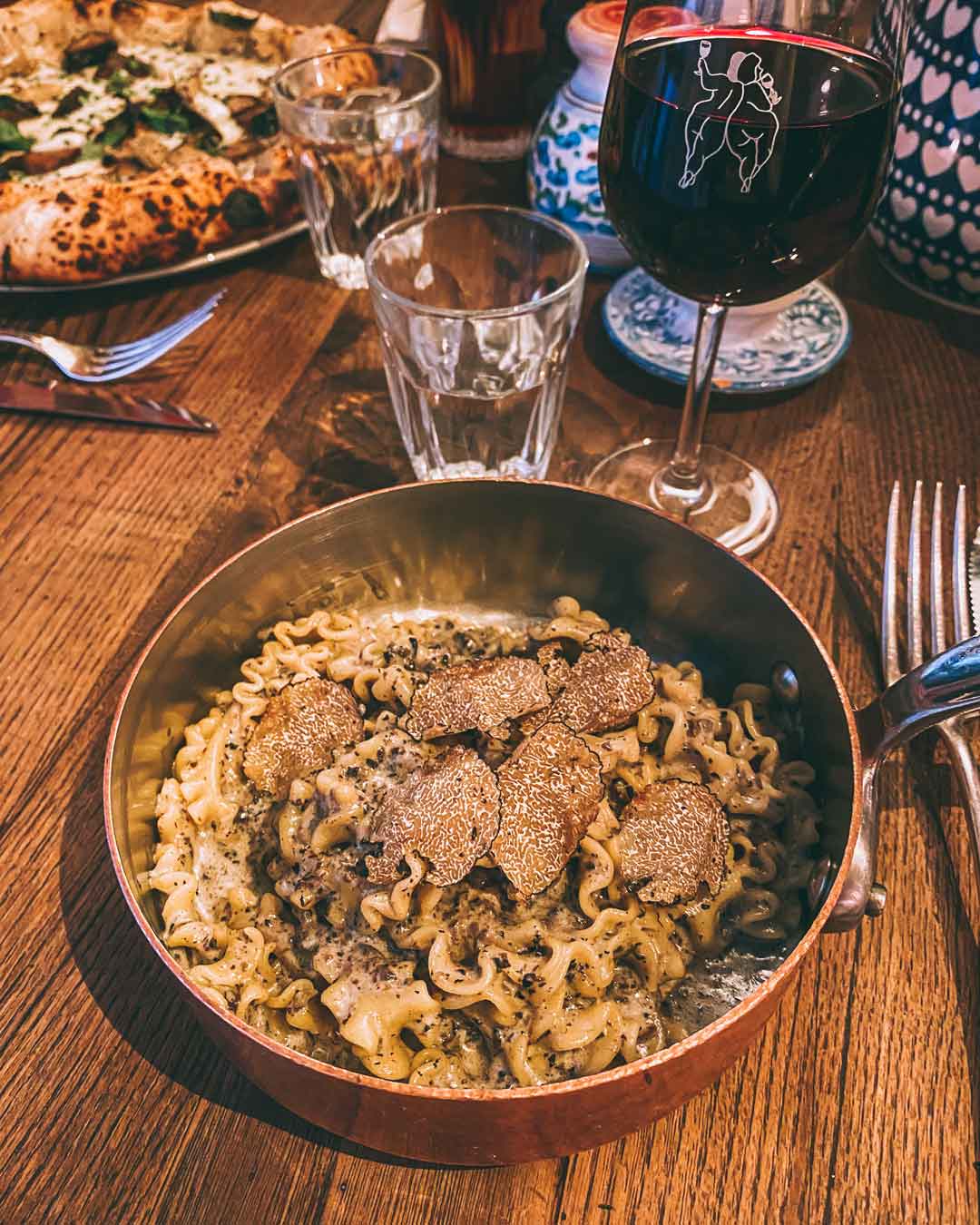 The trendy restaurant Pink Mamma in Pigalle.
2. Pink Mamma
This Italian restaurant in Pigalle seems to be on everyone's lips nowadays. Pink Mamma has become Instagram famous for its beautiful interior, designed by Martin Brudnizki. The trendy restaurant is situated on several floors, and the top floor has windows overlooking Paris. This is also where the famous Instagram photo (pictured above) is taken. You shouldn't leave this place without trying their truffle pasta and panna cotta dessert – both delicious. Make sure to reserve a table in advance, this restaurant is very popular!
Pink Mamma is a part of the Big Mamma group that has several restaurants all over Paris. Pink Mamma is probably their most famous restaurant. It's located in a bright pink building in the trendy area Pigalle. But if you don't care about the interior design you might as well visit any of their other restaurants, like Ober Mamma. The menus are almost identical.
Price: ✩✩✩
How easy it is to eat vegetarian: ✩✩✩✩✩
Location: 75009 Paris (9th arrondissement)
➳ Read more: Pink Mamma is naturally a part of my Best photo spots in Paris travel guide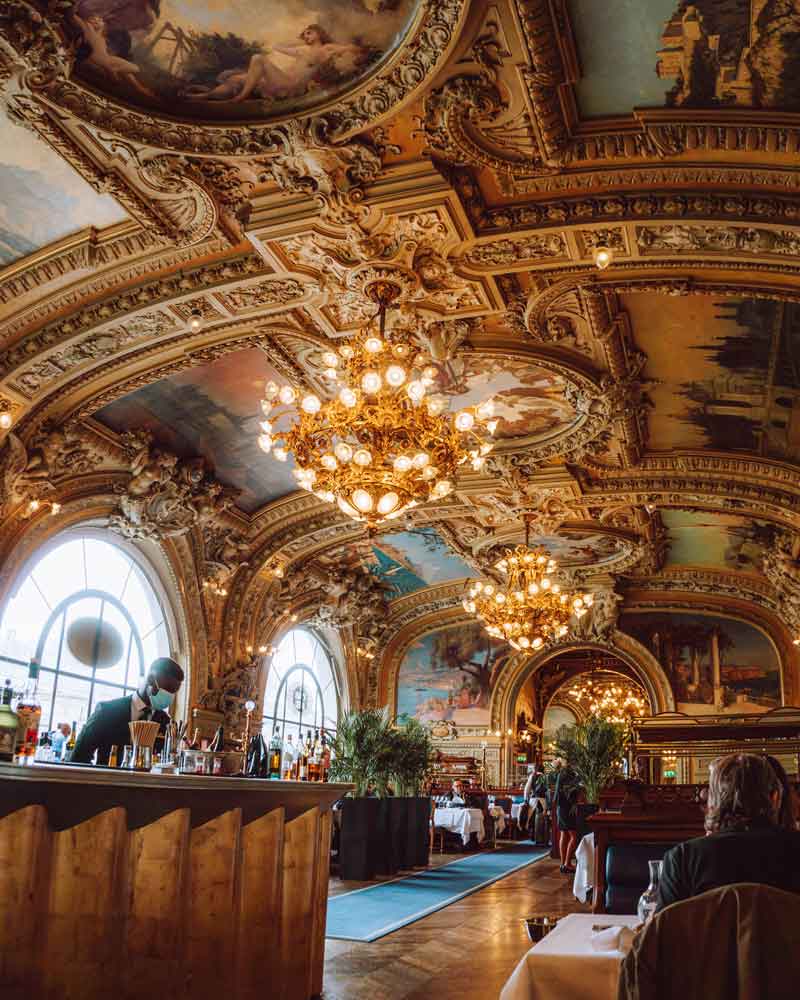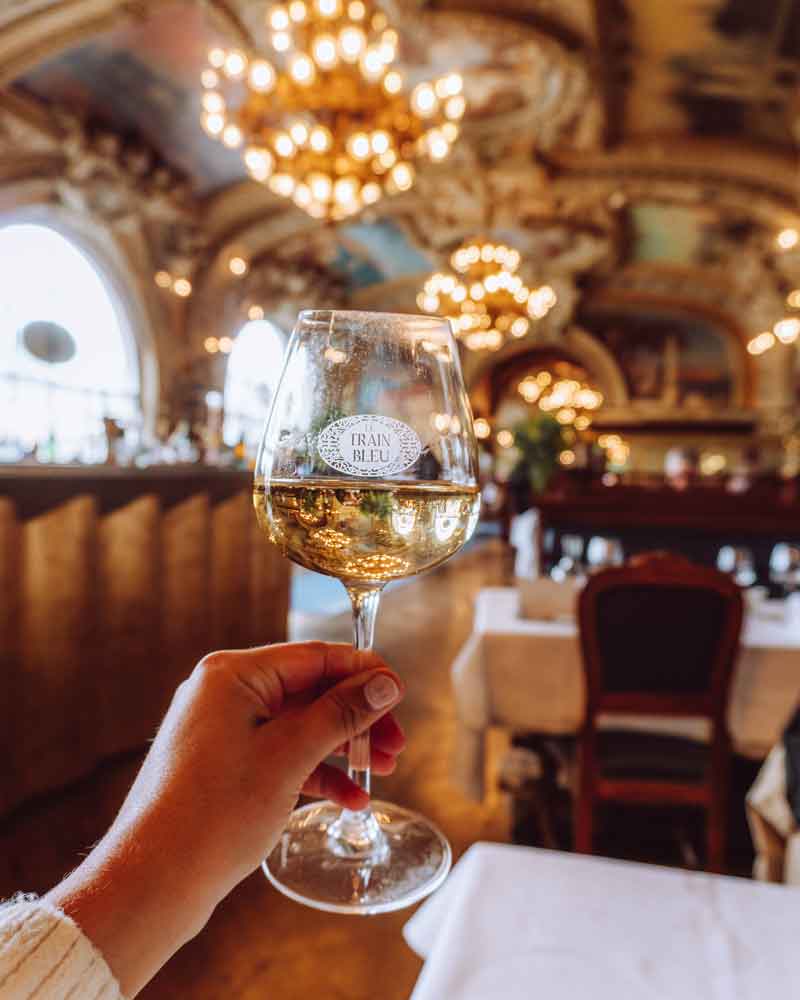 3. Le Train Bleu
This might be the most beautiful restaurant in Paris. Le Train Bleu is located in the hall of the Gare de Lyon railway station in Paris. They serve fantastic food that goes in line with the spectacular decor. Eating here is an experience in itself! It's fine dining meets train station.
The restaurant was originally created for the 1900 Paris Exposition, and each dining room is themed to represent regions of France and is decorated with paintings by some of the most popular artists of that time.
If you are hungry, or just curious about their menu, they have a tasting menu that can be combined with a wine package for the full experience (they have a great wine list!) 
Price: ✩✩✩✩
How easy it is to eat vegetarian: ✩✩
Location: 75012 Paris (12th arrondissement)
4. Le Plein Soleil
Le Plaein Soleil is located just outside the metro station Parmentier in the 11th arrondissement. This trendy area is packed with restaurants and bars, and this place is a classic French bistro just like you expect it to be.
Price: ✩✩
How easy it is to eat vegetarian: ✩✩
Location: 75011 Paris (11th arrondissement)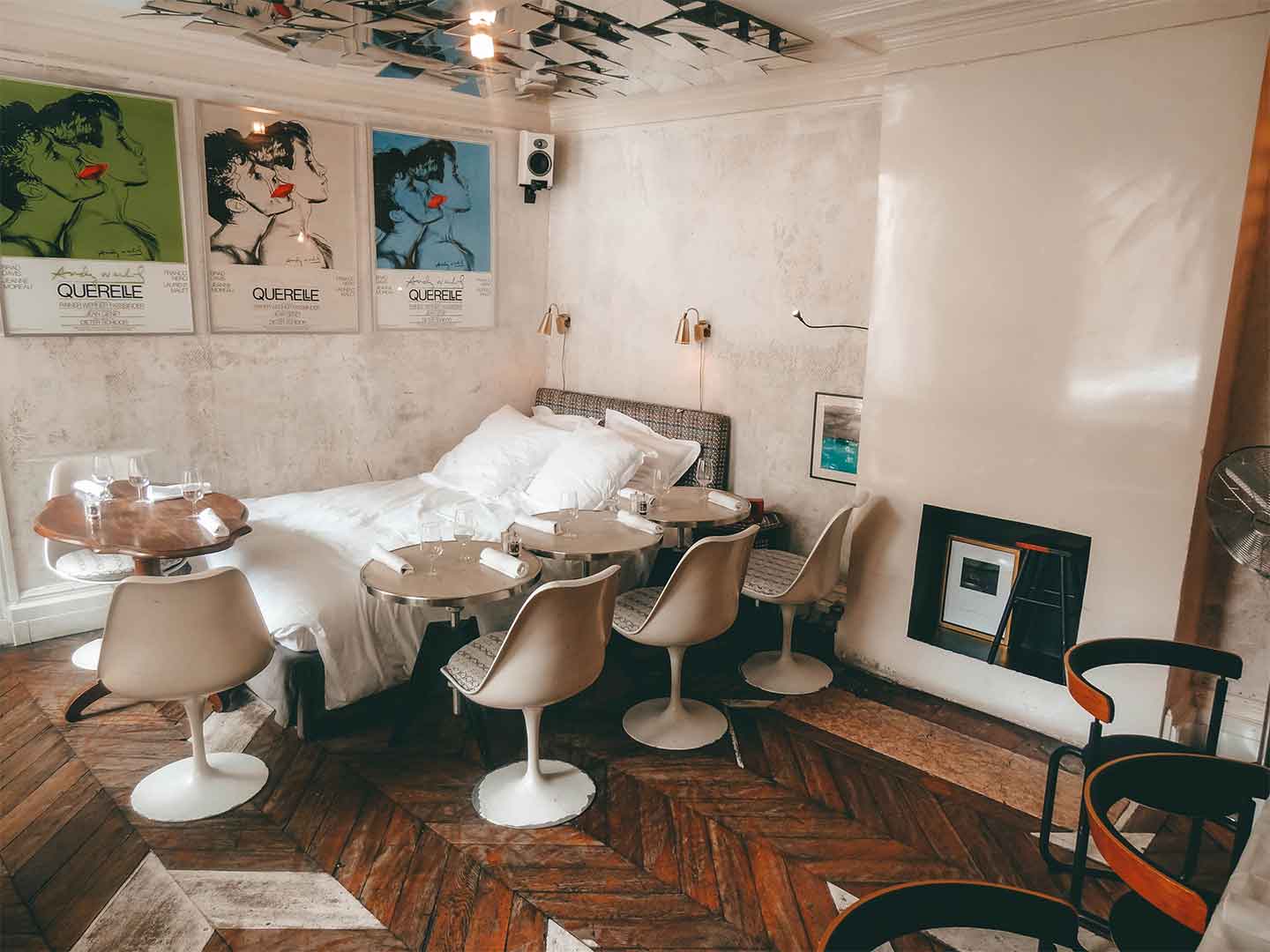 5. Derrière
Derrière in the Art et Métiers area is furnished just like a huge apartment. With beds, sofas, secret rooms behind closets, and a pingpong table it's a really cool experience. I think the hip factor in this restaurant might be higher than the quality of the food, but I still think it is worth a visit. Just nearby you'll find the trendy cocktail bar Andy Wahloo.
Price: ✩✩✩
How easy it is to eat vegetarian: ✩
Location: 75003 Paris (3th arrondissement)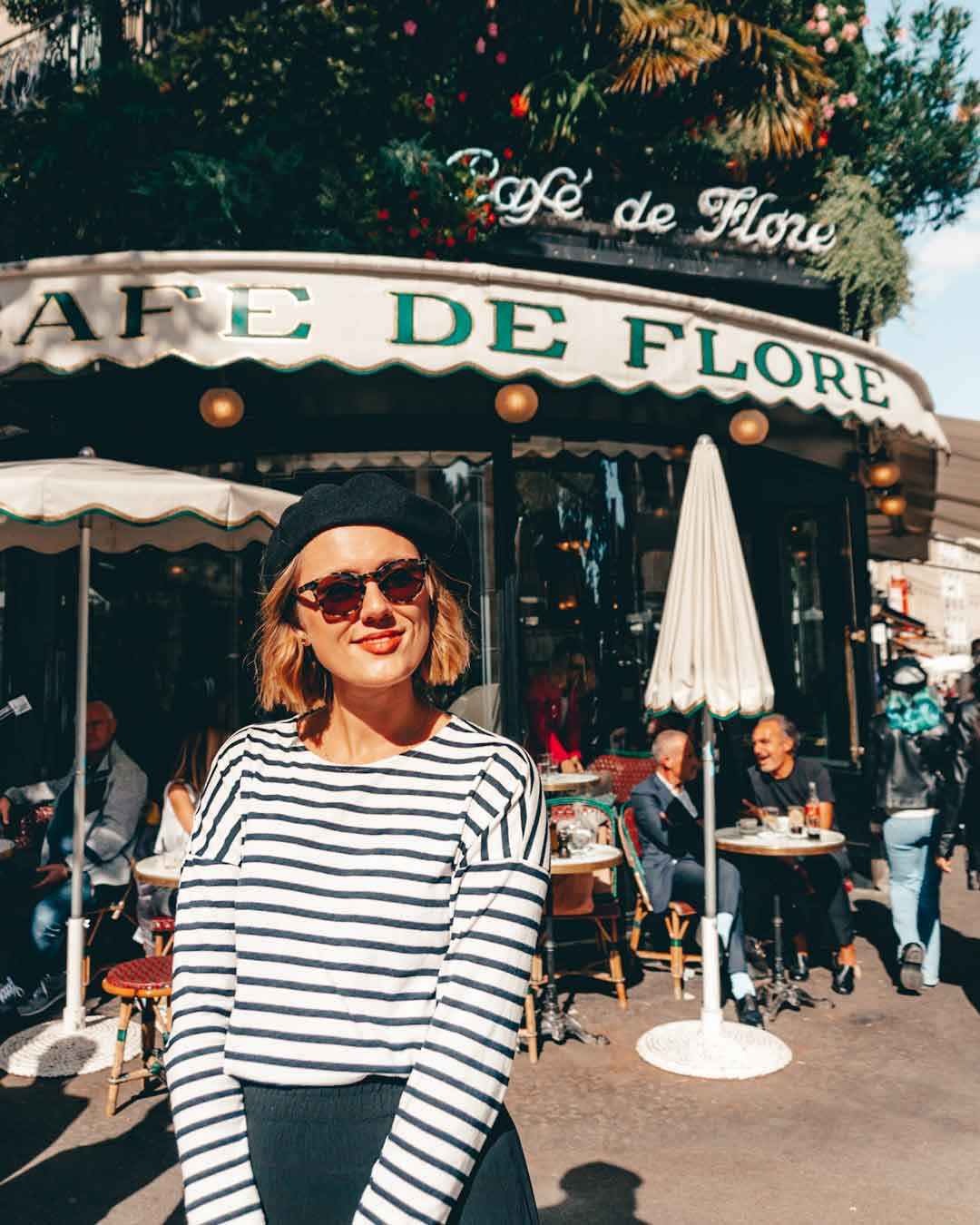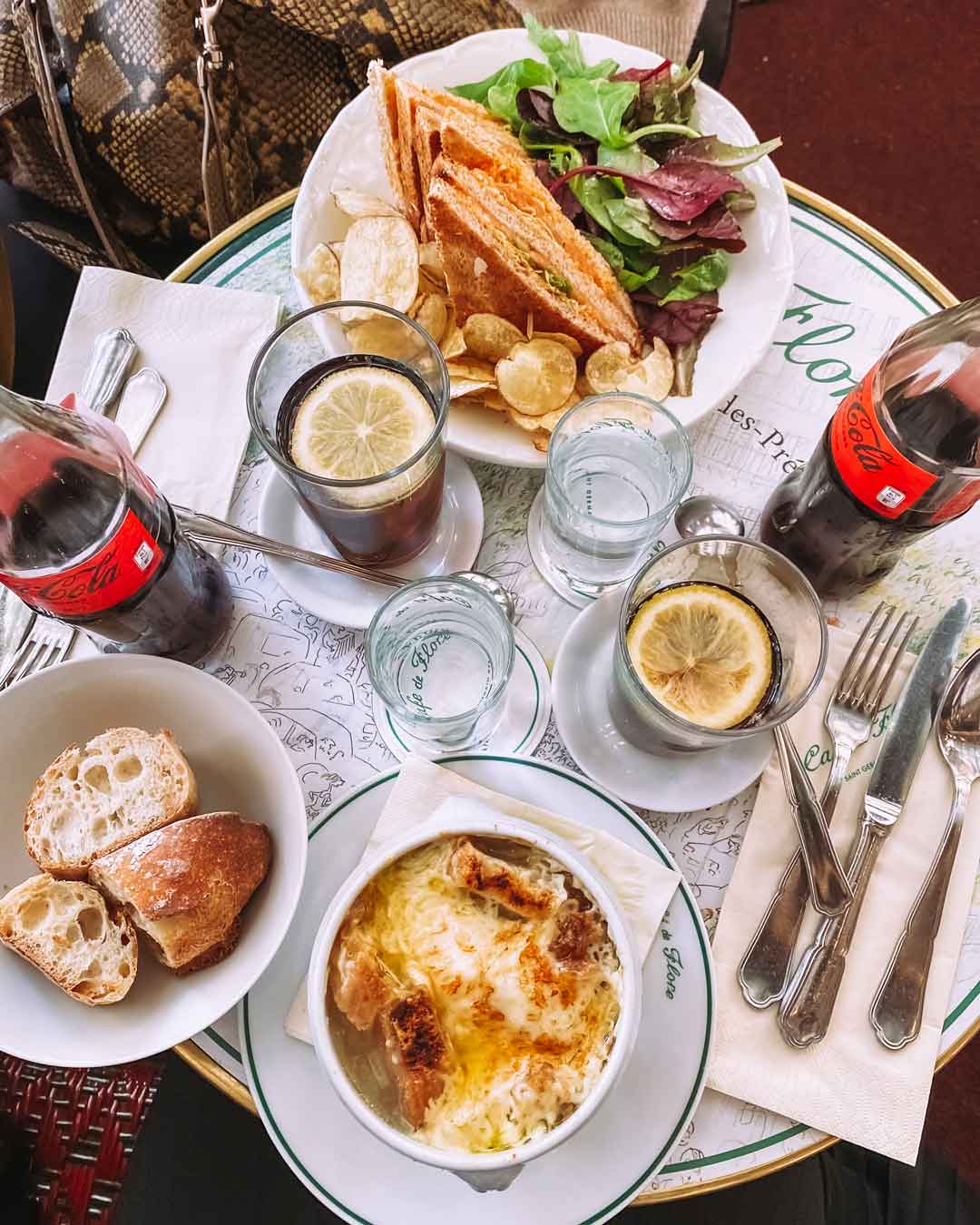 The famous Café de Flore located in Saint Germain des Prés. The café is often Instagrammed and recommended by magazines like Condé Nast Traveller. 
6. Café de Flore
Café de Flore is an authentic French café famous to have been a regular lunch spot for well-known characters like Jean-Paul Sartre and Simone de Beauvoir. Today it is still a popular place for a lunch break when in the vibrant area of Saint Germain des Prés. Once again, the price is higher than the quality of the food – but the French vibe makes me come back year after year. Pay it a visit and decide for yourself!
Price: ✩✩✩
How easy it is to eat vegetarian: ✩
Location: 75006 Paris (6th arrondissement)
Great Thai food at Tuk tuk Thai
7. Tuk Tuk Thai
If you're looking for something simple but delicious near the Saint-Augustin area, I can really recommend Tuk Tuk Thai. This pretty anonymous restaurant serves great Thai food at a fair price. I can recommend their spring rolls and mango salad – fresh, crispy, and tasty!
Price: ✩✩
How easy it is to eat vegetarian: ✩✩✩✩✩
Location: 75008 Paris (8th arrondissement)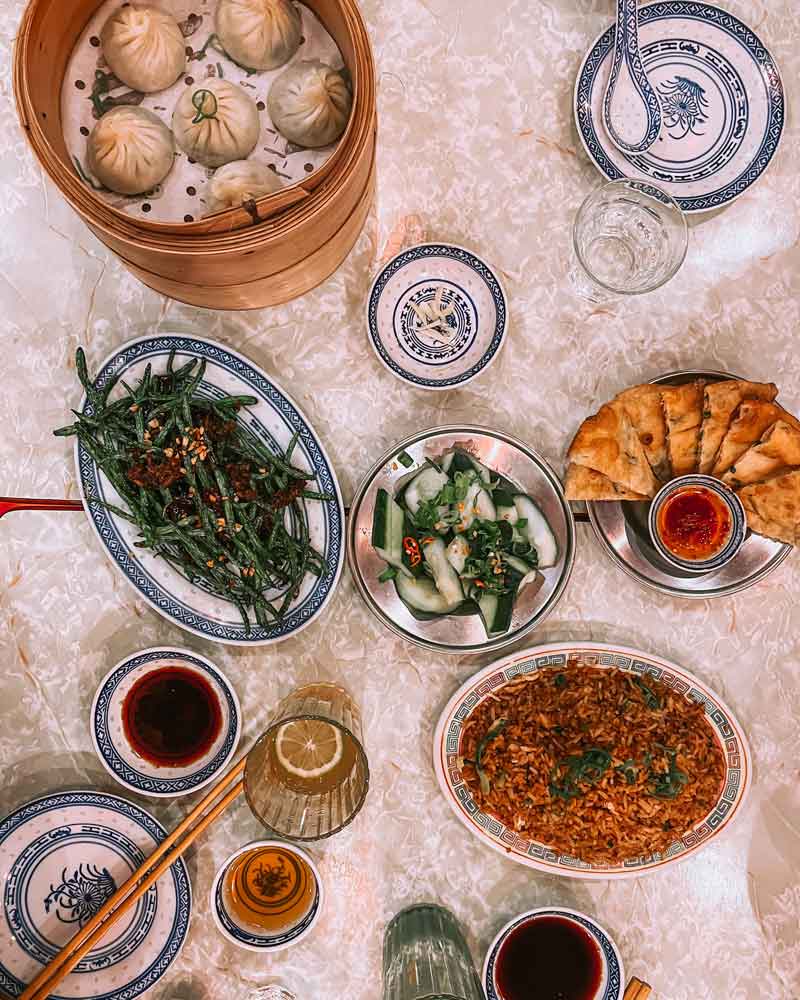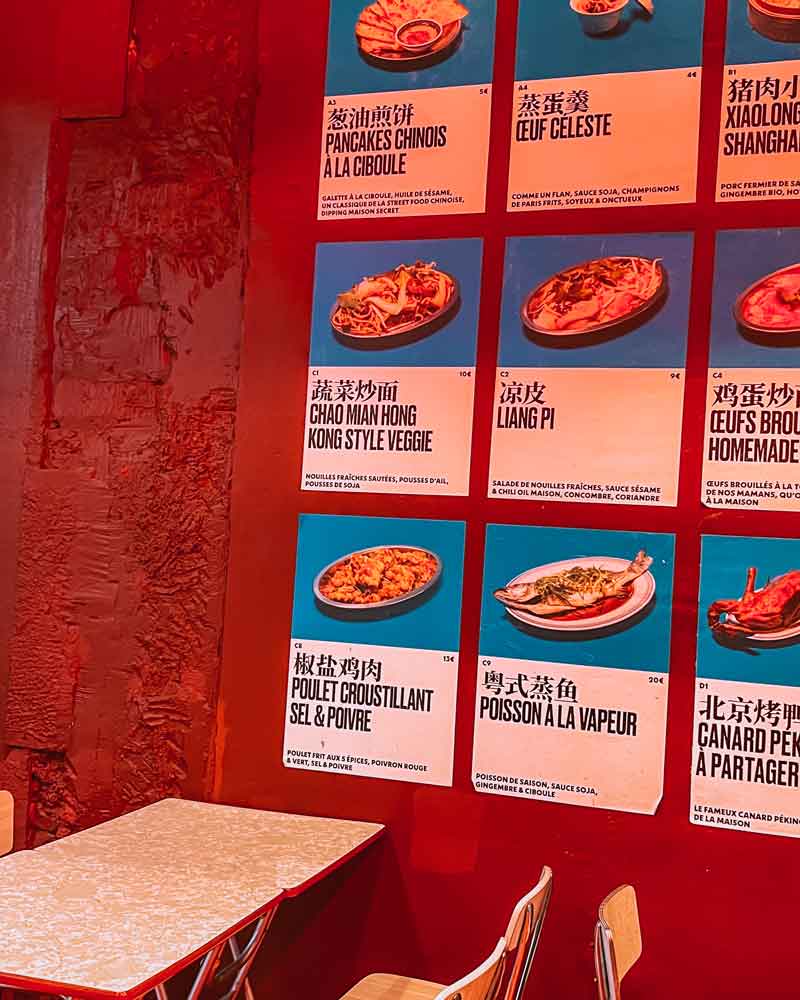 The food and interior at Gros Bao.
8. Gros Bao
Gros Bao is a part of the Bao Family with two venues around Paris, Gros Bao, and Petit Bao. Gros Bao is located in the trendy area of Canal Saint-Martin. They serve traditional, delicious Chinese dishes like baos, dumplings, wontons, and even Beijing duck. I can also recommend their house cocktails. According to me, this is one of the best affordable restaurants in Paris. The restaurant doesn't accept reservations, so be there on time to make sure you get a table.
Price: ✩✩
How easy it is to eat vegetarian: ✩✩✩✩✩
Location: 75010 Paris (10th arrondissement)
9. L'as du Fallafel
According to someone, this place has the best falafel in Europe. I don't think I can agree on the term "best", but it sure is delicious and well worth a visit if you're in the Marais area and hungry for lunch.
Price: ✩
How easy it is to eat vegetarian: ✩✩✩✩✩
Location: 75004 Paris (4th arrondissement)
10. Les Cocottes
This Michelin star restaurant serves high-quality food at a fair price. The food is served in cast-iron casserole pots (cocottes), and is definitely a culinary experience. If you want to try foie gras, this is the place. As a bonus, Les Cocottes is located on Rue Saint-Dominique, a street somewhat famous for its view of the Eiffel Tower.
Price: ✩✩✩
How easy it is to eat vegetarian: (that's zero)
Location: 75007 Paris (7th arrondissement)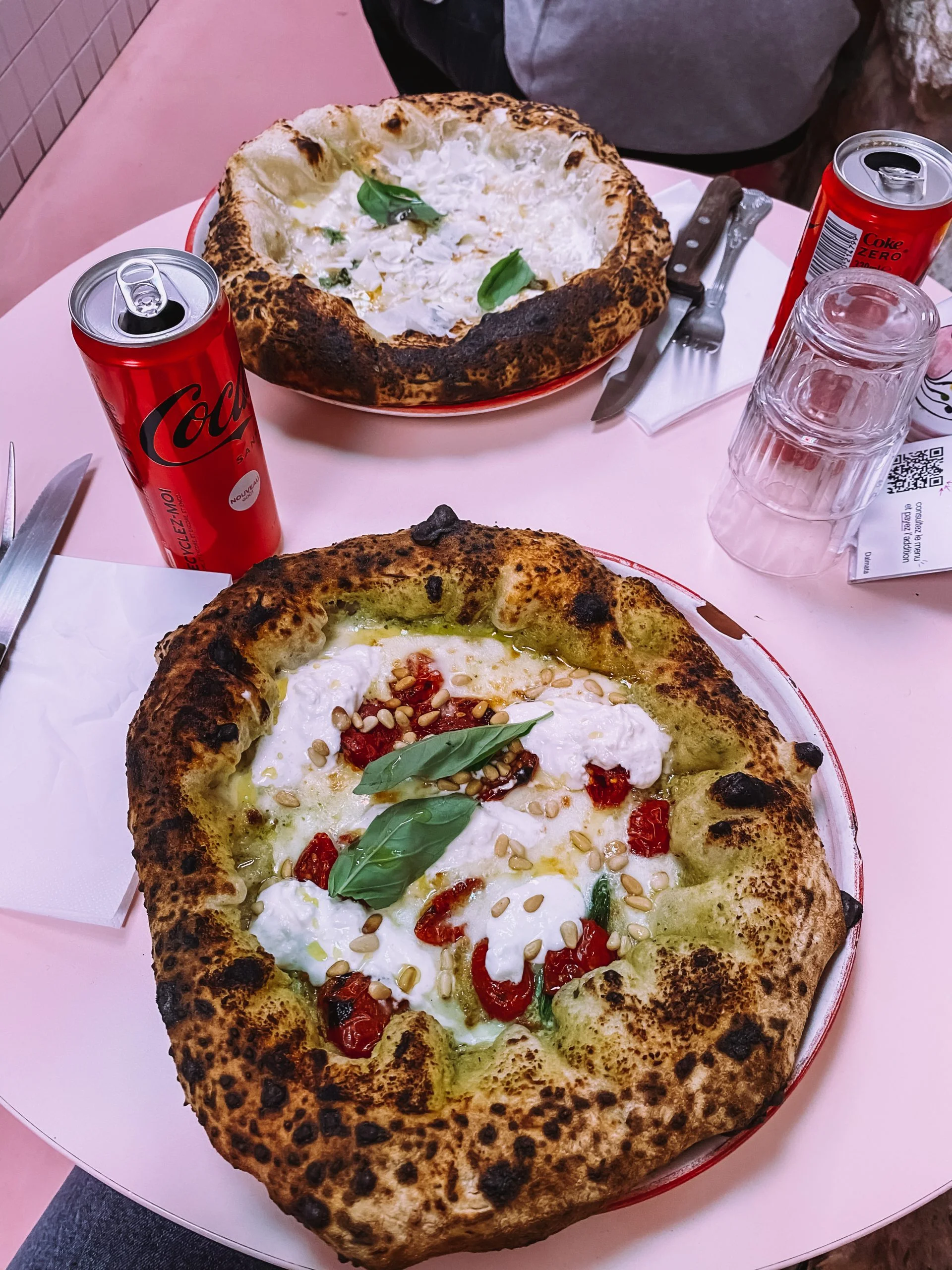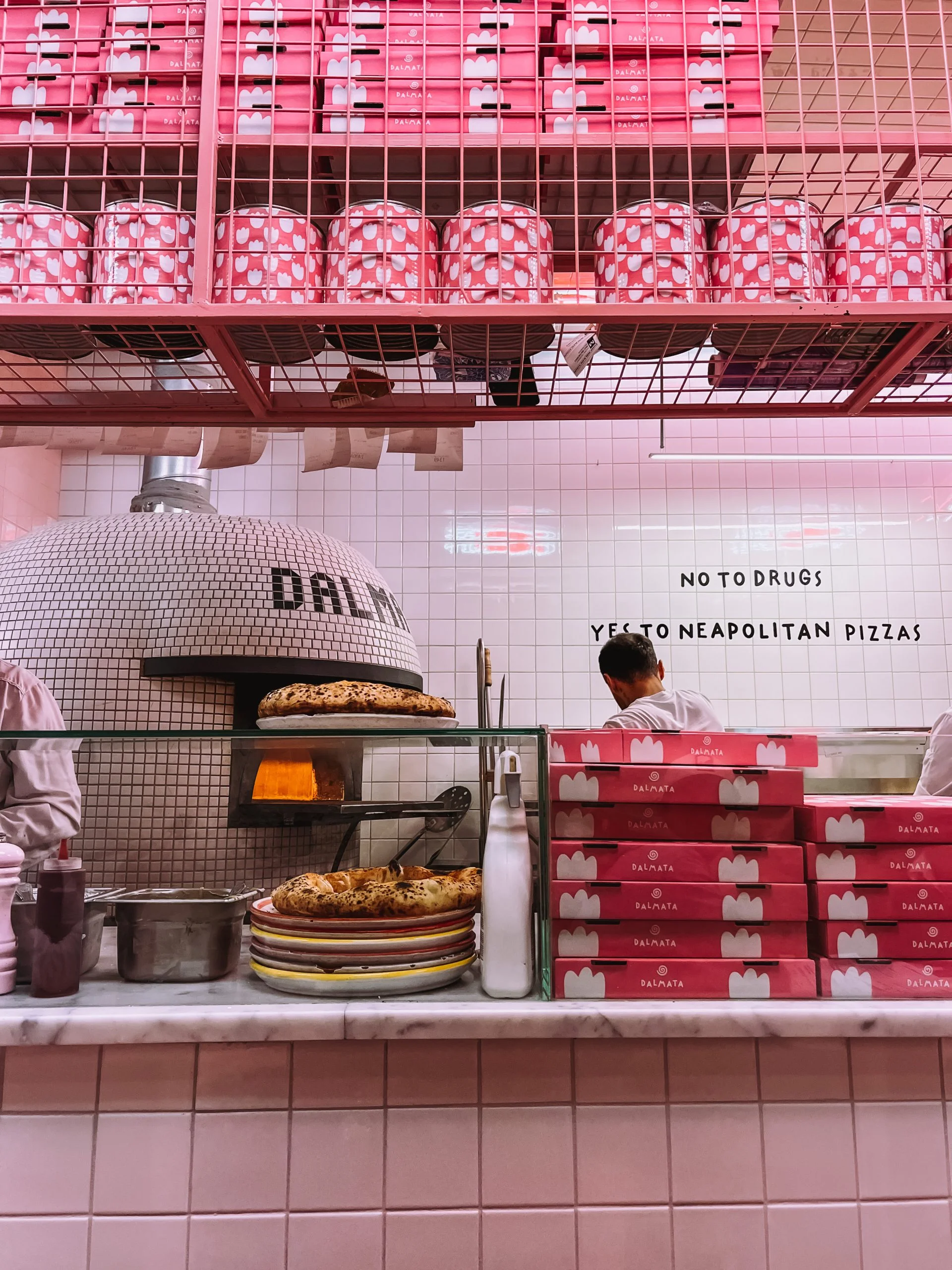 Delicious pizza from Dalmata Pizza.
11. Dalmata Pizza
Strangely enough, the best pizza I've ever eaten wasn't in Rome, it was at Dalmata Pizza in Paris. Gruppo Dalmata has two restaurants in Paris, both dressed in a completely pink decor and serving pizza that I find hard to describe in words. Just go there! You sit close to their open kitchen and can see pizzas going in and out of their stone oven.
Their restaurants don't take any reservations. We went there around 8 pm and got a table. If you are unlucky you can always order takeaway instead.
Price: ✩✩
How easy it is to eat vegetarian: ✩✩✩✩✩
Location: 75002 Paris (2nd arrondissement)
12. Kong
Kong has good food, great interior design, and a spectacular view from the top floor – but let's be honest, we tourists all go there to relive the scene where Carrie meets Aleksandr Petrovsky's ex-wife in Sex and the City.
Price: ✩✩✩✩
How easy it is to eat vegetarian: ✩
Location: 75001 Paris (1st arrondissement)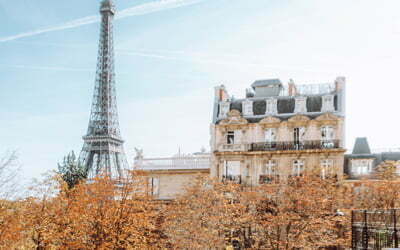 Home > Destinations > FranceThe 10 Best Eiffel Tower Photo SpotsDo you want to take some photos of the Eiffel Tower but you're not sure where to go? The Eiffel Tower is without a doubt the most photographed landmark in Paris. In this blog post I give you a list...
read more