18 Best Things To Do in Paris – Beyond the Main Paris Tourist Attractions
What's the best thing to do in Paris? Even though I love the classic Paris attractions like the Eiffel Tower, Notre Dame Cathedral and the Louvre Museum, Paris offers a lot more. When I lived in Paris I came across a few places and activities that I think are more authentic and interesting than the ones you always hear about – so interesting that I do them almost every time I'm in Paris. So here you go: My top 18 favorite (and well examined) things to do in Paris. Activities that you will have time to do when you follow my 4 days in Paris travel itinerary.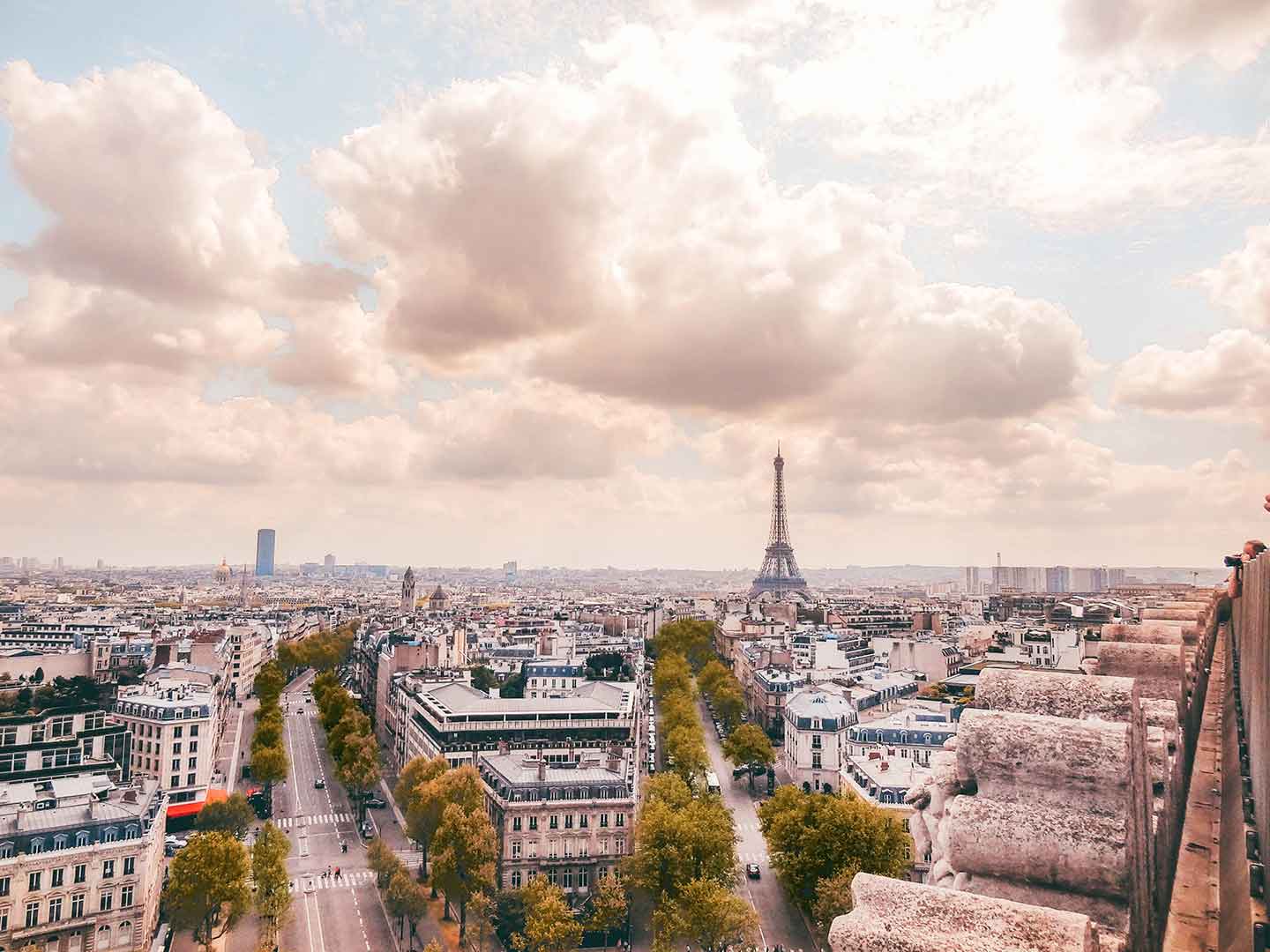 The view from Arc de Triomphe.
1. See Paris from above
When people hear this they often think about going up the Eiffel Tower. If you have that on your bucket list, go ahead. But if you want the truly Parisian skyline, to a cheaper price, you should go up the top of Arc de Triomphe instead. From here you actually get to see the Eiffel Tower as a part of the skyline. You won't find an elevator here, only stairs – and a lot of them. But it's worth it! The tickets are free of charge if you are an EU resident under 26 years old, otherwise you'll have to pay 13 €. A pretty fair deal compared to the 25 € to go up the top of the Eiffel Tower.
The beautiful river Seine.
2. Go on a boat trip along Seine
Going on a boat trip along Seine is not only cozy – you actually get to learn a lot about the city. There are different companies that offers these kind of tours, but I would recommend to choose one that departures from Pont Neuf. For example Vedettes du Pont Neuf. The boat tour passes Notre Dame and Île de la Cité, Île Saint-Louis, all the way to the Eiffel Tower and back again. It takes one hour and will cost you 14 € (12 € if you book online). If you choose to go during the evening, they will adjust the tour so you get to see the Eiffel Tower sparkle in the dark.
3. Treat yourself to a crêpe
This is of course a must thing to do when you're in Paris. You are never far away from a crêperie, but it can be hard to sort out the bad ones from the good ones. Some of my favorite crêperies are Crêperie Elo, La Droguerie and Crêperie Gigi.
The famous Berhillon ice cream.
4. Taste the famous Berthillon ice cream at Île Saint-Louis
This might be the best ice cream in Paris! Every other café at Île Saint-Louis serve it and you can enjoy it in the afternoon sun along the Seine river. You should definitely try the salted caramel flavour, it's heavenly!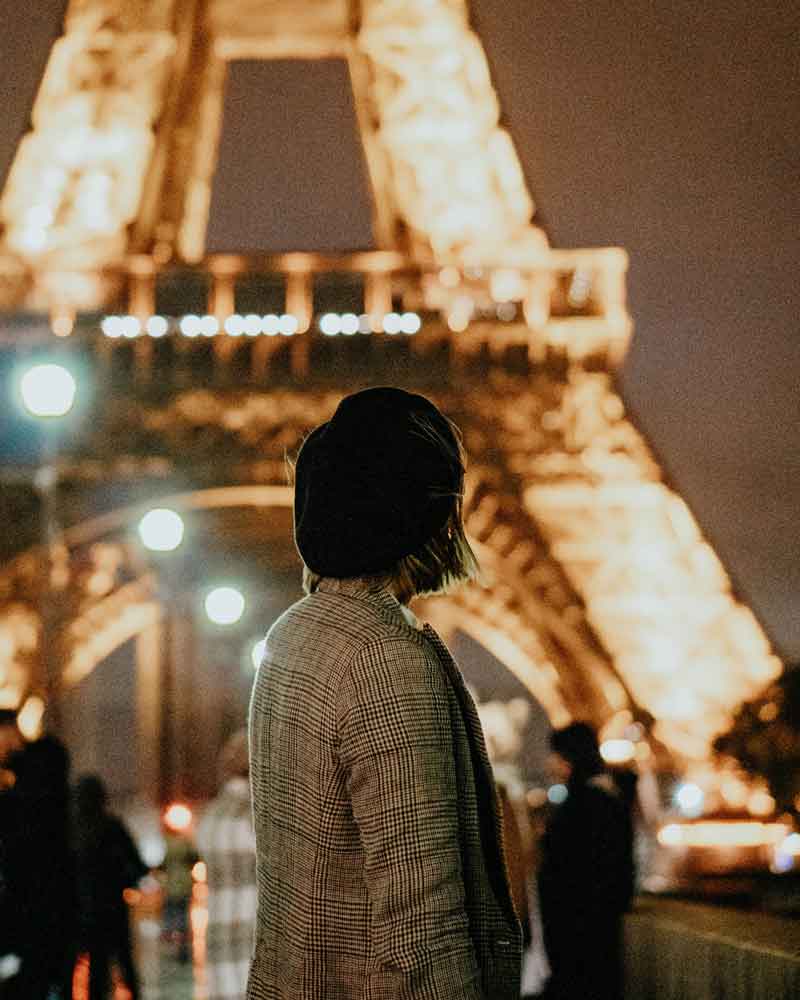 5. Watch the Eiffel Tower sparkle in the dark
As soon as the sun sets the Eiffel Tower gets even more magical. The tower not only shines, but it also sparkles. The Eiffel Tower sparkles every evening after dusk for 5 minutes. It starts at the beginning of each hour, and the last sparkle occurs at 11 pm.
Even though I have seen this a hundred times it is still mesmerizing. Just take the metro to Trocadéro and experience it yourself!
6. Visit Jardin du Luxembourg
This lovely garden in Saint-Germain-des-Prés is the most popular garden in Paris. It is centered around Palais du Luxembourg, and is a popular escape for many Parisians. You can take a walk, have a café au lait in one of the many seating areas and even play tennis.
From Jardin du Luxembourg you only have a 10-minute walk to the latin quarters and Notre Dame Cathedral, so you might want to visit these sights at the same time.
7. Eat macarons from Ladurée
The macarons from Ladurée are probably the most famous ones. The flavors vary, but they always have classics like vanilla, chocolate, coffee, pistachio and salted caramel. Buy them in a cute little box and you immediately feel a bit more French. You can find Ladurée shops on different spots around Paris, but my favorite is the one in Saint-Germain-des-Prés.
Tips! You can visit this Ladurée while you spend a lovely afternoon in Saint-Germain-des-Prés.
Place des Vosges, Paris' most romantic square.
8. Visit Place des Vosges – Paris most romantic square
Place des Vosges in the heart of Marais is known to be Paris most romantic square. It is really cute and definitely worth a visit. Even though it's located in the middle of Marais, it's always calm and quiet here. This area is also where Victor Hugo, the French author, lived.
9. Window shopping at Rue Saint-Honoré
Paris is the city of haute couture and a home to many exclusive fashion houses. Even if the price tag doesn't appeal to many people, just experiencing the luxury in one of these chic boutiques can be exciting. Rue Saint-Honoré is the home to many of these fashion houses, and when walking along the street you will pass by their elegant window displays – that sometimes look more like pieces of art than window displays. You will find fashion houses like Hermés, Christian Louboutin, Chanel, Gucci, Lanvin and Longchamp. Rue Saint-Honoré is close to 2 kilometers long, start near Musée du Louvre and crosses both 1st and 8th arrondissement. It changes name to Rue du Faubourg Saint-Honoré after a while, and this part actually counted as "the suburb part" of Paris before.
If you want to get the experience at a department store instead, you should head over to Boulevard Haussmann, in the 9th arrondissement. This street is the home to the legendary department stores Galeries Lafayette and Au Printemps. If you are in Paris over Christmas you should definitely go see the Christmas tree at Galeries Lafayette.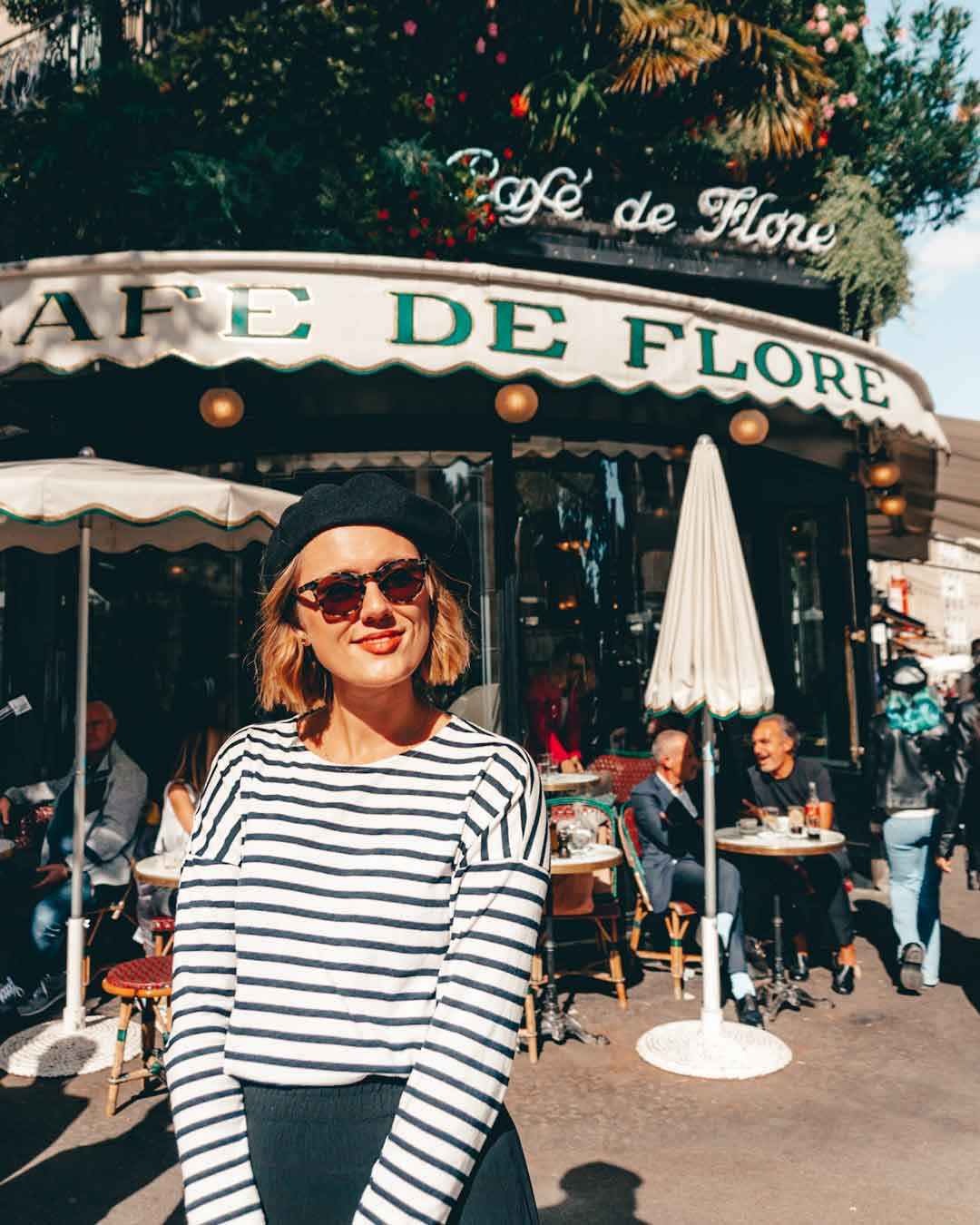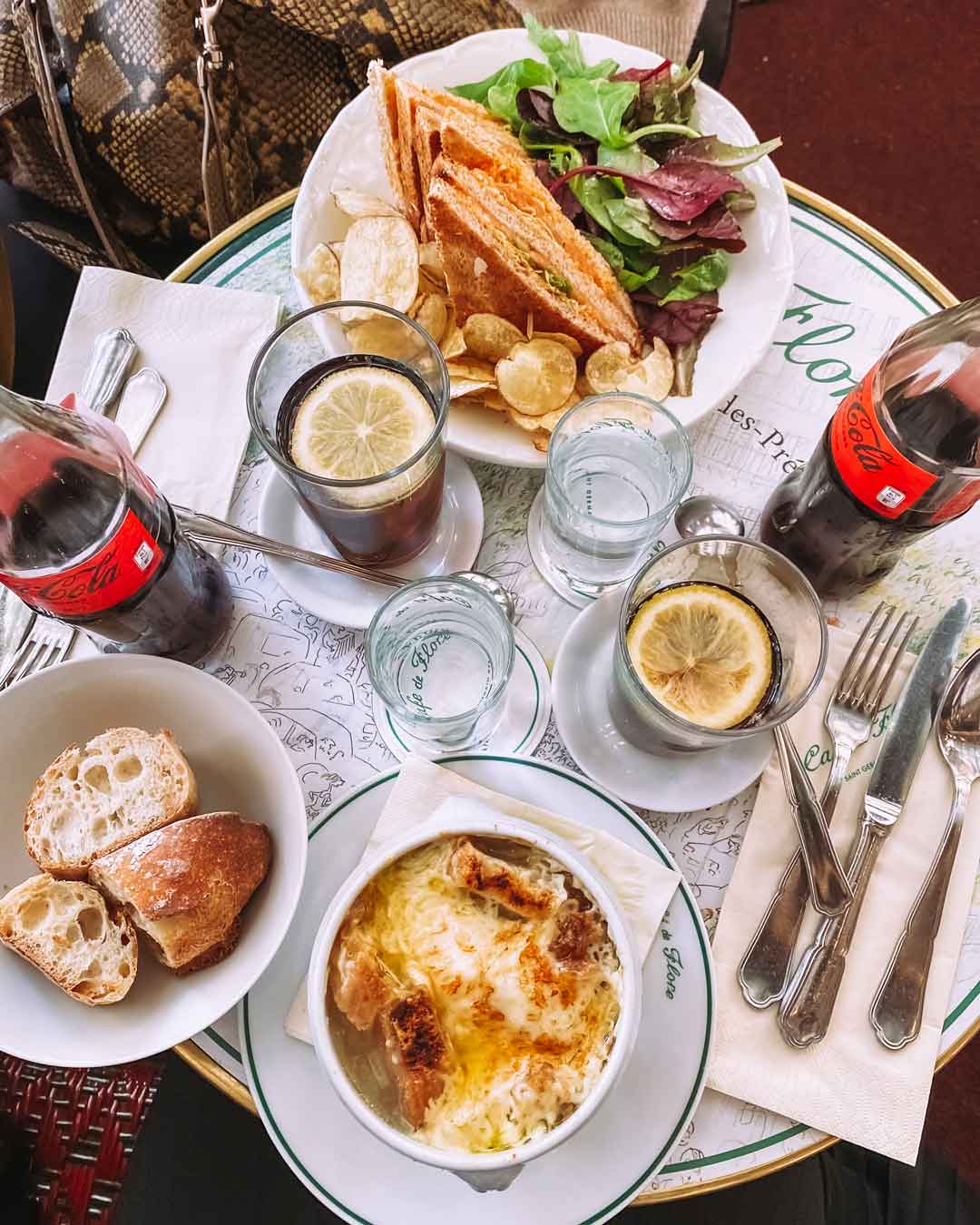 The well-known Café de Flore.
10. Eat lunch at Café de Flore
Café de Flore is a well-known café in Saint-Germain-des-Prés, located at Boulevard Saint-Germain. It is said that both Jean-Paul Sartre and Simone de Beauvoir were regulars at this café. Go here for lunch or a quick coffee, just for the experience.
➳ Read more: 13 trendy restaurants in Paris
The beautiful Parc des Buttes Chaumont.
11. Picnic in Parc des Buttes Chaumont
This lovely park is located in the 19th arrondissement, in the northeastern part of Paris. This is one of the biggest and original green spaces in Paris, measuring 25 hectares. The park i located on a hill, which gives you a beautiful view of the city. I suggest you buy some picnic friendly food from a market near you, and spend a few hours here. Just take the metro to Colonel Fabien and walk to Buttes Chaumont from there. Don't forget to take a walk around the park, experiencing the beautiful scenery with ponds, caves, waterfalls and a suspended bridge.
12. Experience the Montmartre area
Montmartre is most visited because of the Sacre-Coeur Basilica, but apart from the basilica the Montmartre area has so much more to offer. The area is located on a hill in the 18th arrondissement. From here you have a beautiful view of the entire city. Take a walk in the Montmartre town, see the painters work at Place du Tertre and explore Sacré-Cœur.
The easiest way to get here is by metro to Anvers, and walk from there. Just follow the stream of people and you will soon see Sacré-Cœur on that hill. Take the stairs (or the Montmartrobus) and you're there. Want to know more about Montmartre? I can recommend you to head over to Salt in our Hair's full Montmartre travel guide.
➳ Read more: 4 days in Paris – a complete travel guide
13. Visit Moulin Rouge
When you're leaving Montmartre, take a detour to Pigalle and visit Moulin Rouge – the legendary cabaret from the 19th century.
14. Eat breakfast like a Parisian
As a Swede, and a breakfast lover, I can't really understand how the French people can eat only white bread and jam for breakfast. But you know: When in Paris, do as the Parisians. It's a tradition of mine to enjoy a real Parisian breakfast containing croissant, baguette, jam and café au lait.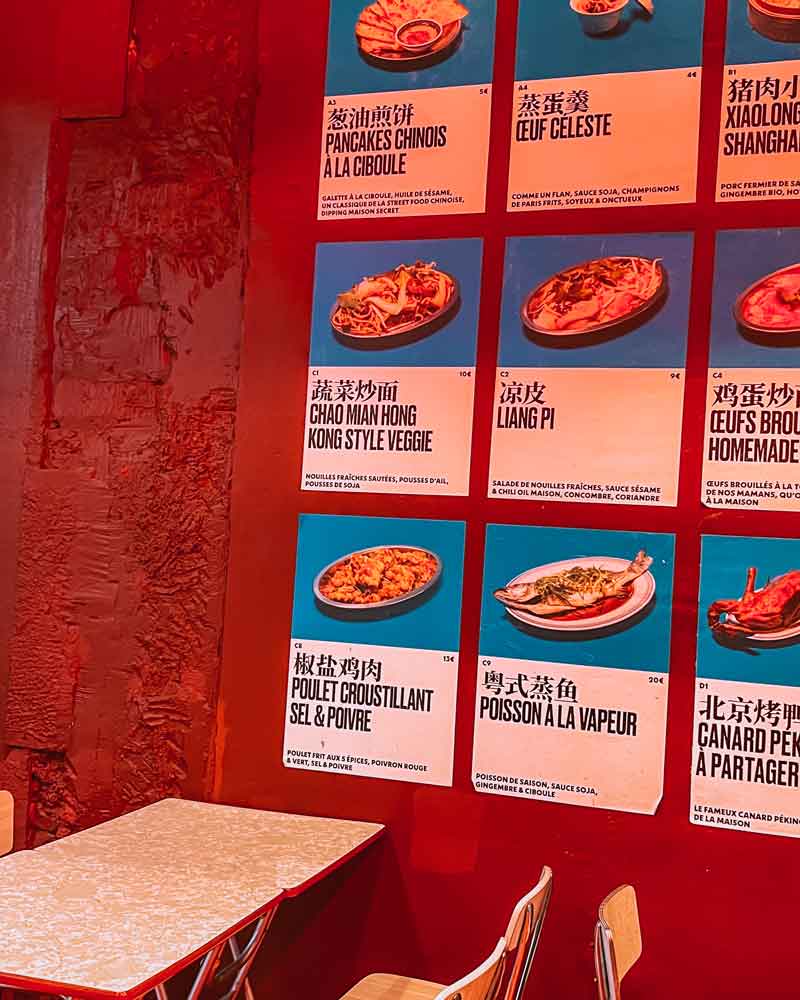 The trendy Canal Saint-Martin and the great restaurant Gros Bao.
15. Hang out by Canal Saint-Martin
Canal Saint-Martin is a small river in the northeastern part of Paris, lined with shops and restaurants. It is a very trendy and upcoming area for locals. In the evening a lot of restaurants open up their terraces, and the area fills up with people just hanging out by the river. If you are tired of the other tourists, escape here for a quiet evening. I can recommend you to visit Gros Bao. It is a great restaurant serving delicious Chinese food.
16. Go shopping at the Bouquinistes
Along the Seine, especially in the area around Notre Dame, the river lines up with green boxes. These are actually really famous and are called bouquinistes. Here people sell all kinds of stuff – magazines, books, postcards, and posters. I have found some amazing and unique posters here.
17. Père Lachaise cemetery
Père Lachaise is Paris' largest cemetery, inaugurate in 1804. With more than 3.5 million visitors annually, it is the most visited cemetery in the world. A really beautiful place, especially during spring when all the trees turn green. Here you can visit the tombs of well-known people like Édith Piaf, Oscar Wilde and Jim Morrison.
18. Marché des Enfants
Rouges

Paris is filled with food markets, and when you're there you should definitely visit one! I would recommend you to visit Marché des Enfants Rouges. This one is located in the heart of Marais, and is actually Paris' oldest covered food market. The friendly atmosphere is ideal for an afternoon stroll. Here you can gaze at the colorful stalls, buy some fresh products, have a quick lunch at the Italian deli – and if you happen to go here on a Sunday I would recommend the brunch at L'Estaminet.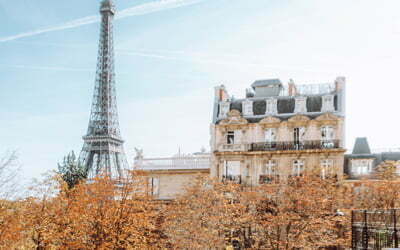 Home > Destinations > FranceThe 10 Best Eiffel Tower Photo SpotsDo you want to take some photos of the Eiffel Tower but you're not sure where to go? The Eiffel Tower is without a doubt the most photographed landmark in Paris. In this blog post I give you a list...
read more