Best Photo Spots In Paris – 14 Instagram-Friendly Locations You Can't Miss While In Paris
Paris is a city filled with amazing photo spots. The architecture, the monuments, the restaurants, the bridges and Seine river – every corner is a photographer's dream, and opens up the possibility of taking that perfect Instagram photo. Here's a guide to the best Paris photo spots you can't miss while in the city of lights. I have included some classic locations, and some you may not have known existed.
Map of the best photo spots in Paris
The most Instagrammable places in Paris? This Google maps points out all Paris photography locations.
➳ Is it your first time visiting Paris? Don't miss my complete 4 days in Paris travel itinerary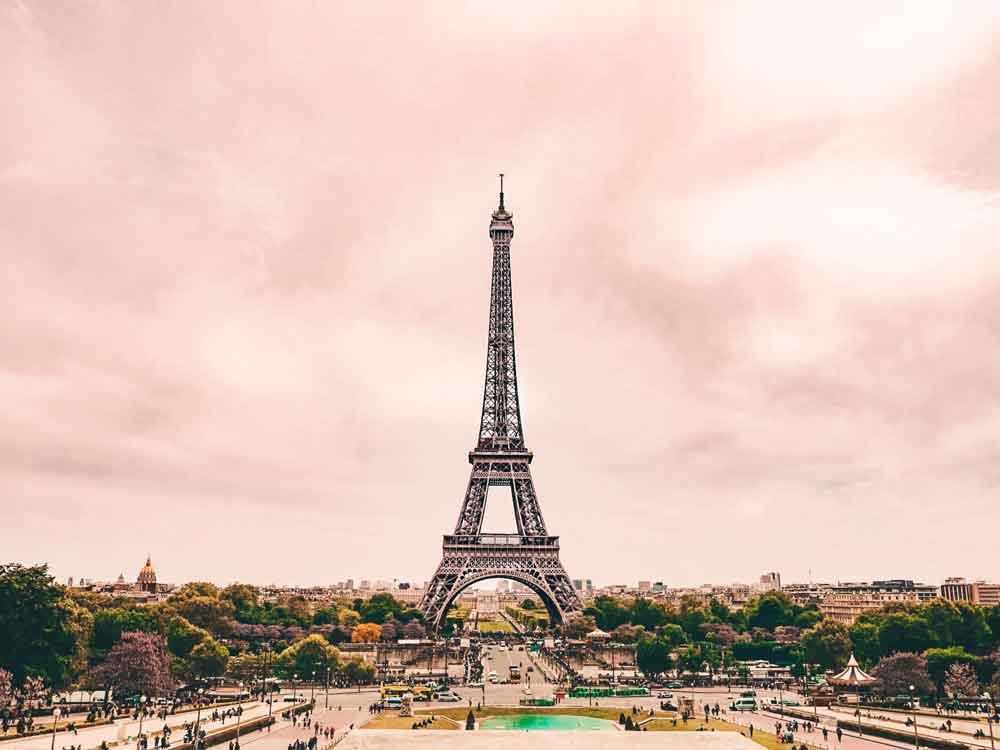 1. Place du Trocadero
Starting off with the most photogenic monument in Paris: The Eiffel Tower. The best location to photograph this impressive tower is from Place du Trocadero – a large square located across the river Seine. From the square you have the perfect Eiffel Tower view, with the tower right in front of you at a straight angle.
There are many great photo spots around Place du Trocadero, for example the main square and the staircases that lead down to the Trocadero Gardens.
Even though this place is very touristy, it's a must-see when in Paris. However, due to its popularity, it's hard to get a photo with no people in it. Try to be there in the early morning to avoid some of the crowds.
Closest metro station: Trocadero, line 6 and 9
➳ Read more: The 10 Best Eiffel Tower Photo Spots
Palais Royal in 1st arrondissement.
2. Palais Royal
Palais Royal is a beautiful building located in the 1st arrondissement. It is, as the name suggests, a former royal palace built for Cardinal Richelieu in the 17th century. The palace's quiet square is filled with unique black and white striped pillars, which is actually an art installation. The square attracts many art students, and during recent years also a few Instagrammers eager to snap a photo of this cool location.
Closest metro station: Palais-Royal – Musée du Louvre, line 1 and 7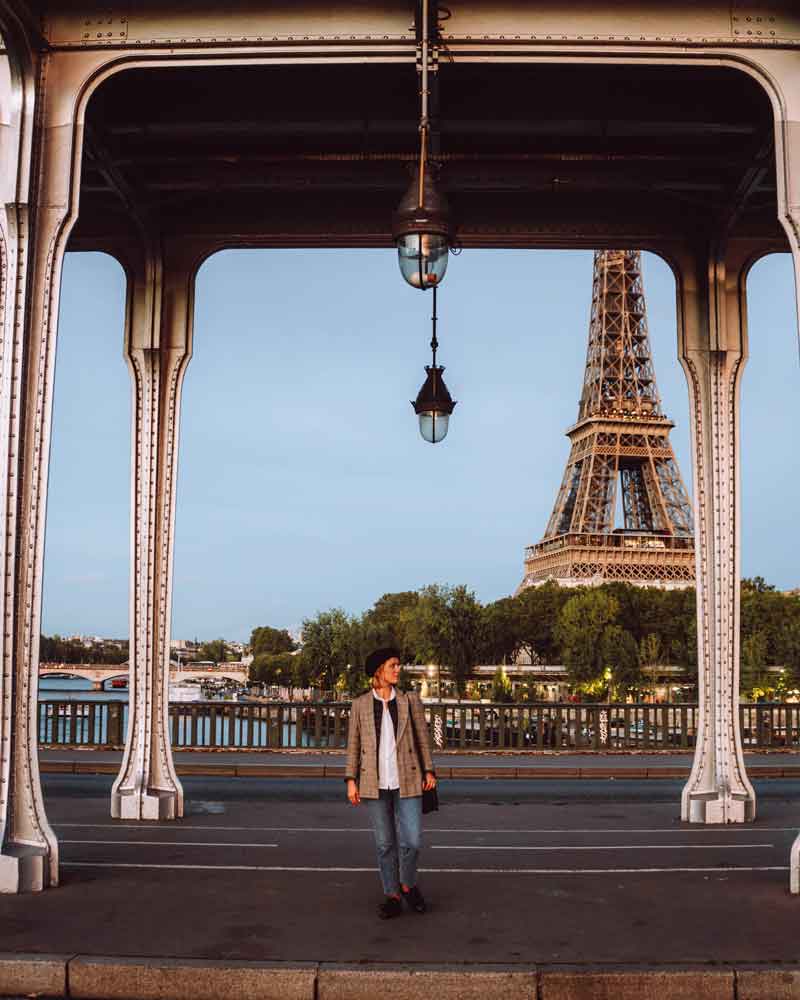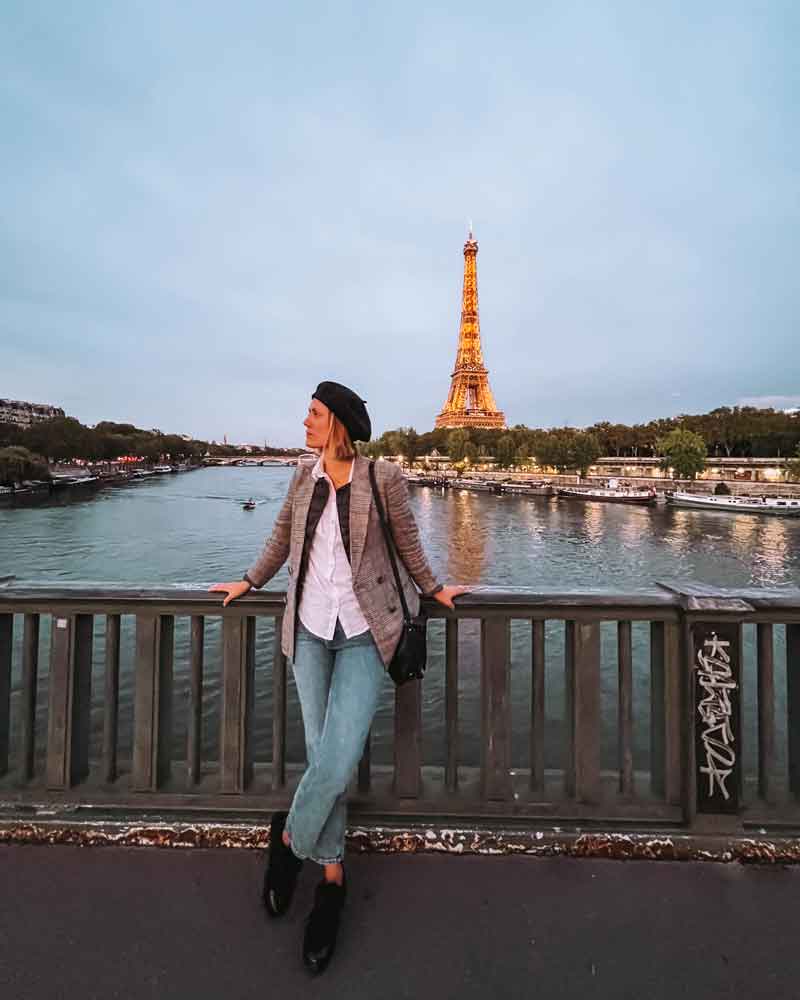 The view from Bir Hakeim bridge.
3. Bir-Hakeim bridge
Bir-Hakeim bridge crosses the river Seine and connects the 15th and 16th arrondissement.
The bridge has become famous for its magnificent view of the Eiffel Tower. You can take metro line no 6 and hop off at either Bir Hakeim or Passy. After a small walk you reach the bridge. There is a pedestrian area you can walk on and stop for pictures, but just look out for the bicyclists.
I recommend visiting Bir-Hakeim bridge in the afternoon or close to sunset. This is when the lighting is at its best!
Closest metro station: Bir Hakeim or Passy, line 6
➳ Read more: The 10 Best Eiffel Tower Photo Spots
Sacre Coeur Basilica in Montmartre.
4. Sacre Coeur basilica
Sacre Coeur basilica is located in Montmartre, the cozy area in northern Paris known for its many painters. The entire area is picturesque in itself, with the cobblestoned streets and the small townhouses. Sacre Coeur basilica is located on a hill, from where you have an impressive view of Paris.
There are many great angles to take photos of Sacre Coeur. Below the steps you can take a photo with Carrousel de Saint-Pierre and the basilica in the background. On your way up the stairs, you can snap some unique photos as well. From the top you have the chance to get a close-up of Sacre-Coeur, as well as the impressive view of Paris.
Closest metro station: Anvers at line 2, or Abbesses at line 12
The Sinking House and the stairs leading up to it. 
5. The Sinking House
While you're near Sacre-Coeur… Right next to the basilica you will find a famous optical illusion called "the Sinking House". Of course the house is not actually sinking, it's just a trick of the camera, but if you tilt your head to the side it will look like the house is actually sinking into the ground.
The sinking house is easy to miss (I did the first 15 times I was in Montmartre) so here's a detailed instruction on how to find it: When you have climbed the steps almost all the way up to Sacre-Coeur, on your right-hand side, there will be a bank of grass. Behind this is the orange and beige building also known as the Sinking House.
Closest metro station: Anvers, line 2
La Maison Rose in Montmartre.
6. La Maison Rose
Just a short walk from Sacre-Ceour lies La Maison Rose, one of my favorite buildings in Montmartre. The pink building is located in a cobblestoned crossing and houses a small café and bed & breakfast.
Besides being very Instagram-friendly, this café also has history tied to it. The café opened up in 1908, and rumor has it that Pablo Picasso, Édith Piaf and many other well-known people were frequent visitors.
Closest metro station: Anvers at line 2, or Lamarck – Caulaincourt at line 12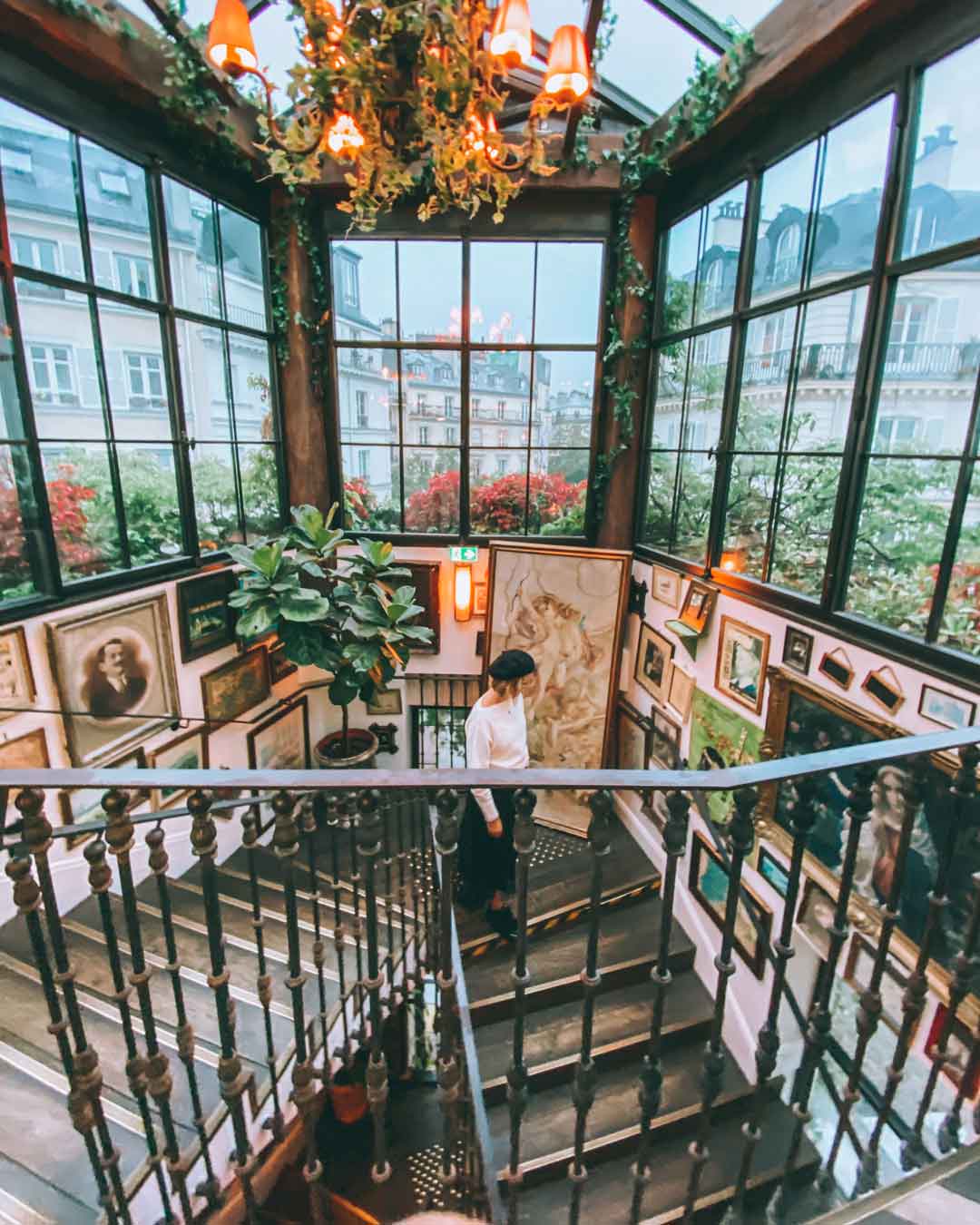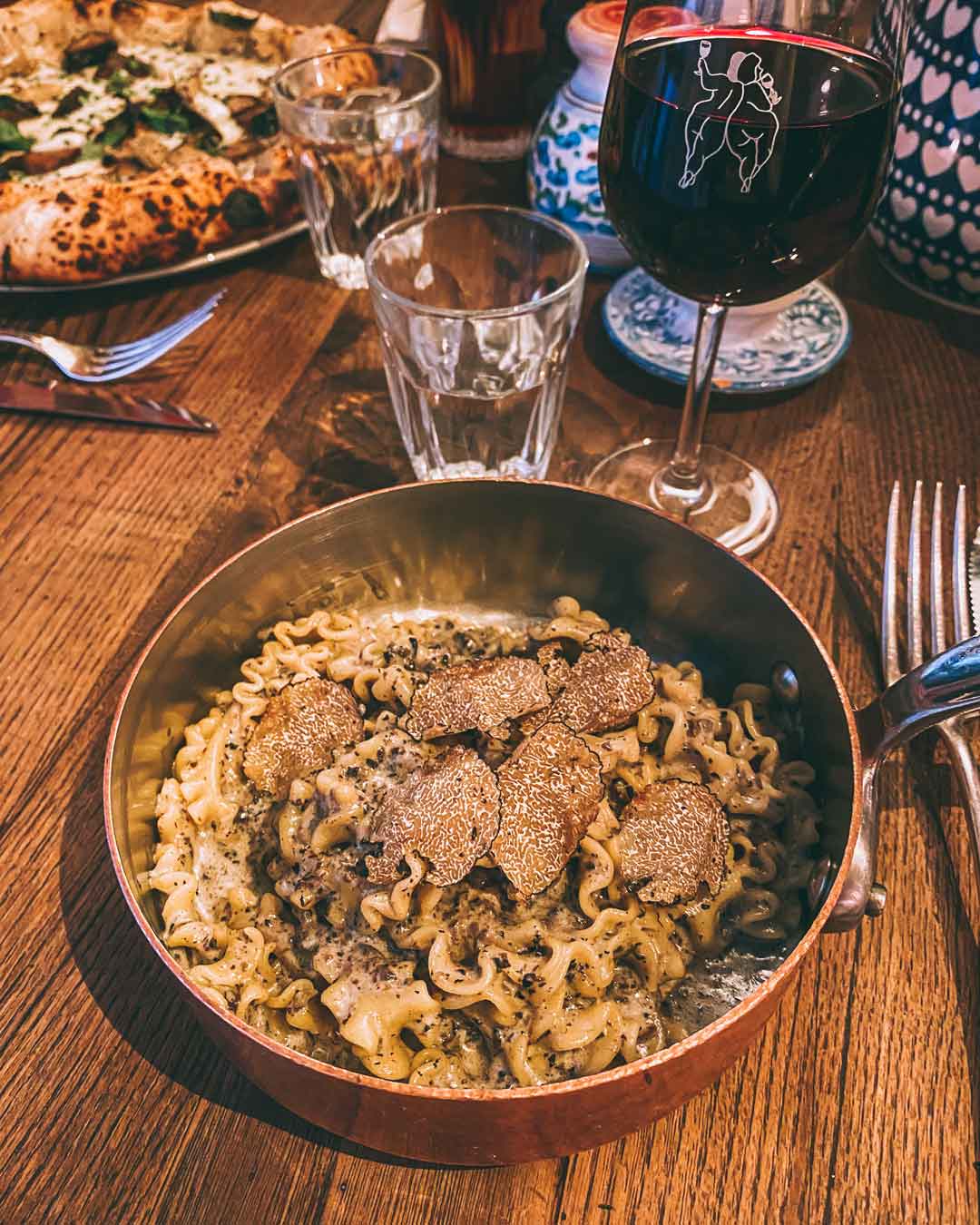 The beautiful interior and delicious pasta at Pink Mamma.
7. Pink Mamma
This restaurant has probably shown up on your Instagram feed more than once. The Italian restaurant Pink Mamma is located in a bright pink building in the trendy area Pigalle – and it has become Instagram famous for its delicious truffle pasta and beautiful interior, designed by Martin Brudnizki.
The restaurant is situated on several floors, and every corner is beautifully decorated. You must make a reservation if you want to eat here – and when you do, try to get a table at the top floor where there are windows overlooking Paris.
Closest metro station: Pigalle, line 2 and 12
➳ Read more: 13 trendy restaurants in Paris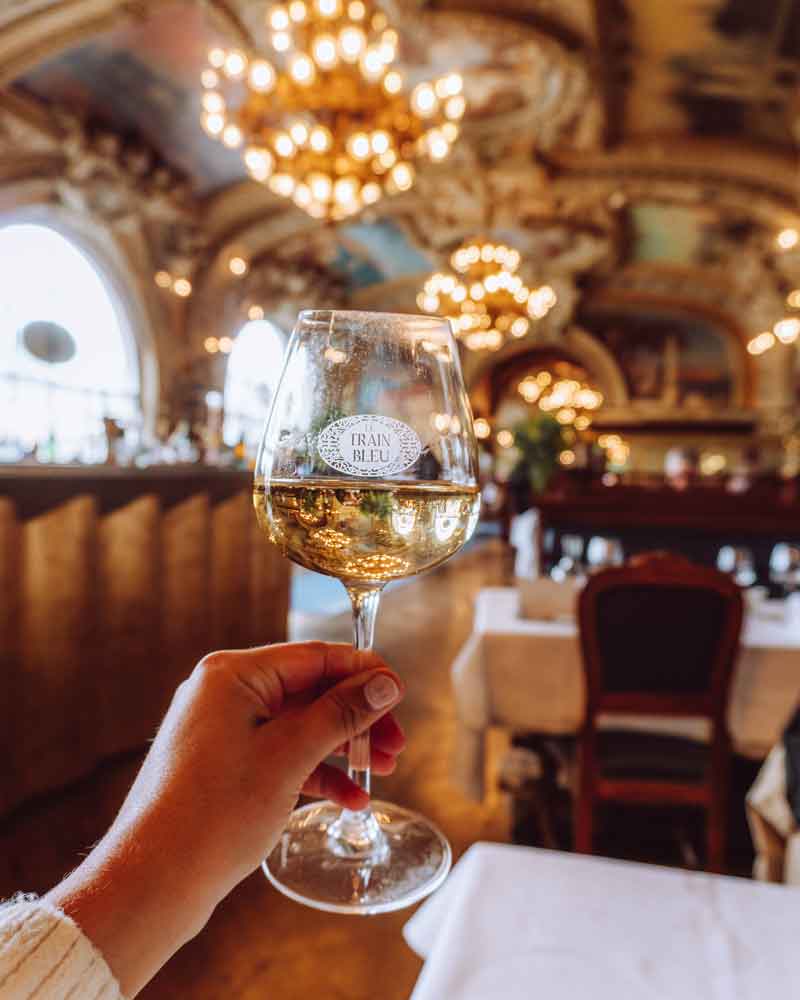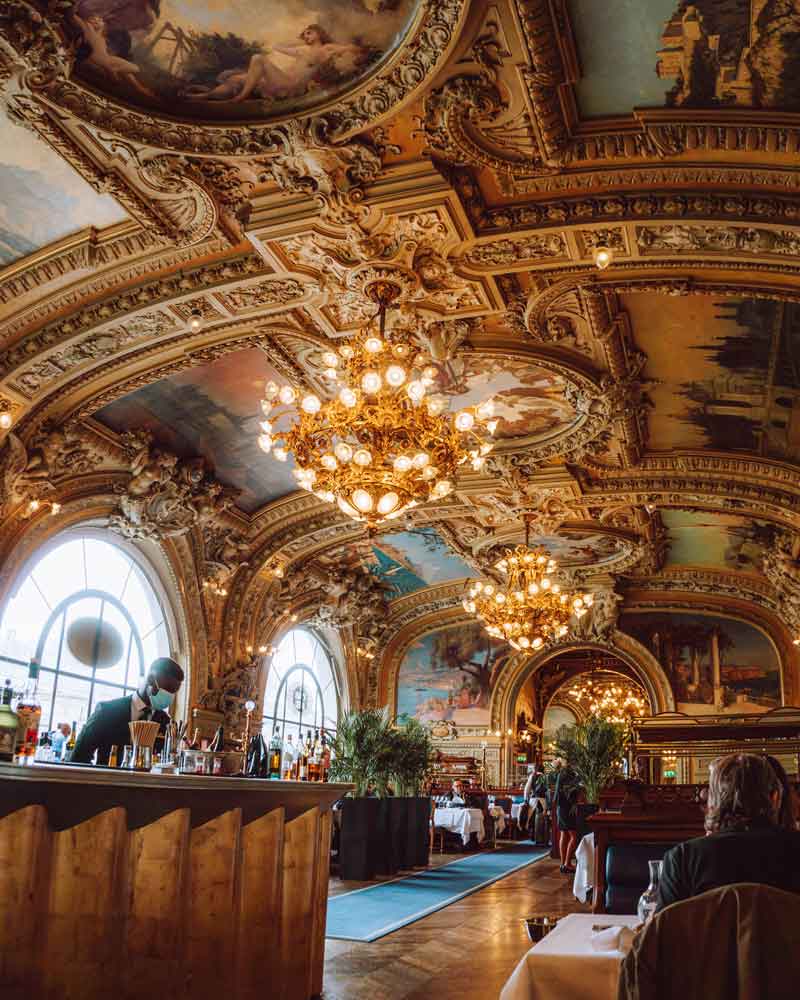 The beautiful interior at restaurant Le Train Bleu.
8. Le Train Bleu
This might be the most beautiful restaurant in Paris. Le Train Bleu is located in the hall of the Gare de Lyon railway station in Paris – and going here is like going back in time. The restaurant was originally created for the 1900 Paris Exposition, and each dining room is themed to represent regions of France and are decorated with paintings by some of the most popular artists of that time.
Le Train Bleu serves fantastic food that goes in line with the spectacular decor, and it's therefore also a part of my list of 13 favorite restaurants in Paris. Make sure to reserve a table before going here as it's quite popular.
Closest metro station: Gare de Lyon, Metro line 1 and 14 + RER A and D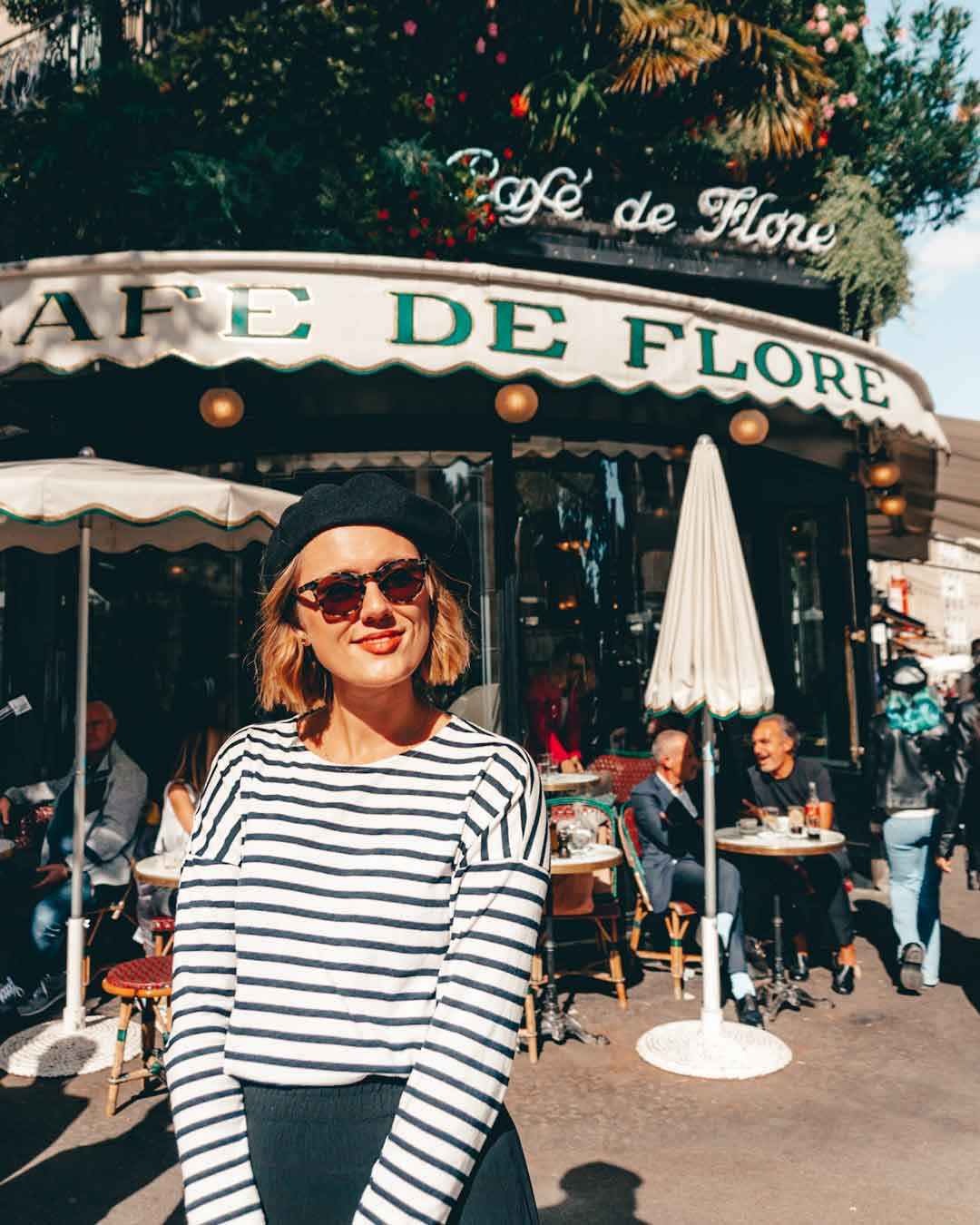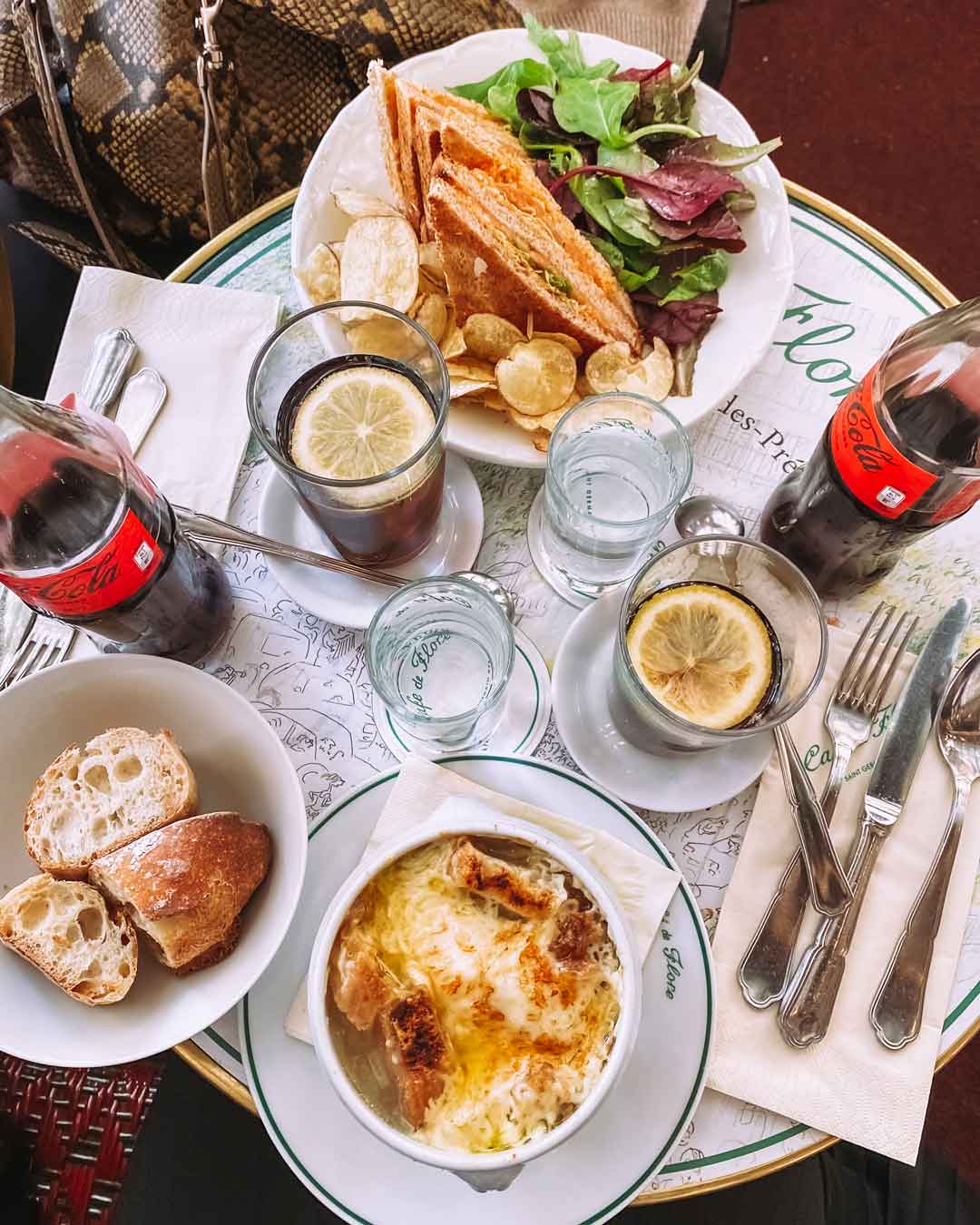 The flower-covered facade of Café de Flore, and the food.
9. Café de Flore
Café de Flore is one of the most famous cafés in Paris, located in the Saint Germain neighborhood in the 6th arrondissement. This is my favorite area in Paris!
The flower-covered exterior of Café de Flore makes it hard not to stop for a photo. It's also a great place to enjoy the afternoon sun and watch people hurry down Boulevard Saint-Germain.
Fun fact: Café de Flore is famous to have been a regular lunch spot for well-known characters like Jean-Paul Sartre and Simone de Beauvoir.
Closest metro station: Saint-Germain-des-Prés, line 4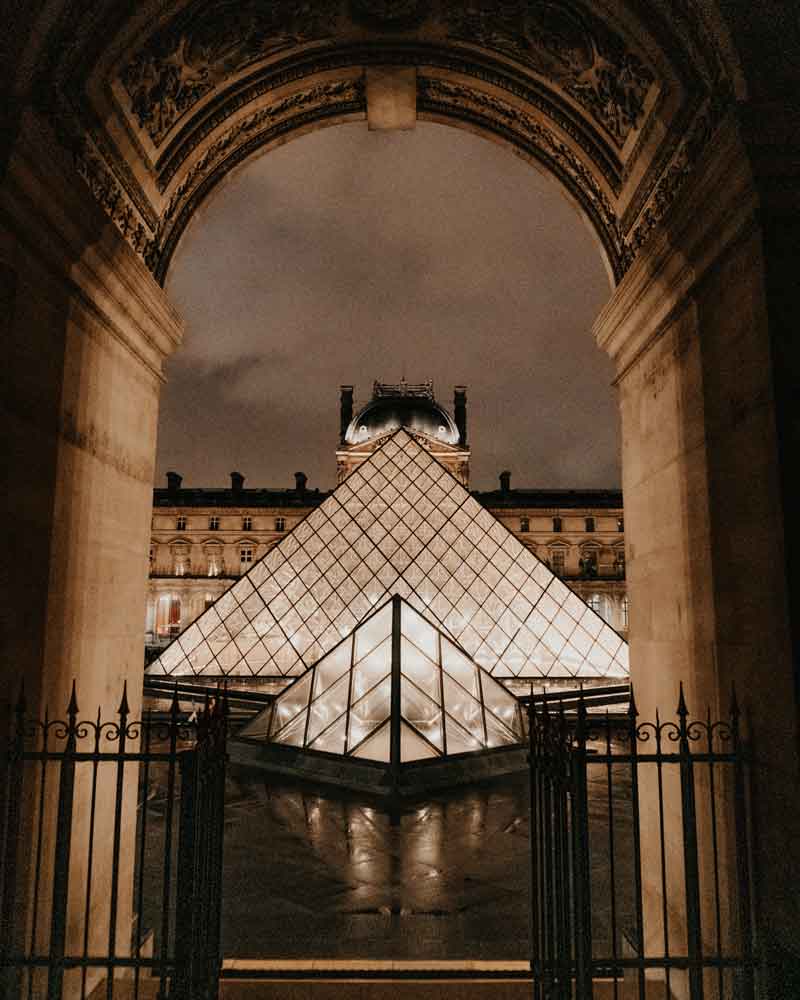 The Louvre is very beautiful to visit when it's dark.
10. The Louvre Museum
The Louvre Museum with its class pyramid is a photographer's dream. There are so many photographic angles to choose from, for example a close-up near the pyramid, from the café Le Café Marly or from the Carrousel Garden on the other side of the road.
Since this is one of the most famous places in Paris, it's also constantly crowded, at least during the opening hours of the museum. I suggest you do your photo session at sunrise to avoid some of the crowds. You can also choose to visit at night when the museum is less crowded, and you have that mesmerizing light from the pyramid.
Closest metro station: Palais-Royal – Musée du Louvre, line 1 and 7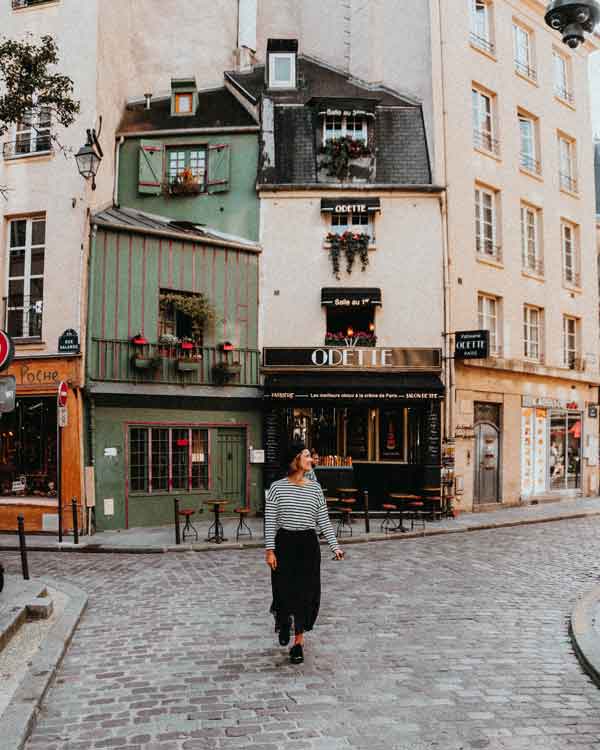 The photogenic patisserie Odette in the latin quarters (5th arrondissement).
11. Odette
Odette is a famous patisserie located in a crooked building in the Latin Quarter (5th arrondissement). The architecture and cobblestone streets make this area very photo-friendly. Odette is located in a quiet street, so you most likely won't have to deal with photobombers.
While you're here, be sure to try their chou à la crème.
Closest metro station: Saint-Michel, line 4
The famous Notre Dame Cathedral.
12. Notre Dame Cathedral
A true Parisian classic, and a must-visit while in town. Notre Dame is a great example of Gothic Architecture, and the cathedral is impressive both on the exterior and the interior.
A disclaimer here is that since the Notre Dame fire in 2019 the cathedral is under construction and looks pretty much like a construction site – and probably will do until 2024. It's still worth passing by to get a glimpse of it though, but as for photos I would try to photograph this masterpiece a bit further away. Maybe from Pont Saint-Michel.
Closest metro station: Cité or Saint-Michel, line 4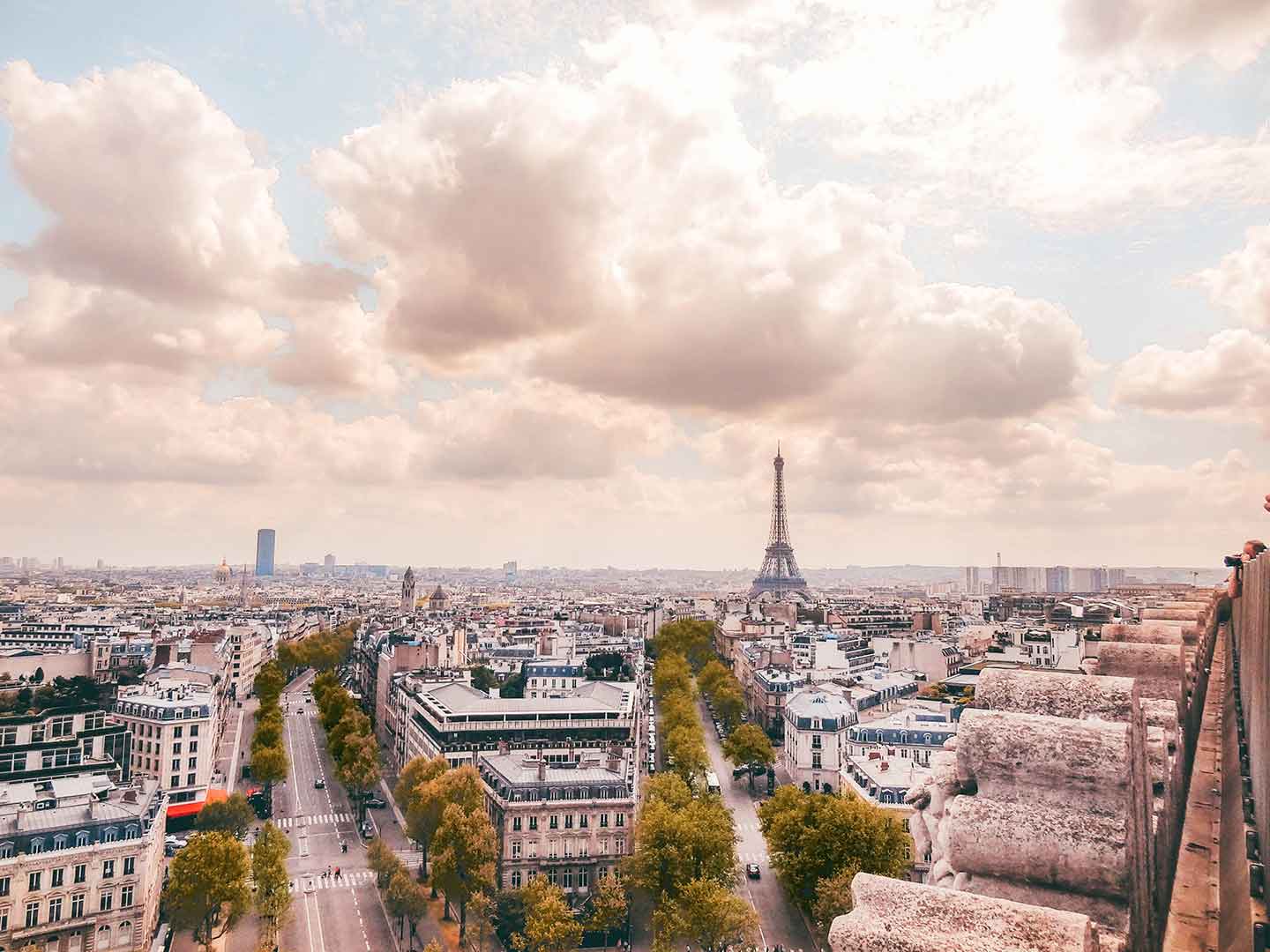 The stunning view from the top of Arc de Triomphe.
13. The Eiffel Tower from the Arc de Triomphe
If you want a great view of the Eiffel Tower (and most of Paris, actually) you should head up to the top of Arc de Triomphe. As there are no stairs, you have to work a bit for this view – but it's worth it. You can take photos of the entire city from here, and have great Eiffel Tower views.
Closest metro station: Charles de Gaulle Etoile, Metro line 1, 2 and 6 + RER A
Place des Vosges, the most romantic square in Paris.
14. Place des Vosges
Place des Vosges is regarded as the most romantic square in Paris. It is located in the heart of Marais, but is always calm and quiet. The square is surrounded by well-trimmed trees and beautiful buildings, and in the middle of the square you can find a very photogenic fountain. The famous French author Victor Hugo used to live in the area. If you have some time left, you can visit his old house Maison Victor Hugo.
Don't visit: Rue Cremieux
Rue Cremieux is a cobblestoned street near Gare de Lyon in the 12th arrondissement. It has become Instagram-famous for its bright, colorful houses. However, the houses that line this street are actually private property. The people who live here are tired of tourists coming and taking photos of their homes. Please respect that, and leave this location out of your itinerary. 
Galeries Lafayette's beautiful art deco glass dome; the picturesque café Le Consulat in Montmartre
Bonus tips
Do you have time to visit more Paris Instagram spots? Here are some other places that are absolutely stunning and perfect for taking pics:
Moulin Rouge: Moulin Rouge, French for "Red Mill", is a famous entertainment establishment in northern Paris, near Montmartre. Blanche Metro Station is close by. Moulin Rouge is best known as the birthplace of the modern form of the can-can dance. The building, with the red mill on its roof, is a real Parisian classic.
Pont Alexandre III: Pont Alexandre III is a beautiful bridge that crosses the river Seine, between Place des Invalides and Champs-Élysées. The bridge was built for the 1900 Paris Exposition. Pont Alexandre III is regarded as the most ornate, extravagant bridge in the city, with its sculptures and golden details.
Jardin des Tuileries: Jardin des Tuileries is a public garden located near the Louvre Museum, between the Louvre and Place de la Concorde. It's a former castle garden dating back to the 1600th century. Here the trees stand in symmetrical lines overlooking the Louvre, making it a great place for taking photos.
Au Vieux Paris d'Arcole: This little cute café is located just 100 metres from Notre Dame Cathedral, in a crooked house at Rue Chanoinesse. The café has become Instagram-famous for its exterior: a green sign, walls covered in climbing plants and outdoor furniture in sharp purple. Very 17th century Parisian.
Galeries Lafayette: The Galeries Lafayette is an upmarket department store on Boulevard Haussmann, one ​of the most fancy streets in Paris. The reason you should visit this place is not for shopping, but because of the art nouveau decor. The unique architecture with the iconic glass dome, with stained glass windows, makes my jaw drop every time. Since 2019 you can visit the 9-metre long glasswalk on the 3rd floor. You'll be 16 metres high up in the air, in the middle of the glass dome. Needless to say, this glasswalk provides the opportunity to take impressive photos.
Galeries Lafayette's beautiful art deco glass dome; the picturesque café Le Consulat in Montmartre, Moulin Rouge in Pigalle, Jardin de Tuileries.
Where to stay in Paris
I've been to Paris more times than I care to admit, and I always find myself staying in the same area: the 11th arrondissement. This area has a more local touch to it, and you will have lots of trendy restaurants, wine bars, and brunch spots right on your doorstep. The area is within walking distance of trendy areas like Le Marais, Republique, and Canal Saint-Martin, and you can take the metro to most sights.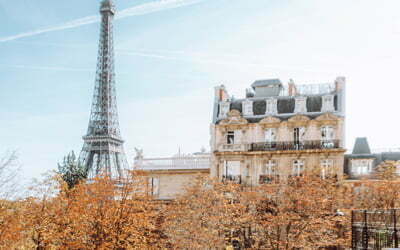 Home > Destinations > FranceThe 10 Best Eiffel Tower Photo SpotsDo you want to take some photos of the Eiffel Tower but you're not sure where to go? The Eiffel Tower is without a doubt the most photographed landmark in Paris. In this blog post I give you a list...
read more