18 unique things to do in Hong Kong – a complete travel guide
Looking for the best things to do in Hong Kong? Hong Kong offers the best mix of city pulse with skyscrapers, rooftop bars and restaurants – and untouched nature, beautiful beaches and challenging hiking trails. I'm sure you won't have a problem finding amazing things to do when you visit this city. When I lived in Hong Kong I discovered several unique places and activities which are much more interesting than classics like Disneyland. So here you go: 18 unique things to do in Hong Kong that for real is worth your time. And some don'ts.
Forget about tourist traps from the travel books, like Hong Kong Disneyland, Ocean Park and the Tian Tan Buddha (Big Buddha). Hong Kong offers so much more than that! Continue reading for a complete Hong Kong travel guide – including both classic bucket list items and some more unique hidden gems.
The view from Victoria Peak.
1. Visit Victoria Peak
Hong Kong has one of the most spectacular skylines in the world. And the best view is without a doubt from Victoria Peak. Victoria Peak is the highest point of Hong Kong Island, from where you can see the entire skyline, including both Hong Kong Island and Kowloon. At the top you will find two gallerias with cafés and restaurants, many viewpoints and peaceful hike paths. At the top of Peak Tower galleria you will find Sky Terrace 428, from where you have a 360-degree panoramic view of Hong Kong. This can be worth a visit, but is not a must for me. The view is breathtaking from everywhere up there. 
How to get here: All travel guidebooks will tell you to take the Peak Tram to the top. And yes, the Peak Tram is cute, has an interesting history and takes you up the steep hillside through beautiful nature. However, the tram usually has a huge line and is not even that spectacular. Save some time and money and take a cab instead. It will cost you 50-100 HKD from the tram station. 
When to get there: I suggest you go there at least once in daylight, and preferably once in the evening when the skyscrapers light up the night. 
Fun fact: The area around Victoria Peak is the most expensive part of Hong Kong. In 1997 the world's most expensive house was located here – valued at 900 million HKD.
The view from Dragon's Back hike on Hong Kong island.
2. Dragon's Back hike 
What not many people know is that Hong Kong is only 25 percent urbanized – meaning the rest of the land is untouched nature that offers many exciting excursions and hiking trails. My favorite hiking trail is definitively Dragon's Back hike on Hong Kong Island.  
Dragon's Back hike is easy to access, easy to complete, offers amazing views and ends up at a beach – making it a perfect hiking trail. The hike is around 8 kilometers and starts with a pretty steep climb. But once you get up to the top the trail follows the mountain ridge, giving you a stunning view on both east and west side. It actually looks like you are following the spine of a dragon's back. There are no replenishing stations along the way, so make sure to bring water and snacks. The hike ends at Big Wave Bay, a beautiful beach where you can take a swim and buy something to eat at the beach café. 
How to get to the starting point: Take the Island Line MTR to Shau Kei Wan station Exit A. 
Walk to the bus terminus and take bus number 9 with the sign "Shek O". Alight the bus at To Tei Wan on Shek O Road. One you get off follow the path leading up the hill to the Dragon's Back hike. Getting back home can feel a bit tricky, since the only way back is to grab a spot in one of the red minibuses from Big Wave Bay. But once on one of these buses it will take you back to Shau Kei Wan station.
3. Happy Valley Racecourse
A racecourse? Really? Yes, horse racing is a big deal in Hong Kong as it is the only sport on which Hongkongers can legally bet. Every other Wednesday evening the racecourse in Happy Valley transforms to a festival, filled with people drinking beer and betting. Although many people are actually coming for the horse races, most people go to Happy Valley Racecourse to experience the cheerful atmosphere. 
The Happy Valley Racecourse is located on Hong Kong Island, near Causeway Bay. Races have been organized here since 1846. Today racecourse is surrounded by skyscrapers, a scene that alone makes Happy Valley Racecourse worth visiting! 
How to get there: Take the Island Line MTR and alight at Causeway Bay station, or enhance the experience by taking the tram.
4. See Hong Kong from above at one of the many sky bars
Hong Kong has more skyscrapers than any other city in the world – which not only creates a cool skyline, but also many sky bar possibilities! Hong Kong is packed with rooftop bars and sky bars, some better than others. Visiting them during the evening, and see the city lit up by the skyscrapers, is the perfect ending to a memorable day in Hong Kong. My favorite sky bar is without a doubt Wooloomooloo Steakhouse's bar in Wan Chai. The restaurant is located on the 31st floor, and from there just take the stairs up to the roof from where you can enjoy a cocktail in the evening breeze with an amazing view.
5. Eat dim sum
Dim sum is a traditional Chinese meal, especially popular in the Cantonese region, that you simply can't miss when your visiting Hong Kong. It consists of various small dishes – everything from dumplings and wontons to steamed veggies and noodles. Many restaurants serve dim sum, but my favorite is Din Tai Fung – located on a few different places around Hong Kong. Or why not try Tim Ho Wan, one of the world's cheapest restaurants with a Michelin Guide star.
A beach at a deserted island outside Sai Kung peninsula, Repulse Bay beach on Hong Kong island.
6. Visit one of the many beaches in Hong Kong
Hong Kong is so much more than skyscrapers and a bustling nightlife. Many people doesn't know that you can find a countless number of beautiful beaches here. Even though they can be hard to reach they are worth the trip. The most beautiful ones are located in Sai Kung in New Territories, but beaches like Repulse Bay on Hong Kong Island is more easily accessible. No matter which one you choose – bring snacks and make a day of it! 
The delicious afternoon tea at The Peninsula hotel.
7. Afternoon tea at The Peninsula
The Peninsula Hotel is a luxury hotel in Tsim Sha Tsui in Hong Kong – and actually the flagship hotel of The Peninsula Hotels Group. With its British tradition and elegant style it's a must-see when in Hong Kong. To get the best experience I suggest you go for their popular afternoon tea. As they say themselves: There is nothing more quintessentially iconic of Hong Kong than experiencing the acclaimed Peninsula Classic Afternoon Tea. Afternoon tea is served every day from 2pm to 6pm. They does not accept reservations, and at weekends you may have to queue for a while before getting a table. And also: The experience does not come cheap. You will have to pay 358 HKD (around 40 €) for one person, and 628 HKD for two. Tips!
Tips! If you're not into tea and scones you can visit The Peninsula restaurant Felix in the evening for a meal or a drink. From there you have an amazing view of the Hong Kong Island skyline. And don't forget to visit the bathroom!
The view from the top of Lion Rock in Kowloon.
8. Lion Rock hike in Kowloon
Hong Kong has many great hiking trails, and this is another favorite. Lion Rock hike is located in Kowloon and takes you 495 meters up, giving you an amazing view over the Hong Kong skyline. The hike is fairly easy, even though the last part contains MANY steep steps. And you might want to look out for the monkeys. 
How to get to the starting point: The Lion Rock hike is one of the easiest hikes to get to via public transportation. Just take the MTR to Diamond Hill station. From there you can either walk for approximately one hour until you reach the starting point, or take a 10 minute taxi ride for around 20-30 HKD. We did the last option, which I'm glad for. 
➳ Read more: Lion Rock hike, gettingstamped.com gives you a great summary of everything you need to know about this hike.
9. Ladies market and Temple street market
Interested in bargain-priced clothes and accessories? Then visit either Ladies market or Temple Street night market, both located in Kowloon. They are best experienced during the evening, when the many lamps are lighting up the dark. Although both markets are filled with tourists, they have a very "local" atmosphere in what used to be known as the heart of Hong Kong. Don't let the cheap knock-offs fool you – even though most of the things are crappy you can find high-quality stuff here too. 
Getting here: You find both of them along the red MTR line. The closest MTR station to Ladies market is Mong Kong. To visit Temple Street market, alight at Jordan.
The view of Hong Kong island from Victoria Harbour.
10. Watch Hong Kong skyline from Victoria Harbour 
Hong Kong Island offers one of the world's most fascinating skylines – and Victoria Harbour is a great spot to observe it from. Buy a take-away coffee from one of the nearby cafés and either sit at one of the benches, or take a walk along the Tsim Sha Tsui waterfront promenade. Every evening at 8pm you can spot Symphony of Lights from here – the spectacular light and sound show including 42 of Hong Kong's skyscrapers.
➳ Tips! Heading to Hong Kong island afterwards? Take the Star Ferry from the Star Ferry pier, that takes you from Victoria Harbour to Hong Kong island. Before any tunnels existed, this was the only way to get to the island. Approaching the large skyscrapers at Hong Kong island with the small ferry is a grand experience.
11. Visit the small fishing village Stanley 
The old fishing village Stanley at the southern part of Hong Kong Island is a peaceful getaway from the otherwise vibrant city. Nowadays this seaside town is an exclusive home to wealthy Hong Kongers. Here you can visit Stanley market, grab a lunch at one of the many restaurants on the waterfront promenade or just admire the endless views over South China Sea. Stanley is definitely worth a day trip!
Getting there: You can go there by bus from Admiralty MTR station.
Mong Kok is Hong Kong's liveliest district.
12. Experience Mong Kok
Mong Kok is one of Hong Kong's liveliest districts. In Cantonese Mong Kok means "crowded corner", and it is true to its name. Here you'll find many popular markets, malls, shopping streets and great street food. Why not visit Fa Yuen Street, also known as Sneaker Street, and try out some new sneakers? And you don't want to miss the cool street with all the lit up signs, Sai Yeung Choi Street.
➳ Read more: Top 10 things to do and see in Mong Kok
13. Grab a drink at the secret Feather Boa bar 
Feather Boa bar is a hidden gem in Soho, Hong Kong Island. This secret bar is located behind an anonymous door on Staunton Street. You have to knock, give your ID card to the somewhat harsh woman that opens the door and wait for the sentence. If the bar is not full, you are likely to get in and try their famous delicious strawberry chocolate daiquiris! There bar is really beautiful with feather boas, mirrors and crystal chandelier everywhere. But it is also really small, so be there early to make sure to get in. And by early I mean around 8pm. 
Opening hours: I actually don't know about the opening hours, but once I got there on a Tuesday and it was closed. So choose another day.
The small islands outside Sai Kung in New Territories offers great beaches.
14. Experience the surrounding islands 
When travelling through Asia many of us consider heading into Thailand or the Philippines for the idyllic island-and-beach-life. But the fact is that Hong Kong is home to more than 250 islands. This is one of the things making Hong Kong so unique. The biggest ones are Lamma Island, Lantau Island and Cheng Chau. All of these are reachable with boat from Hong Kong Island. Just go to Central Station and follow the signs to 'All Piers'. If you rather prefer smaller, somewhat secret islands I suggest you go to Sai Kung. Take one of the smaller boats from the pier to the surrounding islands. 
➳ Read more: Hong Kong's secret islands
15. Visit the world's highest sky bar
Interested in a drink 480 meters above sea level? Then visit Ozone, the world's highest bar on top of the luxury hotel Ritz Carlton in Kowloon. Att 118th floor, Ozone has one of the most amazing city views you can find – all other skyscrapers looks so small from up here. Go to Ozone for either a meal or just a drink. (A drink might be enough since it is kind of pricey!)
The stunning view from Macau Tower.
16. Take a day trip to Macau
Heard about Macau? Macau is a Special Administrative Region only 65 km from Hong Kong. Until 1999 it was a part of Portugal, giving the region an interesting cultural heritage. But let's be honest… Macau is all about gambling. Since gambling is not allowed in neither Hong Kong nor Mainland China, Macau is a very popular escape. But it's not only Chinese people that come here. The tourism has grown tremendously in the last decade. In fact, in 2017 Macao had five times more sales than Las Vegas. 
Since 2018 a bridge connects Hong Kong to Macau, making it easily accessible for Hong Kongers. This bridge is in fact the longest sea crossing in the world, 55 km long. If you have enough time on your Hong Kong trip I would suggest spending one night in Macau – it's a fascinating experience.
How to get there? Either by bus over the newly opened bridge, or by ferry from Hong Kong Macau Ferry Terminal.
17. Shopping in Causeway Bay
Want to go shopping? One thing that shocked me when I lived in Hong Kong was the amount of malls. They are many, they are fancy and they are ice cold thanks to the air conditioning. So… to find a place to go shopping is not hard in this city. My favorite area for shopping, however, is Causeway Bay. Here you'll find everything you need, including a few flagship stores, within a reasonable budget.
Mesmerizing skyscrapers at Hong Kong island.
18. Soak in the culture at Hong Kong Island
Hong Kong Island is the biggest island in Hong Kong. The varied landscape is what makes the island so interesting. From the many beaches, hiking trails and exclusive villas on the south side, to skyscrapers, restaurants and hipster areas on the north side. The Central, Mid-Levels and Soho areas are my favorites. They are all connected through a 792 meter long escalator, making it easy to move around in the steep neighborhoods. Soho has more of a hipster atmosphere, with many great restaurants. If you want shopping you should go to Mid-Levels or Central. And don't miss the many bars and clubs in Lan Kwai Fong during night time. While at Hong Kong Island – take a ride with the double-deck trams connecting the east and west side of the island. They are from 1904 and really esthetic.
Bonus tips
Nan Lian Garden: Nan Lian Garden is an enchanted Chinese Classical Garden in Diamond Hill. Make a quick visit here if you're nearby.
Hong Kong museum: If you are a museum type of person, Hong Kong has much to offer. I've visited Hong Kong Space Museum, Hong Kong Museum of Art and Hong Kong Museum of History and they were all fascinating.
Ten Thousand Buddhas Monastery: This is a quite cool monastery located in Sha Tin. Despite its name, the monastery actually contains nearly 13,000 Buddha statues. To get to the monastery you have to climb a bit, so make sure you have comfortable shoes.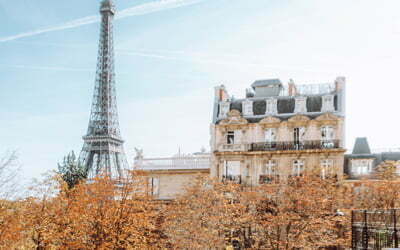 Home > Destinations > FranceThe 10 Best Eiffel Tower Photo SpotsDo you want to take some photos of the Eiffel Tower but you're not sure where to go? The Eiffel Tower is without a doubt the most photographed landmark in Paris. In this blog post I give you a list...
read more